Browse our collection of 115+ Lunch Box Snacks Recipes…. from sweet muffins, slices, cookies, bliss balls and cakes to savoury scrolls, quiches, sausage rolls and more! Download our free lunch box snacks printable!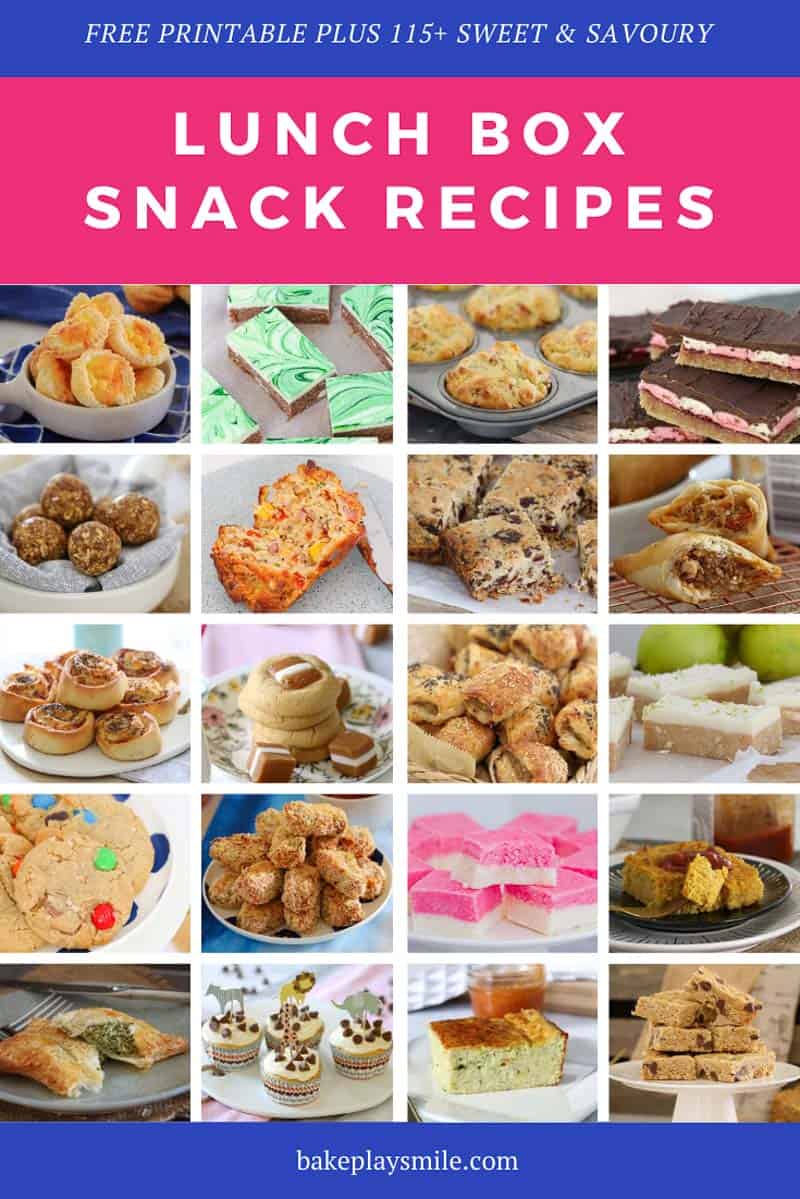 115+ LUNCH BOX SNACKS RECIPES
Sweet Lunch Box Snacks
Our collection of sweet lunch box school snacks includes our most popular muffins, cakes, cookies, muesli bars, scrolls and slices.
Our breads and muffins are perfect for baking ahead of time and stocking the freezer with! Great for 'grab and go' school snacks.
Sweet Scroll Recipes
Our scroll recipes make a delicious alternative to sweet muffins as a lunch box treat!
Bliss Ball Recipes
For a healthy treat, our raw bliss balls are the perfect option. Freezer-friendly, healthy, quick and easy… lunch box snacks don't get better than this!
Our huge collection of baked and no-bake slices are some of our most popular recipes! Kid-approved, easy to make sure to be a hit in little lunch boxes.
Lemon & Date Slice
More Sweet Lunch Box Snacks
From 'kid-friendly' rum balls to Weet-Bix balls, 'foolproof' scones to Milo balls and more! These school snacks are loved by all kids!
When you're looking for a sweet lunch box snacks treat, our cakes recipes are just what you need! From our super simple butter cake and chocolate cake to our easy apple crumble cake… there's a lunch box treat for everyone!
When it comes to school lunch box snacks, you just can't go past a muesli bar recipe… whether you're little ones are at a nut-free school or not, we've got a recipe to keep your little ones happy!
Fill up the cookie tin with our favourite biscuit and cookie recipes! From old fashioned classics to new recipes… your kids will be kept super happy!!!
Savoury Lunch Box Recipes
Our collection of savoury lunch box snacks recipes includes delicious quiches, slices, fritters, nuggets, sausage rolls and more!
Quiche Recipes
Browse our simple quiche recipes that are freezer-friendly and so simple to make!
Savoury Slice Recipes
Some of our most popular health school lunch box recipes include our famous zucchini slice and veggie slice recipes.
Fritter Recipes
As we all know, our little ones seem to fall in LOVE with fritters – these veggie-packed fritters make the perfect lunch box or after-school snack!
Homemade Nugget Recipes
Forget about store-bought nuggets… our homemade versions are packed with vegetables and taste AMAZING!!!!