Whip up one of these deliciously easy no-bake bars & slices in less than 10 minutes. With everything from chocolate slices to lemon bars!!
Update: Due to popular demand (and lots and LOTS of requests), we now have a 'No Bake Slices & Bars' eBook containing 17 delicious recipes available for purchase!! Click here to find out more…
There is nothing, I repeat nothing, better than easy no-bake bars and slices. They're quick, they're easy, they're virtually impossible to stuff up, AND you don't even need to turn the oven on. Seriously, how good is that. Some of my favourite slices are no-bake recipes. Actually, scrap that, MOST of my favourite slices involve no baking whatsoever. And so today, I thought I'd put together a list of all my favourite no-bake bars & slices. Some are old favourites, others are newbies… but all of them have two things in common – they're super delicious and utterly simple.
EASY NO-BAKE BARS…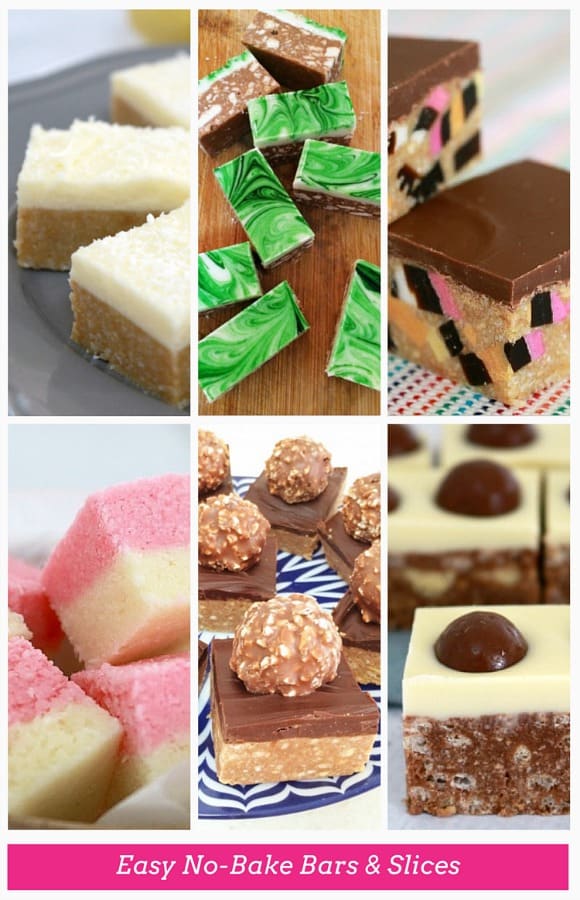 First up is my very favourite Lemon and Coconut Slice. This recipe has been made about a zillion times in our house. Love, love, love it!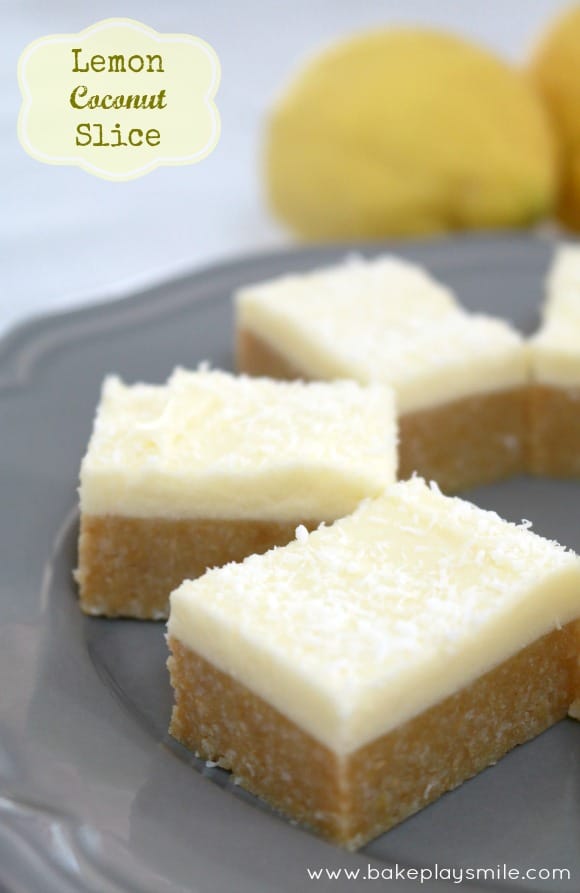 I'm not usually a fan of licorice, but I adore this Licorice Allsort Slice. It's just so pretty and colourful!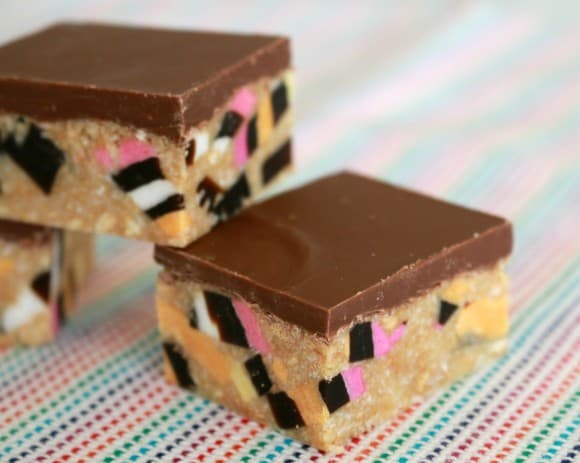 Do not even get me started on how much I love this Chocolate Honeycomb Crunchie Slice. Made with only 5 ingredients – you'll have this baby whipped up in no time at all.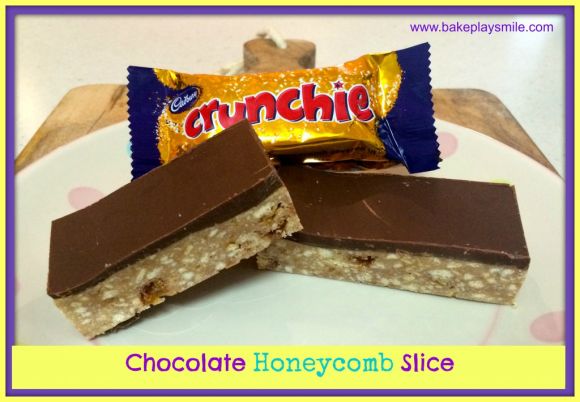 This Super Easy Chocolate Peppermint Slice is by far one of the most popular recipes on Bake Play Smile… and it's no wonder given how yummy (and easy) it is. If you're a fan of peppermint and chocolate, you are going to LOVE this!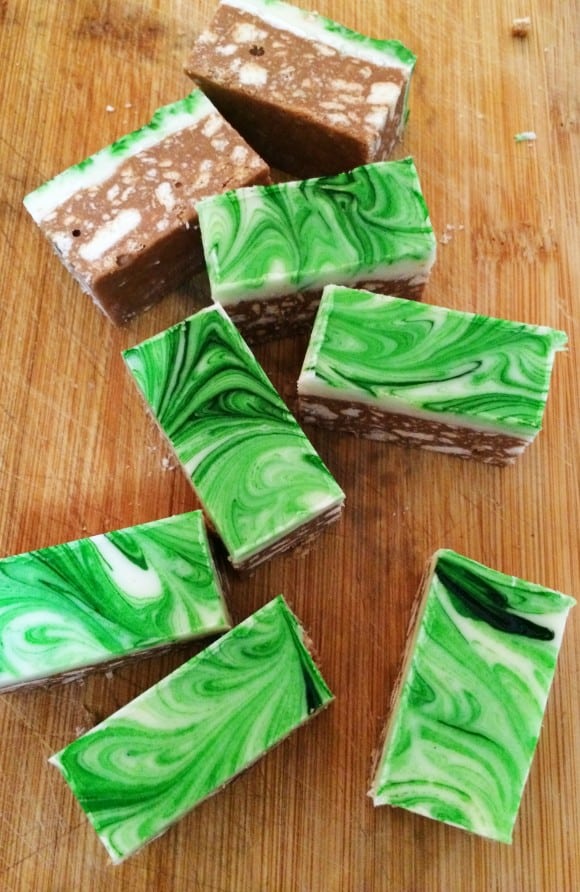 Coconut Ice always reminds me of school fetes. You truly cannot get a prettier or easier slice – and best of all, it will only take you 10 minutes to make.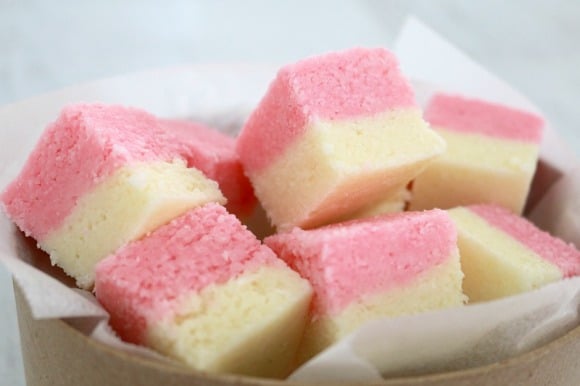 If you love the nutty crunch of peanuts and chocolate, then this Snickers Slice is a must-make. The hardest part about making this slice is trying not to eat the mixture!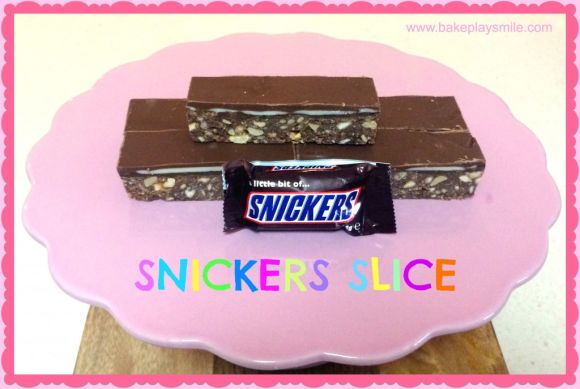 Caramello Slice is one of my all-time favourites. I've lost count of how many times I've made this… seriously, it's that good!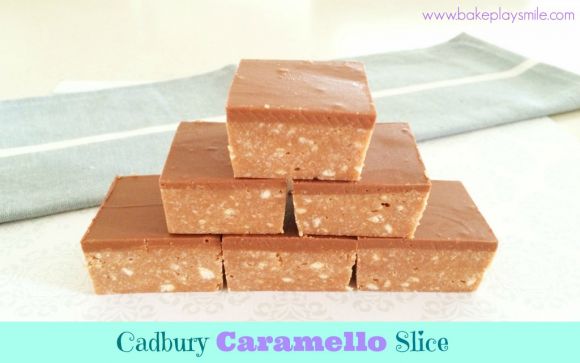 If you're after a lunchbox filler, then these Healthier Coco-Pop Bars are just what you need. Made with puffed rice, chia seeds, cacao, honey, coconut oil and coconut, these bars will be ready in no time at all.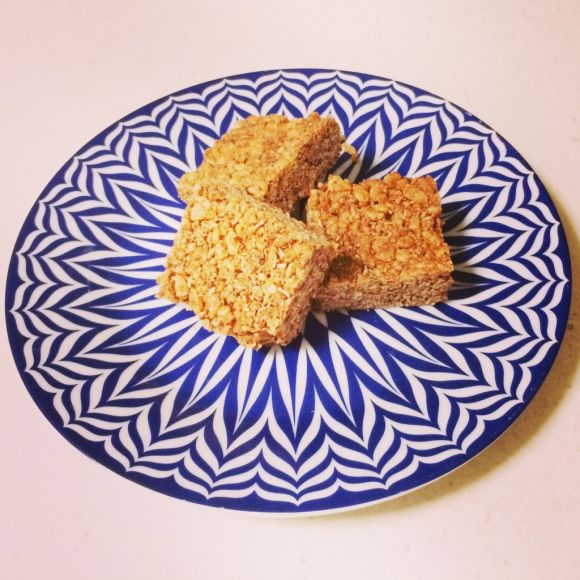 Chocolate Hedgehog Slice is always a winner in our house. The combination of sultanas and chocolate, combined with a biscuit base is just oh-so-good.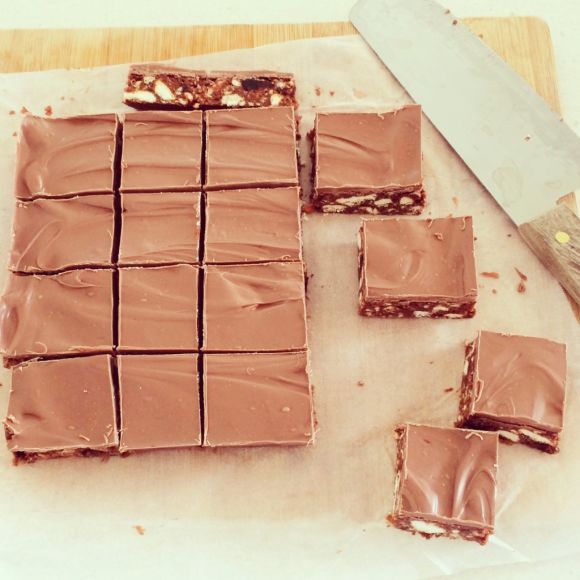 Umm did someone say Ferrero Rochers? This no-bake slice won over my grandma… so you know it's a winner! I love that it looks super impressive, but is actually a cinch to make.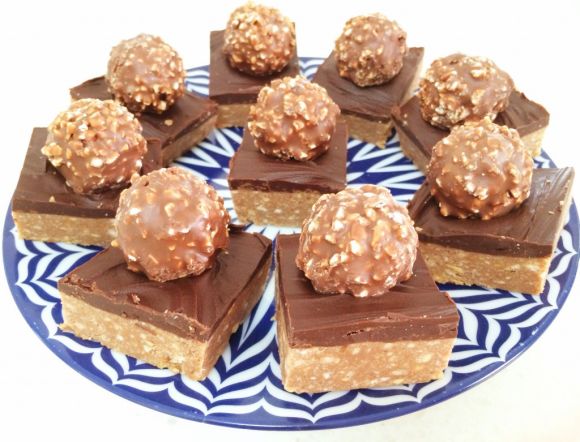 One of the most popular recipes ever to grace Bake Play Smile is this totally amazing, super delicious Malteser Slice. I highly recommend buying a big bag of Maltesers so you can nibble on them while you make it.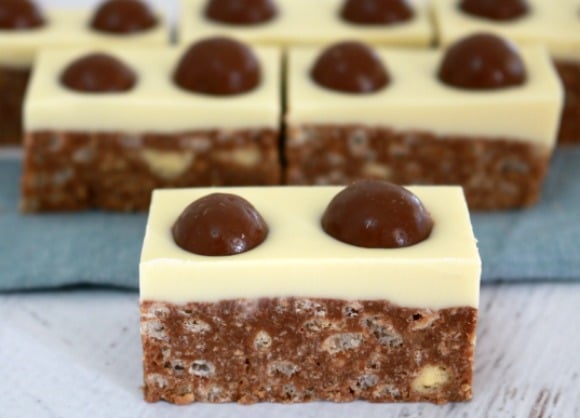 The very first recipe to ever go viral on Bake Play Smile was this Clinkers Slice… and it's still an absolute favourite!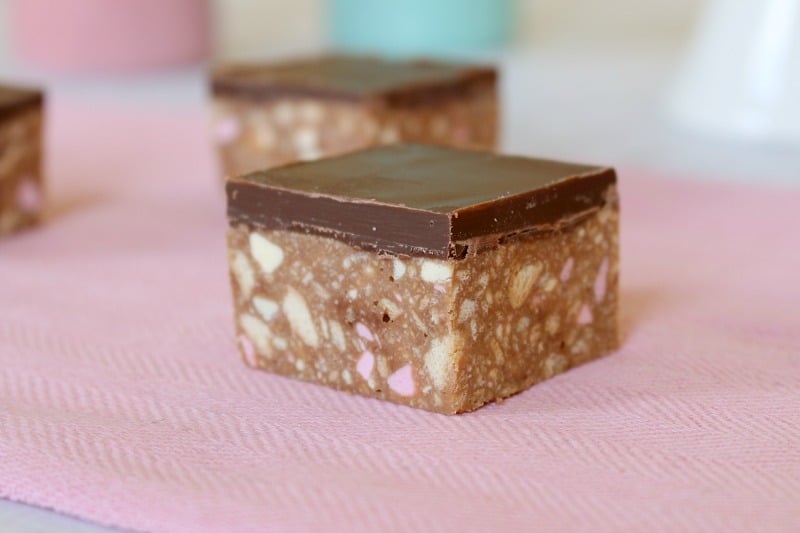 This is called 'The Best Ever Chocolate Slice' for a very good reason! Take one bite of this slice and you won't be able to stop.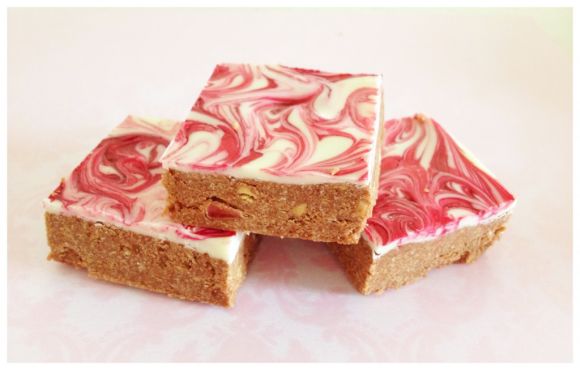 Did someone say Mars Bar Slice? Find out how to make this easy slice in less than 10 minutes!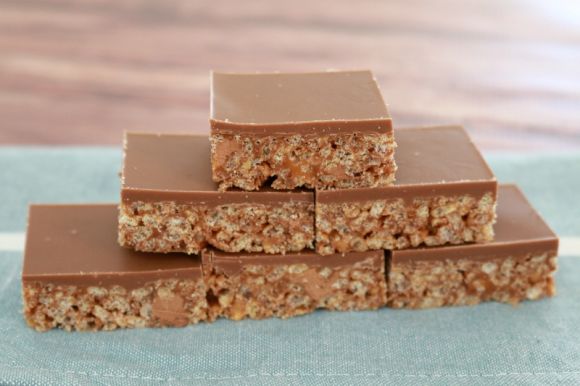 For more easy slice recipes, check out our NO-BAKE BARS & SLICES EBOOK packed with 17 of our most popular recipes (available in both conventional and Thermomix versions) for just $10.00.
Get the eBook via instant download and then save to your computer, tablet, phone or iBooks. If you'd prefer a hard copy, all of our eBooks print to an easy-to-read A4 size.
Shop the conventional version here or the Thermomix version here.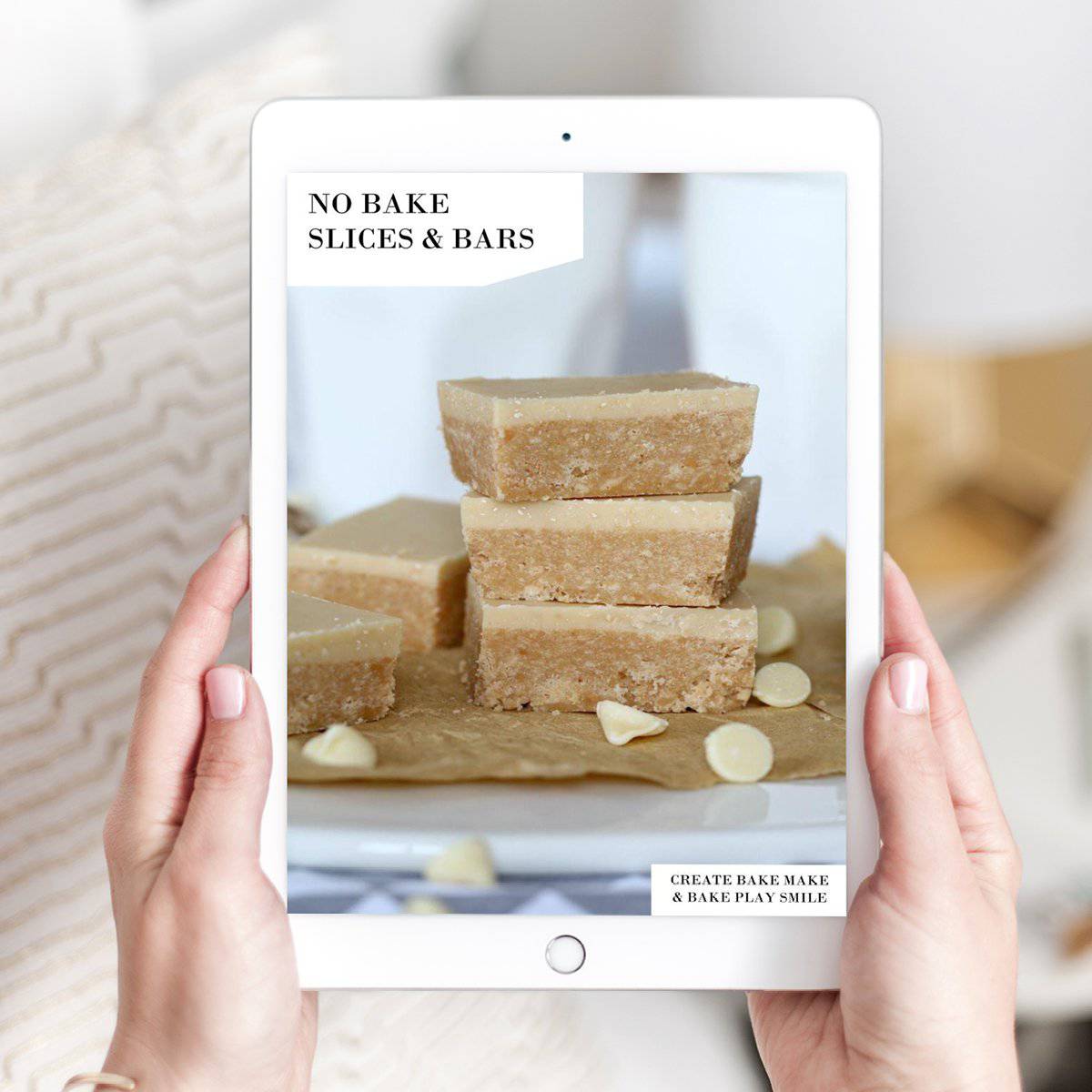 Do you love easy no-bake bars and slices too? What's your fave slice to make?