Our collection of 30+ of our most popular no-bake slices recipes are sure to leave you drooling! From chocolate slices to condensed milk slices, fruity slices to cheesecake slices and more!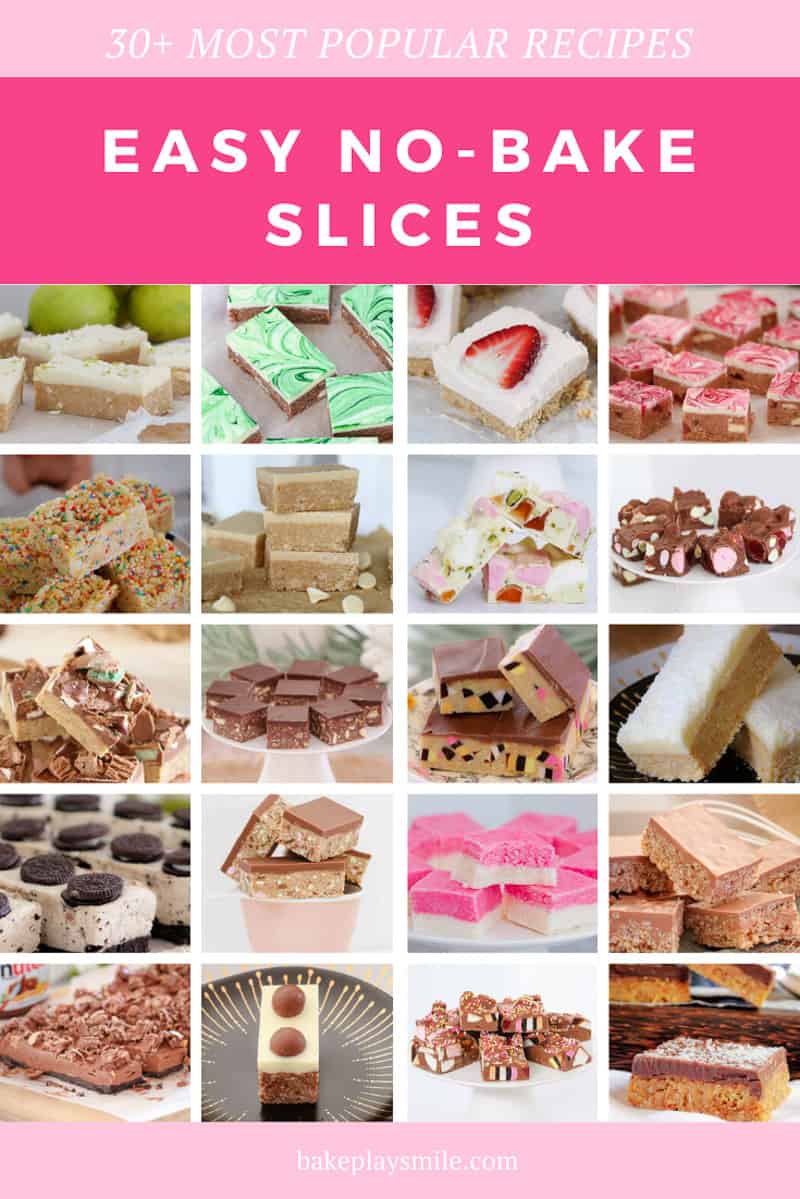 No-Bake Slice Recipes
No-bake slices (also known as no-bake bars or no-bake tray bakes) are such popular recipes... and it's no wonder given how quick, easy and fool-proof they are! Simply mix and chill - it doesn't get any easier than that!
Browse our no-bake slices collection which includes everything from chocolate no-bake slices (like our famous Mars Bar Slice, Malteser Slice and Clinkers Rocky Road) to fruity no-bake slices (including our most popular lemon and coconut slice), no-bake cheesecake slices and so many more!
No Bake Slices With Condensed Milk
So many of our most popular no-bake slice recipes are made using a base of sweetened condensed milk and crushed cookie crumbs and are then flavoured with different add-ins. For most of these recipes we use Arnott's Marie biscuits (you can substitute with any other plain sweet cookie) and Nestle Sweetened Condensed Milk (full fat - not skim, as full fat sets the slices firmer).
The classic combo of coconut and chocolate has never been easier (or yummier!).
Even if you don't like plain licorice, you're going to fall in love with this sweet and colourful slice.
The combination of sweet dried dates and roasted almonds makes the perfect base for this no-bake slice.
One of our most popular recipes ever! Maltesers, rice bubbles (rice krispies) and chocolate make this a chocoholics dream!
Clinkers are famous Australian hard colourful candies covered in chocolate... and they make the perfect ingredient in this sweetened condensed milk slice.
Chocolate No-Bake Bars & Slice Recipes
If you're a chocoholic, then these are the recipes for you! Many of our most popular chocolate no-bake slices are also made using sweetened condensed milk and crushed cookie crumbs... making them SO simple!
This old-fashioned favourite takes just a few minutes to make... and is always the first to disappear from the fridge!
If you love Clinkers, then you can't go past this famous rocky road recipe.
Everyones favourite chocolate bar is taken to a whole new level with this chocolate and caramel flavoured no-bake slice.
Pistachios and Turkish Delight give this simple rocky road a beautiful boost of colour.
Sweet, chocolatey and crunchy... this no-bake slice really does have it all (and soooo much more!).
The ultimate chocolate slice... a rich chocolate base covered with a layer of melted chocolate and topped with Maltesers (malted milk balls also known as Whoppers).
Our famous peppermint slice is made using Cadbury peppermint chocolate and is finished with a green swirled white chocolate layer. It looks AMAZING but is so simple!
Take a classic rocky road recipe and add licorice allsorts and sprinkles for a gorgeous boost of colour.
Our super popular Caramello Slice recipe is made using Cadbury Caramello chocolate. It's delicious smooth, creamy and caramel-flavoured!
Everyone's favourite sweet combination is taken to a whole new level with this yummy slice recipe.
If you love Turkish Delight, then you absolutely can't go past this favourite! Made from Cadbury Turkish Delight chocolate and topped with a pink swirled white chocolate layer... it's pretty AND delicious!
The crunch of peanut, the sweetness of caramel and the smoothness of chocolate... this slice has got it all.
Who doesn't love the combination of mint and chocolate!? It's just the BEST! Decorated with all your favourite mint chocolates, this slice is a must-make!
Fruity No-Bake Slices
Our fruit-flavoured no-bake slice recipes are light, fresh and zesty... the perfect mid-morning or afternoon tea treat!
Zesty and delicious, this is one of our most popular recipes for a reason!
Our classic lemon coconut slice made with a lime twist... this quick and easy recipe is always a favourite.
A sweetened condensed milk and crushed cookie base with chunks of dried apricot, makes this no-bake coconut slice extra yummy.
No-Bake Cheesecake Slice Recipes
You just can't beat a cheesecake recipe... and these no-bake cheesecake slice recipes are super simple, creamy and taste AMAZING!!!
A cookie crumb base topped with a creamy strawberry layer and decorated with fresh strawberries - the perfect summer dessert.
Creamy, chocolatey and full of topped with Ferrero Rocher hazelnut chocolates... this is a chocoholics delight!
A cookies and cream cheesecake slice made with an Oreo crumb base and cream cheese and cookie filling. Decorate with mini Oreos for the perfect finish.
Our original cheesecake slice couldn't be any more AMAZING! Sweet, creamy and salty!
Other No-Bake Slice Recipes
Browse even more of our simple no-bake slice recipes below... from coconut ice to jelly slice and more!
As sweet as this slice looks... it tastes even better! If you love coconut - this is most definitely the slice for you.
Just like the store-bought bars but 1 million times better and far healthier too!
Our Salted Caramel Slice is raw and healthy keto-style no-bake slice that everyone will love.
Lunch box treats have never been easier than these chocolate treats.
Would you believe that one of the most classic and old fashioned slices is also completely no-bake and totally foolproof!?
More Slice Recipes
If you love the look our our no-bake slices, then check out our entire collection of slice recipes here.
WANT EVEN MORE DELICIOUS RECIPES? Subscribe to my newsletter or follow along on Facebook or Instagram. And if you love baking, then please come and join my Facebook cooking club group or subscribe to my YouTube channel.