A step by step guide for how to cut perfect slices when baking... including tips and tricks for cutting chocolate-topped slices, caramel slice, vanilla slice and more!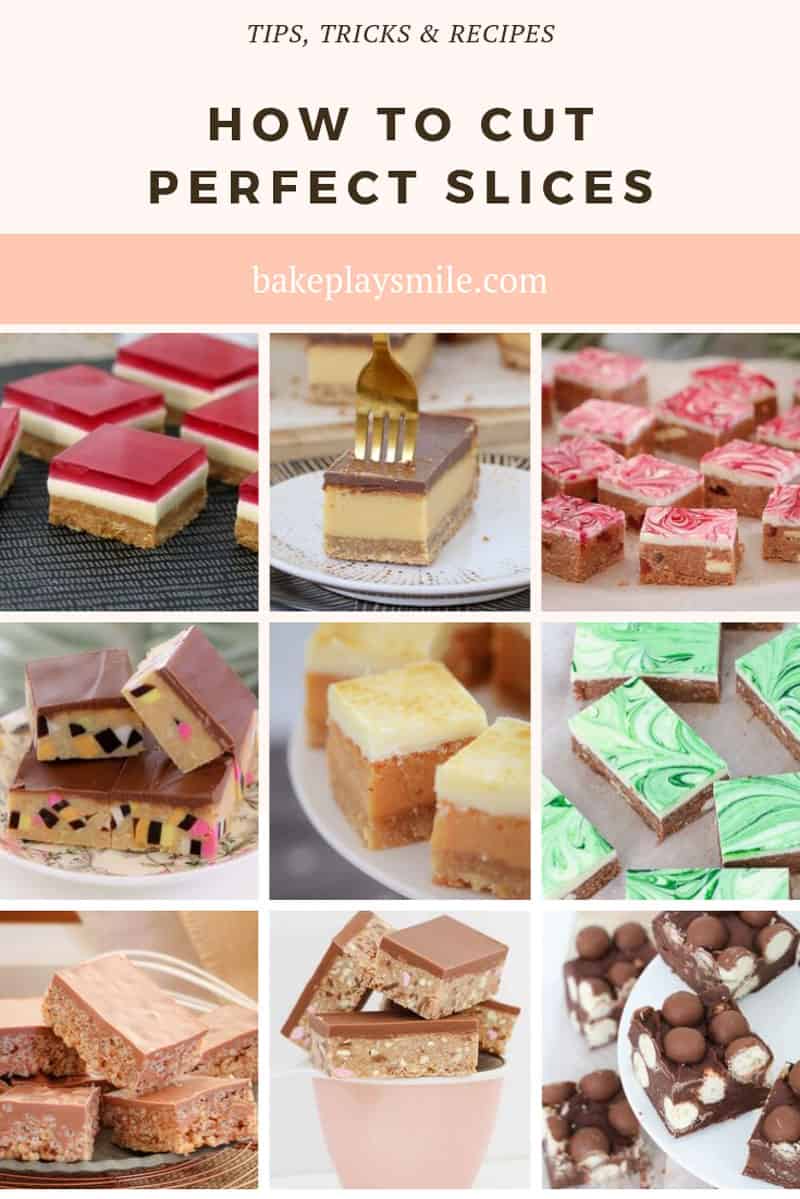 Here at Bake Play Smile, we are ALL about delicious slices and bars! Whether it's a quick and easy no-bake slice or a classic baked slice, we want to make sure that the end result not only tastes incredible but also looks AMAZING too!
So follow our simple tips and tricks and you'll have perfectly neat slices every single time!
5 Basic Tips For Cutting Slices
1. Line The Baking Tin With Baking Paper
When making slices, ensure that you always use a baking tin that has been lightly greased and then lined with baking paper. Greasing the tin will help the baking paper to stay put in the tin.
2. Leave Your Slice Overnight Before Cutting
This isn't always possible, but if you can leave your slice overnight before cutting it, you'll find that its SO much easier to cut into neat little pieces. Always leave your slice for at least a few hours (minimum) before cutting to avoid breaking and crumbling.
3. Choose The Right Knife
Firstly, make sure your knives are sharp! It's impossible to cut a slice neatly with a blunt knife... so sharpen those babies up!!!
The type of knife you use will be determined by the type of slice you're cutting. I have two main knives I like to use:
Small serrated knife: I cut about 80% of the slices I make with a teeny tiny Victorinox serrated knife. It's my 'go-to knife'. It's tiny and yet powerful! The serrated edge means that it cuts through chocolate topped slices easily without any cracking.
Large flat edged knife: This knife works well on slices where you want a very sharp edge (like fudge). The slice needs to be quite firm and without a hard chocolate topping. Something like a lemon coconut slice or ANZAC slice works well with this kind of knife.
4. Cut The Slice Into Long Strips & Then Smaller Pieces
Start by placing your slice into a flat chopping board. Cut the slice into long strips. Then cut each strip into small pieces. This method gives you much more control when cutting each little piece.
5. Wipe Your Knife Clean
In between cuts, wipe your knife on a clean, damp cloth. This will keep your pieces free of extra crumbles or mixture.
How To Cut Chocolate-Topped Slices
Slices that have a layer of melted chocolate over the top can pose all kinds of problems when cutting into pieces. Often the chocolate will crack or you'll end up with jagged edges.
Top Tips For Cutting Chocolate-Topped Slices:
Add a small amount coconut oil or vegetable oil to the melted chocolate before pouring over the slice. This helps to stop the chocolate from cracking when sliced.
Allow the slice to set in the fridge (preferably overnight before cutting).
Remove the slice from the fridge and place onto a chopping board 30 minutes before cutting. This will allow the chocolate to soften slightly which prevents it from cracking.
Use a knife to gently 'score' through the chocolate layer first. This involves gently cutting lines in the chocolate until you've cut through the entire chocolate layer.
Then use a large flat knife and press down through the rest of the slice.
If you attempt to cut through both the chocolate layer and the slice underneath in one go, the chocolate will crack and break. Cutting through the chocolate layer first solves this problem.
How To Cut Caramel Slice/Millionaires Shortbread
Follow the tips above when cutting caramel slice. It's most important to score through the chocolate layer with a small sharp knife completely before pressing down firmly through the caramel and base (using a large, flat knife). If you try and cut all 3 layers at once, the chocolate will break and the caramel will squish out the sides.
Chocolate- Topped Slice Recipes
How To Cut Fudge
When it comes to cutting slices, fudge is one of the easiest!
allow the fudge to set in the fridge for a minimum of 3 hours
remove the fudge from the fridge and place onto a flat chopping board
dip a large sharp flat knife in boiling water, dry it completely and cut one long slice (the heat will help the knife to glide through)
repeat heating and drying the knife in between each slice
once you have long slices, cut each slice into smaller pieces (still using a hot, dry knife)
for perfectly straight lines, place a ruler next to the knife to guide your cuts
Fudge Recipes
How To Cut Vanilla Slice
Everyone's favourite classic slice can be a bit tricky to cut! Do it wrong and you'll end up with vanilla filling squishing out the sides. Do it right, and you'll have perfect neat slices!
use a greased and lined baking tin (allowing the baking paper to overhang)
refrigerate for a minimum of 3 hours before cutting
remove the slice from the tin and place onto a flat chopping board
first, use a small sharp serrated knife to cut through onto the top pastry layer
then use a large flat knife to gently press down through the remaining custard layer and the base
WANT EVEN MORE DELICIOUS RECIPES? Subscribe to my newsletter or follow along on Facebook or Instagram. And if you love baking, then please come and join my Facebook cooking club group or subscribe to my YouTube channel.