Browse our collection of simple and healthy savoury snacks from vegetable slices to quiches, savoury fritters to nuggets, homemade pies, sausage rolls, muffins and scrolls! Tasty and delicious recipes that are perfect for school lunch boxes or light snacks.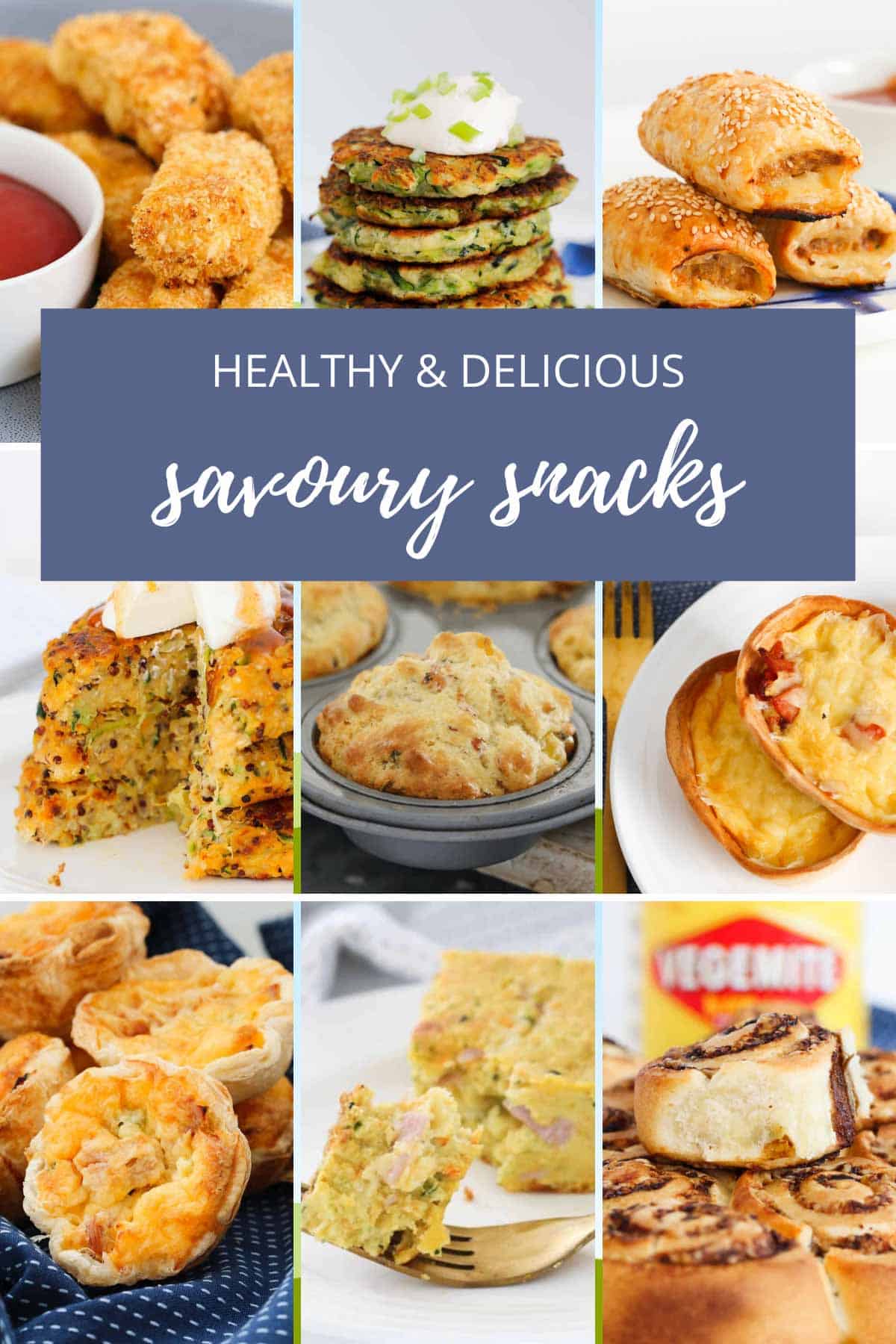 These kid-friendly savoury snack recipes are so handy for toddlers meals, light dinners and work lunches too, and any leftovers can be frozen for 'grab and go' snacks on the run.
Thermomix & Conventional Savoury Snack Recipes
All of the healthy savoury snack recipes featured in this collection have both Thermomix and conventional instructions included in the recipe cards - so you can choose your preferred method.
To access any of the recipes, simply click on the links below.
Savoury Slices And Quiches
Savoury slices and quiches are a great alternative to sandwiches when filling up school lunch boxes. All of these recipes can all be prepared ahead of time and frozen until needed.
These crisp savoury mini quiches are easy on the budget and make excellent little snacks to pop in to lunch boxes, or for simple 'kid-approved' party snacks.
For a lunch box snack or light meal, these scrumptious cheesy tortillas are ready in less than half an hour - they also freeze and reheat beautifully!
Mini ham and corn quiches are always popular with the kids as an after school snack or finger food, and are so simple to bake when you need a quick and easy plate of food to share.
Serve this savoury vegetable slice on it's own as a quick snack or lunch box filler, or make it into a more substantial meal by serving with a salad, chicken or BBQ meat. Ready in less than an hour!
A perfect way to smuggle some extra veggies in, and also a great way to use up all those zucchini's that suddenly appear from everywhere when they're in season....
If you're looking for ways to incorporate some extra veggies into your little ones meals, this savoury slice is definitely worth a try - the flavours of cheese and ham will tempt even the fussiest of eaters!
Perfectly budget friendly and super easy, you can serve this frittata anytime of the day - even for a healthy breakfast! Keep some in the freezer too, for a 'grab and go' alternative for school or work lunches.
Zucchini slice is just as good served warm or cold, so it's great to pop a piece into a lunch box as an tasty alternative to a sandwich. Add a little container of chutney to dip in as well!
Fritters & Nuggets
As savoury snacks for lunchboxes, a light lunch or easy dinner, fritters make a tempting alternative to a plate of veggies, and homemade nuggets are such a delicious 'fake-away' snack!
Toddler and kid approved by the fussiest of eaters. Serve them on their own or add a side salad, crispy bacon, avocado and sour cream to satisfy the whole family too!
These easy zucchini fritters are high on rotation at my house, and I always stock up the freezer when zucchinis are in season. Simply defrost one or two for a toddler's quick snack or lunch box addition - too easy!
Made with lots of healthy ingredients, these simple sweet potato fritters take just 15 minutes to prep, and are just what you need for an easy vegetarian lunch box snack, or as a vegetable side dish.
A healthy alternative to take away chicken nuggets, make a batch and freeze these little savoury bites. A plate of chicken and veggie nuggets make for tasty snacking!
Perfect for lunch box fillers, a plate to share, or for kids parties, these oven baked nuggets are ready in 30 minutes, and are such a great way to enjoy healthy 'fake away' snacks.
Savoury snacks with extra veggies are a bonus, and a healthy alternative to 'take away' as you know exactly what's in them! Great for toddlers as finger food too!
Little savoury bites that are a healthy hit with the kids! Serve warm or cold - these sweet potato and quinoa bites match perfectly with a bowl of hummus or your favourite dipping sauce.
Pies & Sausage Rolls
A batch of homemade pies and sausage rolls are so handy to have in the freezer, either for after school snacks for hungry tummies, a light mid-week meal, or a lunch box addition.
Pop one or two of these into lunch boxes for a tasty alternative to a sandwich, they taste just as good cold as served warm. Make a bulk batch to freeze for easy snacks!
With some sneaky veggies included, these chicken sausage rolls make a healthy snack that's a welcome treat for lunch boxes, or served as finger food at the next party!
Loved by little ones as well as by 'big' kids, I always keep a batch of these lamb sausage rolls in the freezer for a 'grab and go' snack or lunch box filler (they'll be defrosted by lunchtime). Add a little container of sauce for dipping!
Another easy lunch box alternative, and this one is made from chicken mince, grated cheese and corn kernels (no sausage meat included). So easy!
The classic beef sausage roll! An all-rounder - perfect for lunch box fillers, after-school snacks, a light meal or party food - just add tomato sauce for dipping!
These bite sized snacks are so good - and I've never met a kid that doesn't love sausage rolls! Make a double batch to freeze some, so handy when you need a night off cooking, or a last minute lunch box snack.
A healthy meat-free alternative, these spinach, feta and ricotta rolls are a perfect light snack to pop in for lunch - just add a container or your favourite dipping sauce or chutney.
Sandwich or crispy tart? I'll take the tart please! Handy as a lunch box filler, these are just as good cold as they are warmed up. They freeze perfectly too!
Make your pasties small enough to pop in a lunch box and add a little tub of chutney to dip in for a tasty savoury snack. Also the perfect light lunch or mid-week meal!
Made with a shortcrust base, and crispy puff pastry on top, these individual chunky meat pies make a fabulous savoury snack....and the smell of them baking is simply amazing.
Muffins & Scrolls
Savoury muffins and scrolls are a fantastic alternative to the usual lunch box fare. Plus, the beauty of having some of these in the freezer makes it a breeze to pop in a tasty lunch box treat that will have defrosted by lunch time.
Just one bowl required and extra friendly on the budget, these tasty muffins are just as good warmed up or cold. Or serve with a bowl of soup for a light winters lunch or dinner.
Made with basic ingredients, these savoury muffins make a great snack in lunch boxes or as after-school snacks AND they can be ready in less than half an hour!
Made with basic pantry staples, these Bacon & Cheese Muffins are well and truly kid approved! Make a double batch and freeze some for 'grab and go' lunch box snacks.
Savoury vegetable muffins are always a huge hit in our house. Whether it's with a bowl of soup on a cold day, or popped in a lunch box, they're just as tasty served hot or cold.
Ham, pineapple and cheese - what's not to love about Pizza Scrolls?? A great alternative to sandwiches, and fun to pull apart and eat at lunch time too!
Healthy savoury snacks don't get any more popular than these cheesymite scrolls!!! Pull apart scrolls can be popped into lunch boxes frozen, and will be ready to enjoy at lunch time!
Pop frozen ham & cheese scrolls into lunch boxes in the morning, add some fruit and lunch is done! This is a 30 minute recipe with basic ingredients that cannot fail to please!
"Best dough recipe that I've tried." "So easy to make and super yummy." - 5 star Review.
These tasty pinwheels combine the crunch of puff pastry with the yummy flavours of spinach and feta. Only 30 minutes to make and bake, they make a quick after-school snack or finger food to share.
Delicious eaten straight from the oven, these rolls make a great lunchbox addition as well – and are freezer-friendly too!
You can't beat homemade bread, rolls and scrolls... and these white bread rolls are the softest and fluffiest rolls ever! Once you've baked your first batch, you'll realise how really simple they are to make!
For more healthy savoury snacks, browse our entire collection of snacks and sides recipes here.
Thermomix Lunch Box Cookbooks
Click here to shop our range of Thermomix lunch box and snack cookbooks.
Full of sweet and savoury lunch box recipes that are easy to prepare, freezer-friendly, school-friendly… and of course, kid-approved!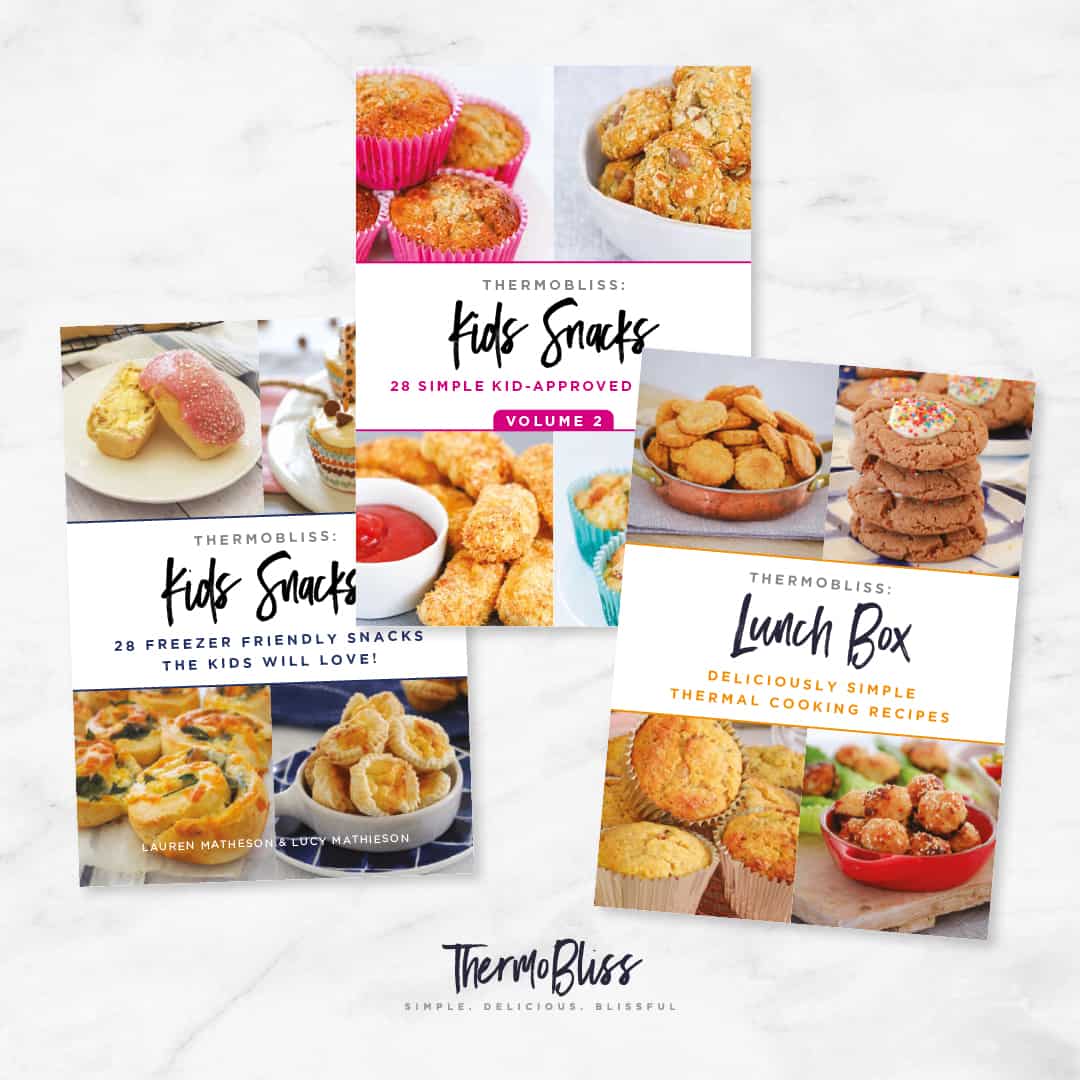 WANT EVEN MORE DELICIOUS RECIPES? Subscribe to my newsletter or follow along on Facebook or Instagram. And if you love baking, then please come and join my Facebook cooking club group or subscribe to my YouTube channel.