If you're after a yummy lunchbox snack, these Healthy Coco-Pop Bars are exactly what you need! Made with honey, chia seeds & coconut oil.... they're the perfect alternative to the sugar-filled store bought varieties!
You know that feeling when you're really, really craving something deliciously naughty and sweet... but you 'knowwww' that you should be eating something healthy instead?? Of course you know that feeling! Well I certainly do too... I have that mega brain argument about 50 million times every single day. Which brings me to these yummy little things...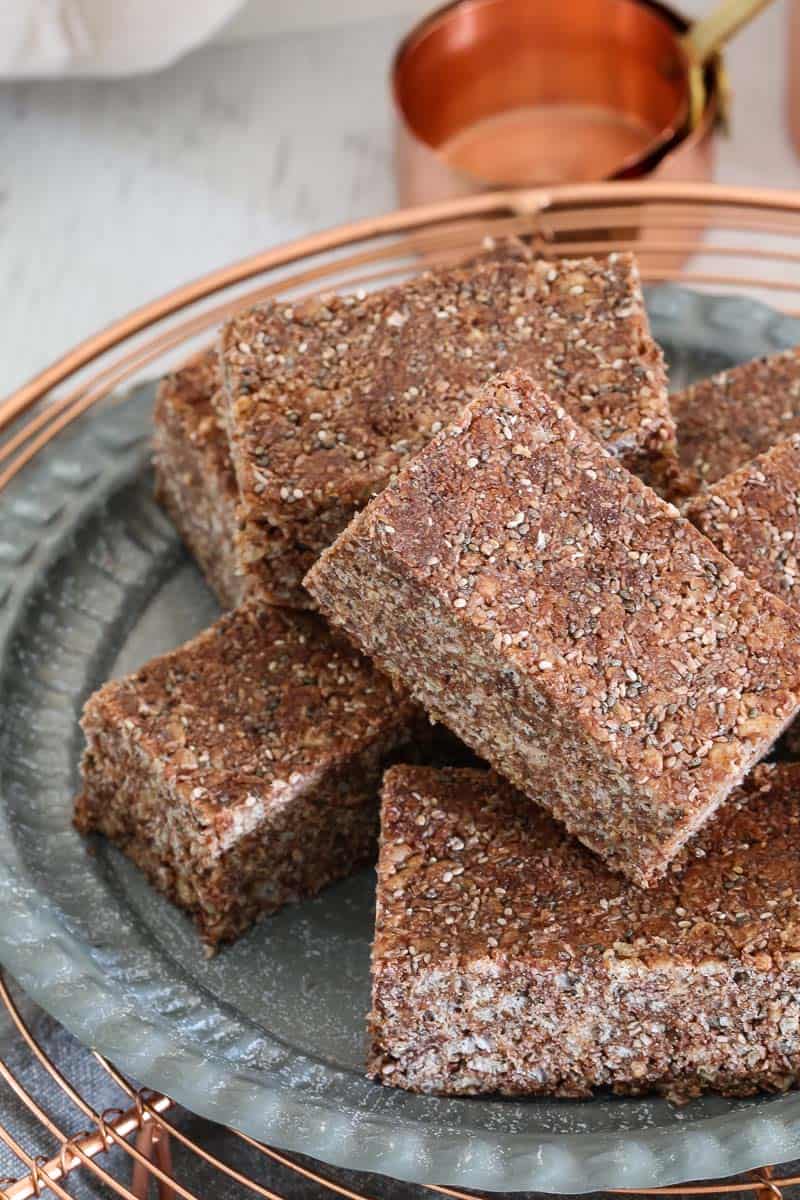 Say hello to these 'Healthy Coco-Pop Bars'! They taste just like you're eating a really naughty treat, when you're actually gobbling down on chia seeds, cacao powder and other deliciously healthy things. Heck YES!!!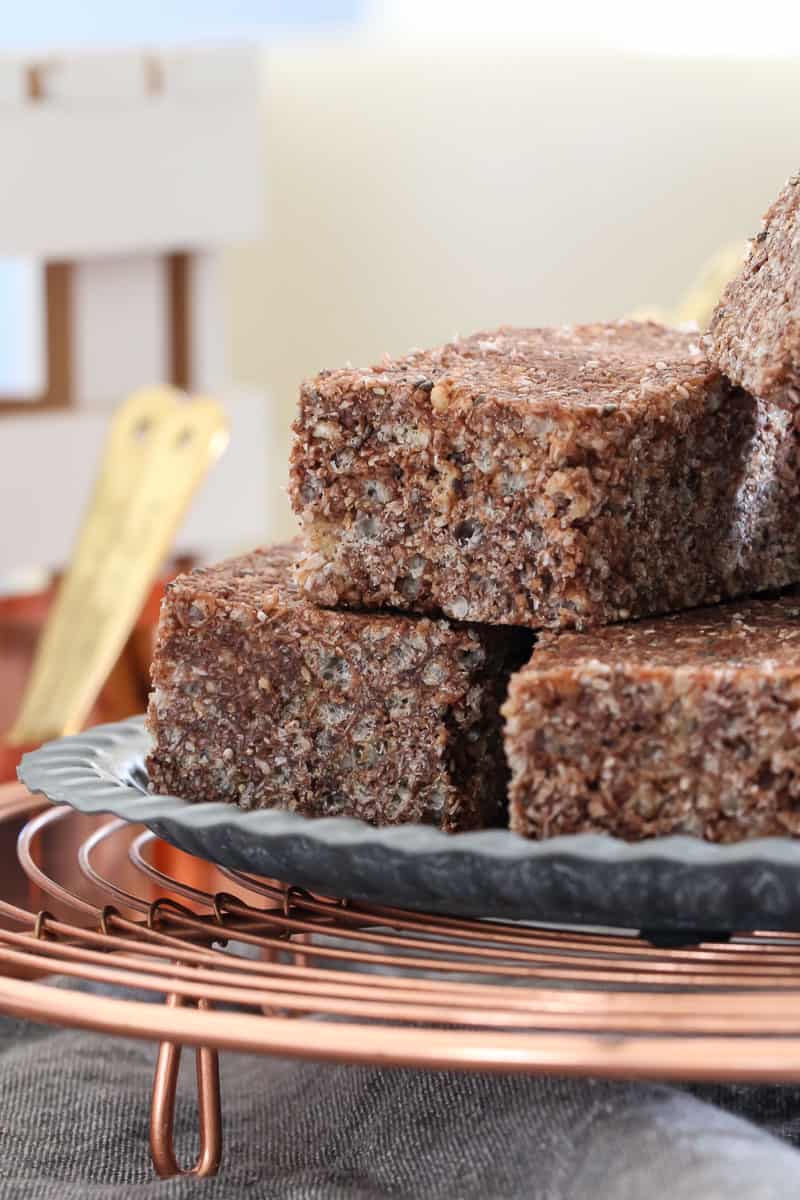 This recipe came about when I was experimenting with making a healthier alternative to store-bought LCM bars and sugar-filled muesli bars. And what a delicious little experiment it turned out to be! Oh and did I mention that they also take less than 5 minutes to make and are completely no-bake??.... love, love, love that!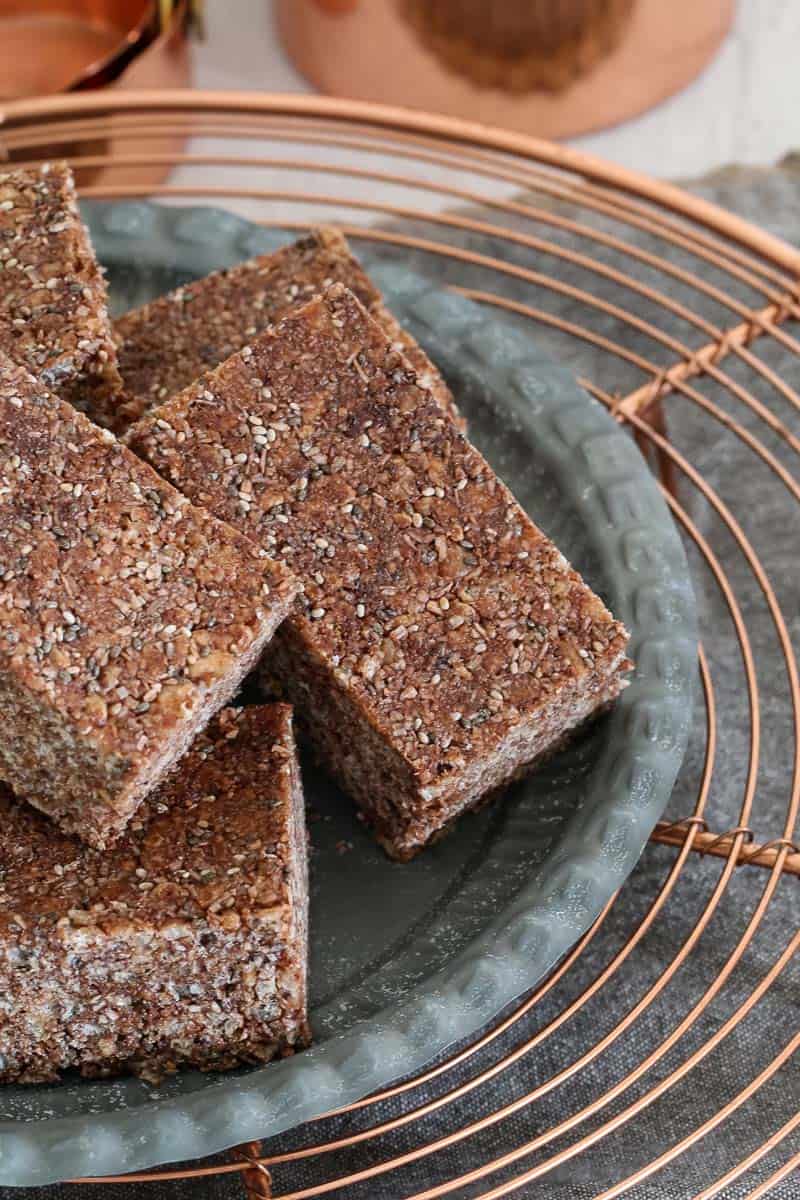 So next time you're looking for a healthier snack for your kiddies (or yourself), then definitely try a batch of these yummy Healthy Coco-Pop Bars. I promise they'll give your usual 3pm Freddo frog a run for it's money! xx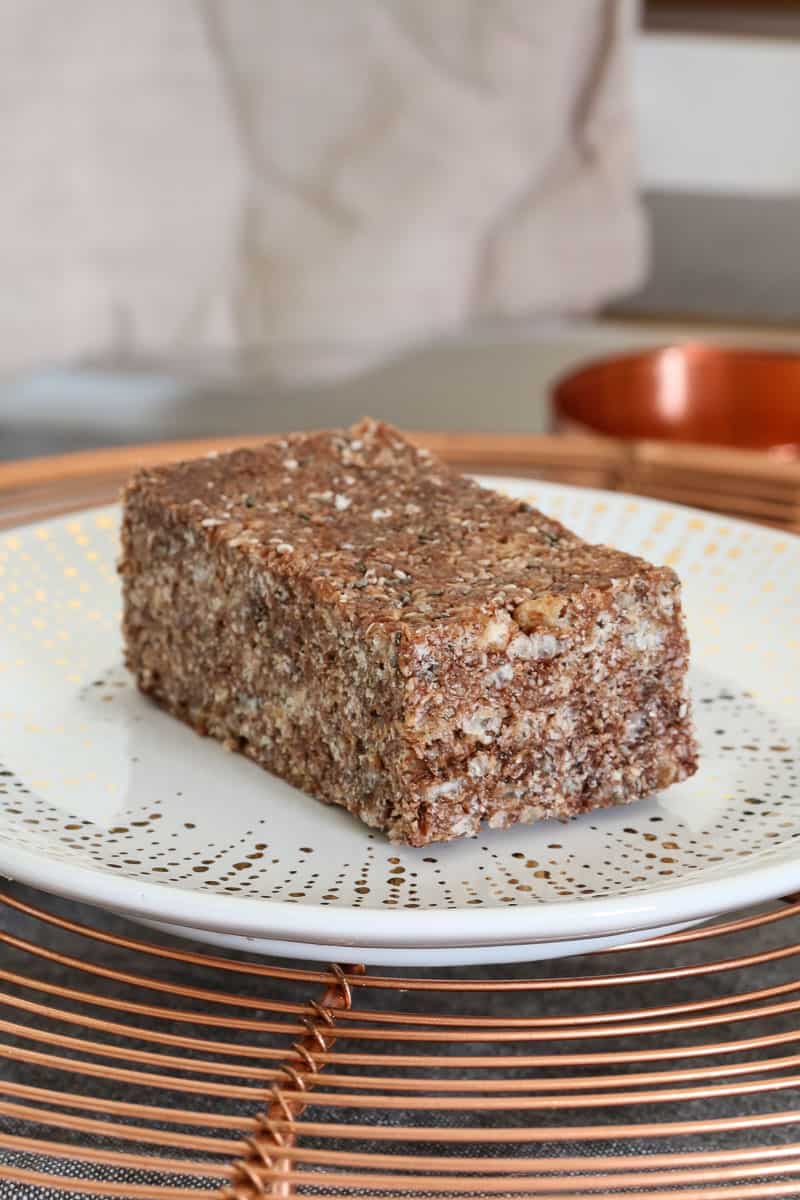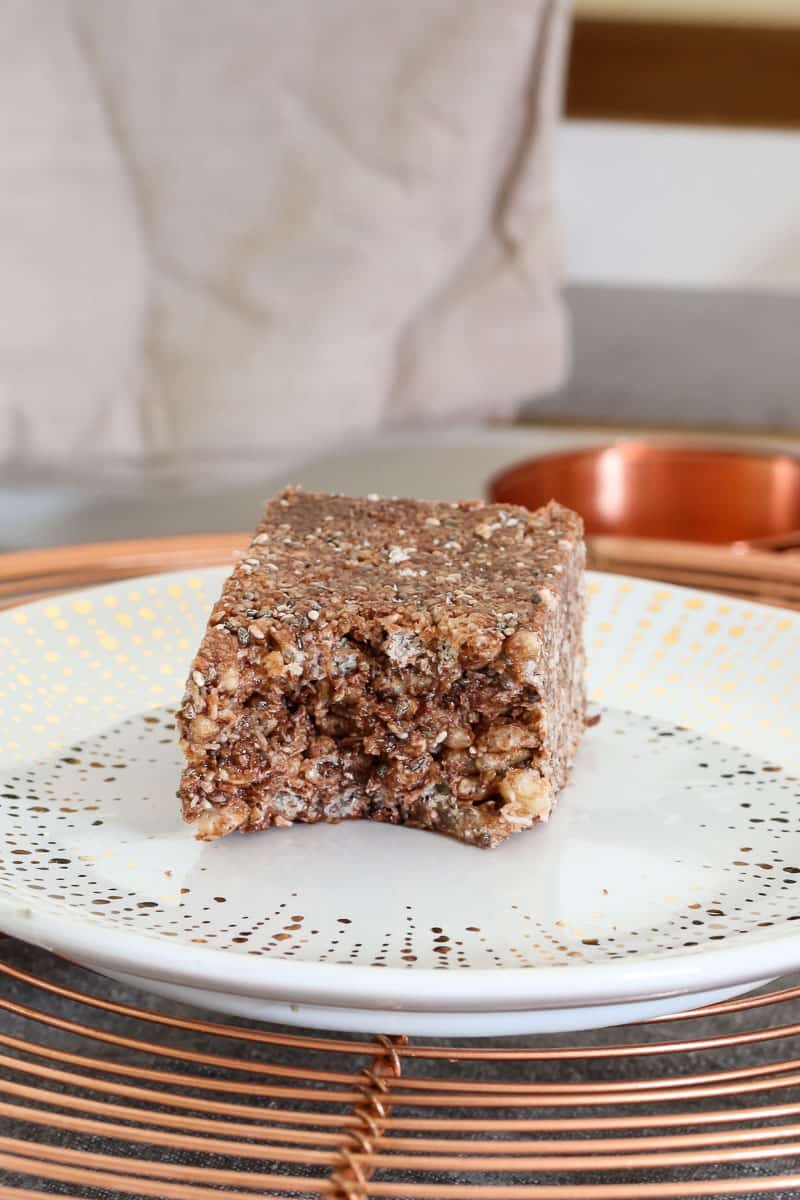 PS. For more healthy kid-friendly snacks and recipes, check out my 101 sweet and savoury lunch box snacks! YUM!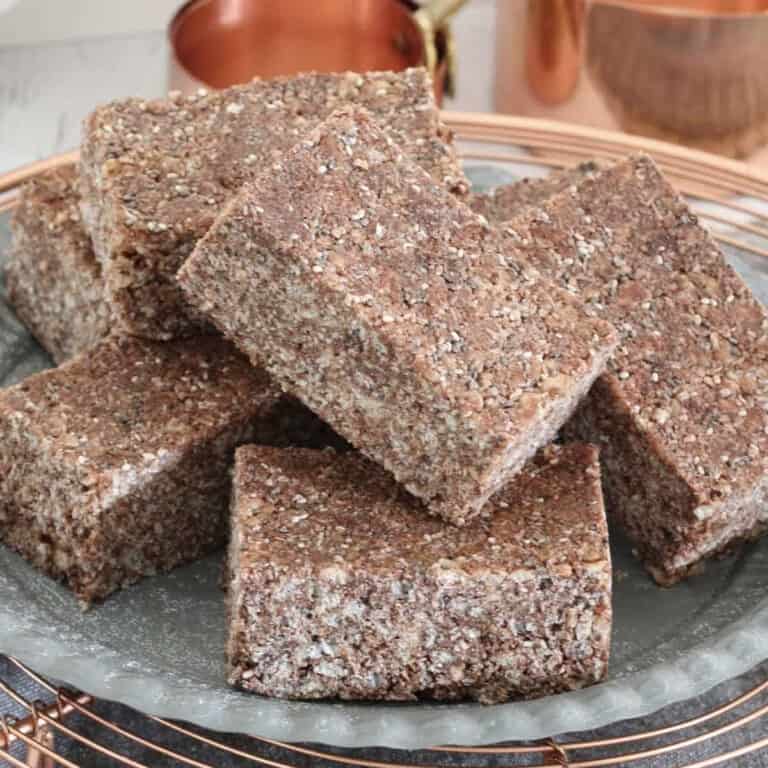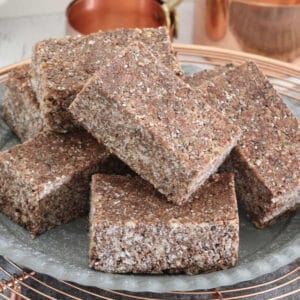 Coco Bars
Made with only 6 ingredients including chia seeds, cacao and coconut, these delicious coco bars are the perfect lunch or after school treat!
Print
Pin
Rate
Ingredients
120

g (4 cups)

rice bubbles

or any puffed rice

40

g (¼ cup)

chia seeds

200

g (2 cups)

desiccated coconut

25

g (¼ cup)

raw cacao powder

255

g (¾ cup)

honey

or ¾ cup rice malt or maple syrup

110

g (½ cup)

coconut oil

melted
Instructions
Place the rice bubbles, chia seeds, coconut and cacao powder into a large bowl.

Pour over the honey and melted coconut oil and mix together really well.

Place the mixture into a lined 20cm square cake tin and press down firmly (I like to use a round glass and roll it over the mixture to really press it down extra hard).

Place the tin into the fridge and leave for 2-3 hours or overnight.

Take out of the fridge and cut into bars. Note - they will soften once out of the fridge.

Store the bars in an airtight container in the fridge.
Notes
RECIPE NOTES & TIPS
INGREDIENTS:
Rice Bubbles (also known as Rice Krispies) are a cereal made with puffed white rice. Alternatively, you can also use puffed brown rice (found in the health food section) or puffed wheat. Rice Bubbles are not gluten free, but gluten free alternatives can be purchased from the supermarkets and health food stores if gluten free bars are required.
Honey is combined with the coconut oil to make a sticky "glue" for the bars. You could also use brown rice syrup or maple syrup, although they will be a little crumblier this way.
Coconut oil is used to hold the bars together in the fridge. Coconut oil (and therefore the bars) will soften at room temperature. If you prefer a firmer bar, you can swap for equal quantities of unsalted butter.
Raw cacao powder is used to add the natural chocolate flavour. You can find cacao powder in the health section of the supermarkets, or in health food stores. Alternatively, unsweetened cocoa powder can be used.
MORE TIPS:
As coconut oil softens at room temperature, these bars need to be kept refrigerated or frozen to hold their shape. They will start to fall apart at room temperature, so are best eaten straight from the fridge or freezer. For a firmer bar, butter can be used instead.
Use a glass or another tin to press the mixture down very firmly into the tin. It is important that the slice is pressed down very firmly so that it doesn't crumble when sliced.
Refrigerate before cutting - if you allow the slice to come to room temperature first, the bars will crumble when cut. Use a sharp knife and slice it straight from the fridge when cold.
Storing - these bars will keep in an airtight container in the fridge for about a week and can be frozen for up to 3 months.
Nutrition
Calories:
364
kcal
|
Carbohydrates:
48
g
|
Protein:
5
g
|
Fat:
19
g
|
Saturated Fat:
16
g
|
Sodium:
10
mg
|
Potassium:
204
mg
|
Fiber:
5
g
|
Sugar:
8
g
|
Vitamin C:
0.4
mg
|
Calcium:
28
mg
|
Iron:
2.3
mg