A collection of 50+ of the most popular homemade Christmas food gifts - with everything from truffles, rocky road, fudge, chocolate bark, homemade Baileys, kids treats and more!
With Christmas just around the corner, there's no better time to start whipping up some delicious homemade gifts for family, friends, neighbours and teachers (... but don't forget to keep some for yourself too!).
Homemade Christmas Food Gift Recipes
Make a batch of everyone's favourite cheeky Christmas drink and bottle it up for boozy little Christmas gifts.
If you're running short on time and need a quick little gift, then these Christmas puddings are just what you need! Made from store-bought Chocolate Royals marshmallow cookies, they take just a few minutes to whip up.
Make a batch of our easy gingerbread, place it into pretty bags and tie with a ribbon for a cute little gift.
Our famous shortbread recipe is so simple! Cut out your favourite Christmas shapes for a sweet little homemade Christmas food gift.
Florentine biscuits look just that little bit special, so treat someone this Christmas with a surprise gift. They are surprisingly super easy to make too!
Your favourite little ones will love being given a bag of reindeer noses! Perfect for kindy or school friends!
This is one of our favourite Christmas homemade food gifts! Perfect for teachers and neighbours - and the recipe includes our free printable labels!
Just like our 'Brownies In A Jar', these 'Cookies In A Jar' are quick and easy to prepare and are the perfect gift on their own, or as part of a hamper.
Who wouldn't love a jar of this luscious chocolate sauce as a gift? Chocolate Fudge Sauce is such an old fashioned classic loved by generations!
Our favourite no-bake chocolate slice topped with candy canes and M&Ms... a yummy little Christmas foodie gift.
Want to be popular at Christmas time? Make a big batch of Baileys Sauce, pour it into small bottles and give as delicious little Christmas gifts.
These sweet little brownies are great for end of year school parties or Kinder breakups!
This popular Christmas slice is delicious given on it's own or as part of a foodie hamper.
Nothing beats luscious caramel sauce, and this easy homemade salted caramel is simply perfect to drizzle over your favourite dessert, cake, or bowl of ice-cream.
A sweet Christmas gift that the little people will love (and enjoy eating too!)
These cute candy cane sleighs make a gorgeous gift for your little ones friends.
These are my go-to recipe when I need a homemade Christmas gift at the last minute. Simply decorate store-bought cookies, place into a cellophane bag and give as a gift!
It takes just a couple of minutes to prepare this simple Christmas bark.
Truffles And Balls
A small gift of either rich truffles or decadent cheesecake balls makes a really special gift when they are homemade.
These creamy chocolate Toblerone truffles are simple to make, and great as a simple but thoughtful gift.
Taking just 10 minutes to prepare, these scrumptious truffles are the easiest no-bake dessert, sweet treat or gift!
Just 15 minutes hands-on and some chilling time in the fridge. However, once served these Oreo Truffles wont last long!
Made with a white chocolate ganache, these delicious truffles make a super special foodie gift!
A true chocoholics dream! A little box or bag of these salted caramel truffles makes an easy gift that is guaranteed to please.
A gift of these Bailey's Truffles makes an super exquisite and indulgent gift, particularly for a Bailey's fan (like me!).
Loved by all ages, these Rum Balls are just so simple to make, and that's why it's the perfect recipe to get the kids involved in!
These no-bake balls are always a winner. They take no time to mix and roll, and always make a welcome gift at Christmas time.
A sweet little gift also doubles as a decadent late night dessert - perfect for the true chocoholic!
It doesn't get much more Christmassy then cherries and chocolate!
For a cheeky 'adults only' treat, our Bailey's infused cheesecake balls are just what you need, and make a very welcome gift too!
Take these to a Christmas party or give them as a present... the choice is yours!
These sweet little Kahlua balls make the perfect addition to a special Christmas hamper.
If you love the smooth richness of creamy Caramilk chocolate, I know you'll love these simple (no-bake!) cheesecake balls.
These easy no-bake Caramel Cheesecake Balls are made with just three ingredients... a delicious dessert or party food treat!
These Peppermint Crisp Tim Tam Balls are made using two iconic Australian ingredients - Tim Tams and Peppermint Crisp Bars! Simple to make, even easier to eat!
If you love Bounty Bars as I do, then you really need to try this recipe. Maybe you could 'gift' them to yourself, but warning, they're slightly addictive!
Just 10 minutes to prep these Tim Tam balls, and I guarantee they'll be a winner at a party, or given as a gift.
Fudges
Made in the microwave in minutes, these fudge recipes make such gorgeous little gifts to share.
All the flavours of Christmas - white chocolate, cranberries and pistachios... and made in less than 5 minutes!!
A perfect homemade gift for friends, colleagues or family. So easy to throw together and every well deserving chocoholic will love it!
Super rich, soft and chewy, with that unmistakable Bailey's flavour. The perfect gift for a friend (or sneaky late night treat!)
Just one bowl and 10 minutes to make this sweet fudge delight. You simply must try it!
Package pieces of this fun fudge up for a lovely surprise homemade gift!
Chocolate on chocolate......for that indulgent late night treat, or for sharing at a gathering, or given as a gift, this fudge is a winner!
Fudge lasts well, so make a few batches pre-Christmas and package them up prettily for super delicious gifts.
The ingredients of Rocky Road, all wrapped up in a chocolate fudge - simply irresistable!
With just three simple ingredients, this one bowl fudge takes 5 minutes - the hardest thing is waiting for it to chill!
How easy is this? Once you've made fudge in the microwave, you'll never make it any other way!
Rocky Road
Christmas wouldn't be Christmas without a batch (or two) of Rocky Road to share!
Little squares of this white chocolate Rocky Road look irresistable packaged up as a sweet little gift!
One of our most popular Rocky Road recipes and made in no time. This Clinkers version will be well appreciated as a special treat.
The perfect combo of ingredients here....all ages won't be able to resist a piece (or two!)
Just 10 minutes prep time and absolutely NO cooking required. Simply melt, mix and chill!
Loved by all, this is hands-down the easiest Chocolate Rocky Road recipe you'll ever make!
A personal favourite, I'm not so sure I'd be able to give it away!!!
This is a fun Rocky Road, and the kids will absolutely love to help making this as small presents for them to share.
SHOP: CHRISTMAS BAKING EBOOK
This ebook is a collection of 30 of my favourite (and most popular!) Christmas recipes - from homemade foodie gifts to fun kids' recipes, easy fudges and rocky road to decadent desserts, and more!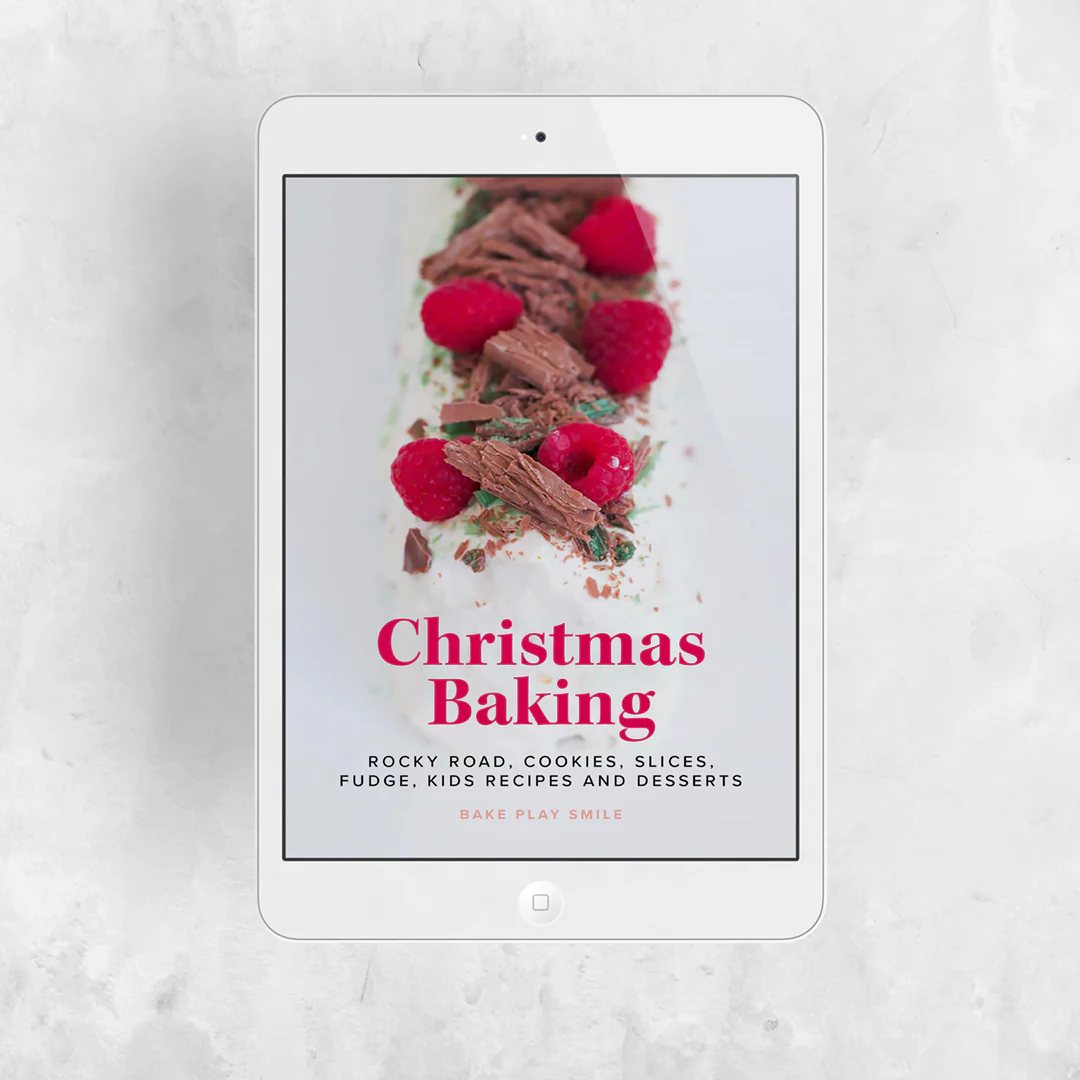 WANT EVEN MORE DELICIOUS RECIPES? Subscribe to my newsletter or follow along on Facebook or Instagram. And if you love baking, then please come and join my Facebook cooking club group or subscribe to my YouTube channel.