Easy and fun Christmas recipes to make with kids... from reindeer brownies to Christmas marshmallow pops, a rocky road wreath to reindeer food, a chocolate Christmas house to Christmas balls and more!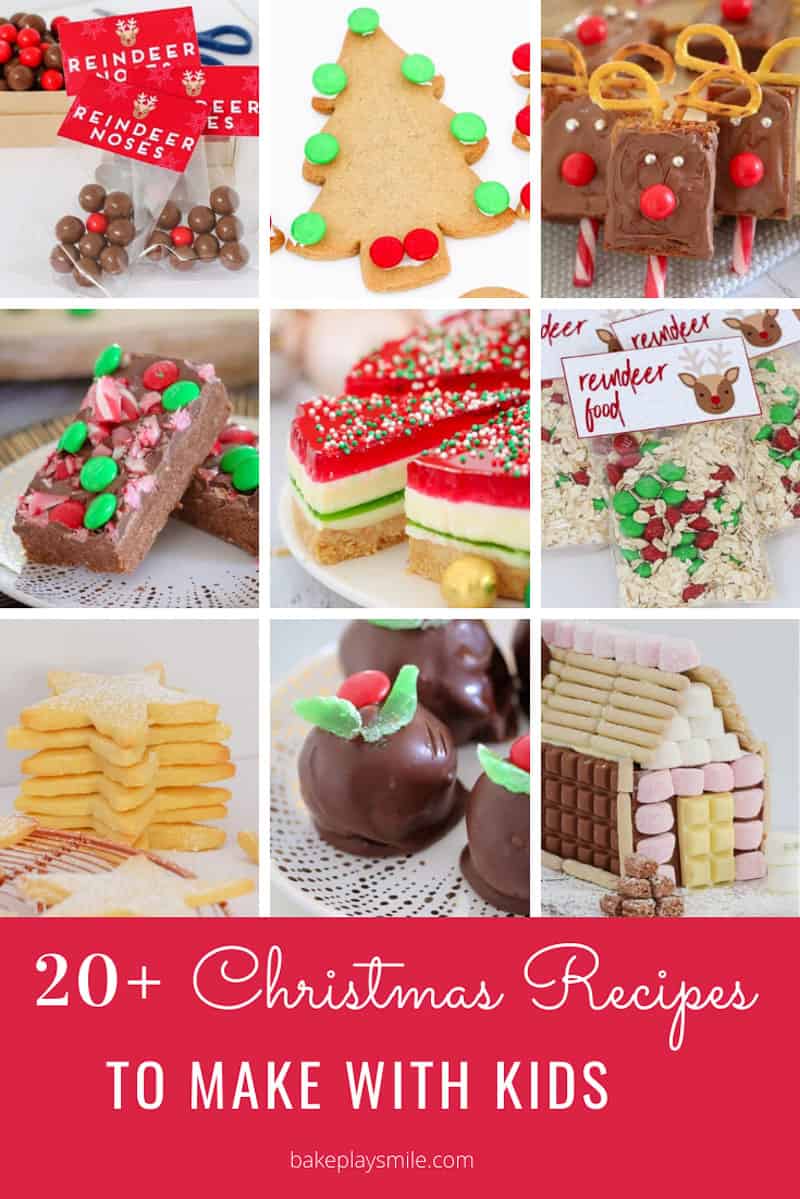 December is certainly full of excitement when you've got little ones in the house! These recipes are perfect to make in the lead up to Christmas, whether you're after a fun activity to fill in the afternoon, simple homemade gifts for school and kindy friends or an easy Christmas dessert... we've got you covered!!!
Christmas Recipes To Make With Kids
Easy Gingerbread Recipe
Christmas baking is so easy with our basic gingerbread recipe. It's perfect for letting kids cut out their favourite Christmas shapes using cutters! Plus it makes a great homemade gift for family and friends.
Chocolate Christmas Puddings
These Christmas puddings are SO much fun to make with the kids! Simply pour melted white chocolate over chocolate Royals (chocolate coated marshmallow cookies), add a Jaffa and sliced peppermint leaves and you're set to go!
Triple Layer Christmas Ice-Cream Pudding
This over-the-top ice cream cake is always the first dessert to disappear on Christmas Day! Packed full of everyones favourite chocolates... it's so much fun to make with your little ones.
Our Famous Shortbread Recipe
This is the easiest shortbread recipe you'll ever make! Let the kids mix together the flour, icing sugar and butter and then cut into Christmas shapes.
White Chocolate Rocky Road
Whether you're making a homemade gift for family and friends, or just whipping up a batch of Christmassy rocky road for yourself, this is the perfect recipe! Melt the chocolate in the microwave and let your kids mix through the yummy add-ins.
Reindeer Lamingtons
Cute AND easy! These are an all-time favourite Australian recipe.
Reindeer Noses
This is such a fun activity to do in the lead up to Christmas. Make up bags of Reindeer Noses for your little ones to give to their friends at Kindy or school.
Reindeer Brownies
Christmas baking has never been cuter! Whip up a chocolate brownie, cut it into small rectangles and have the kids decorate the pieces into reindeers with the help of pretzels, Jaffas, candy canes and silver baubles.
Reindeer Food
Have your little ones make a batch or two of reindeer food and then sprinkle it outside on Christmas eve!
Chocolate Christmas House
Move over gingerbread houses... our Chocolate Christmas House is soooo much yummier (and super fun to make!).
Mars Bar Chocolate Christmas Crackles
A fun variation on everyones favourite Mars Bar Slice recipe! Super cute and so easy for the kids to make.
Chocolate Ripple Christmas Balls
These no-bake balls are quick and easy to make - and they come in 2 varieties: Peppermint Crisp and Cherry Ripe.
Christmas Mint Slice Balls
These look very similar to our Chocolate Christmas Puddings (see above) but they're made with a chocolate-mint cheesecake filling. YUM!
Christmas Jelly Cake
This is an absolute showstopper of a Christmas dessert. The kids will love making the different jelly layers!
Christmas Chocolate Ripple Cake Wreath
A Christmassy version of a classic choc ripple cake. Let the kids loose decorating this simple cake made from whipped cream and chocolate cookies.
Peppermint Chocolate Christmas Slice
A super simple no-bake slice topped with M&Ms and crushed candy canes - a quick and easy recipe that the kids will love to help with.
Clinkers Rocky Road Wreath
If a batch of rocky road isn't enough to satisfy the chocoholics in your house, then this rocky road wreath made with Clinkers certainly will!
Christmas Chocolate Crackles
Christmas Peppermint Ice Cream Cake
Let the kids mix together the ingredients needed for the different layers - a fun and simple recipe.
Mint Rocky Road Wreath
Just like our Clinkers Rocky Road Wreath (see above), this version is so much fun to make with your little ones. Packed full of all your favourite mint chocolates, it's always a winner (and makes a great Christmas table centrepiece).
Chocolate, Caramel & Honeycomb Ice Cream Cake
Whip up this easy ice cream cake and let the kids decorate it with Malteser reindeers, ice-magic and silver baubles.
Tiny Teddy Christmas Candy Cane Sleighs
These cute little Christmas sleighs are a fun variation on our Tiny Teddy Racing Cars - set out the ingredients and let the kids make their own Christmas sleighs!
Christmas Bauble Cookies
If you're running short on time and need a quick and easy kids Christmas recipe, this is the one for you! Simply decorate store-bought biscuits with Christmas M&Ms, Rolos and frosting.
Christmas Marshmallow Pops
Place marshmallows on to cake pop sticks, dip in melted milk chocolate, pour over melted white chocolate and decorate! So simple but also super cute!
More Homemade Christmas Gifts
For more yummy homemade Christmas gifts (that the kids will help making!), check out our collection of recipes here.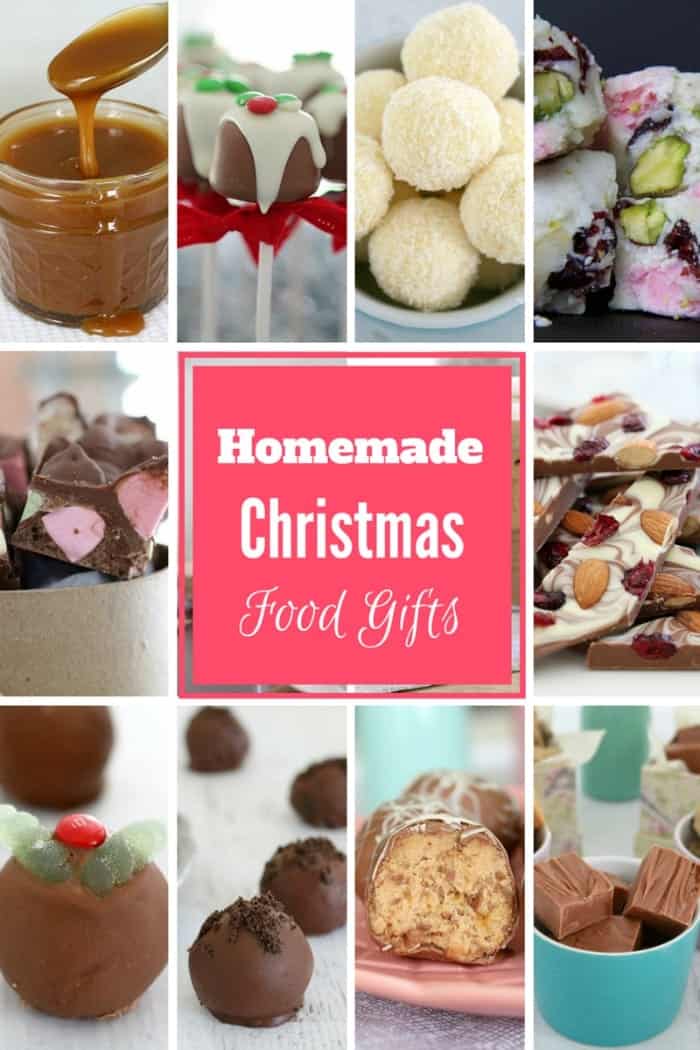 WANT EVEN MORE DELICIOUS RECIPES? Subscribe to my newsletter or follow along on Facebook or Instagram. And if you love baking, then please come and join my Facebook cooking club group or subscribe to my YouTube channel.