A collection of the ultimate Christmas dessert recipes.. with everything from cheesecakes to chocolate ripple cakes, ice cream cakes to rocky road wreaths and more!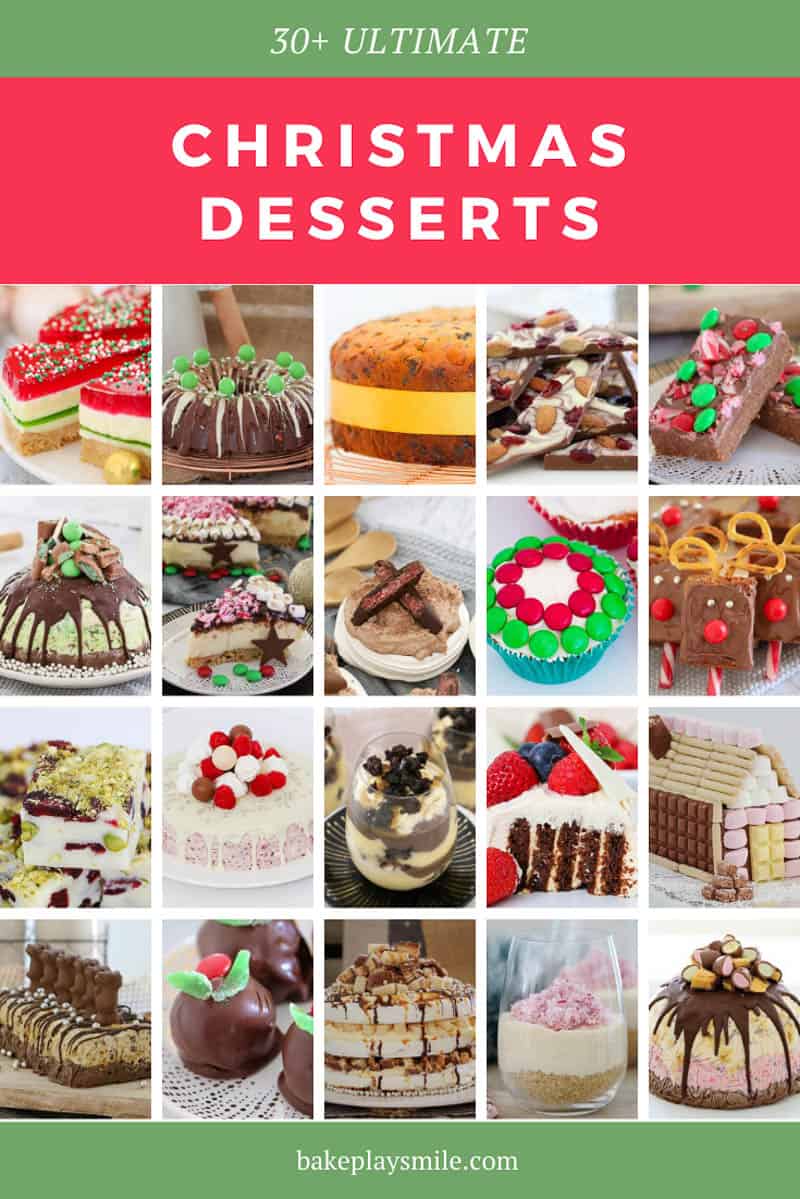 It's no secret that I love Christmas just as much as I love delicious desserts… and when you combine the two together, it's even better! So browse my collection of the very best Christmas desserts you could ever make (or eat!).
The Ultimate Christmas Dessert Recipes
Click on any of the links below to be taken directly to the full recipe with tips, tricks and printable recipe cards!
Triple Layer Christmas Ice-Cream Pudding
Say hello to our most popular ice-cream pudding recipe! Perfect for kids and adults alike… it's sure to be the first thing to disappear from the Christmas dessert table.
3 Ingredient Christmas Cake
Check out our reader reviews to see why this is such a popular (and versatile) recipe!
Mini Back Forest Pavlovas
Nothing beats an individual dessert… especially when it involves pavlova, chocolate and cherry.
Mini Kahlua Tiramisu
Everyone's favourite tiramisu recipe gets a boozy makeover with our Kahlua variation… a super delicious adults-only dessert.
Chocolate Christmas Puddings
Our cheats chocolate puddings are super easy (and a fun activity to make with the kids!).
Microwave Christmas Fudge
In just a few minutes and with only 4 ingredients, you'll have the perfect Christmas dessert!
Raspberry, Chocolate and Meringue Ice-Cream Cake
If it's a hot Christmas day, this simple ice-cream cake is exactly what you need.
White Chocolate Rocky Road
Give our basic white chocolate rocky road as a gift to friends, or keep it for a yummy late night treat!
Baileys Choc Ripple Cake
Add Baileys Irish Cream to our classic choc ripple cake for a delicious adults-only dessert.
Chocolate Christmas Cake
Move over gingerbread houses… our Chocolate Christmas House is FAR yummier!
Chocolate Mint Slice Balls
Arnott's Mint Slice biscuits combined with cream cheese make a smooth and creamy Christmas dessert.
Chocolate Ripple Christmas Balls
This might just be the quickest and easiest Christmas dessert recipe you've ever made! Just a few minutes prep time and completely no-bake.
Chocolate, Caramel & Peanut Pavlova
Take your Christmas pavlova to the next level with our 'Picnic' chocolate bar inspired recipe!
Christmas Jelly Cake
If you love jelly slice, you're going to LOVE our Christmas Jelly Cake recipe!
Christmas Chocolate Ripple Cake Wreath
Who doesn't love a chocolate ripple cake? Turn your favourite dessert into a mega chocolate ripple wreath and decorate with yummy Christmas chocolates.
Peppermint Chocolate Christmas Slice
A simple no-bake slice decorated with candy canes and Christmas M&Ms!
Christmas Reindeer Brownies
Our reindeer brownies make the perfect kids Christmas dessert.
Mint Chocolate Rocky Road Wreath
Our easy rocky road wreath has the perfect combination – chocolate and mint!
Chocolate Peppermint Ice-Cream Cake
If you love ice-cream cake, this triple layer Christmas peppermint version is exactly what you need.
S'more Christmas Cheesecake
The perfect combination of marshmallow, chocolate and cheesecake come together in this simple no-bake dessert.
5 Minute Nutella Pavlovas
When you're running short on time, you need a quick and easy cheats dessert – and this one is absolutely delicious!
Baileys Chocolate Brownie Trifle
Move over classic trifle and say hello to a boozy chocolate brownie version! It's super simple to make and can be served as individual desserts or a whole trifle.
Chocolate, Honeycomb and Caramel Ice-Cream Cake
There's no easier Christmas dessert than an ice-cream cake… and this honeycomb, chocolate and caramel version is AMAZING!
Christmas Cupcakes
Our famous vanilla cupcakes are decorated in 2 Christmas designs… they're also super fun for the kids to decorate!
White Christmas Slice
Give this classic Christmas slice as a gift or keep it for yourself!
No-Bake Christmas Cheesecakes
Peppermint and candy canes give these simple no-bake cheesecakes a Christmas twist.
Chocolate, Cranberry & Roast Almond Bark
Our simple 3 ingredient bark makes a yummy gift for family and friends, or keep it at home for the perfect late night Christmas treat!
Clinkers Rocky Road Wreath
Our original rocky road wreath is always a hit and looks amazing as a table centrepiece!
Christmas Homemade Food Gifts
Looking for the perfect homemade Christmas food gift for family, friends, neighbours and teachers, then check out our collection of foodie gifts!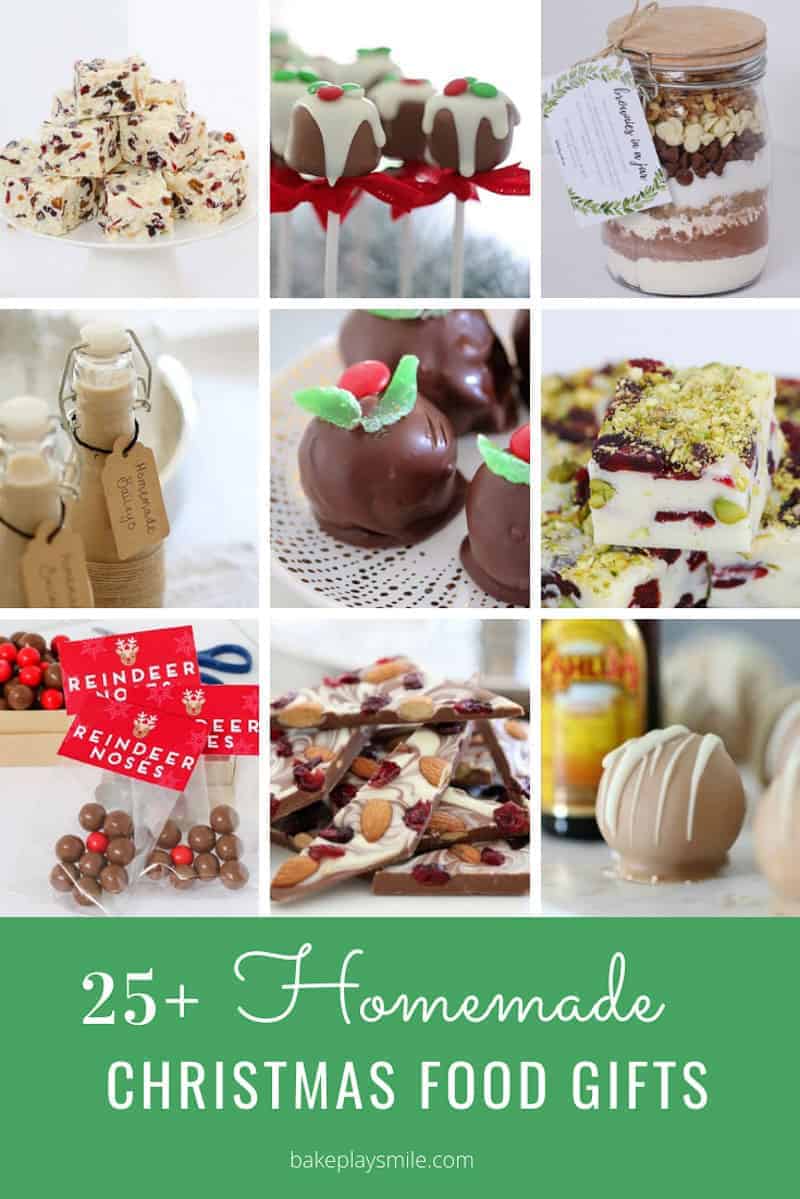 WANT EVEN MORE DELICIOUS RECIPES? Subscribe to my newsletter or follow along on Facebook or Instagram. And if you love baking, then please come and join my Facebook cooking club group or subscribe to my YouTube channel.