Looking for the very BEST Thermomix recipes?
You've come to the right place!
With everything from family dinners to lunch box snacks, slices to cookies, Christmas recipes to desserts... and so much more!
Browse through hundreds of my FREE Thermomix recipes or shop my range of printed Thermomix cookbooks (and eBooks).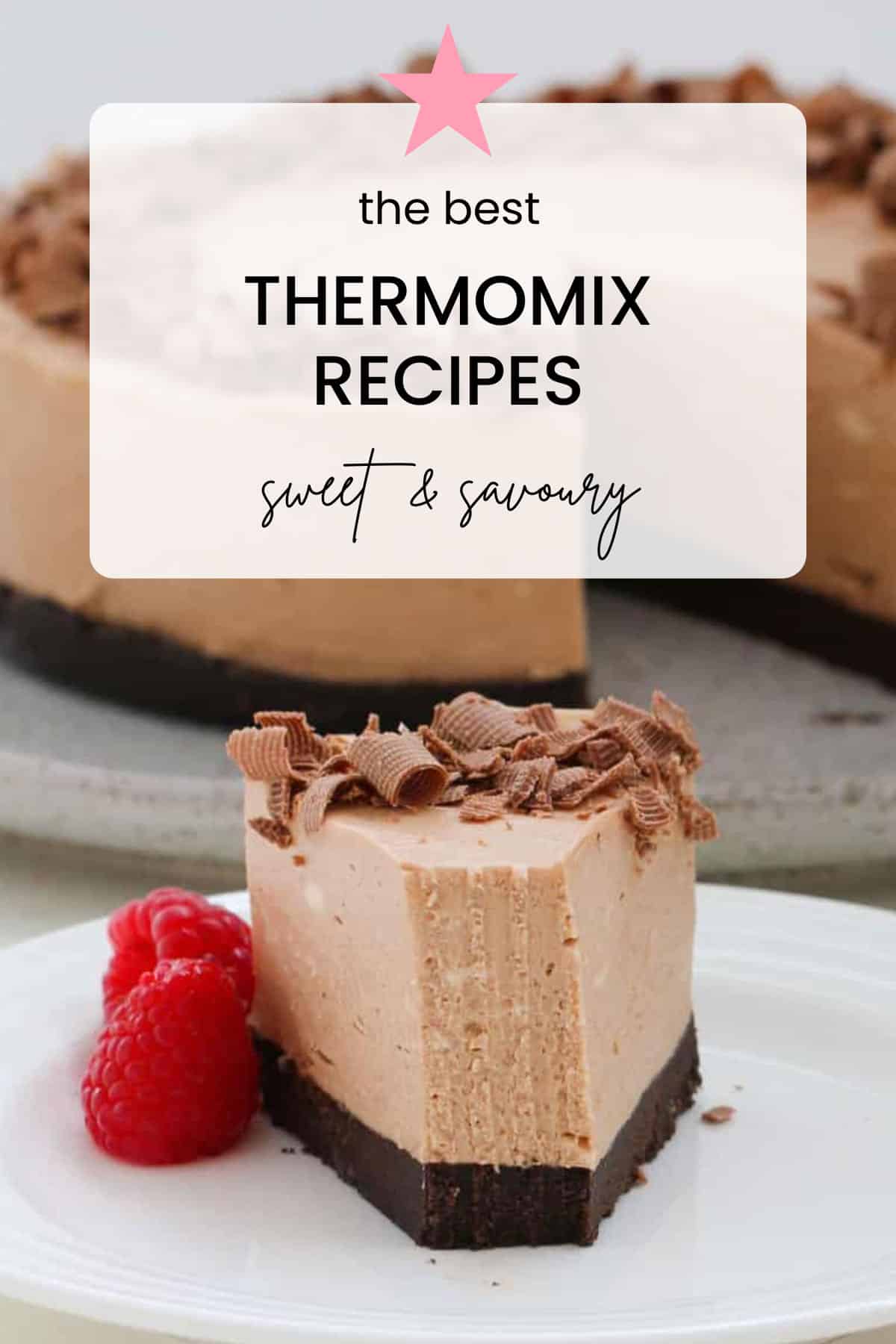 Welcome to Bake Play Smile! I'm Lucy and I've been a Thermomix lover FOREVER (well it feels like forever anyway)!
I've had all of the Thermomix models over the years - TM31, TM5 and TM6 - the TM6 is my favourite (you can read my VERY honest review here).
I've released 14 Thermomix cookbooks and have literally HUNDREDS of FREE Thermomix recipes for you to enjoy.
Whether you've just purchased your first Thermomix or you've had one for years, I promise I've got ALL the Thermomix recipes you could ever need!
Most Popular Thermomix Recipes
Wondering what you should make in your Thermomix first?
These are my 4 most popular Thermomix recipes - loved by EVERYONE!
Thermomix Recipes For Kids
As a Mum of a very busy boy, I LOVE how amazing the Thermomix is at whipping up quick and easy snacks that I know my son will love!
From Milo & Oat Slice to Kid-Friendly Rum Balls, Playdough to ANZAC cookies and more!
Looking for inspo to fill up your little ones lunchboxes? This collection is for you!
From cookies to slices, muffins to sweet breads, scrolls to cupcakes and more!
PS. The chocolate chip cookies are on HIGH rotation in our house...
Catering your kids party has never been easier!
From all-time party classics to cupcakes, cakes, savoury options and so much more.
Find all of our favourite Thermomix Kids Party Food recipes here.
Looking for healthier alternatives for school lunch boxes or after school snacks?
These healthier Thermomix snack recipes for kids are delicious AND nutritious.
We all love a little treat now and then! Whether it's a chocoholic lovers slice, a simple baked loaf or a batch of muffins - these recipes are made to be enjoyed.
Browse my most popular sweet recipes here.
Sweet Thermomix Recipes
Once you've experienced the ease of baking in your Thermomix, you'll never want to go back to the conventional way again!
Hands up fellow dessert lovers!
This collection of Thermomix desserts is PACKED with all of your favourite desserts... cheesecakes, crumbles, pies, puddings, tarts and SO much more.
Whether you're catering for a birthday party or an afternoon tea with friends, or simply prepping lunch box treats for the week, this collection of cakes and cupcakes will have you covered.
Looking for...
something chocolatey?
something creamy?
something light and fruity?
something no-bake?
Find every possible Thermomix slice recipe imaginable here.
Cookies... biscuits... whatever you want to call them, I'm here for it!
From good old favourites like ANZACS and choc chip biscuits through to fun Rolo cookies, homemade Monte Carlos and more!
Forget making a trip to your local cafe for a slice of banana bread or a white chocolate and raspberry muffin.
You can make ALL your favourite cafe-style breads and muffins in your Thermomix (for a fraction of the cost!).
Savoury Thermomix Recipes
While I am a sweet girl at heart (hello cheesecake...!), I also love how easy the Thermomix makes it to whip up a quick and easy family dinner, a warming bowl of soup or batch of sausage rolls!
I am a BIG fan of making dinner in the Thermomix! Not only is there usually MUCH less washing up to do... it's also much less 'hands-on' than cooking dinner the regular way!
Living in Victoria, my Thermomix makes a LOT of soup year-round!
I love, love, love how the Thermomix chops, cooks and blends soups - all in the one bowl!
Browse my Thermomix soup recipes here.
Savoury Snack Recipes
Whether you're looking for some simple lunch box snacks, a light dinner, a healthy salad, appetiser dip or a lazy weekend lunch, these savoury snacks are the BEST!
Pop any leftovers in the freezer for busy weeknights!
Click here for my entire savoury snacks collection of recipes.
Thermomix Cookbooks
Our range of printed Thermomix cookbooks include everything from family dinners to lunch box snacks, slices to cocktails, Christmas recipes to chocolate... and so much more!
All of our printed cookbooks also come with a free eBook version emailed immediately upon purchase.
Shop our range of Thermomix cookbooks here