These nourishing, healthy and comforting Thermomix soups are the ultimate winter warming recipes.
Put your Thermomix to good use and save on time, effort and dishes - simply prepare and cook your favourite soups using just the one machine.
Forget chopping, grating, sauteeing, stirring and cooking by hand... the Thermomix will do it all for you!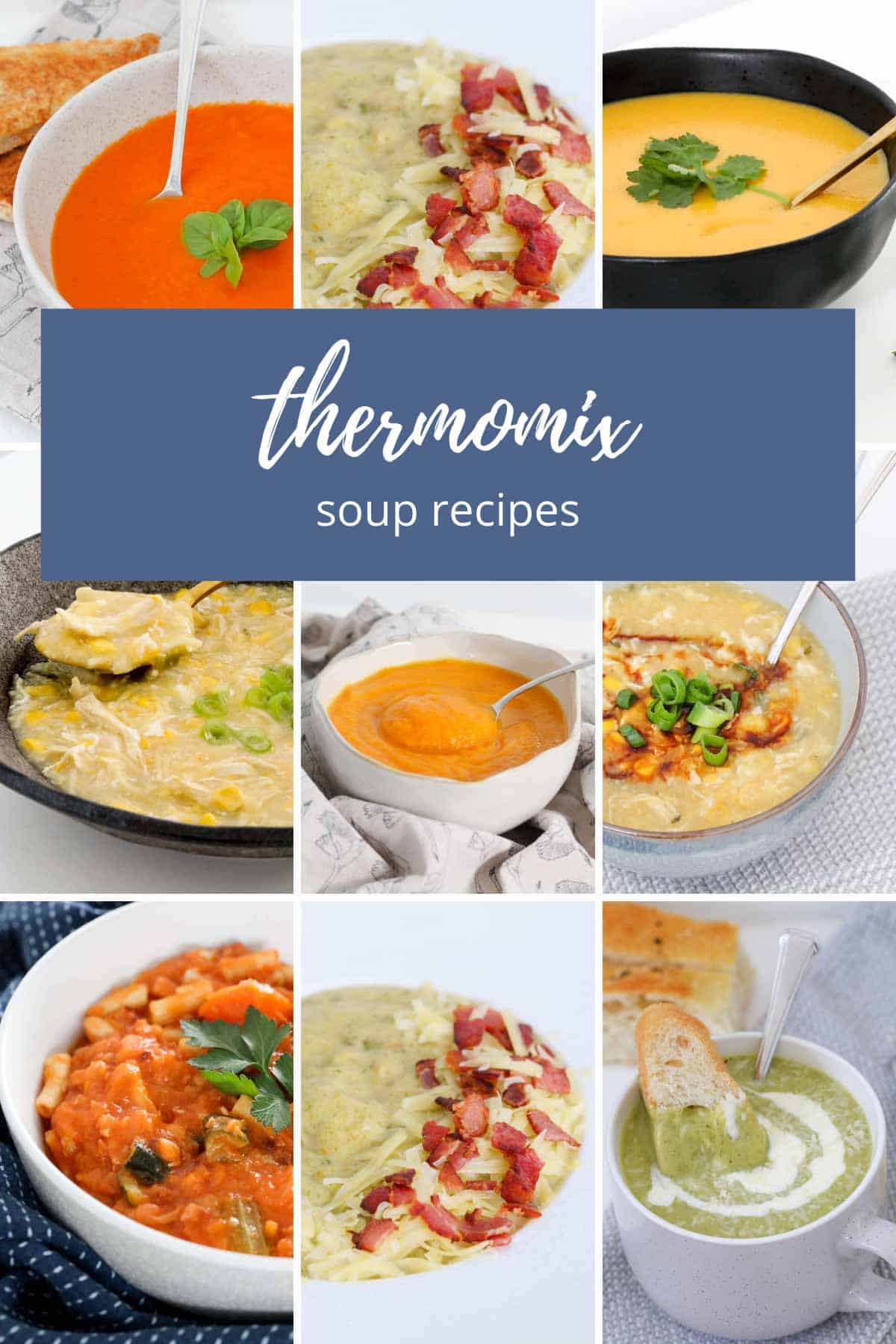 With the weather well and truly freeeezing right now, there's no better time to start whipping up batches of healthy soups... and it couldn't be easier using your Thermomix!
From classic minestrone soup to hearty potato and leek soup, chicken soup and much more - there's something to satisfy every possible soup craving!
Note: All of these soup recipes can easily be made traditionally on a stove top if you don't have a Thermomix.
Everyone's favourite Italian winter warmer is so quick and easy to prepare using your Thermomix. It even cooks the macaroni (or pasta shells) at the same time. Chunky, hearty and a winner with the kids!
Thermomix Minestrone Soup Recipe
The very best healthy and nutritious chunky Thermomix Minestrone Soup packed full of vegetables, beans and pasta! Prepared and cooked entirely in a Thermomix machine... have it on the table in just 30 minutes!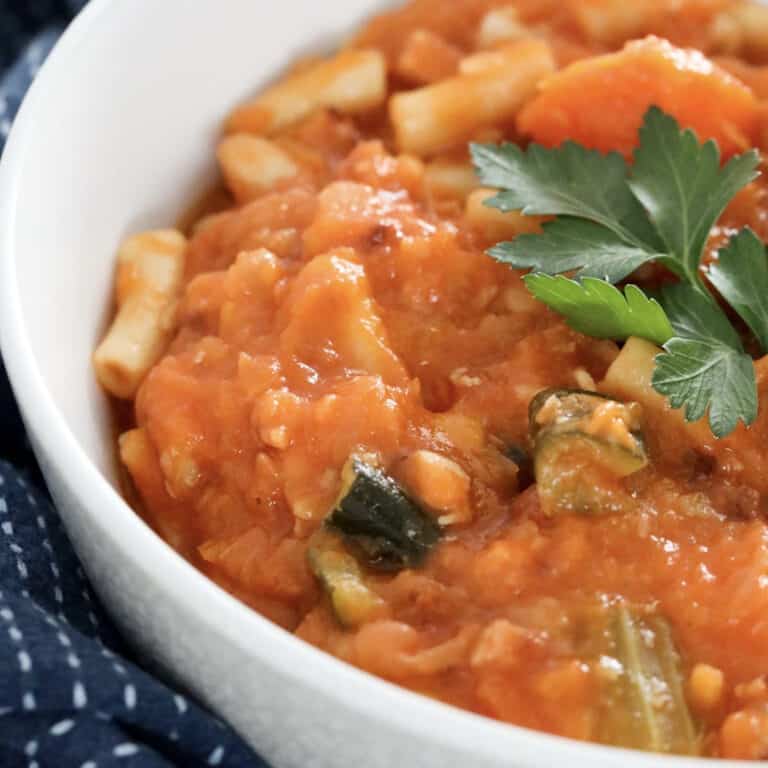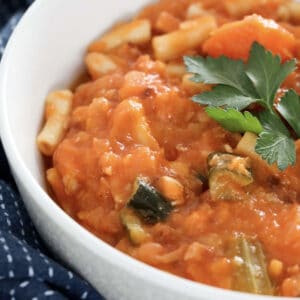 Put your Thermomix to work and have it prepare a luscious, smooth and creamy pumpkin soup for you! Have it ready on the table in just 30 minutes.
Thermomix Pumpkin Soup Recipe
Thermomix Pumpkin Soup is simply the best ever, classic, well-loved recipe, made even easier by using your Thermomix or other thermal cooker.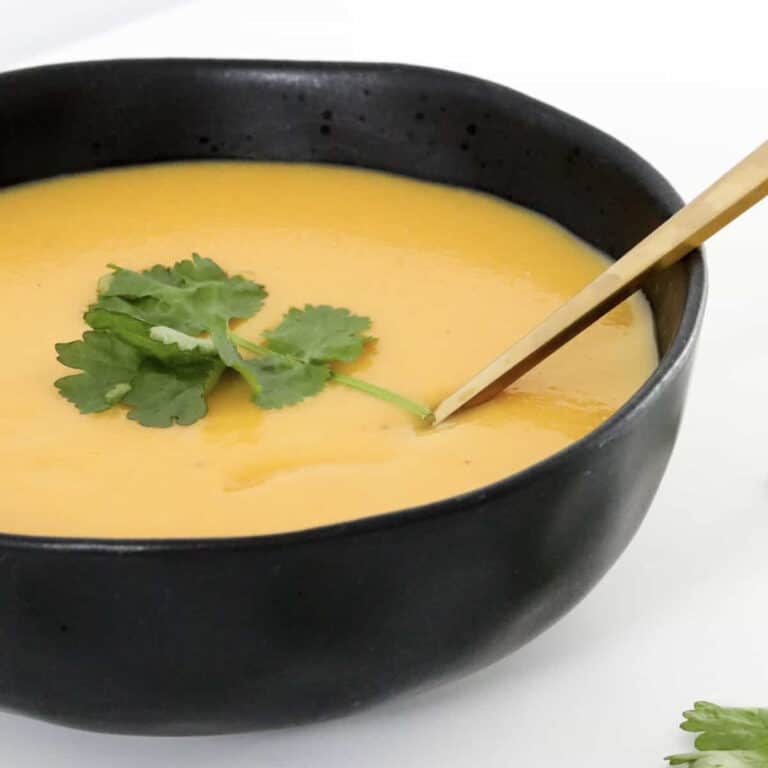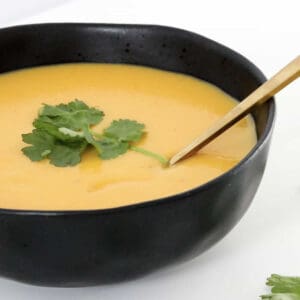 A low calorie Tomato Soup just bursting with fresh flavours! Full of carrots, celery and of course, tomatoes, this soup is the ultimate healthy way to boost your veggie intake. Great for work lunches!
Tomato Soup Recipe
A healthy vegetable-packed winter tomato soup recipe that makes a hearty and delicious midweek meal... have it on the table in 45 minutes!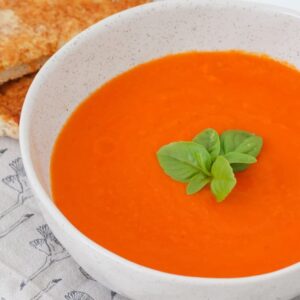 Everyone's favourite Chinese take-out inspired Chicken, Corn & Noodle Soup is just so easy to make at home! Serve with homemade bread rolls or a crusty loaf on the side for a healthy and satisfying meal.
Chicken, Corn And Noodle Soup Recipe
The most delicious Chicken, Corn And Noodle Soup... have it on the table in less than 30 minutes! This recipe is ideal for a simple mid-week family dinner or a comforting winter weekend dish.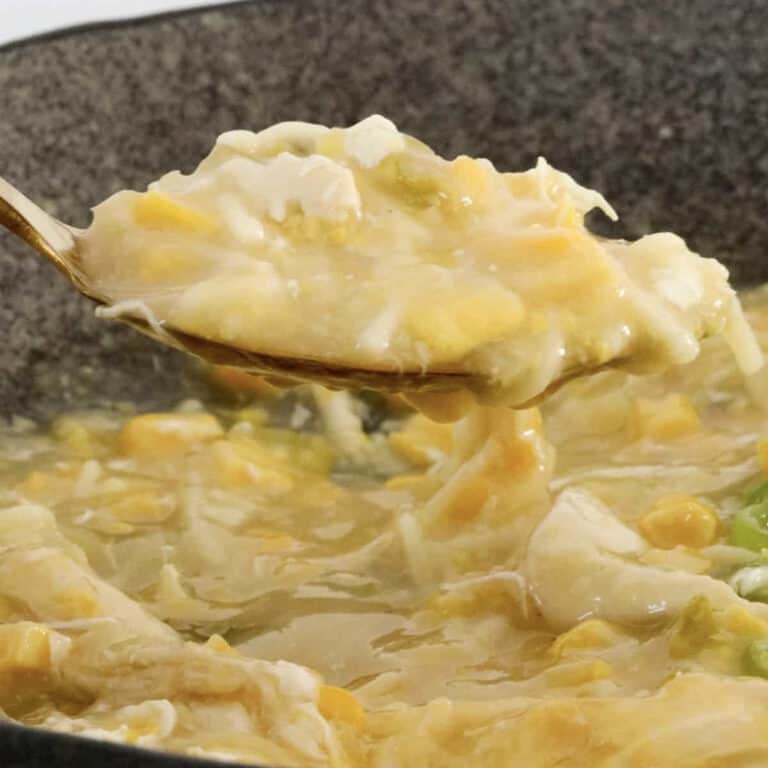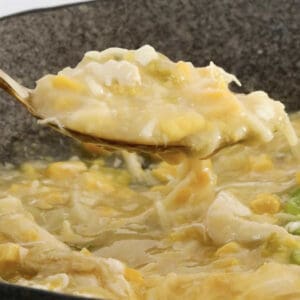 When it's cold outside and warm inside, it's the perfect time to whip up a healthy and nutritious winter soup. This recipe also freezes really well - so make a few big batches when zucchinis are abundant and freeze meals for up to 3 months.
Creamy Zucchini Soup Recipe
A healthy and creamy zucchini soup recipe that will be ready in less than 30 minutes! A tasty light lunch or midweek dinner.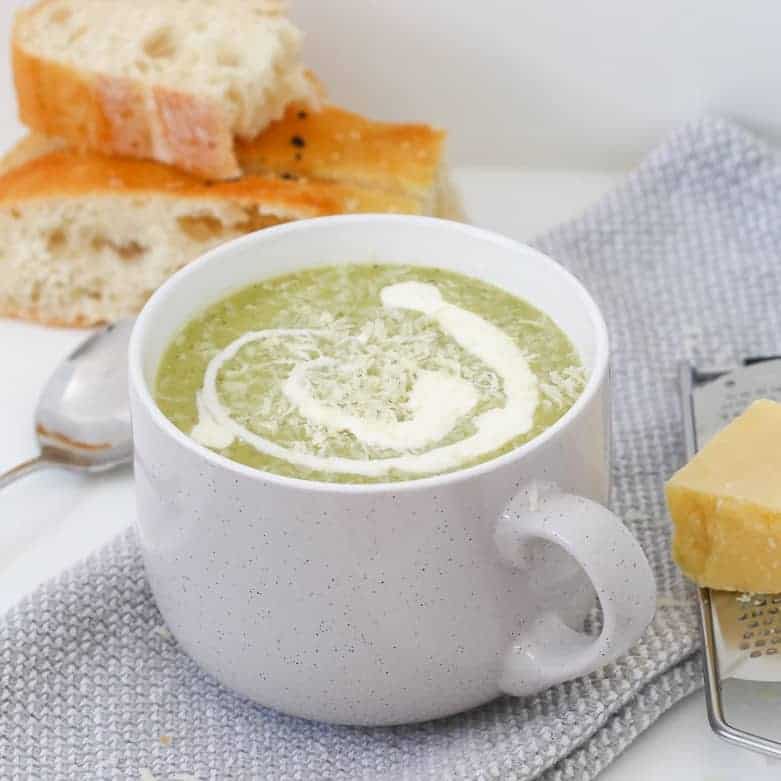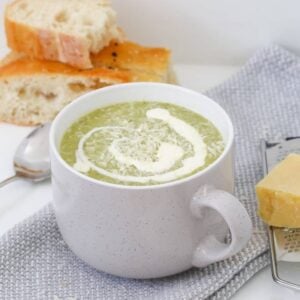 Oh, so very hearty and warming - a hug in a mug! With a crusty loaf of bread (slathered with butter, of course), a big bowl of this nutritious veggie packed soup is just the thing for the whole family. Sprinkle grated cheese and crispy bacon on top for extra indulgence!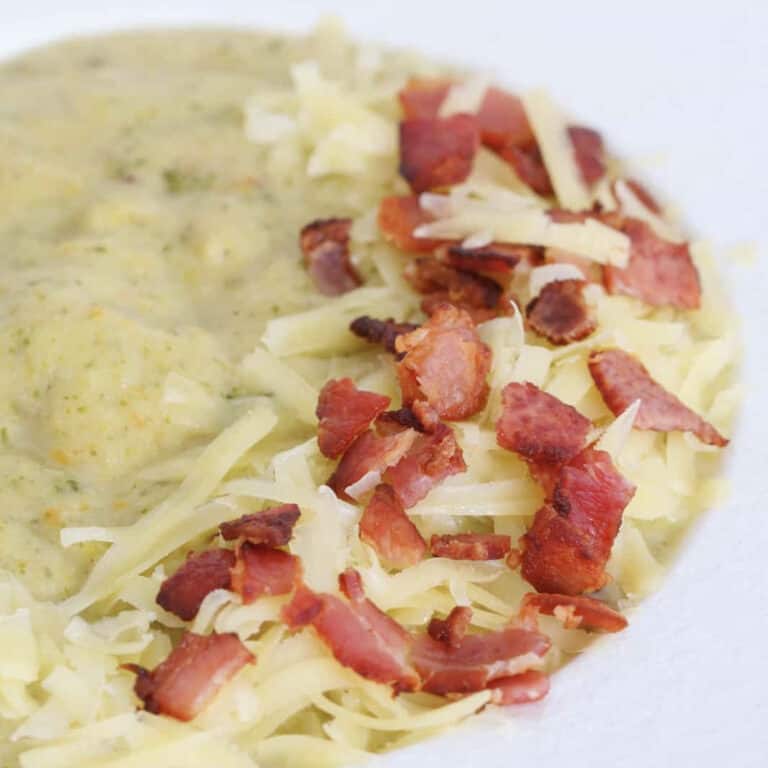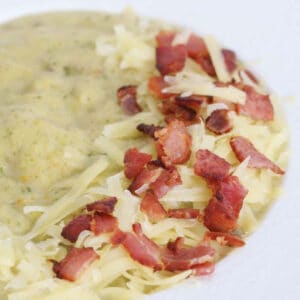 A classic dish made with winter leeks, this Potato and Leek Soup makes a great light lunch or dinner, or 'bulk' it out with a batch of pies or sausage rolls as well - perfect for those footy nights!
Thermomix Potato & Leek Soup Recipe
This classic French Thermomix Potato & Leek Soup recipe is cosy, creamy and comforting... a hug in a mug! Whip this soup up in your Thermomix and have dinner on the table in less than 40 minutes!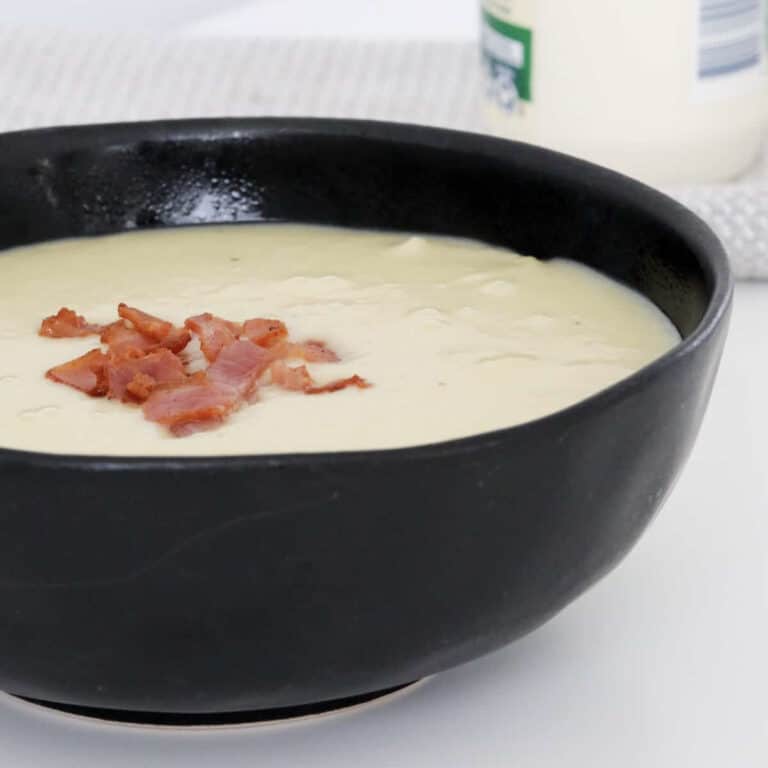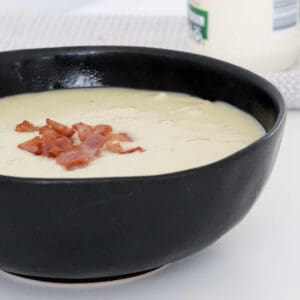 A thick and creamy Chinese chicken & corn soup recipe that tastes even better than your local Chinese takeout version! The drizzle of soy sauce on top adds extra sweetness - always a favourite with the kids.
Chicken Corn Soup Recipe
Simple Chinese Chicken Corn Soup made in just 20 minutes... a super healthy recipe that's perfect for an easy lunch or a quick weeknight dinner.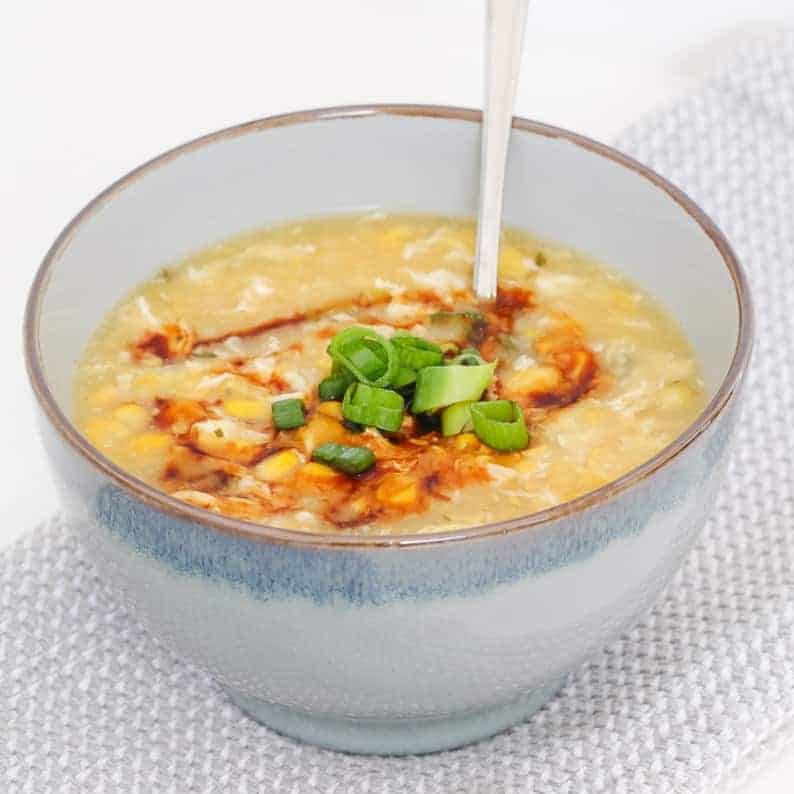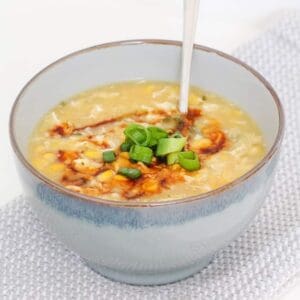 Get your fix of essential vitamins here with this nutritious veggie packed soup! A budget friendly recipe that also freezes well - why not pop some individual serves in the freezer for work day lunches?
Carrot, Pumpkin & Sweet Potato Soup Recipe
This Sweet Potato Soup is given a tasty, veggie-laden goodness with the addition of carrot and pumpkin. With its smooth texture and sweet flavour undertones, this soup, served with nothing more than a fresh, crusty bread roll is the perfect meal in cooler weather!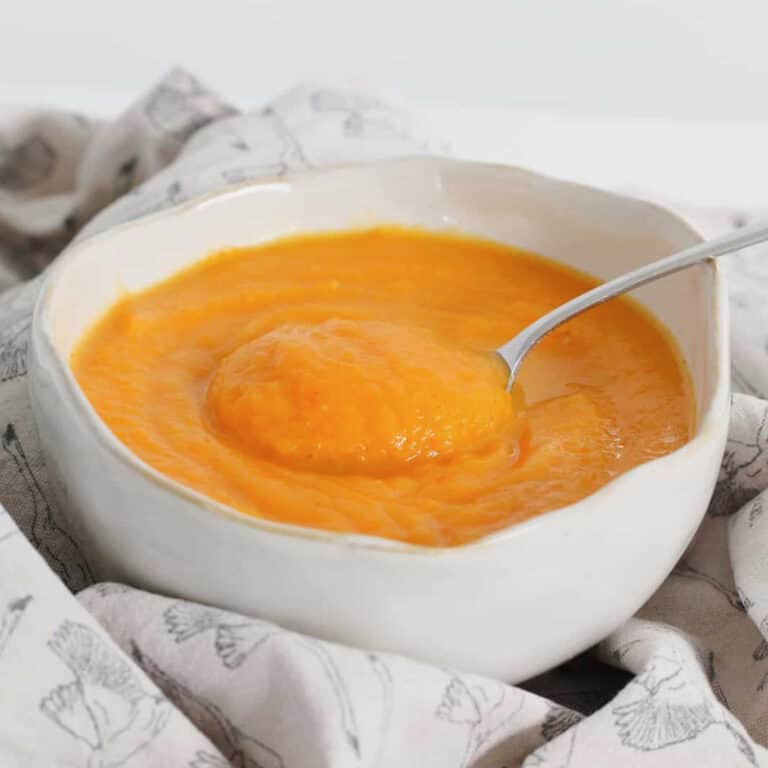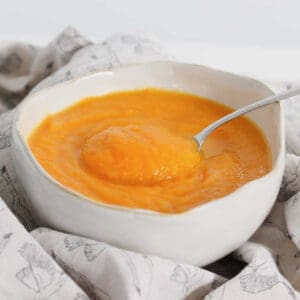 A low carb, low calorie creamy soup made with NO cream! Here's the perfect cauliflower soup recipe for all of us who LOVE a creamy soup, (but don't want to actually use cream), to keep you toasty through those chilly winter evenings.
Thermomix Cauliflower Soup Recipe
A hearty, creamy and healthy Thermomix Cauliflower soup is everything you could ask for when you need a tasty, warming meal in winter. Low carb, low fat, low calories, and no need for cream, the smooth pureed cauliflower is creamy enough!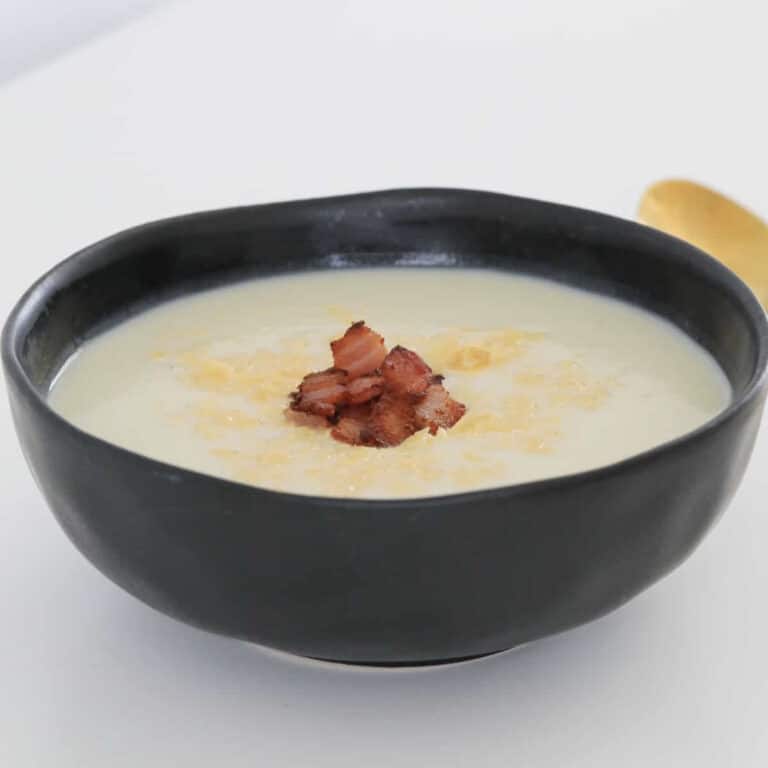 A dreamy Thai pumpkin soup, with a hint of curry, is packed full of flavour and is oh-so-delicious. Naturally vegan and gluten-free, it only requires a handful of simple ingredients to make. Top with some crunchy croutons, fresh coriander or chilli slices and a swirl of coconut milk for the ultimate indulgence....
Thai Pumpkin Soup with Coconut Milk Recipe
You'll love how easy it is to make this heavenly Thai pumpkin soup. The ultimate winter-warmer, it is packed full of real pumpkin, cosy and comforting curry flavour and a swirl of creamy coconut milk. And it can be on the table in less than 30 minutes!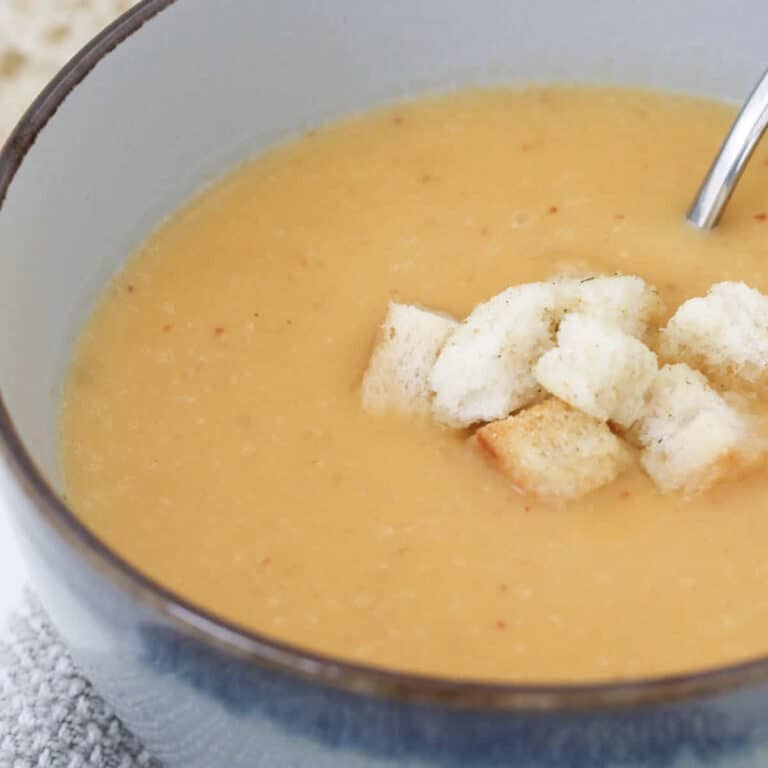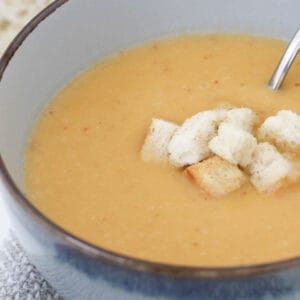 Important Safety Tips For Cooking Soup In A Thermomix
While there's no doubt that the Thermomix machine makes preparing soups an absolute breeze, there are some important tips and safety precautions that you need to know before you get started:
Do NOT exceed the MAX line - when cooking in the Thermomix, it's important to never exceed the MAX line (this is particularly important in the TM31 where the bowl is smaller than the TM5 and TM6). If you find that you're nearing the MAX line, simply decrease the amount of liquid stock or water used.
Use the splatter guard or rice basket to prevent splatters - once your soup has reached boiling temperature, it will start to splatter through the MC (measuring cup) hole. To prevent this, simply remove the MC and place the splatter guard (newer models) over the top of the Thermomix lid. If using an older model, remove the MC and place the rice basket over the top of the lid.
Allow the soup to cool slightly before pureeing - it can be dangerous to use the Thermomix at high speeds to puree while the soup is still hot. Allow it to cool slightly and then use the splatter guard/rice basket to prevent splatters. Start at Speed 1 and very slowly increase the Speed. If the machine starts to shake, turn the Speed down and increase even more slowly.
Storing, Freezing & Reheating Soups
Soups freeze and reheat perfectly, making them great options for meal planning or batch cooking.
Storing & Freezing
Cool in the fridge before freezing - allow soups to cool completely in the fridge before placing into the freezer.
Airtight containers - freeze your soup in airtight containers.
Use within 3 months - frozen soups are best consumed within 3 months - however, they can be frozen for longer.
Serving size - I like to freeze my soups in a combination of single serve and family size airtight containers. This makes is easier when grabbing out a single serve for lunch or a family size to feed everyone at dinner.
Label your containers - after 3 months it can be difficult to know what kind of soup is hiding in your container just by looking at it. Labelling it takes the mystery out of knowing what kind of soup it is.
Reheating Soups
Soups can be reheated in either the microwave or on the stovetop.
When reheating soup:
Reheat creamy soups on a low heat to avoid the cream from separating.
Either place the soup into the fridge overnight to defrost before reheating, or you can reheat directly from frozen.
Once soup has been defrosted and reheated, it shouldn't be re-frozen.
Our range of printed Thermomix dinners cookbooks are perfect for busy families! Filled with quick and easy, kid-approved meals, these cookbooks will take the stress out of meal planning!
Browse the value bundle here and save $$ - plus all printed cookbook orders come with free eBook versions emailed immediately upon purchase.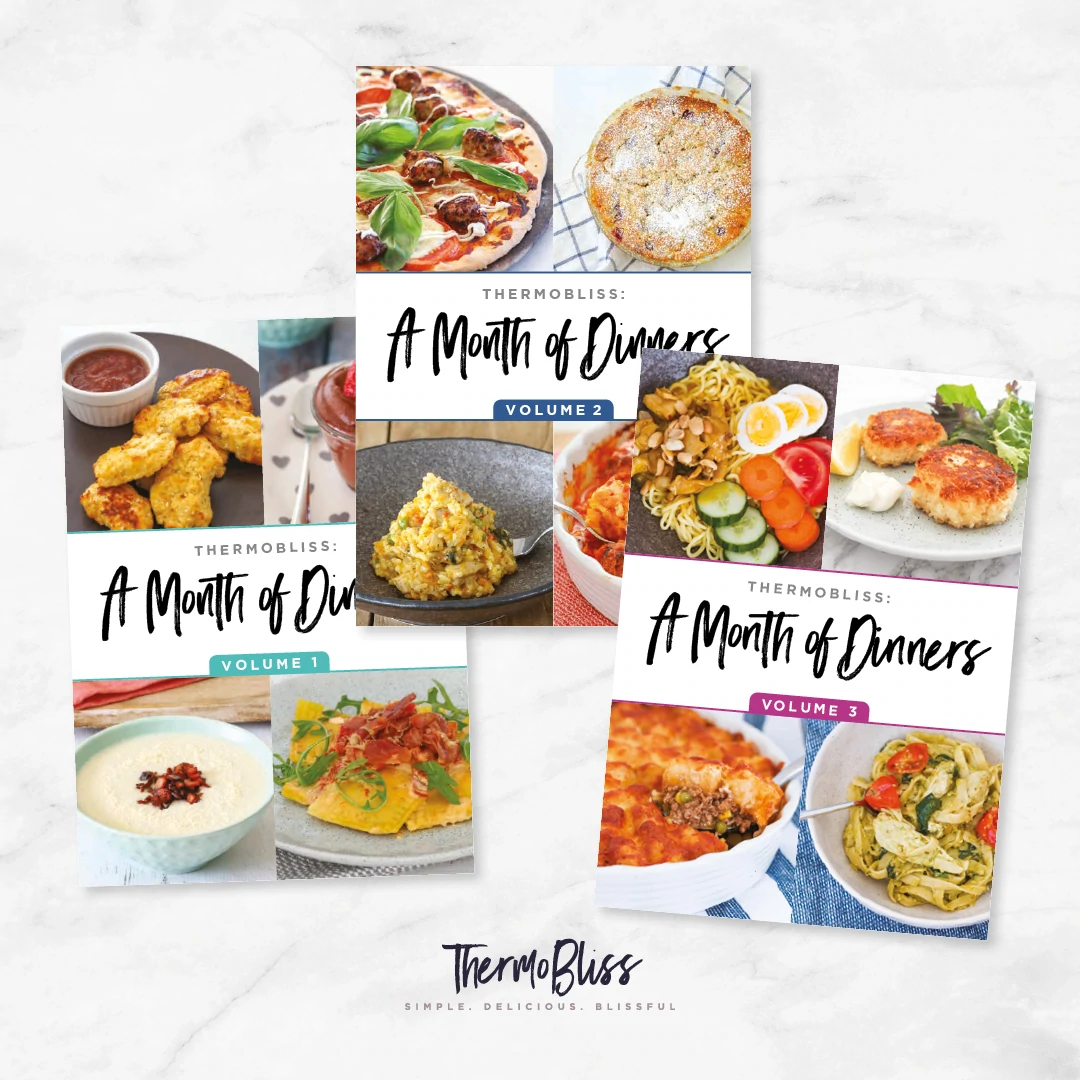 WANT EVEN MORE DELICIOUS RECIPES? Subscribe to my newsletter or follow along on Facebook or Instagram. And if you love baking, then please come and join my Facebook cooking club group or subscribe to my YouTube channel.