Delicious homemade chicken nuggets covered in a crunchy parmesan and panko crumb, oven-baked to perfection! And they're freezer-friendly too!
Oh boy, oh boy! Am I excited to share this recipe with you, or what! Chicken nuggets are one of those things that totally divide me. On the one hand I love them (oh my gosh – how good are they!?), but on the other hand I get a bit freaked out by the weird greyish colour and texture of the ones you buy in the frozen section of the supermarket. Usually, my weird/freaked out side wins and so we hardly ever have chicken nuggets at home…. until now that is!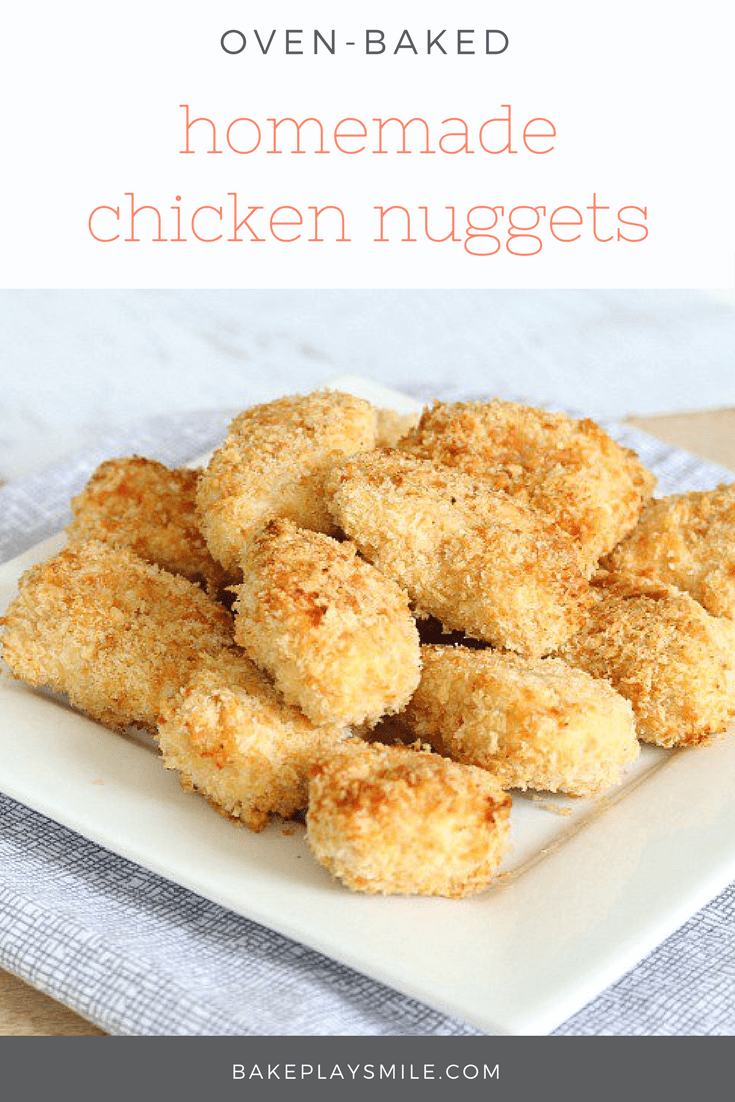 These homemade chicken nuggets are hands-down one of the yummiest things I've ever made. They're so moorish.. I tried to stop at just a couple and failed miserably. I actually remember making my own chicken nuggets years ago, but then hadn't made any for ages. You know how it is – you go through stages! But now I am well and truly back on the homemade chicken nuggets train… and these ones are WAY better than any I'e ever made before.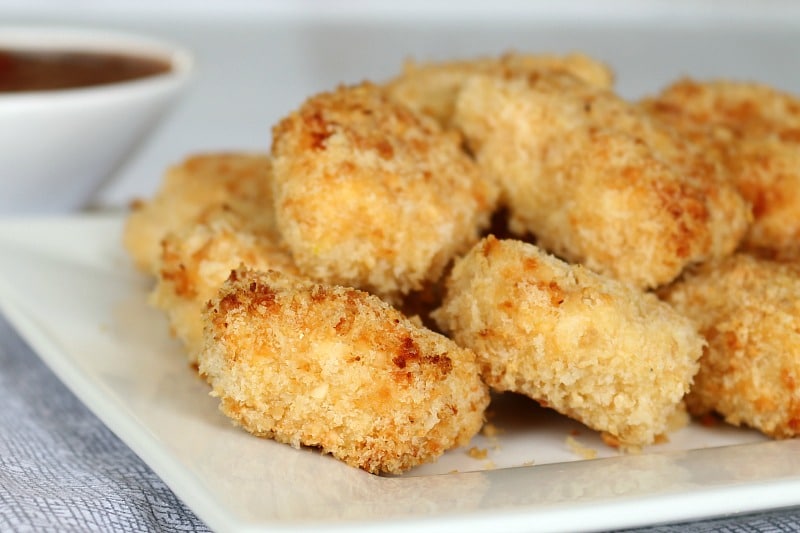 So there's a few things that make these little nuggets so darn good. First of all, they're made with real chicken breast – so there's no weird greyish stuff going on! Second of all, the crumb is made from panko crumbs AND parmesan cheese which means it's both super crispy and ridiculously tasty. And the third brilliant thing is that they're oven-baked, so there's no yucky frying going on.
To get the crumb extra crispy (and we all want a crispy crumb, right!?), all you need to do is to pop the panko crumbs onto a baking tray and cook them until just golden. I just whacked them into the oven while I was rolling the chicken nugget mixture into shape, so it really didn't add any time at all. If you're after an extra chicken-y flavour, add a teaspoon of chicken stock powder to the panko crumbs and parmesan cheese mixture. You definitely don't HAVE to do this, but it does give it a yummy little flavour boost.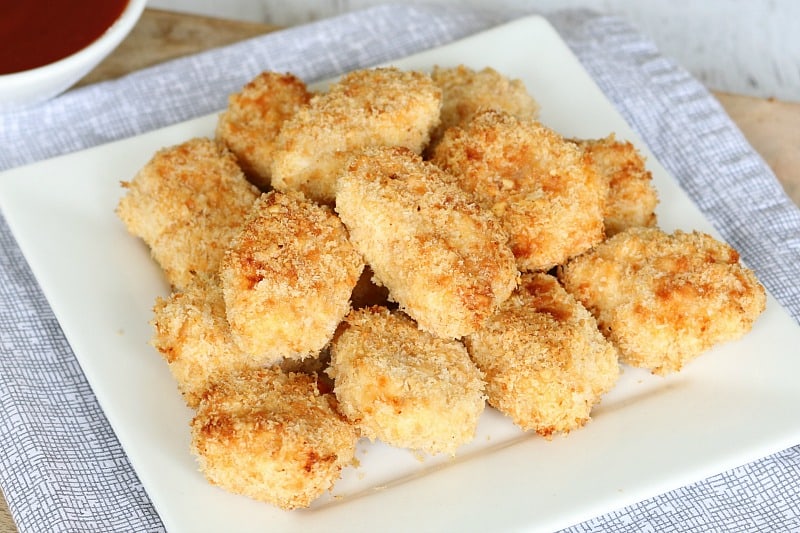 Then it's just a matter of coating the chicken nuggets, baking them into golden and crispy and then dipping them into your favourite sauce to serve. You could go all fancy and make a yummy sweet chilli aioli, or keep it simple with a squirt of tomato sauce. Yep, that's what we did!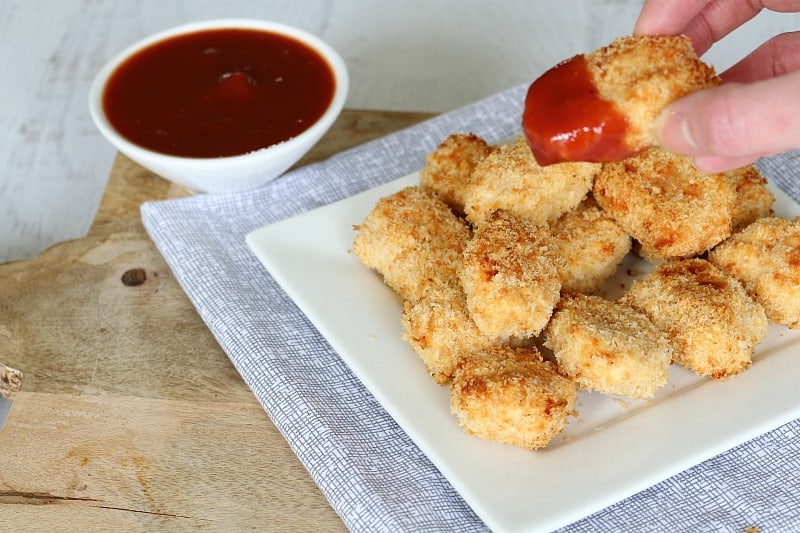 Best of all, these little homemade chicken nuggets are perfectly freezable! So be super clever and make a big double batch and freeze them in individual portions – I usually just pop a few into a glad bag and seal it. That way, you've got an instant lunch or dinner when you have a big case of the can't be's. Easy and delicious… this is definitely my kind of food!
PS – if you haven't come across the deliciousness that is panko crumbs before, you can buy them in almost any supermarket (they are often in the Asian section near the sushi ingredients) for less than $2.00 a packet. If you can't get your hands on them, you can always use normal breadcrumbs, but trust me, the panko crumbs are SO good (and crispy!!).
xx
For more kid-friendly recipes, check out my 101 lunchbox snacks (including a free printable!).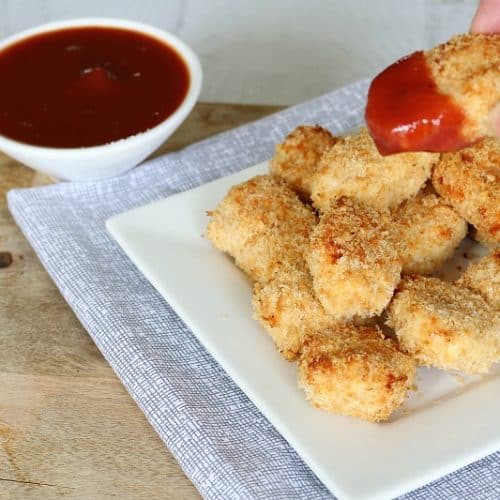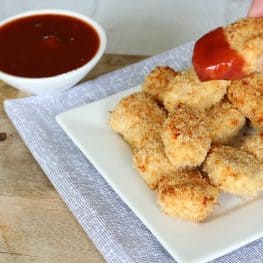 Oven-Baked Homemade Chicken Nuggets (with parmesan crumb!)
Delicious homemade chicken nuggets covered in a crunchy parmesan and panko crumb, oven-baked to perfection! And they're freezer-friendly too!
Print
Pin
Rate
Ingredients
500

g

chicken breast

or chicken mince

1

cup

panko crumbs

1/2

cup

parmesan cheese

very finely grated

1

tsp

chicken stock powder

optional

1/2

cup

plain flour

2

eggs

lightly beaten
Instructions
Preheat the oven to 200 degrees celsius (fan-forced).

Place the panko crumbs onto a baking tray and cook in the oven for approximately 5-10 minutes or until lightly golden (you'll need to give the tray a shake every few minutes). Set panko crumbs aside in a bowl.

Increase oven temperature to 210 degrees celsius.

Chop the chicken breasts and then place them into a food processor or Thermomix. Process until it resembles minced chicken.

Shape the chicken mince into nuggets (about 1 tablespoon in size).

Finely grate the parmesan cheese and add it to the cooled panko crumbs and mix.

Add 1 tsp of chicken stock powder and stir to combine (optional).

Place the plain flour into a bowl.

Crack the eggs into a separate bowl and beat well.

Line a baking tray with baking paper.

One at a time, coat the chicken nuggets in the plain flour (shake off any excess), then the egg mixture and finally the panko crumb mixture.

Place crumbed nuggets onto the baking tray.

Spray lightly with cooking spray and bake for approximately 12-14 minutes, turning halfway through the cooking time.

Serve immediately with your favourite sauces.
Nutrition
Calories:
57
kcal
|
Carbohydrates:
4
g
|
Protein:
6
g
|
Fat:
2
g
|
Saturated Fat:
1
g
|
Cholesterol:
28
mg
|
Sodium:
101
mg
|
Potassium:
92
mg
|
Fiber:
1
g
|
Sugar:
1
g
|
Vitamin A:
40
IU
|
Vitamin C:
0.2
mg
|
Calcium:
32
mg
|
Iron:
0.4
mg