Now that we've settled back into the school year, I've put together a collection of nut free lunch box recipes to make prepping school snacks a breeze!
There's everything from sweet biscuits and muffins, slices and bliss balls, right through to savoury slices and fritters, and of course, good old fashioned classic sausage rolls.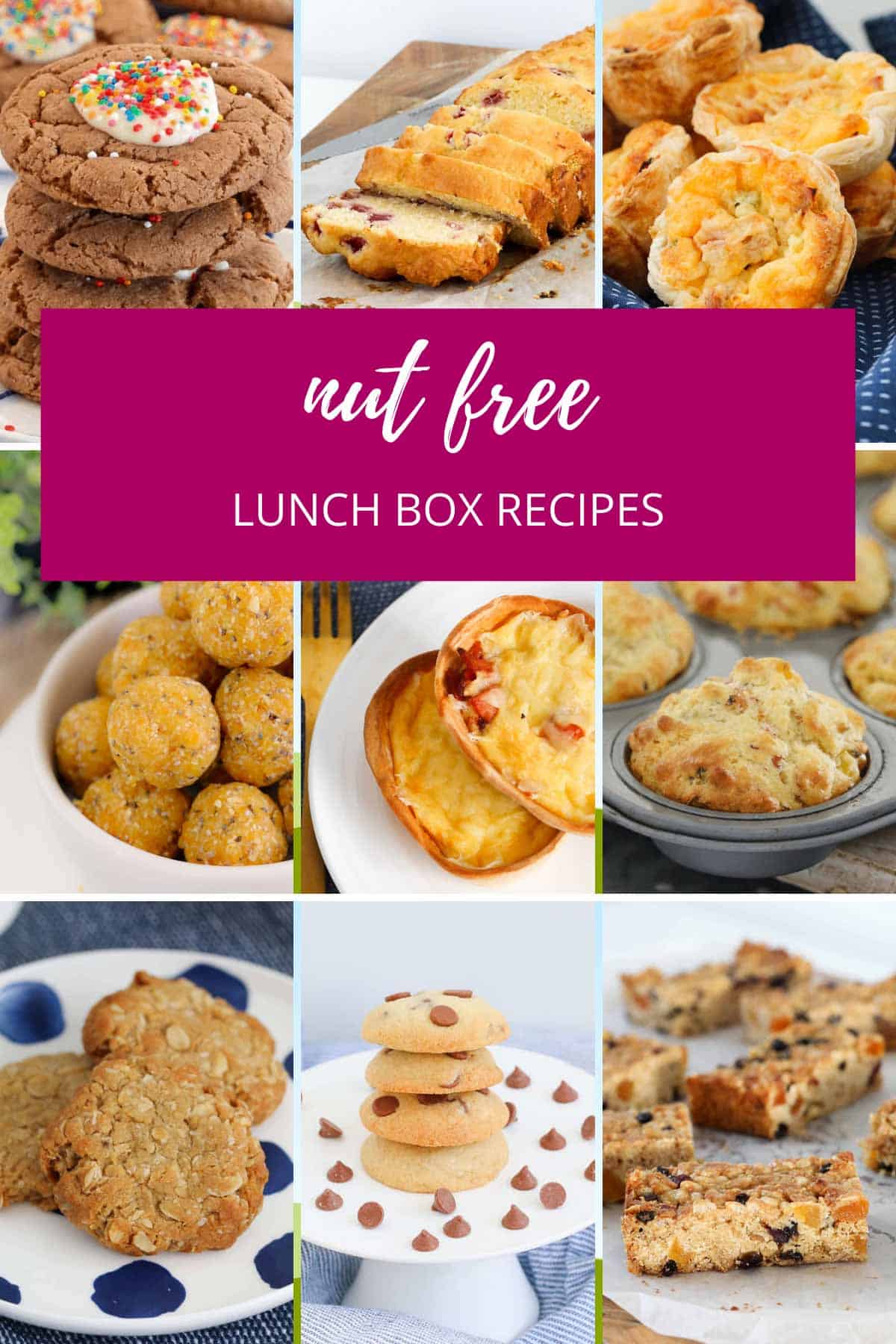 Freezer-friendly, budget-conscious and made using basic ingredients, these nut free recipes get the tick of approval from kids (including the fussy ones!).
Sweet Nut Free Lunch Box Recipes
Everything from simple muesli bars, yummy bliss balls, fruit breads, crunchy biscuits, healthy muffins and delicious lunch box slices.
Muesli Bars & Bliss Balls
Muesli bars and bliss balls are healthy lunch box fillers that you can vary a little using your favourite ingredients!
Affordable and delicious, and you can make your own flavour variations by mixing and matching with your favourite dried fruits. And best of all - you know exactly what's in them!
These yummy bars, full of crunch, can be prepped and baked in just 30 minutes. With no artificial additives, refined sugars or fats, just wholesome goodness.
Perfect for a post-workout boost, a little pick-me-up, or when you're looking for a delicious healthy treat for your toddlers and kids. These bliss balls are delicious!
A great way to transform the humble Weet-Bix into a sweet and healthy lunch box treat. Perfect for hungry after-school tummies too!
Get the kids to help rolling these super little bliss balls... Weet-Bix never tasted this good! Great for kids party food too.
Also known as 'donkey drops', these kid-friendly rum balls are a popular little bite in lunch boxes, or as party food - or anytime really! So quick & easy to make.
Biscuits
There's nothing quite as inviting as the smell of a batch of biscuits baking - and there's so many quick and simple recipes here for you to try!
I can't think of a more classic and popular biscuit than these budget-friendly and simple ANZACS - a true Australian icon!
Lets face it, these chocolate chip cookies make the perfect lunchbox treat, cookie tin filler or afternoon tea favourite!
One bowl and 20 minutes is all it takes to make these sweet little biscuits.
With no white flour, no refined sugar or butter, these healthy cookies even manage to smuggle in some zucchini too! A super healthy lunch box snack.
Sweet, crunchy and chewy, chocolate chip & sultana cornflake cookies... made from pantry staples, a few dollars will get you a whole lot of cookies with this recipe.
Fruit Loaves
These delicious fruit loaves make a great alternative to a sandwich in lunch boxes. You can also freeze individual slices, pop into lunch boxes in the morning and they'll be ready to eat by lunch time.
Made with greek yoghurt and fresh strawberries, this loaf is a super fresh and moist summery treat!
Full of goodness, cut this loaf into individual slices and freeze some for a quick 'grab and go' guilt free snack.
Whenever I see a couple of bananas in the fruit bowl that have been sadly overlooked, I know what's coming up - this popular cafe style banana bread is always a winner!
Chocolate + banana is a match made in heaven! Just 10 minutes to prep, and one bowl is all that's required to make this fudgy loaf.
Muffins
Made from basic pantry staples, these muffin recipes are budget-friendly and always loved by kids.
These most popular ABCD muffins are fantastic to have in the freezer (if they're not eaten first), as they can be popped in a lunch box at breakfast time, ready to eat for lunch.
Surprise! They may look decadent, but these muffins are actually made with greek yoghurt, banana, honey and coconut oil (ok, and chocolate!)...
You can use fresh or frozen strawberries in these muffins and even vary what flavour of yoghurt you use in this recipe. Super handy as a lunch box snack.
The grated apple in the mixture keeps the muffins beautifully moist, while the oat crumble gives the most perfect crunch on top. Truly delicious!
Baked Slices
I'm a sucker for a yummy baked slice, and these nut free slice recipes are seriously easy to ensure there's always a piece on offer.
Young or old, this crunchy, chocolatey slice is a total winner. Perfect for young bakers as it's a no-fail slice!
A classic old fashioned slice that is as popular as ever and ready to eat in 30 minutes. Perfect for the sweet tooth, you only need a small slice......or maybe three...!
Another easy recipe, this one has all the classic textures and butterscotch flavour found in traditional ANZAC biscuits, but in slice form. And chocolate chips make it even more tempting!
Have a peek in your pantry and fridge... you might just find that you already have all the ingredients needed for this simple slice. Just melt, mix and bake - ZERO fuss!
Full of rolled oats for energy, and kids favourite Milo flavour, this budget friendly slice is perfect to pop into lunch boxes, and completely nut free.
No Bake Slices
The convenience of a no-bake slice simply CANNOT be overlooked, so here are some simple nut free favourites of mine!
There's a reason why this is one of my most popular slices - besides being simple to make, it has the perfect flavour combo of lemon and coconut. It also lasts well, and can even be frozen!
Another great flavour combination, this slice takes no time to prep, the hardest part is waiting for it to firm up in the fridge. There's nothing better than homemade treats like this!
Butternut Snap biscuits give this base a fantastic crunch, then layered with milk chocolate, this no-bake coconut slice only takes 10 minutes to prep!
Besides looking pretty and colourful, I haven't met anyone who can resist this no-bake nut free slice (even those who say they don't like licorice!) Try it and you'll see for yourself!
Savoury Nut-Free Lunch Box Recipes
It's always nice to have a bit of variety when filling lunch boxes, and these savoury recipes make a welcome change from a sandwich!
Here's some easy nut free savoury options, and most can also be popped in the freezer - so handy when it's morning rush hour!
Savoury Slices & Quiches
Savoury slices make a handy mid-week dinner, with leftovers ready for tomorrows lunch box.
A great alternative using shaved or sliced ham, these mini quiches are perfect 'bite size' snacks for lunch boxes. And they taste just as good cold as they do heated up.
Pop a little tub of sweet chutney or sauce into your little ones lunchbox with a piece of this sweet potato slice. So much more fun than the standard sandwich or crackers - and full of healthy veggies too!
Just looking at these makes me hungry! It's that cheesy topping, and the bacon inside... I use Old El Paso mini tortilla boats, plus eggs, cream, bacon and cheese - that's it!
Great for fussy eaters, this zucchini & carrot slice is packed full of veggies and cheese. Make this when zucchinis are in season and freeze in individual serves for quick and easy lunch box fillers.
Fritters & Nuggets
Mix things up in the lunch box with a variety of simple healthy bites such as tasty fritters and nuggets, all tasty and nut free savoury options!
You couldn't get a more budget friendly snack than these cheesy corn fritters! I like to add little containers of sweet chilli sauce and sour cream to the lunchbox for dipping the fritters in.
A great way to incorporate some veggies into a kid-friendly lunch box snack, an easy weekend lunch, or a light dinner. So simple to make and they freeze so well too!
I'm a big fan of having a batch of these in the freezer. The sweet potato and cheese is super tasty and the flavour of the tuna is not in the slightest bit overpowering.
Just like the takeaway option, but you know exactly what's in them. These homemade nuggets are baked in the oven, in crispy breadcrumbs, not like the 'deep fried' variety!
Pies & Sausage Rolls
Whether heated up or served cold, mini sausage rolls and pasties are a welcome lunch box filler and offer plenty of variety. Great to have a selection in the freezer for those last minute lunches.
Make a bulk batch of mini sausage rolls and what doesn't get eaten straight out of the oven goes into the next days lunch boxes - or freezer!
Chicken, bacon, cheese and puff pastry - what's not to like? These puff pastry sausage rolls go just as well in a lunch box as they do served up as finger food at a kids party or family gathering.
Another variation on the standard sausage roll... and just as tasty using lamb mince instead of beef. Perfect for footy night - with the bonus of yummy leftovers ready for lunch boxes the next day.
Homemade pasties are such a versatile recipe, try adding different vegetables, and vary the sizes - I make mini ones for lunch boxes or after-school snacks, or larger ones for the perfect weekend lunch or mid-week dinner.
Savoury Muffins & Scrolls
Savoury muffins and scrolls make the perfect lunchbox alternative to sandwiches - you can be a bit creative with ingredients if you like, and they are excellent to have on hand in the freezer too!
A super basic and versatile recipe, these savoury muffins are ready to eat in 20 minutes and are delicious either hot or cold......with a good slathering of butter too, of course!
One bowl, no fancy equipment, budget friendly ingredients and 30 minutes = a batch of tasty muffins for lunch box or freezer!
This dough is made with just 3 basic ingredients, so simply mix the dough, add the fillings and bake immediately! Frozen scrolls can be popped straight into lunchboxes and they'll be defrosted by snack time!
We couldn't leave out our Aussie favourite spread - Vegemite! These scrolls are super tasty and the kids love them. With no proving time, and basic pantry ingredients, you must try these super easy scrolls.
So there's just a few ideas of nut free lunch box treats, in sweet and savoury recipes.
For more lunch box recipes, browse my entire collection of lunch box ideas and recipe books.
Thermomix Lunch Box Cookbooks
I'm here to make your kinder and school lunch box prep quick and easy with my 3 pack Thermomix Lunch Box Snacks Bundle (get all 3 cookbooks for just $48).
Each of the hardcopy cookbooks comes with a FREE eBook version so you can get started cooking immediately!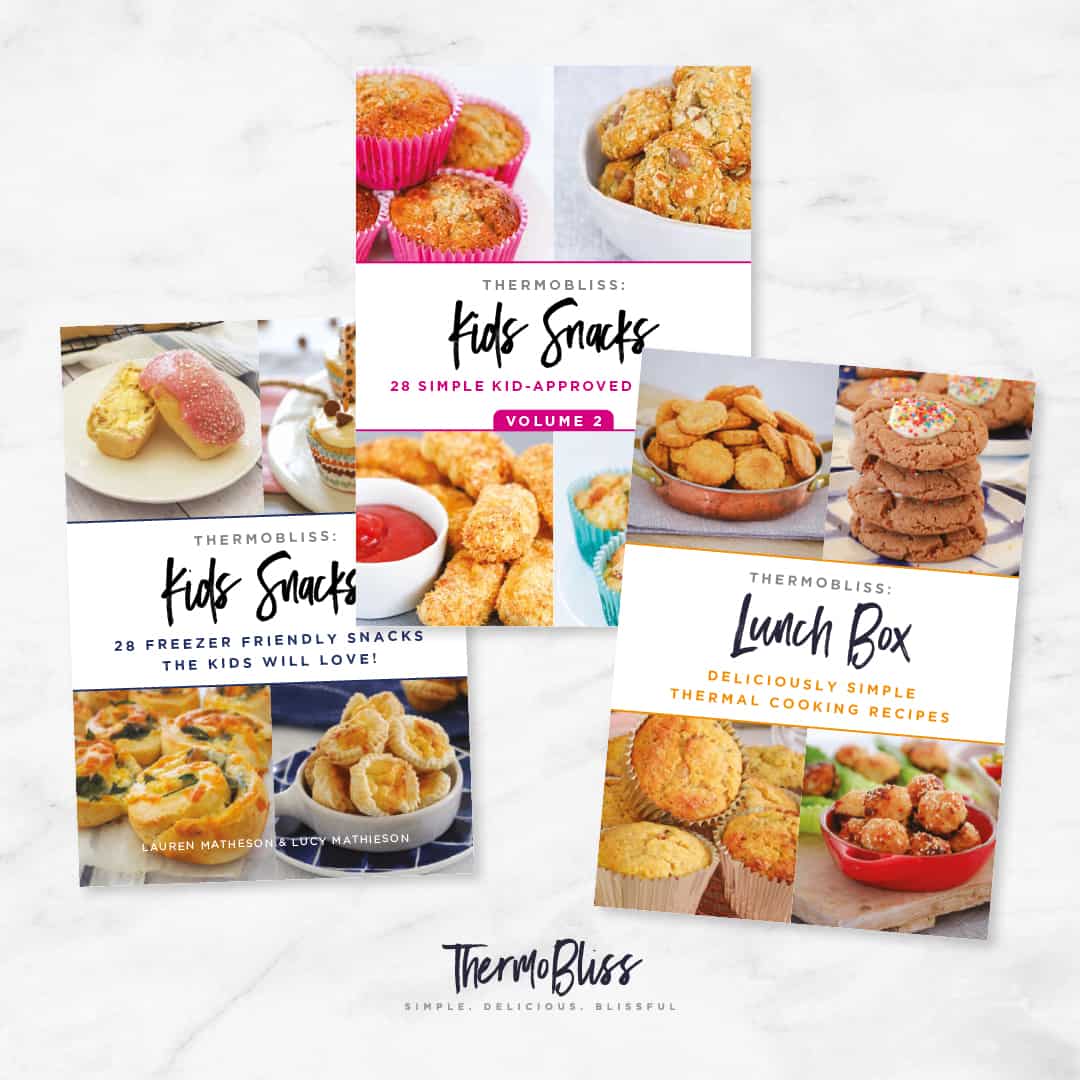 WANT EVEN MORE DELICIOUS RECIPES? Subscribe to my newsletter or follow along on Facebook or Instagram. And if you love baking, then please come and join my Facebook cooking club group or subscribe to my YouTube channel.