A collection of 20+ sweet and savoury toddler recipes with hidden vegetables... perfect for even the fussiest of eaters! From vegetable nuggets to savoury muffins, chocolate chip zucchini loaf to carrot cake muffins and more...
When it comes to toddlers who are fussy eaters, I most definitely have had first-hand experience and know how frustrating it can be!!
Whether it's going from loving a particular food one day to hating it the next, or just downright refusing pretty much every single food offered to them (welcome to my house a couple of years ago!)... toddlers can take fussy eating to a whole new epic level.
And so, I've put together a collection of toddler recipes with vegetables hidden inside that my (F.U.S.S.Y!) son actually ate and enjoyed when he was younger.
Recipes For Fussy Toddlers
Simply click on any of the links below to be taken directly to the full recipe.
What little toddler can resist warm, yummy, flaky pastry? Little do they know (or care) that there's finely grated veggies inside because these pasties taste so good!!
This basic 'one bowl' savoury muffin recipe takes less than half an hour and requires no fancy ingredients, plus you can vary it with whatever you have on hand! Serve warm with a little butter for tempting fussy eaters....
Perfect for little fingers to grasp and dip into sauce or mayo, these veggie smuggling nuggets are crispy little treats, and go down a 'treat' as well! Keep a stash in the freezer to please the fussiest eater...
A little cheese & bacon in a savoury slice always adds to the taste factor, and sweet potato is almost too yummy to be classed as a vegetable, right? Well, that's why this slice appeals to both little (and big) kids - try it!
What's not to love? These crispy homemade sausage rolls are quick & easy, freezer friendly, toddler friendly, and loved by all! Make a bulk batch to freeze and have on hand for time poor days, and fussy mouths....
This yummy loaf loaded with finely grated apple, zucchini and carrot will go down well with the most discerning 'non fruit & veggie eaters'.... It's super moist and sweet, yet packed with plenty of goodness!
It's easy to disguise zucchini in so many dishes, even in sweet recipes. The grated zucchini keeps this loaf super moist, and, well, the chocolate chips just make it yummy, don't they!
You can use whatever veggies you have on hand for this simple healthy bake, just keep them small or finely grated to pass fussy lips.....It's all pulled together with a creamy, cheesy sauce which makes it totally delicious!
These soft and moist cookies are made with wholemeal flour, coconut oil, honey (or rice malt syrup), zucchini and rolled oats - no refined sugars or butter - just the addition of chocolate chips to make them even more yummy (ha ha, I had to sneak those in!)
Made with chicken mince, these little beauties are leaner than made with traditional beef or pork versions. So handy to have in the freezer, just grab some out and reheat whenever you need a light lunch or dinner for fussy ones!
A great little fritter combining yummy mashed sweet potato, grated zucchini and quinoa, all wrapped up together with cheese and panko crumbs, and ready to dish up in half an hour. A great budget friendly meal with loads of 'smuggled' veges!
This classic slice is perfect for using up those zucchinis that keep multiplying in the garden, or are handed over by others that are simply drowning in them. Just one bowl and 10 minutes to prep - the cheese and bacon makes it totally yummy!
These sweet bites are perfect for little fingers to dip and eat. Using just mashed sweet potato, quinoa and cheese (and a sprinkle of sesame seeds!), they are oven baked (no oil) and freezer friendly - healthy and simple, yay, that's a winner!
Here's a variation on the classic zucchini slice. You really can't go wrong with this one, add some shaved ham, maybe some corn too. Great for those lunch boxes or a light, no-fuss dinner!
I don't think there would be many toddlers that would turn up their noses at these homemade potato cakes - they're totally thumbs up! Add some ham and corn too if you like, and serve with a dollop of sour cream and sweet chilli sauce!
One bowl, 10 minutes to prep, 20 to bake - and voila! Healthy muffins to satisfy the most fussy toddler....and the 'big' ones too! These muffins are just as moist as the traditional carrot cake with coconut oil and almond milk to boot!
Super quick, budget friendly and healthy - that's what us Mums' need, right? Oh, did I mention that they taste good too! Golden crispy on the outside, and deliciously soft inside - perfect for last minutes dinners too.
Cheese + corn = yumm! A simple snack or meal totally made with pantry staples. These fritters and quick and easy to whip up - try serving with some ham or crispy bacon, avocado, cherry tomatoes - whatever whim takes you!
More Toddler Recipes
Looking for more toddler recipes with hidden vegetables? Our collection of Thermomix Kids Snacks Cookbooks is just what you need!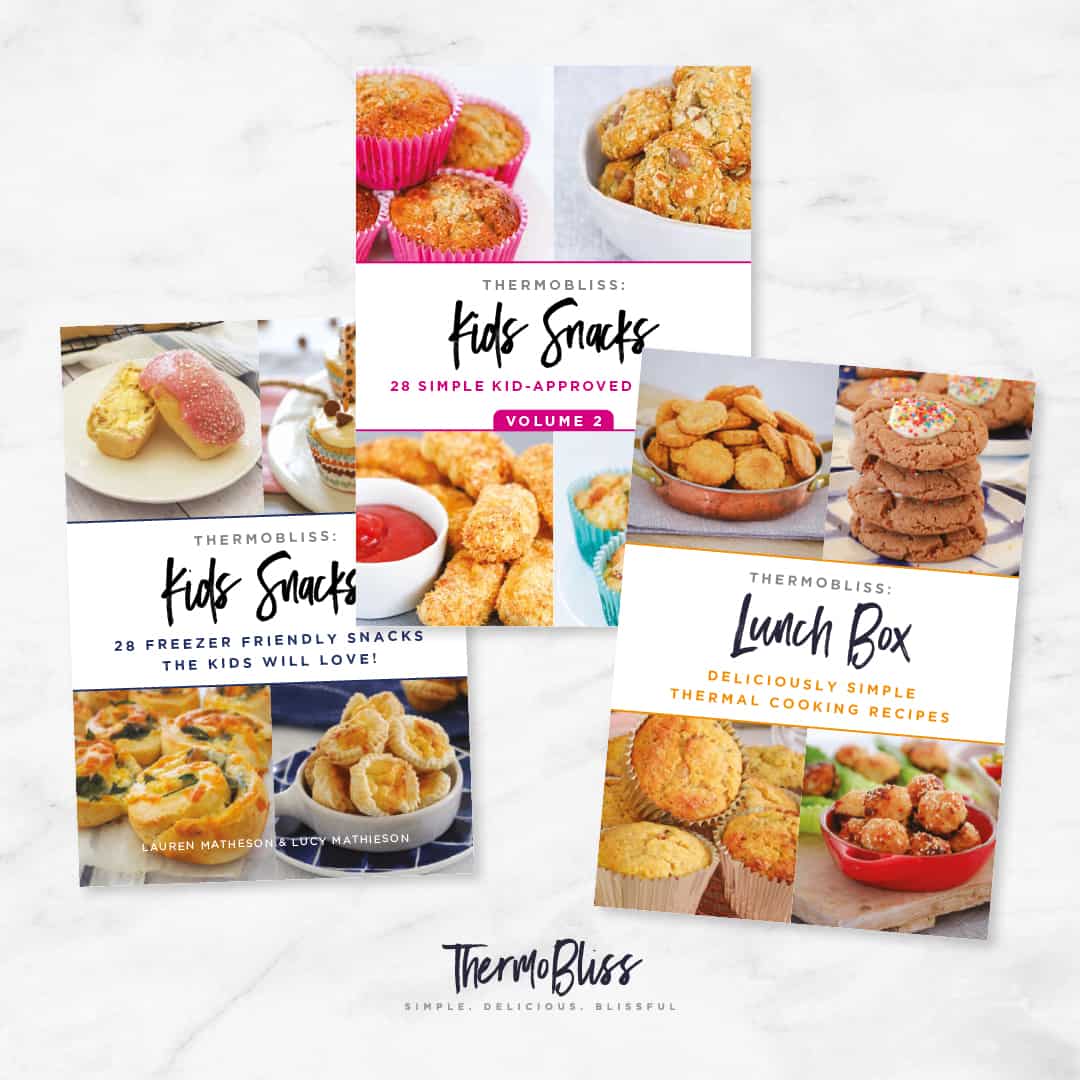 WANT EVEN MORE DELICIOUS RECIPES? Subscribe to my newsletter or follow along on Facebook or Instagram. And if you love baking, then please come and join my Facebook cooking club group or subscribe to my YouTube channel.