This perfect Mars Bar Slice recipe is so simple and works out perfectly every single time. 10 minutes prep time, completely no-bake AND with conventional and Thermomix instructions. Watch the video to see how easy it really is!!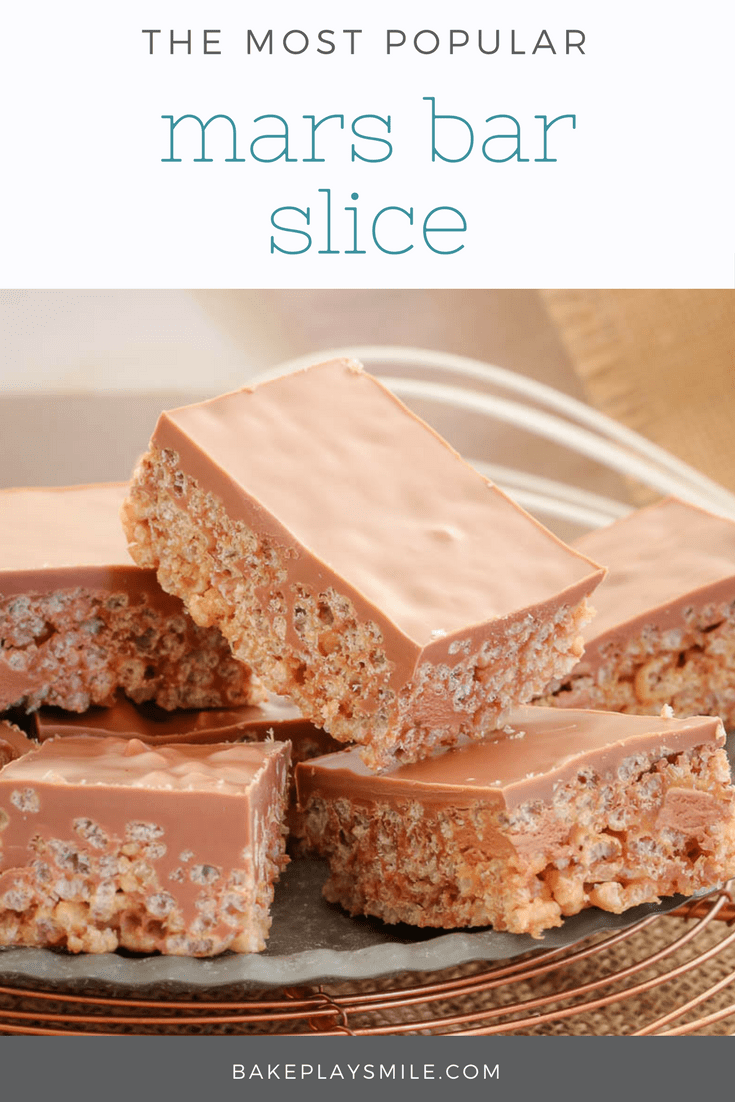 I'm not the kind of girl that will walk into a supermarket and buy a Mars Bar to eat (not that there is anything wrong with that, I just usually choose a Turkish Delight instead!). Add to that the fact that I never really eat a bowl of Rice Bubbles for breaky (I'm more of a muesli girl). BUT I do NOT ever stick my nose up at eating Mars Bar slice. Never ever. Scroll down to watch my video and you'll see why…
So what is it about Mars Bar Slice that makes it sooooo darn good?
A) You don't need many ingredients – which is great for people like me who even when armed with a grocery shopping list still somehow manage to forget things!
B) It's super fast to make… I'm talking 10 minutes!! Perfect for when you have other important things to do like cook dinner, fold washing… and watch Netflix!
C) You don't even need to turn on the oven (which means you can spend your electricity bill savings on shoes… done. done and DONE!).
D) It's so easy that you could virtually make it with your eyes closed – go on, try it… I dare you!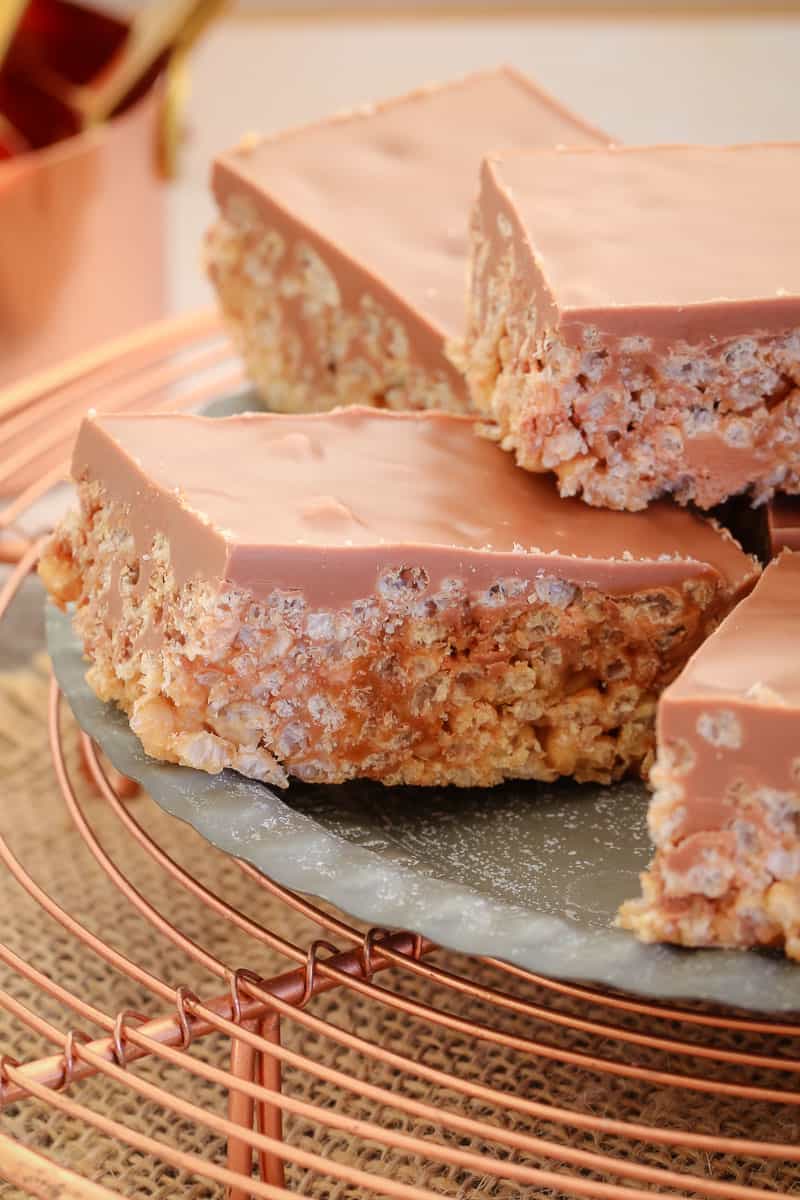 But seriously, if you've never tried to make Mars Bar Slice before, you have no idea what you're missing out on… it's freaking AMAZING!!!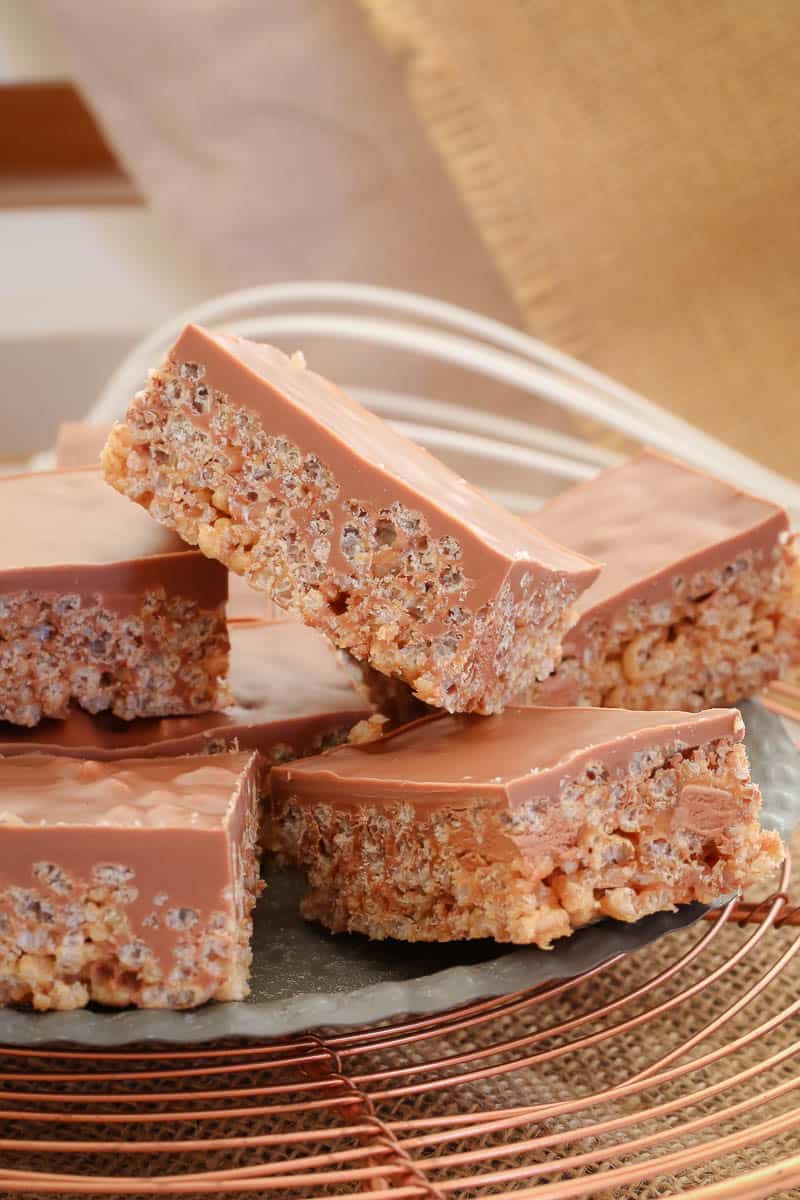 On a random side note, I saw a piece of Mars Bar Slice in a cafe on the weekend for $4.50… for one teensy piece! Two pieces would have paid for the ingredients to make a whole slice. Crazy stuff!!! And anyway, everything tastes better when it's homemade, don't you think?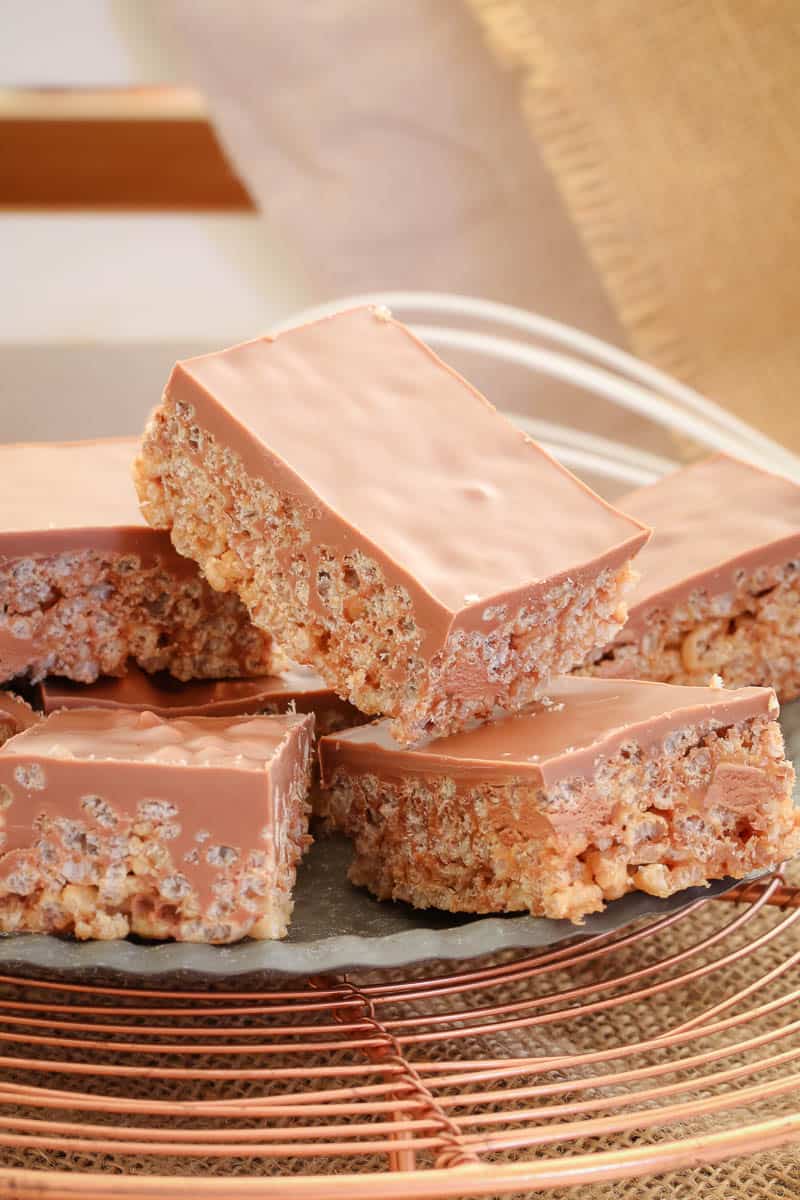 For more easy slice recipes, check out our NO-BAKE BARS & SLICES EBOOK packed with 17 of our most popular recipes (available in both conventional and Thermomix versions) for just $10.00.
Get the eBook via instant download and then save to your computer, tablet, phone or iBooks. If you'd prefer a hard copy, all of our eBooks print to an easy-to-read A4 size.
Shop the conventional version here or the Thermomix version here.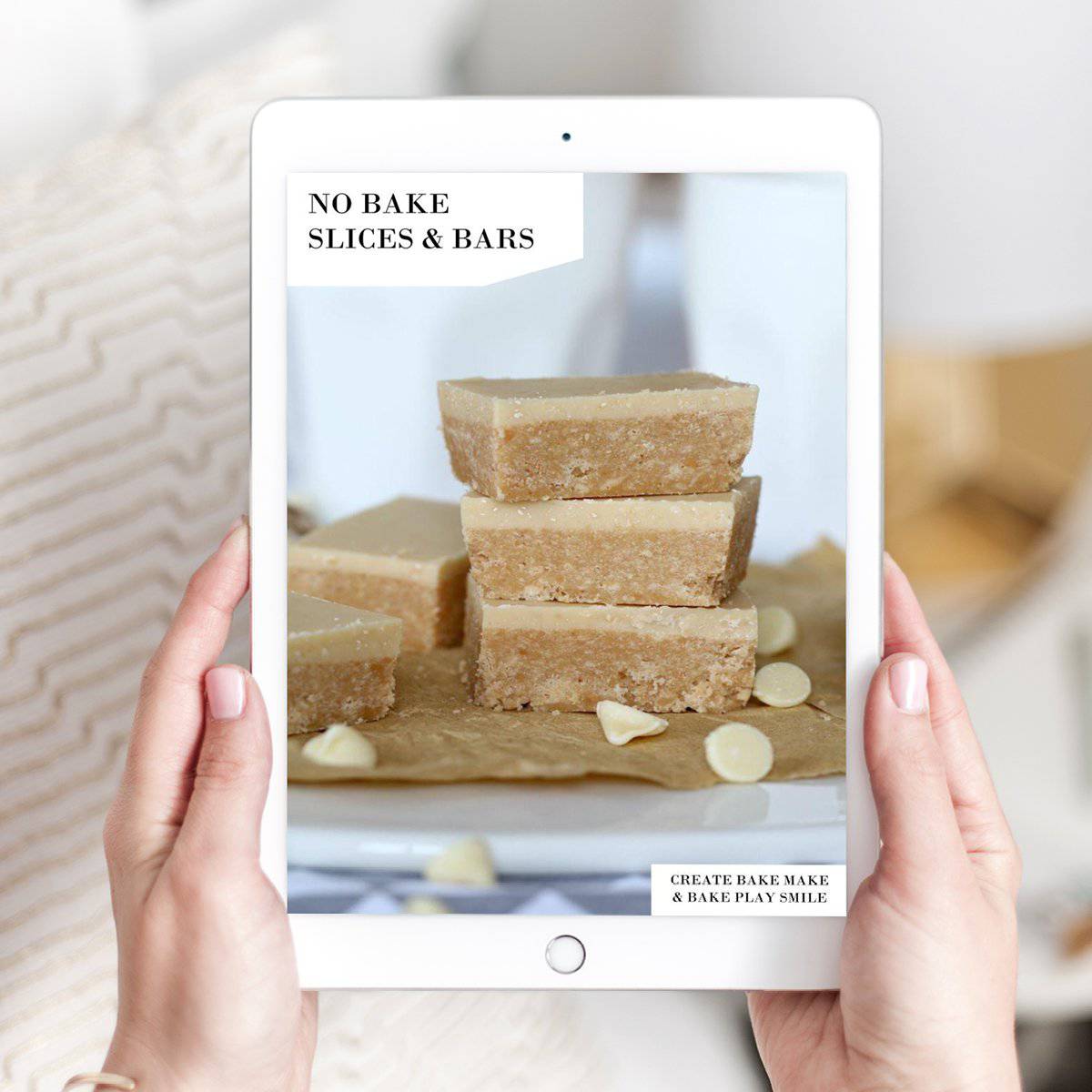 VIDEO: HOW TO MAKE MARS BAR SLICE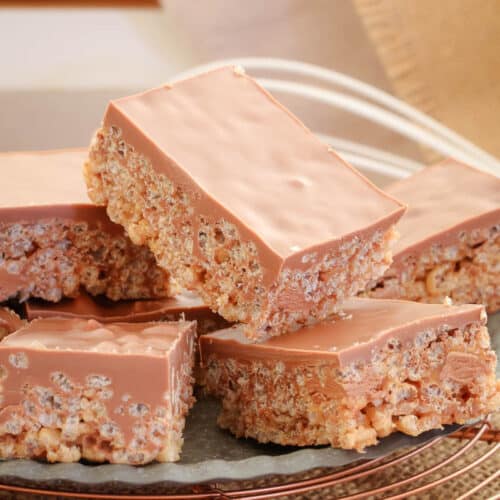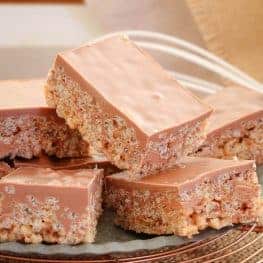 Mars Bar Slice
This perfect Mars Bar Slice recipe is so simple and works out perfectly every single time. Conventional and Thermomix instructions included.
Print
Pin
Rate
Total Time:
1
hour
10
minutes
Ingredients
75

g

butter

150

g

Mars Bars

chopped

1

tbs

golden syrup

3

cups

rice bubbles

or any puffed rice

250

g

milk chocolate

20

g

coconut oil

or vegetable oil (optional)
Instructions
Conventional Method
Grease and line a 18X22cm rectangular slice tin with baking paper and set aside.

Melt the butter, 100g of the Mars Bars and golden syrup on low heat in a saucepan (or in 30 second bursts in the microwave on 50% power). Please note: the Mars Bars will not melt - that is fine!

Mix until the butter and golden syrup are smooth.

Stir in the rice bubbles and the third Mars Bar (chopped).

Press mixture firmly into the prepared tin.

Place milk chocolate and coconut oil/vegetable oil in a heatproof bowl.

Microwave on medium for 3 minutes, 50% power, or until just melted, stirring every 30 seconds with a metal spoon. Stir until smooth.

Spread over slice and refrigerate until firm.

Remove slice from the refrigerator about 1 hour before cutting into squares with a warm knife.
Thermomix Method
Grease and line a 18X22cm rectangular slice tin with baking paper and set aside. 

Place 100g of the chopped Mars Bars, butter and golden syrup into the Thermomix bowl. Melt on 60 degrees, Speed 2 for 3 minutes.

Add the rice bubbles and the remaining Mars Bar. Mix on Reverse, Speed 2, 15 seconds or until completely combined.

Press the mixture into the prepared tin.

Place the milk chocolate into a clean TM bowl. Melt on 50 degrees, Speed 3 for 2-3 minutes (scraping down the sides of the bowl occasionally).

Pour the melted chocolate over the slice and place back into the fridge to set.
Notes
Adding coconut oil or vegetable oil to the melted chocolate will help with spreading and slicing, however it is entirely optional. 
Nutrition
Calories:
151
kcal
|
Carbohydrates:
15
g
|
Protein:
1
g
|
Fat:
11
g
|
Saturated Fat:
7
g
|
Cholesterol:
8
mg
|
Sodium:
30
mg
|
Potassium:
61
mg
|
Fiber:
1
g
|
Sugar:
11
g
|
Vitamin A:
1.9
%
|
Calcium:
0.6
%
|
Iron:
3.5
%