Browse our collection of super simple kids recipes the are perfect for the mini chefs in your house! From cookies to bliss balls, slices, cupcakes, muffins and more!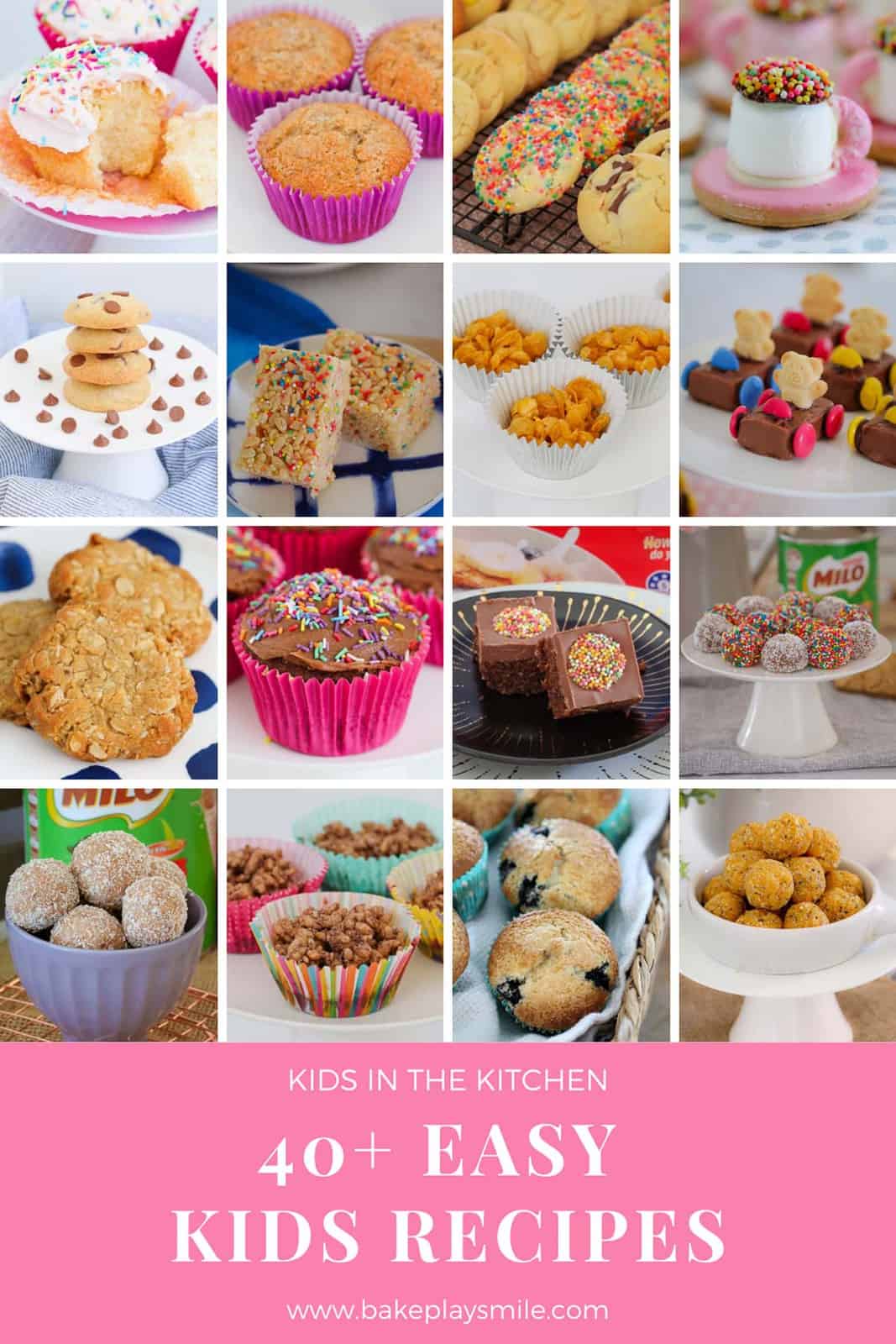 I'm a massive fan of getting kids into the kitchen and cooking.
The ex-primary school teacher in me will tell you ALL the skills that your little ones will learn by cooking... and the Mum in me will tell you what a special time you'll have cooking with your kids.
Sure, it can be a bit chaotic... but the trick is to pick really easy recipes that your kids can make either completely on their own or with a little help.
The recipes below are perfect for getting your kids busy in the kitchen and super excited about cooking!
Skills That Kids Learn Through Cooking
There are soooo many things that your little ones will learn while they cook. Here's just a few:
following instructions (and we all know this is a BIG one for kids!) - learning to follow a recipe or listen to instructions is a must when cooking!
measuring ingredients - using measuring cups and measuring spoons is a great way to start talking about fractions (1 cup, ½ cup etc)
fine motor skills - just think about the fine motor skills you use when you take a teeny teaspoon of baking powder and carefully place it into a bowl - these are such important skills for kids to learn
reading - reading a recipe (which is a type of procedural text) is a great practical way for kids to learn. If they're too young to read, try drawing pictures of the ingredients and steps.
safety - this is obviously a HUGE one! Learning about hot ovens and stoves, dangerous beaters and food safety is so, so important. Cooking gives you a perfect opportunity to explain this to your little one.
There are SO many more skills that kid learn while cooking - these are just a few of the most important ones!
What Type Of Recipes Are Suitable For Kids To Cook?
When deciding what kind of recipe your little one can cook, think about:
their age
their experience with cooking
their reading ability
how long they'll be able to concentrate on a recipe
For example, an 11 year old who has cooked with a parent for several years and can easily read a recipe on their own may be able to make a baked dessert, muffins or a cake etc from scratch all on their own (with parent supervision with the oven and any equipment).
A toddler or young child will need some parental help and supervision throughout the entire recipe (even if it's a no-bake recipe that requires very little equipment).
Easy Kids Recipes
Here are a few of my favourite recipes that are perfect for making with kids. Simply click on the recipe link to be taken to the full recipe (they're all free).
Kids Cookie Recipes
Cookies are perfect for cooking with kids! Most of these recipes can be made without any fancy equipment (you can substitute beaters for a wooden spoon) and are so fun to make! The kids will love rolling the mixture into cookies (and taste testing, of course!).
This is the recipe I ALWAYS bake with my son. It's my all-time favourite choc chip cookie recipe and it's always a winner.
If you've got a tin of Milo (malted milk powder) in the cupboard, these are the biscuits for you. We love to top them with melted chocolate and sprinkles (but this is totally optional).
An absolute favourite Australian biscuit recipe made with rolled oats (ooh and they're completely egg-free so you can eat as much mixture as you like!).
If you're wanting to make a LOT of cookies... this is the recipe for you. You'll get 100 cookies from one batch of mixture - and the kids will love flavouring the mixture with their favourite add-ins.
If you've got a box of cornflakes in the cupboard, then it's the time to let your little ones make a batch of cornflake cookies. Add chocolate chips and sultanas for an extra special treat.
Got a little chocoholic in the house? They're going to LOVE these cookies!
Quick & Easy Slice Recipes For Kids
Our slice recipes are SO simple to make and have just a few basic ingredients.
This is the exact same recipe as our classic ANZAC biscuits... but in a super easy slice!
In just 5 minutes, your little ones will be ready for you to pop their brownie mixture in the oven. It couldn't be easier!
We LOVE this slice in our house. It's so simple to make and the icing and sprinkles on top are a kids dream!
One of our all-time favourite slices! You little ones will be able to make this slice all on their own (except for the oven, of course).
If you've got a box of Weet-Bix sitting in the cupboard, let your little one loose making this chocolatey slice!
Made from pantry basics, this slice recipe is most definitely kid-approved.
Our favourite muesli bars are great for lunch boxes and are perfect for being prepped by the kids!
Kids Cupcakes, Breads & Muffin Recipes
Our cupcake, bread and muffin recipes are perfect for getting the kids in the kitchen! Plus all of the recipes are freezer-friendly!
Got some ripe bananas?? This is the recipe for you!
Apples, bananas, coconut and dates... get your little ones mixing the muffin mixture together!
Our FAMOUS banana bread recipe is so easy for kids to make on their own - just give them a hand with the oven!
My son and I LOVE making these chocolate cupcakes - whether it's for a birthday party or just a yummy little treat.
Our vanilla cupcakes are the BEST recipe to make with your kids. They're super easy... and your little ones will love decorating them too!
A super easy yoghurt loaf that everyone will love.
Our number 1 favourite birthday cake recipe! The kids can whip this cake up and then decorate it until their hearts content.
Use up some pantry and fridge staples with this yummy loaf recipe.
The kids will LOVE making this classic chocolate cake... and then decorating it with ALL the sprinkles!
Oat & Apple Muffins take just a few minutes to prepare and make the perfect kid-friendly snack.
Our classic blueberry muffins are a winner with the kids.
Our favourite muffin recipe couldn't be easier to make (or more delicious to taste test!).
No-Bake Kids Recipes
If you have toddlers or young kids, then our no-bake recipes are the perfect option. There's no need to worry about hot ovens or stoves and all of the recipes have a couple of simple steps and need minimal equipment!
The EASIEST no-bake balls ever... the hardest part will be stopping your little ones from eating all of the mixture.
Everyone's favourite dessert is perfect for getting the kids in the kitchen. Whip the cream ahead of time and let the kids assemble and decorate the cake.
Melt the chocolate in the microwave and then let your kids mix through all of their favourite add-ins.
Everyone's favourite slice couldn't be easier to make! Help any little kids with melting the ingredients and then let them mix it all together.
Who needs an excuse to buy a bag of Maltesers? Certainly not me!
This is one of our favourite slices to make together. I crush the biscuits and melt the ingredients, but then my toddler can do the rest!
Kids will love help rolling the bliss balls!
This recipe is the perfect way to fill in a few spare minutes. Plus... they're totally delicious!
A party food staple... and great for kids to help mix together!
Everyone loves these super easy sweet treats.
Healthy and delicious - these balls are so much fun for the kids to make.
This is the perfect activity for kids to do on a quiet afternoon (... or a busy afternoon!)
A few basic ingredients is all it takes to make these kid-friendly balls.
The kids will love whipping up these sweet little balls.
Little ones will love putting these simple little cars together.
Just like the store-bought version... but much healthier (and great for the kids to make!).
For a healthy snack, get the kids to help make these yummy little date balls.
Chocolatey, healthy and delicious! The kids will fall in love with these super simple bars.
More Kids Recipes
If you want even more recipes that the kids will love helping to make, then check out our entire collection of Kids & Toddler Recipes here.
Or browse our Lunch Box Recipes that are all freezer-friendly here.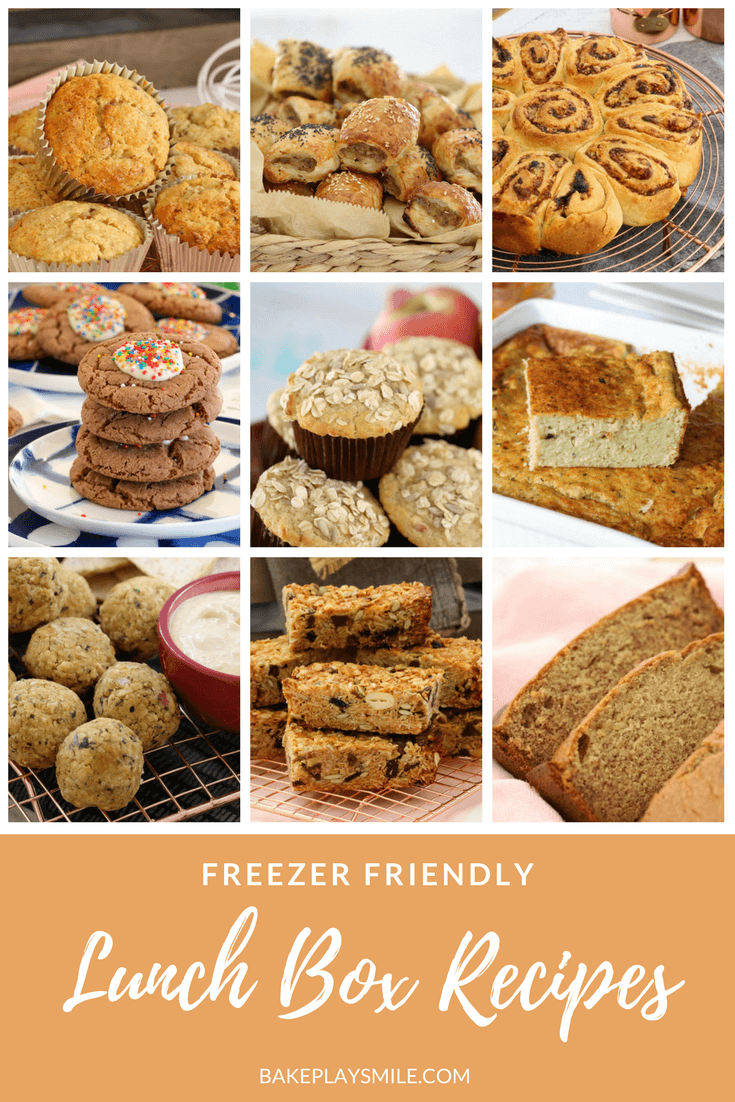 WANT EVEN MORE DELICIOUS RECIPES? Subscribe to my newsletter or follow along on Facebook or Instagram. And if you love baking, then please come and join my Facebook cooking club group or subscribe to my YouTube channel.