Holy moly! Have I got a recipe for you! This Cheesy Quinoa, Sweet Potato & Zucchini Fritters is hands-down our favourite thing to eat at home at the moment. I've always loved zucchini fritters, and sweet potato is one of my favourite vegetables, so I thought it would be a great idea to combine the two. Then I saw a packet of quinoa in the cupboard and thought… why the heck not! And to tie it all together, cheese was of course going to be the answer (when is cheese not the answer?)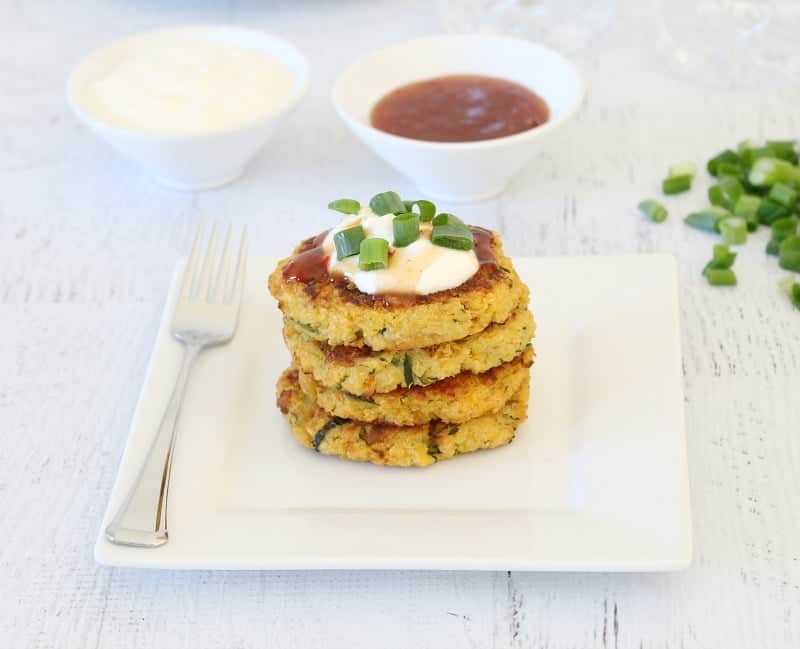 And so became my Cheesy Quinoa, Sweet Potato & Zucchini Fritters. These are amaze-balls. Seriously. You have the creaminess of the mashed sweet potato, the moistness of the zucchini, the yumminess of the quinoa and of course the oh-so-good cheesiness.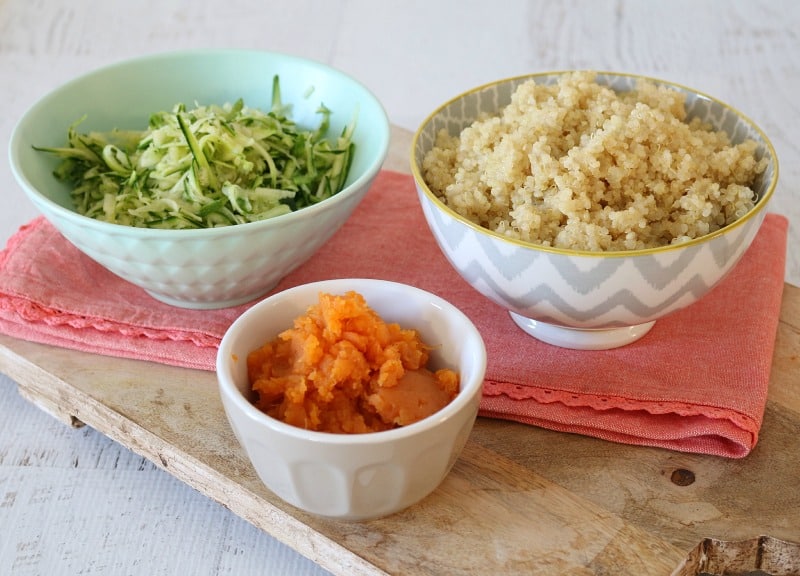 These are an absolute cinch to whip up. If you have fussy kids that aren't too keen on vegetables, then these are just the thing you need. You could even add in some corn if you like (everyone loves corn!).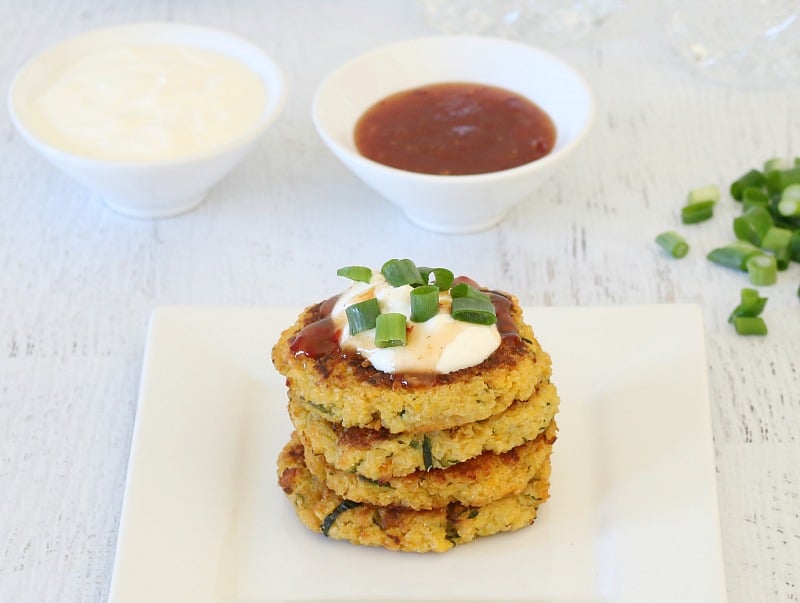 Now these would be yummy on their own, but if you really want to take them to the next level then you must, MUST serve them with a good dollop of sour cream, a drizzle of sweet chilli sauce and a few chopped spring onions. This is what really makes these fritters amazing.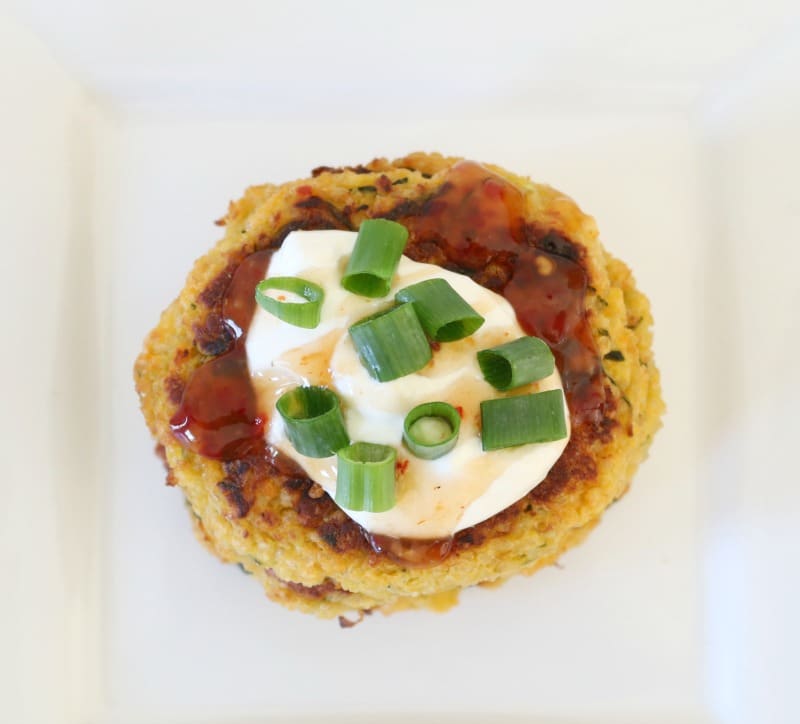 These Cheesy Quinoa, Sweet Potato & Zucchini Fritters make for a perfectly light vegetarian dinner (or lunch!). They'll be nice and crispy on the outside, while soft and delicious on the inside. Oooh and cheesy too. Did I mention how good cheese is?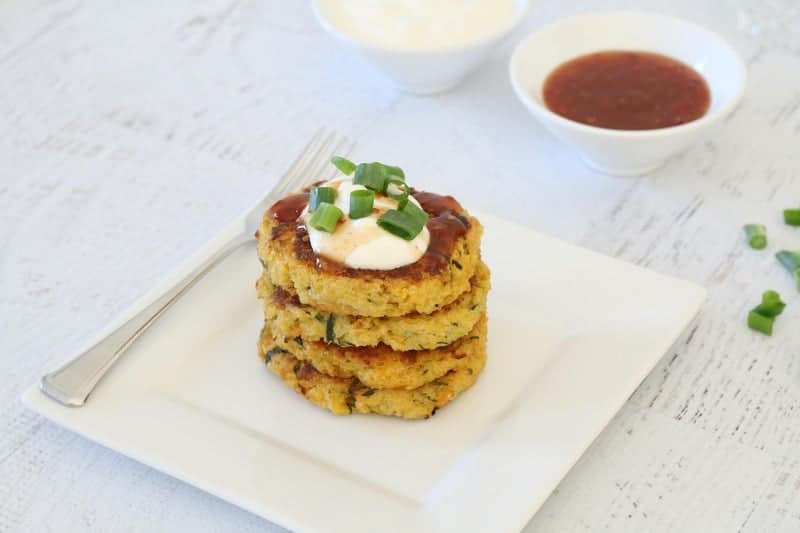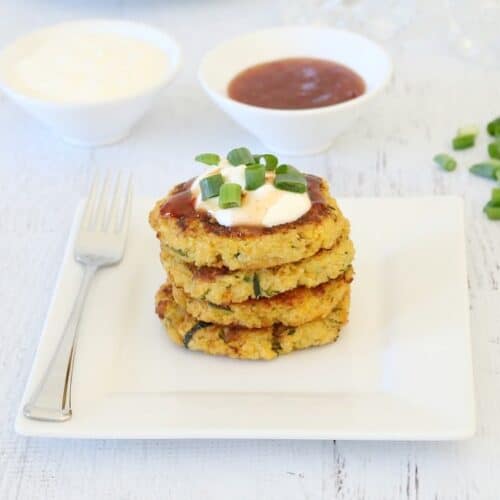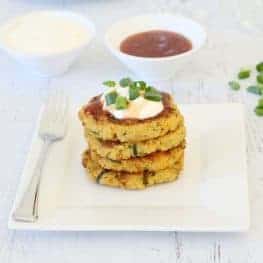 Cheesy Quinoa, Sweet Potato & Zucchini Fritters
Print
Pin
Rate
Ingredients
2

cups

grated zucchini

1

small sweet potato

cooked and mashed

1/2

cup

uncooked quinoa

1

cup

water

1

tsp

minced garlic

1

egg

beaten

1/2

cup

grated parmesan cheese

1/2

cup

grated tasty/cheddar cheese

1

cup

panko crumbs

sea salt and cracked pepper

olive oil

sour cream

sweet chilli sauce and chopped spring onions to serve.
Instructions
Peel and chop the sweet potato. Boil in a saucepan of water until soft and tender. Drain and mash then set aside.

Cook the quinoa in 1 cup of water according to the packet instructions. Set aside.

Grate 2 cups of zucchini (about 2 large zucchinis or 3 medium sized) and place into a colander to drain. Squeeze out any excess liquid.

Place the cooked quinoa, mashed sweet potato, zucchini, egg, garlic, cheeses, panko crumbs and sea salt/pepper into a large bowl. Mix until well combined (I like to use my hands to get all of the ingredients really well mixed together).

Shape the mixture into 12 equal sized fritters.

Preheat the oven to 150 degrees (to keep the fritters warm, while the others cook).

Heat 1-2 tablespoons of olive oil in a frying pan over medium heat.

Place 4-5 fritters into the pan and press down lightly.

Cook for approximately 5 minutes on either side or until golden brown.

Place into the oven to keep warm while you cook the remaining batches.

The fritters will be golden on the outside, but lovely and soft on the inside.

Serve with sour cream, sweet chilli sauce and chopped spring onions.