Browse our collection of quick and easy family dinners... from delicious burgers to simple pastas, classic lasagne to meatballs, fried rice to pies and more!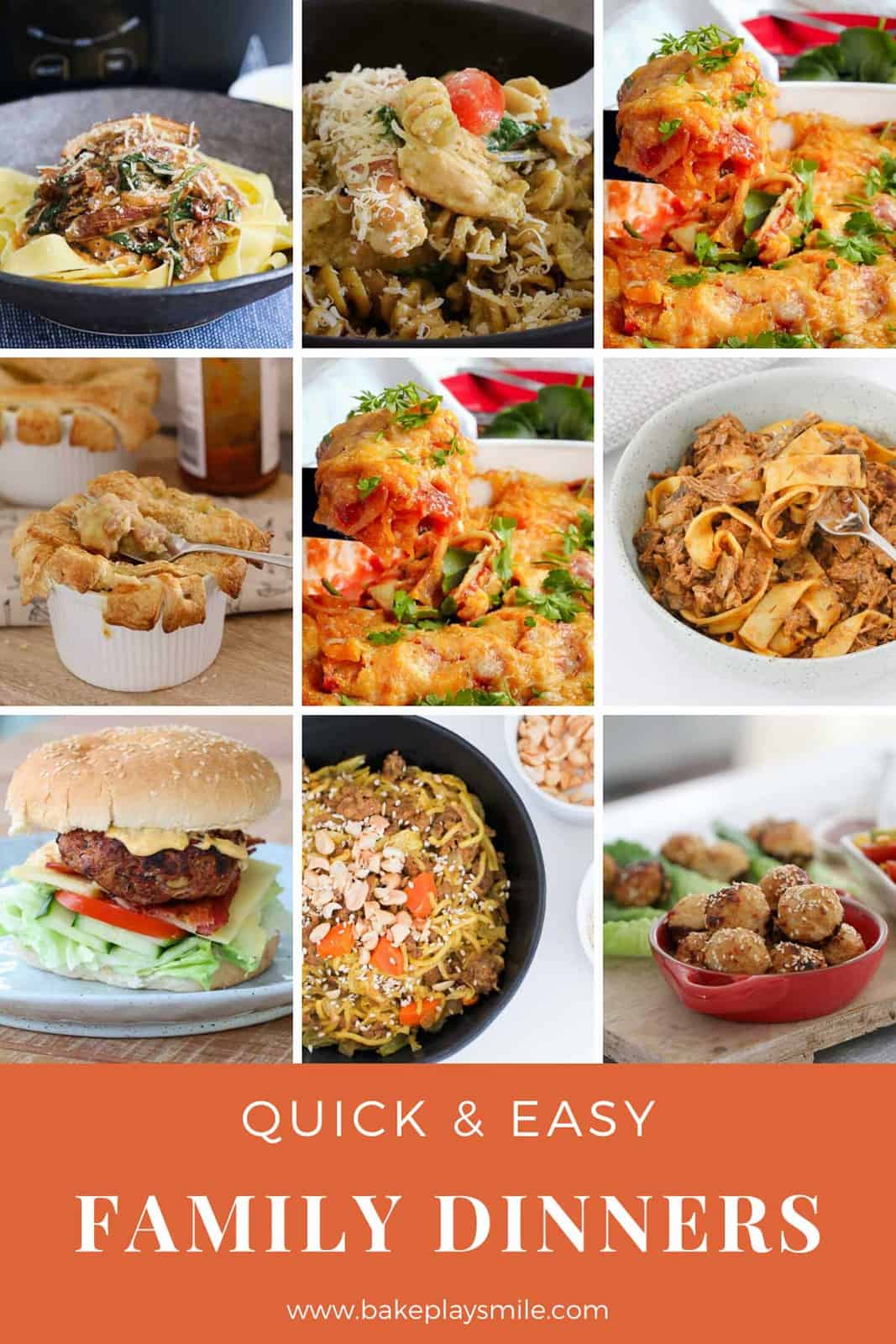 Quick & Easy Family Dinners
Whether you're after a fast midweek meal or a lazy weekend slow cooked dinner, our simple family dinners are just what you need!
Pop it into the slow cooker in the morning and have the most delicious family dinner ready by the end of the day! Serve it with mashed potato or pasta for a yummy midweek dinner.
Quick, easy, tasty… and most importantly, EVERYONE LOVES IT!!!! This Mexican lasagne is ALLLL of those things and so much more!
This is one of my hubby's recipes... and it's absolutely delicious!! Pop the pork into the slow cooker and leave it for a few hours to become super yum, and then whip up a slaw or salad just before serving. Too easy!
These Creamy Chicken, Leek & Bacon Pies topped with crispy puff pastry are easy to make and taste delicious… a classic winter dinner.
Nothing beats a homemade pie - and these individual chunky beef ones are the BEST! Serve with vegetables or salad for a classic family dinner (and freeze any leftovers!).
Hearty, creamy and delicious! And best of all, any leftovers from this family-friendly meal can be popped into the freezer and reheated for a quick and easy meal.
Layers of creamy pumpkin, spinach, tomato and lasagne sheets make the most delicious meat-free dinner!
A creamy pasta with lots of veggies and the most delicious crunchy top made from breadcrumbs and melted cheese. YUM!!!
Simple chicken meatballs topped with tomato sauce and cheese... a favourite family dinner! Serve with mashed potato or pasta for a yummy midweek meal.
You can never go wrong with a creamy pasta. So good! Add in some chicken for protein, pesto for the crazy-delicious factor, baby spinach and tomatoes for freshness, and you've got a pasta dish made in heaven.
My all-time favourite zucchini slice is the perfect midweek dinner - and with just 10 minutes prep time, it couldn't be easier.
This is one of the most popular meals in our house! Serve the meatballs in lettuce cups with sweet chilli dipping sauce... super fast, super fresh and super YUM!
A good old classic fave! This easy family dinner is the perfect way to smuggle in some extra veggies.
My favourite fried rice recipe EVER!!! Plus it's the perfect way to use up any leftover chicken you have lying around.
A 30 minute dinner with just 6 ingredients! This is one of the most popular recipe on my website (and it's no surprise why!).
Total cheesy deliciousness. This is the ultimate in easy family dinners!
This creamy carbonara is made from eggs, bacon, pasta and parmesan cheese. That. Is. It!! Too simple, right!?
Pop this baby on in the morning and come home to a delicious winter warmer.
Nothing says 'easy family dinner' more than corn fritters!
Do you have any more family dinner recipes to add to the list?
WANT EVEN MORE DELICIOUS RECIPES? Subscribe to my newsletter or follow along on Facebook or Instagram. And if you love baking, then please come and join my Facebook cooking club group or subscribe to my YouTube channel.