A collection of 20+ of the very best Easter recipes… from hot cross buns to cakes, desserts to kids recipes, brownies, slices, cocktails and more!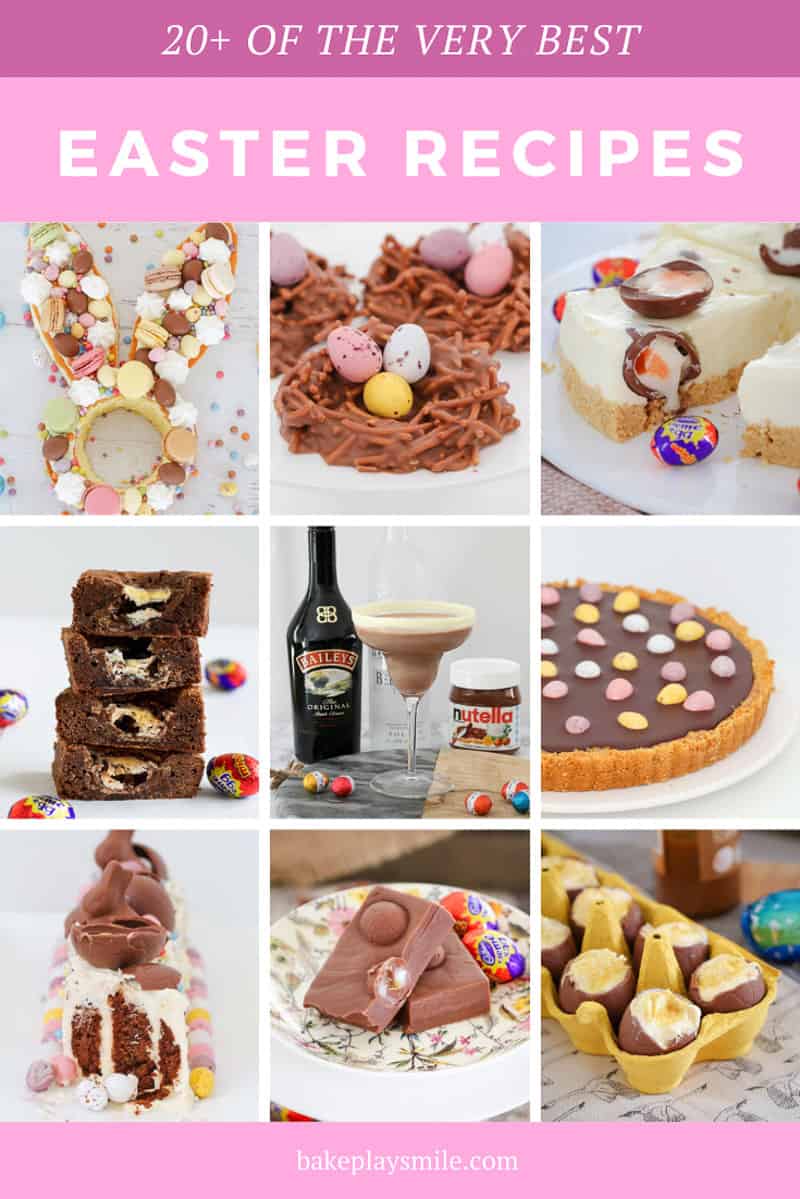 The Ultimate Collection Of Easter Recipes
Easter is the BEST time of the year for all of the chocoholics out there (and I'm most definitely including myself in that list!)… and if you're after easy recipes, then you've come to the right place!
From traditional recipes including hot cross buns, Easter rocky road and chocolate ripple cake to fun Easter cake hacks, kids recipes, easy desserts, brownies and a cheeky chocolate cocktail… your Easter is sure to be extra delicious (and chocolate-filled).
Plus, if you find yourself with leftover Easter eggs afterwards, we've even got recipes to help you use them up (but really… what even are 'leftover' Easter eggs!?).
Easter Cake Hacks
Our Easter cakes are so simple to make and are the easiest cake hacks ever! From Easter bunny sponge cakes to deliciously chocolatey mud cakes… these make the best Easter show stopping desserts.
Easter Cadbury Creme Egg Recipes
If you love Cadbury Creme Eggs (and lets face it… who doesn't!), these are the recipes you need in your life… including cheesecakes, brownies, fudge and more!
The BEST Easter Cocktail Recipe
Unleash your cheeky cocktail loving side this Easter with our over-the-top chocolate cocktail… complete with a sneaky Easter egg hiding at the bottom!
Kids Recipes For Easter
Get the little ones in the kitchen this Easter with our super easy kids recipes! Just be prepared for some serious finger licking!!!
The Best Homemade Hot Cross Buns
We all love store-bought hot cross buns… but once you've made homemade hot cross buns, you'll never be able to go back! Whether it's our traditional hot cross bun recipe or our chocolate chip version – everyone's favourite Easter treat has never been more delicious.
Easter Dessert Recipes
Lets face it… Easter is ALL about the chocolate AND the desserts! And our super simple Easter desserts combine both of those things. From oozy gooey Creme Egg Cheesecakes to the most delicious Chocolate Caramel Easter Tart, a simple Easter inspired choc ripple cake and a 5 minute rocky road (which is perfect for using up any leftover Easter eggs!).
Slices & Brownie Recipes
Whether you're looking for a recipe to take to an Easter party or celebration… or you just want to use up any leftover Easter eggs you have in your house, these are the perfect recipes! From our classic Creme Egg brownies to an Easter-inspired hedgehog slice, a chocoholics Easter egg brownie, the easiest no-bake biscuit slice and more!
What are your favourite recipes to make over Easter? Do you ever happen to have leftover Easter eggs?
WANT EVEN MORE DELICIOUS RECIPES? Subscribe to my newsletter or follow along on Facebook or Instagram. And if you love baking, then please come and join my Facebook cooking club group or subscribe to my YouTube channel.