After a recipe for Perfect Hot Cross Buns?? This recipe is kid-friendly, great for lunch boxes and absolutely fool-proof!
Mega, mega squeals!! It's almost Easter time!! If you haven't eaten a hot cross bun or nibbled on a few Easter eggs yet, then there's something very, very wrong with you (or you just have a whole heap of self-control, in which case, high five to you!). It's around this time of year that I think my husband decides that he's sick of hot cross buns. I adore them and totally love making batch after batch. Dave, on the other hand, is about ready to kick me out of the kitchen if I make anymore. But, for my last little hot cross bun making hurrah, I thought I'd go old-school with a really easy, classic recipe.

Now don't get me wrong, I'm the first to agree that trashing up hot cross buns is so much fun! If you haven't tried my Chocolate Chip or my Triple Chocolate versions, then you really should. They're very yum! But these little babies are some that I've been working on for a while. And to be honest, they're just plain and simple. You know… just good old fashioned hot cross buns! No trashiness in sight.
These ones are very kid-friendly and make the perfect lunchbox snack. I haven't included mixed peel because I know that lots of little people (and big people like myself) aren't the hugest fans of mixed peel. They do however, have lots of yummy sultanas! And sultanas keep everyone happy!
Now I have a question for you… how do you like to eat your hot cross buns? I must say that it's become a bit of a cause for debate in our house. I say that you have to slice the hot cross buns in half, pop them under the grill and then slather them with butter and jam. Dave says that you pop them in the oven to warm them up, then slice them in half and add just butter. Just butter!? What!? Who even is this person that I married?? So who's right? And as I'm sure you can tell, we spend lots of time discussing the big issues in our house!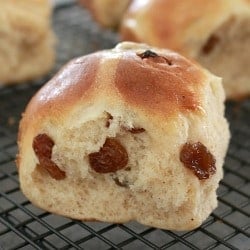 Perfect Hot Cross Buns - Conventional Method
After a recipe for Perfect Hot Cross Buns?? This recipe is kid-friendly, great for lunch boxes and absolutely fool-proof!
Ingredients
For the buns:

1

tbs

dry yeast

1

cup (250g)

warm milk

4

cups (500g)

plain flour

1

tsp

nutmeg

1

tsp

ground cinnamon

1/2

tsp

salt

1/3

cup (75g)

caster sugar

80

g

butter

slightly softened and chopped

1

egg

beaten lightly

1/3

cup (85g)

warm water

180

g

sultanas

For the piping:

1/2

cup (65g)

plain flour

100

g

water

For the glaze:

2

tbs

caster sugar

2

tbs

water
Instructions
Add the dry yeast to the cup of warm milk and whisk together.

Place the cup in a warm place for 15 minutes or until the mixture has become frothy.

In a large bowl, sift the plain flour, nutmeg, cinnamon and salt.

Add the caster sugar and mix to combine.

Add the butter and rub together.

Pour in the yeast mixture, the egg and the warm water.

Sprinkle over the sultanas.

Stir together until the mixture forms a round dough ball.

Grease a bowl with cooking spray and place the dough ball into the bowl.

Cover with a tea towel and leave in a warm spot to rise for 30 minutes or until doubled in size.

Preheat oven to 220 degrees celsius (200 degrees celsius if using a fan forced oven).

On a lightly floured board, place the dough and knead for 5 minutes.

Divide the dough into 12 equal sized portions.

Roll each portion into a ball.

Place 6 balls, 1cm apart in a greased 20cm square tin.

Place the remaining 6 balls in a separate greased 20cm square tin, 1cm apart (using 2 separate tins makes it easier to handle and allows the balls to spread).

Set aside for a further 15 minutes to prove.

Make the piping by sifting the flour into a bowl and adding enough water to make a paste.

Pipe the crosses onto the buns using a piping bag or a glad bag with the end snipped off.

Bake in the oven for 15 minutes or until the buns sound hollow when tapped.

To make the glaze, place the water and sugar into a microwave safe bowl and heat for 30 seconds. Mix until the sugar dissolves.

Brush the tops of the buns with the glaze.

Place the buns onto a wire rack to cool.
Hot Cross Buns – Thermomix Instructions:
1. Place milk and yeast into the TM bowl and heat for 1 minute, Speed 1, 37 degrees.
2. Add flour, salt, softened butter, sugar, egg, cinnamon, nutmeg and warm water and mix for 6 seconds, Speed 7.
3. Knead for 2-3 minutes on interval speed.
4. Add the sultanas and combine for 10 seconds, Reverse Speed 5.
5. Work the dough into a ball on a lightly floured board.
6. Place in a bowl and cover with a tea towel.
7. Keep in a warm place for 30 minutes to allow the dough to prove (it should double in size).
8. Divide the dough into 12 portions.
9. Roll into balls
10. Grease and line a baking tray (I find it easiest to use 2 X 20cm square baking tins) and place the dough balls 1cm apart in the tray.
11. Preheat oven to 220 degrees.
12. To make the piping, mix the flour, olive oil and water in the TM bowl for 20 seconds on Speed 4.
13. Scrape down the sides and repeat for a further 20 seconds.
14. Place the mixture into a piping bag (or a sealable ziplock bag with the edge corner snipped off.
15. Pipe crosses onto the buns.
16. Place the tray into the oven and bake for 10-15 minutes or until golden.
17. Meanwhile, heat the sugar and water in the TM bowl for 2 minutes, Speed 4, 100 degrees.
18. Brush the syrup over top of the warm buns.
19. Leave to cool slightly before transferring to a wire rack to cool completely.