Our collection of Australia Day recipes includes over 25 delicious & classic 'Aussie' recipes… from Milo inspired desserts, to Tim Tam sweet treats, choc ripple cakes, iced vovo tarts, lamington ice-cream cake and more!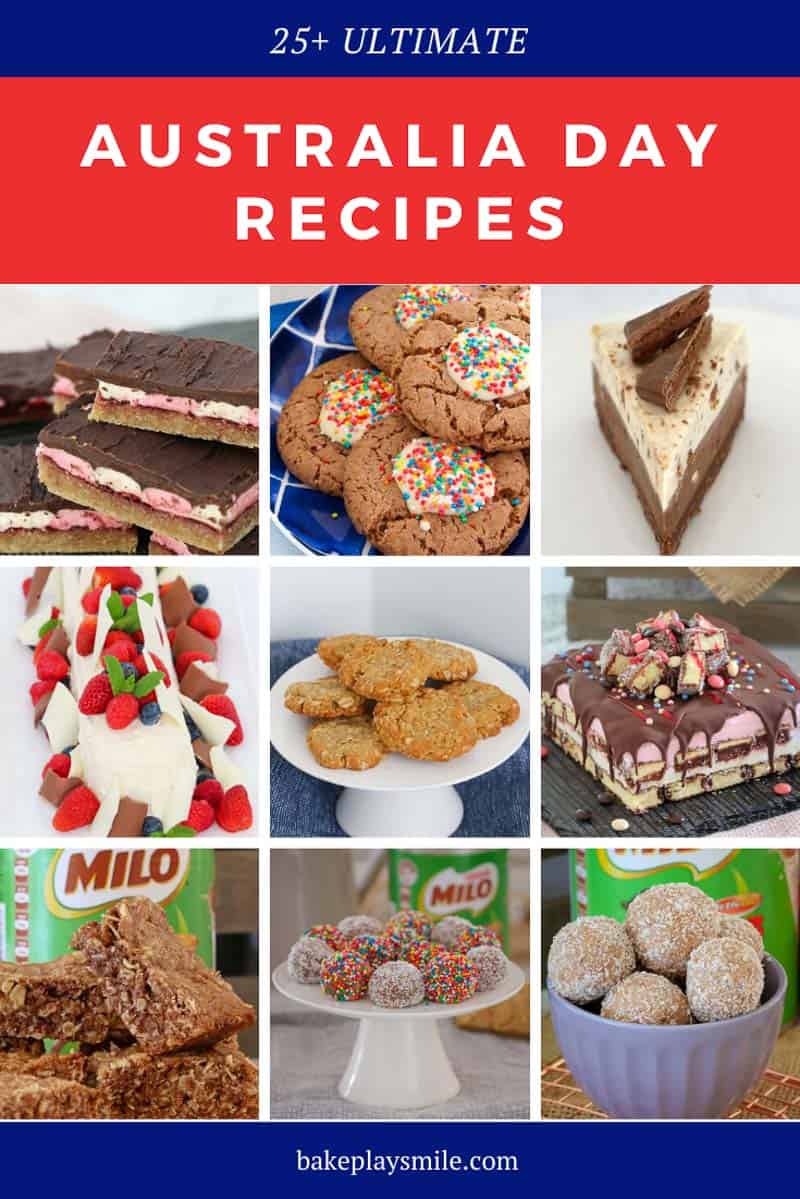 25+ Australia Day Recipes
Tim Tam Recipes
It just wouldn't be Australia Day without everyones favourite chocolate coated biscuits. Our simple Tim Tam inspired recipes will take your packet of Tim Tams to a whole new level! From cheesecakes to cheesecake balls, fudge and more! Mix and match with your favourite Tim Tam flavour.
No-Bake Double Layer Tim Tam Cheesecake
Baileys Tim Tam Cheesecake Balls
White Chocolate Tim Tam Balls
Tim Tam Microwave Fudge
Peppermint Crisp Tim Tam Balls
Caramel Tim Tam Balls
Chocolate Ripple Cake Recipes
When it comes to Australian desserts, it doesn't get any more famous than a classic chocolate ripple cake! Made from a packet of Arnott's Choc Ripple biscuits smothered in whipped cream, chilled overnight… and then decorated with all your favourite Australian chocolates and berries!
Classic Chocolate Ripple Cake
Baileys Chocolate Ripple Cake
Salted Caramel Chocolate Ripple Cake
ANZAC Recipes
ANZAC stands for "Australian and New Zealand Army Corps" and ANZAC biscuits are traditionally made to commemorate ANZAC Day on the 25th April each year. ANZAC biscuits and slices are super popular amongst Australian families… and make a great lunchbox treat!
* Please note that our ANZAC recipes have been approved for publishing by the Australian Department of Veterans Affairs.
Classic ANZAC Biscuits
Almond & Chocolate Chip ANZAC Biscuits
Chocolate Chip ANZAC Slice
Classic ANZAC Slice
Milo Inspired Australia Day Recipes
Milo is a malted milk powder made by Nestle. It's most often used in hot and cold drinks mixed with milk…. however it's also AMAZING in baking recipes! From slices to biscuits, fudge to balls and more!
Milo Mousse Chocolate Slice
Milo Biscuits
4 Ingredient Milo Weet-Bix Balls
Oat & Milo Slice
Easy Milo Balls
Milo & Tim Tam Fudge
More Classic Australia Day Recipes
Browse some of our most popular Australian inspired recipes here!
Wagon Wheel Slice
Our delicious layered slice takes inspiration from the iconic Arnott's Wagon Wheel biscuit, with layers of chocolate, marshmallow, jam and biscuit.
Lamington Ice-Cream Cake
Soft sponge lamington fingers covered in chocolate and coconut make the base of this delicious and simple ice-cream cake.
Clinkers Rocky Road
Everyone's favourite chocolate covered hard candy gets a chocolatey makeover in this simple rocky road recipe using Clinkers.
Salted Caramel Choc Ripple Tarts
Chocolate + caramel = a match made in sweet heaven!
Caramello, Malteser & Choc Ripple Slice
3 classic 'Aussie' chocolate form the most amazing Australia Day recipe… this is one for the true chocoholic!
Clinkers Slice
Our famous Clinkers Slice is completely no-bake and perfect for an Australia Day party!
Weet-Bix Slice
This simple slice is great for school lunch boxes … and just as good for an Australia Day BBQ with friends.
Iced Vovo Tarts
Our sweet little iced vovo tarts are inspired by the famous Arnott's classic Iced Vovo biscuits. Jam, coconut, biscuit and marshmallow are the key ingredients in these yummy tarts!
What's your favourite Australia Day recipe?