Easy and delicious chicken dinner recipes that the whole family will love! From slow cooked casseroles to fast and healthy weeknight dinners, nutritious soups to creamy pastas and more.
Be inspired to make chicken the hero ingredient in these family favourite dinners!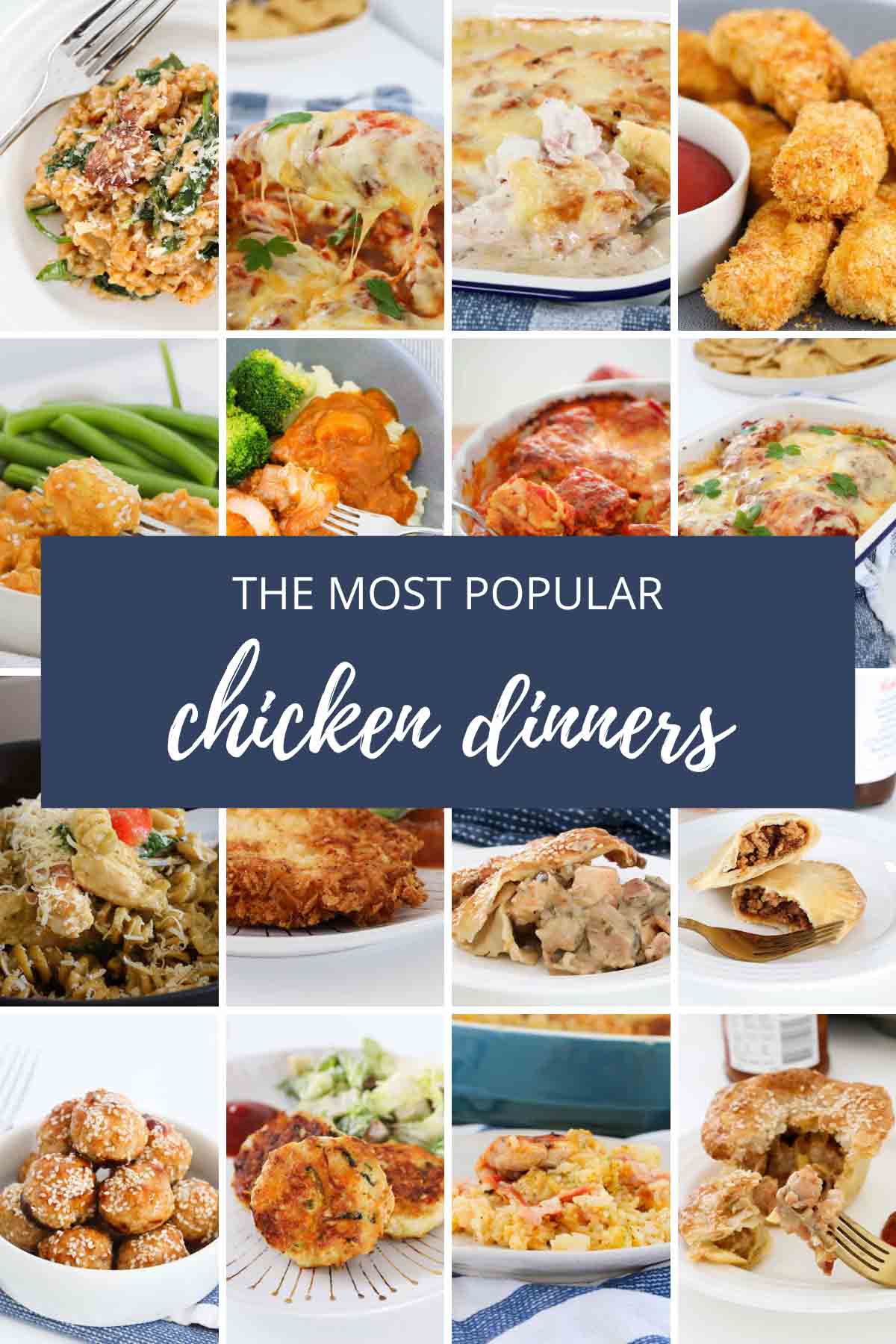 Chicken is one of my favourite ingredients to use when cooking our family dinners.
It's so versatile and budget-friendly, plus the many different cuts of chicken make it perfect for everything from tasty snacks to slow cooked meals, pastas, soups and more.
Browse my collection of the most popular chicken dinner recipes.
Note: Simply click on any of the chicken dinner recipe links below to be taken directly to the full printable recipe.
Main Chicken Dishes
Such a versatile and often budget friendly ingredient for main meals, chicken can be used in so many ways to create delicious and satisfying family meals.
One of my MOST POPULAR chicken dinner recipes, this '5 Star' dish is a such a breeze to make, and totally delicious - try it and see!
***** "This is a winner in my house!! Everyone loves it and it's so easy to throw together. It is requested a couple of times a month and is always a hit. Thank you!"
***** "I wish I took a photo but we ate it too quick! This dish is so easy and even more delicious!! This meal is going to become a staple in our meal planning, it only took 5 mins to prepare, pop in oven then enjoy 🙂 Highly recommend!!"
Another popular family dish which I always have on high rotation at home. Serve layers of tender chicken meatballs, rich tomato sauce and cheesy topping with pasta or a creamy mash for a filling and tasty meal.
There's something special about serving little individual pies - especially when they're filled with creamy chicken and topped with crispy pastry! You can even pre-cook the filling and freeze, making these pies quick and easy to assemble and bake when time is short.
A great pasta dish that has a real summery feel, loaded with pesto and cherry tomatoes, but can be made at any time of the year for an instant and satifying family dish. Any left-overs will be highly fought over!
Perfect for busy weeknight dinners - this chicken oven bake takes just minutes to prepare. So grab your favourite casserole dish and get started!
Made with a handful of basic ingredients, chicken chorizo risotto is a delicious weeknight dinner that the whole family will love! Just 20 minutes prep time and ready to eat in under 50 minutes!
A simple, family-favourite made using boneless and skinless chicken breasts coated with panko bread crumbs and parmesan cheese, then pan-fried until golden and crispy. Serve with your choice of salad or vegetables - why not try it tonight!
Perfect for busy weeknights and hungry kids, this mexican salsa chicken requires just 5 minutes active prep time and 35 minutes baking time and is packed with all your favourite flavours!
This chicken and mushroom pie is comfort food at its ultimate, cosy best! Ready in under an hour and everyone will love it!
Light Chicken Meals & Snacks
These light chicken dinner recipes are quick and easy to prepare and perfect for midweek meals when you're running short on time!
Whether it's for a light lunch or weekend dinner, finger food to share at a party, something enticing for fussy toddlers, or to keep the 'bigger' kids happy, these simple snack recipes, made with chicken mince, are super easy, economical and loved by all!
With a combination of soy sauce, sweet chilli sauce and lime juice, these chicken meatballs have a Thai-inspired flavour while still mild enough in flavour to be loved by the kids! Made from scratch and ready to eat in just 30 minutes, keep some in the freezer for last minute snacks!
Forget about fast-food restaurant or store-bought frozen chicken nuggets... it couldn't be easier to make your own chicken nuggets with just a few basic ingredients! I'll let you in on a little secret, these chicken nuggets are on high rotation at my place on Friday nights!
A great way to smuggle some veggies in to a popular snack, these chicken sausage rolls are crispy, full of flavour, and loved by little ones! You can have a huge batch made in less than an hour, so you can pop some in the freezer too.
Great for entertaining or as an easy snack, these chicken empanadas have just the right amount of spice! Or serve with some black beans and rice, or a salsa verde, for a nutritious and satisfying dinner the whole family will love!
You can be guaranteed these little crispy, flaky sausage rolls will disappear as they come out of the oven! Make a double batch - one for instant 'eats', and one for the freezer for those times when you just need a night off....
If you're looking for a healthy alternative to takeaway chicken nuggets, or a way to smuggle some more veggies into your kids' meals, then this recipe is for you! Loaded with grated veggies these nuggets are the perfect finger food for little ones to experiment with and any leftovers can be packed the next day in school lunchboxes.
Using chicken mince packed with hidden veggies and cheese, these healthy and tasty chicken rissoles are always popular (especially with kids and fussy toddlers!)
Slow Cooker Chicken Dinners
We tend to get the slow cooker out once the weather cools down and we think of soups, casseroles and comfort food wafting away, but they really can be incredibly useful at any time of the year.
Whether you want dinner to be ready by the time you get home from work, or to tenderise your meat so it literally falls apart in your mouth - I really encourage you not to wait until winter to use your slow cooker!
Such a classic dish where the combination of chicken, apricot and french onion soup gives the perfect sweet and savoury flavour. Pop all into the slow cooker to be ready by dinner time, it couldn't be any easier than that!
Rather than being a labour intensive dish as a traditional risotto can be, this slow cooker risotto lets your slow cooker take over with a creamy, cheesy, garlicky and versatile dish that tastes as good as the aroma's wafting around as it cooks itself!
Once you've enjoyed the convenience of a slow cooker, meals such as this Butter Chicken recipe become such a regular favourite! Throw everything in and let it do the cooking for you. Everyone loves this fragrantly spiced and creamy, tomato based chicken dish.
So simple to make, this richly flavoured chicken dish is 100% kid-approved and makes the perfect family dinner! Serve with pasta, rice or mashed potato with a side of steamed vegetables for an easy midweek dinner winner!
***** "I could not get enough of this. So delicious. The best thing I've tasted in a long time!!"
***** "This was delicious! Thank you for an easy recipe that the whole family enjoyed. Will definitely be making this again!"
Fall-apart tender and loaded with flavour, there are endless serving options for this moist pulled chicken. Use in your favourite Mexican dishes like tacos, burritos, salads, nachos, soups, burgers and more! And keep a batch in the freezer for Friday 'fake-away' dinners.
Both budget friendly and family friendly, this roast chicken recipe stays so moist as it cooks itself in the flavourful juices. A great winter's meal, loaded with classic winter vegetables - pure comfort food.....
Winter Warming Chicken Soups
When the weather cools down it's the time for comforting chicken soups and casseroles. They're easy on the budget and so versatile too, with no fancy ingredients required.
Often you can add in extra vegetables, beans or pulses that you have on hand to make an even more nutritious and filling dinner.
Serve with savoury muffins or scrolls, some crusty rolls, or soft and light homemade rolls. Enjoy!
Mexican soup - ole! All the delicious mexican spices and toppings make this hearty soup a really popular family dish that is warming and nutritious. Any left-overs can be frozen, or packed for work lunches too!
Comfort food!!! This nourishing dish is the ultimate cold and flu fighting soup for staying well this winter. Packed full of healthy vegetables, protein rich chicken and energy boosting carbohydrates, it's the perfect lunch or dinner on a cold winters day.
By using a store bought BBQ chicken, this dish can be on the table in less than half an hour. And with the sweetness of soy sauce and sweet chilli sauce included, this popular soup is appealing to the very fussiest of eaters (I know from experience!)
If you love the 'earthiness' of mushrooms as much as I do, you'll find this creamy broth, with a rich aroma and bold mushroom flavour, a soup you'll want to eat all winter long. Use a store bought BBQ chicken for convenience, or you can poach your own chicken breasts if you prefer.
Another variation on chicken and corn soup, this one is packed with kid-friendly noodles as well. A few basic and inexpensive ingredients, plus a BBQ roast chicken from the supermarket, goes a long way with this quick and simple mid-week or lazy weekend meal.
Use up some leftover BBQ chicken, and whatever veggies you have on hand in this creamy and nourishing soup. There's nothing better than wrapping your hands around a warm mug of comforting soup when you need that little hug in a mug!
***** "What a great recipe - so simple and easy to follow. And so many vibrant colours in the finished product. Mine came out looking similar to the pictures.....that doesn't happen often. Thanks Lucy!"
Chicken soup is a staple for many families, and adding rice makes it a more substantial, hearty and nutritious meal! Made with a mixture of vegetables that have varieties available throughout the year, this makes it a very economical and tasty meal.
FAQs
WANT EVEN MORE DELICIOUS RECIPES? Subscribe to my newsletter or follow along on Facebook or Instagram. And if you love baking, then please come and join my Facebook cooking club group or subscribe to my YouTube channel.