Easy and delicious chicken dinner recipes that the whole family will love! From slow cooked casseroles to fast and healthy weeknight dinners, nutritious soups to creamy pastas and more.
Be inspired to make chicken the hero ingredient in these family favourite dinners!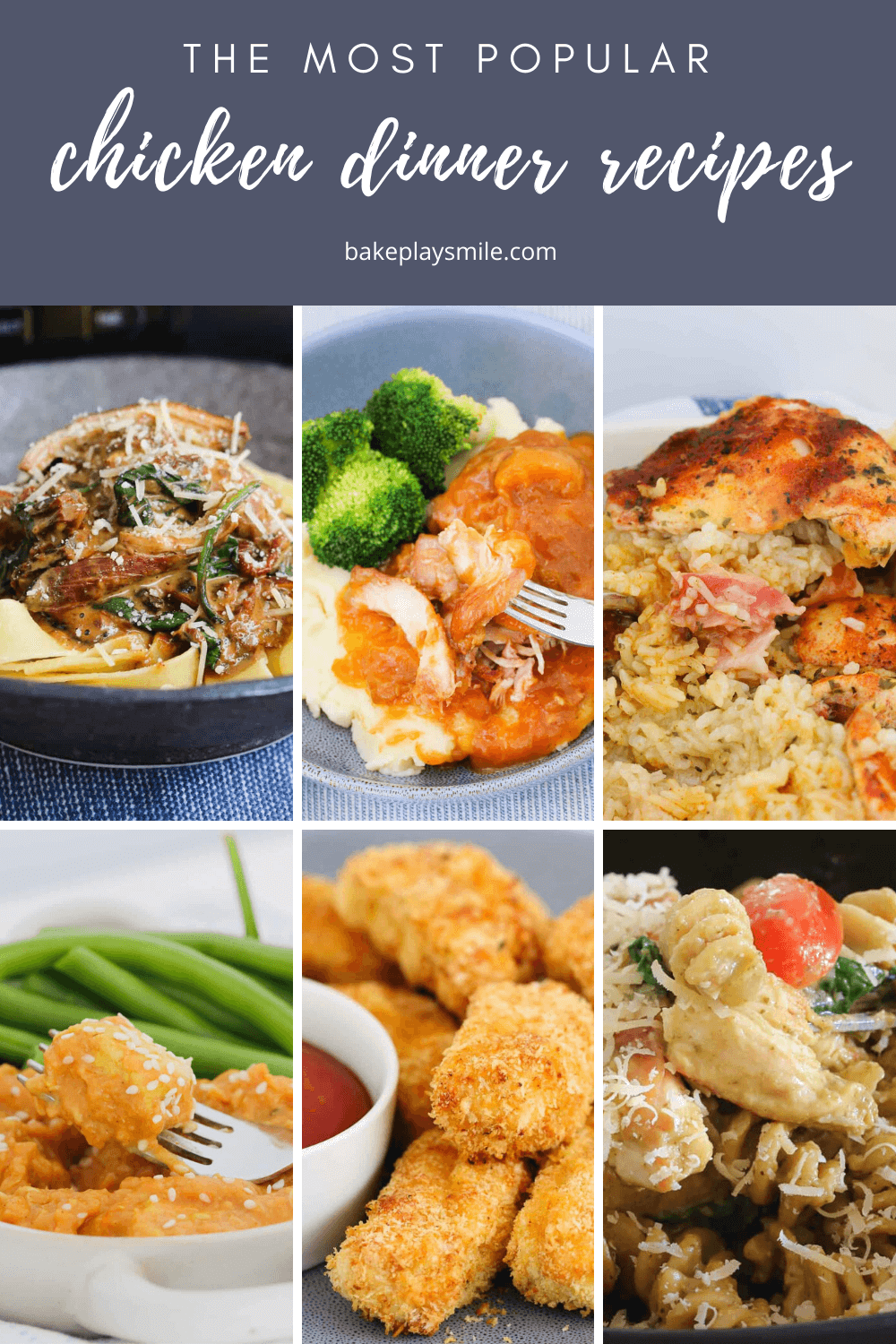 Chicken is one of my favourite ingredients to use when cooking our family dinners.
It's so versatile and budget-friendly, plus the many different cuts of chicken make it perfect for everything from tasty snacks to slow cooked meals, pastas, soups and more.
Browse my collection of the most popular chicken dinner recipes.
Note: Simply click on any of the chicken dinner recipe links below to be taken directly to the full printable recipe.
Light Chicken Meals & Snacks
These light chicken dinner recipes are quick and easy to prepare and perfect for midweek meals when you're running short on time!
Fussy toddlers, kids on-the-go, hungry teenagers and adults too, will love these crunchy homemade chicken nuggets. Have them prepped and baked in less than 30 minutes - they make 'fakeaway' a healthy option!
Serve on a bed of salad with some sweet chilli sauce to dip, these Thai Chicken Meatballs make a fantastic light dinner or snack. Made with lean chicken mince and oven baked (not fried!) they tick the box for a tasty healthy snack with a BIG flavour.
A great way of 'smuggling' some veggies into little ones meals, with carrot, zucchini and corn hidden inside. Toddlers who want to feed themselves will have so much fun dunking these in a tomato or BBQ sauce, and because you can easily freeze them, grab a couple out and reheat as required.
What's not to like about these cheesy chicken savoury bites? And who can resist the crunch of golden flaky pastry? Warm sausage rolls can be baked and ready to eat in 45 minutes, or be super organised and have a batch in the freezer for whenever you have unexpected mouths to feed! A great party food too!
These Empanadas make a fabulous change when you want something a bit different for a snack or party food. Serve with a range of chutneys, hot sauces, or guacamole, these oven baked bites are packed full of flavour, and then more!
I love to whip up a big batch of these chicken and veggie sausage rolls for a light dinner (or for a snack while watching the football!), and I always pop some in the freezer for when one of those quick 'throw together' dinners is required.
Simple and quick to make, freezer friendly, and great for lunchboxes or a light dinner served with salad. These crispy chicken and corn rolls are a great standby for toddlers, right through to hungry teens and adults.
Slow Cooker Chicken Dinners
We tend to get the slow cooker out once the weather cools down and we think of soups, casseroles and comfort food wafting away, but they really can be useful at any time of the year.
Whether you want dinner to be ready by the time you get home from work, or to tenderise your meat so it literally falls apart in your mouth - I really encourage you not to wait until winter to use your slow cooker!
Believe it or not, apricot chicken first became a hit in Australia and the US in the late '70's - and was it a HUGE hit back then!! Crazy thing is that this classic recipe has stayed popular because it still tastes so delicious! Try it and see for yourself...
Butter chicken is a creamy, comforting, mild but flavoursome meal that everyone loves. Serve with some lightly cooked greens, and plenty of yummy roti bread to wipe up the sauce with! And IF you happen to have any leftovers, just freeze in individual dishes for a 'grab and go' lunch meal.
This is an all-time favourite amongst Bake Play Smile fans!! Make it for yourself and see what all the fuss is about!
***** "I could not get enough of this. So delicious. The best thing I've tasted in a long time!!"
***** "This was delicious! Thank you for an easy recipe that the whole family enjoyed. Will definitely be making this again!"
Ole, ole! Serve this up with sour cream, slices of avocado, a sprinkle of grated cheese and a HUGE bowl of corn chips for a really tasty and satisfying meal that the whole family will adore!
I get it! You'd love a home cooked roast meal but it takes way too long after work? By using your slow cooker, your chicken and veggies can cook themselves (and make the house smell comforting too!)
Grab some chicken breast or thighs fillets when they're on special, and make this healthy, comforting and satisfying soup. It's fine to freeze and so perfect for 'grab & go' work lunches too!
Winter Warming Chicken Soups
When the weather cools down it's the time for comforting soups and casseroles, and a soup that's packed with veggies is, oh, so healthy and incredibly simple. Here's a few of my favourite chicken soup recipes that the whole family will enjoy.
A traditional Chinese soup with a mild sweet flavour, this soup will appeal to all. By using a store bought roast chicken this dish can be ready to serve in 20 minutes - and that's what we all need some nights, isn't it?
This hearty chicken soup is filled with veggies, and creamy without the 'cream'! Make a big pot and freeze some in small containers for those work lunches - nothing beats the comfort of homemade chicken and veggie soup!
***** "What a great recipe - so simple and easy to follow. And so many vibrant colours in the finished product. Mine came out looking similar to the pictures.....that doesn't happen often. Thanks Lucy!"
A flavour packed soup that is budget friendly, satisfying and warming, great to take to work for lunches, or a quick and easy dinner. The rice makes this soup a more substantial meal to fill those hungry tummies.
Using a store bought roast chicken, corn and noodles, you can have a satisfying soup to serve up with bread rolls in no time. It's a huge hit with the kids and great for filling those hungry tummies.
Chicken Main Meals
Here's some of my favourite easy chicken dinner recipes!
They're my 'go-to' recipes when I need something that we all enjoy, but don't require a lot of time or effort.
This dish always gets the tick of approval in my house, and it's so simple! Just pop all ingredients in a baking dish, cover with foil, and slow bake for a couple of hours - just set & forget!
A creamy filling with leek, chunks of chicken and bacon, topped off with strips of golden flaky puff pastry - a perfect winter pot pie! It's versatile enough to mix and match with other veggies and ready to pop in the oven with only 10 minutes prep time.
It's that classic combination of melted cheese and tomato based sauce that makes these chicken parma balls so tasty! Pop them in the oven and enjoy the divine wafting smell while they bake! Serve with pasta or veggies. This is an absolute favourite with kids and toddlers too.
Here's a healthy nutritious dinner, ready in less than 30 minutes, and with only one pot to wash up - really, what could be easier? With chicken, pesto, baby spinach and tomatoes - and, of course, you can never have too much grated parmesan on top....
Fantastic for a quick and easy mid-week meal, this fried rice can use left-over chicken, peas and corn, and any other veggies you have on hand. Budget friendly plus it feeds a crowd.
WANT EVEN MORE DELICIOUS RECIPES? Subscribe to my newsletter or follow along on Facebook or Instagram. And if you love baking, then please come and join my Facebook cooking club group or subscribe to my YouTube channel.