A collection of the best slow cooker recipes... delicious family favourites, easy midweek dinners, simple soups and more!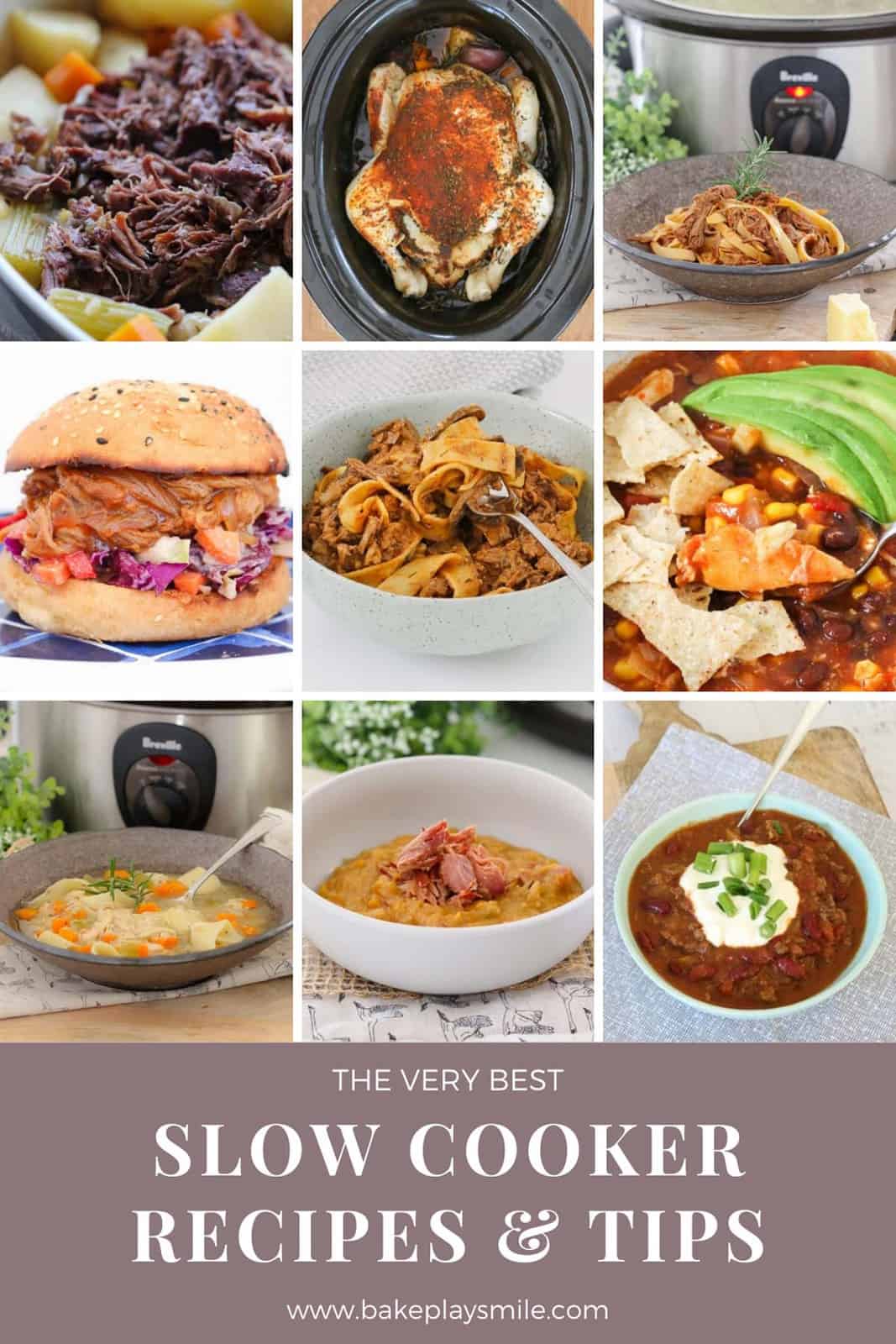 Slow cooker recipes are the ultimate comfort food! Whether it's a bowl of nourishing healthy soup, a 'takeaway' pulled pork burger, a one-pot family roast or a creamy pasta... you just can't beat a slow cooker meal!
Browse our budget-friendly, flavour-packed slow cooker recipes that the whole family will love.
Simply click on any of the links below to be taken directly to the full recipe (all my recipes are completely free!).
Slow Cooker Family Dinner Recipes
When it comes to fuss-free family dinners, it doesn't get any easier than a slow cooker meal. Simply throw everything into your slow cooker in the morning and have dinner ready and waiting that night.
This is the ULTIMATE winter comfort food. It's creamy, it's FULL of flavour and it's an absolute hit with the whole family (including kids!).
Just imagine how AMAZING a roast beef that's been slowly cooking away all day is going to taste! This is the easiest way to achieve beautifully tender and melt-in-your-mouth beef. You can cook the beef on it's own or add vegetables for an easy one pot dinner.
Talk about a 'winner winner, chicken dinner'! This one pot slow cooker dinner is an absolute family favourite. There's no need to sear the chicken - simply place it straight into the slow cooker, add your vegetables and turn that baby on.
When it comes to comfort food, it doesn't get any better than a big bowl of pasta served with rich beef ragu that's slowly cooked away all day. Serve with parmesan cheese and a side of garlic bread. Alternatively, skip the pasta and serve with mashed potato or polenta.
This is one of our all-time favourite slow cooker recipes! The sweet and rich pulled pork is perfect for burgers, tacos, pizzas or enchiladas. This makes a big batch so freeze any leftovers for up to 3 months.
Everyone's favourite creamy pasta is taken to a whole new level with slow cooked tender beef. This is the ultimate mid-winter dinner! Serve with pasta (always my choice!), mashed potato, rice or creamy polenta.
The flavours in this classic dinner intensify as it simmers away in the slow cooker all day. Serve with all your favourite toppings - including sour cream, grated cheese, spring onions, corn chips or rice!
Healthy Slow Cooker Soups
Mouthwatering and flavour-packed soups is exactly what you get when you whip out your slow cooker! Plus there's nothing more comforting than the smell of soup cooking away all day!
There's boring old soup and then there's THIS amazing flavour-packed Mexican inspired soup. Serve with lots of corn chips and sour cream for a healthy Mexican feast.
If you've got a cold, then you need this soup in your life! Packed full of nourishing vegetables and chicken, this is classic healthy comfort food is sure to make you feel a million times better in no time!
This rich and comforting soup is packed full of flavour and full of pull-apart tender ham. Cooking the ham hock with the veggies and split peas in the slow cooker gives the most amazing tasting soup!
10 Tips For Cooking With A Slow Cooker (Crockpot)
Slow cookers (also known as crock pots) are a brilliant little piece of cooking equipment. Not only are they relatively inexpensive to buy, they make the most incredibly delicious meals!
Use cheap cuts of meat - one of the best things about a slow cooker is that the cheaper the cut of meat, the better a slow cooker will cook it! Look for cheap cuts such as pork shoulder, lamb shoulder, chuck steak, beef short ribs, lamb shanks, chicken thighs or beef brisket.
Thickening liquid - when using a slow cooker to cook meat (with the exception on soups), you wont need to use very much liquid at all as the liquid doesn't evaporate like it does during stove-top or oven cooking. If you find that you have too much liquid at the end of cooking time, you can thicken the liquid using a mixture of cornflour and cold water (1-2 teaspoons of cornflour mixed with a little cold water and stirred until dissolved).
Raw defrosted meat - as meat cooks so slowly in crockpot/slow cooker, it's important to use raw defrosted meat (do not place frozen meat directly into the slow cooker).
Searing meat - Some slow cooker recipes call for searing the meat before placing it into the slow cooker, whereas other recipes don't require any searing. While it's not essential to sear meat (even in the recipes that call for it), it does add flavour and locks in extra moisture. Some slow cookers now come with functions that allow you to sear in the slow cooker before switching over to slow cooker mode.
High or low setting - for maximum flavour and tender meat, use the low setting on your slow cooker wherever possible. If you're pushed for time, choose the high setting.
Set and forget - most slow cooker recipes don't need to be stirred or checked at all. Simply pop everything in and leave it to do it's thing (i.e. slow cooker recipes are great for putting on before work and having dinner ready when you walk through the door). If you do want to check your slow cooker meal, do so only once or twice (as heat escapes overtime you open the lid!).
Leave dairy until the end - only add cream, milk, sour cream, greek yoghurt etc to the slow cooker in the last 15-20 minutes of cooking.
Don't overfill your slow cooker - many slow cookers have 'max' lines but a general rule is not to fill the slow cooker any more than two-thirds.
Cooking vegetables - cooking vegetables for too long in the slow cooker can lead to mushy vegetables! Cook hard vegetables such as potatoes and carrots for longer than soft vegetables such as beans, capsicum etc.
Storing meals - once you've finished cooking your meal in the slow cooker, remove any leftovers and place into a seperate plastic container in the fridge (do not leave leftovers in the ceramic pot as it keeps the food hot and doesn't allow it to cool quickly enough.
More Easy Family Dinners
If you're looking for easy family dinners, then browse our collection of 30+ freezer meals! All are budget-friendly and made from basic ingredients… pastas, lasagne, soups, slow cooker meals, vegetarian options, quiches, tarts and more!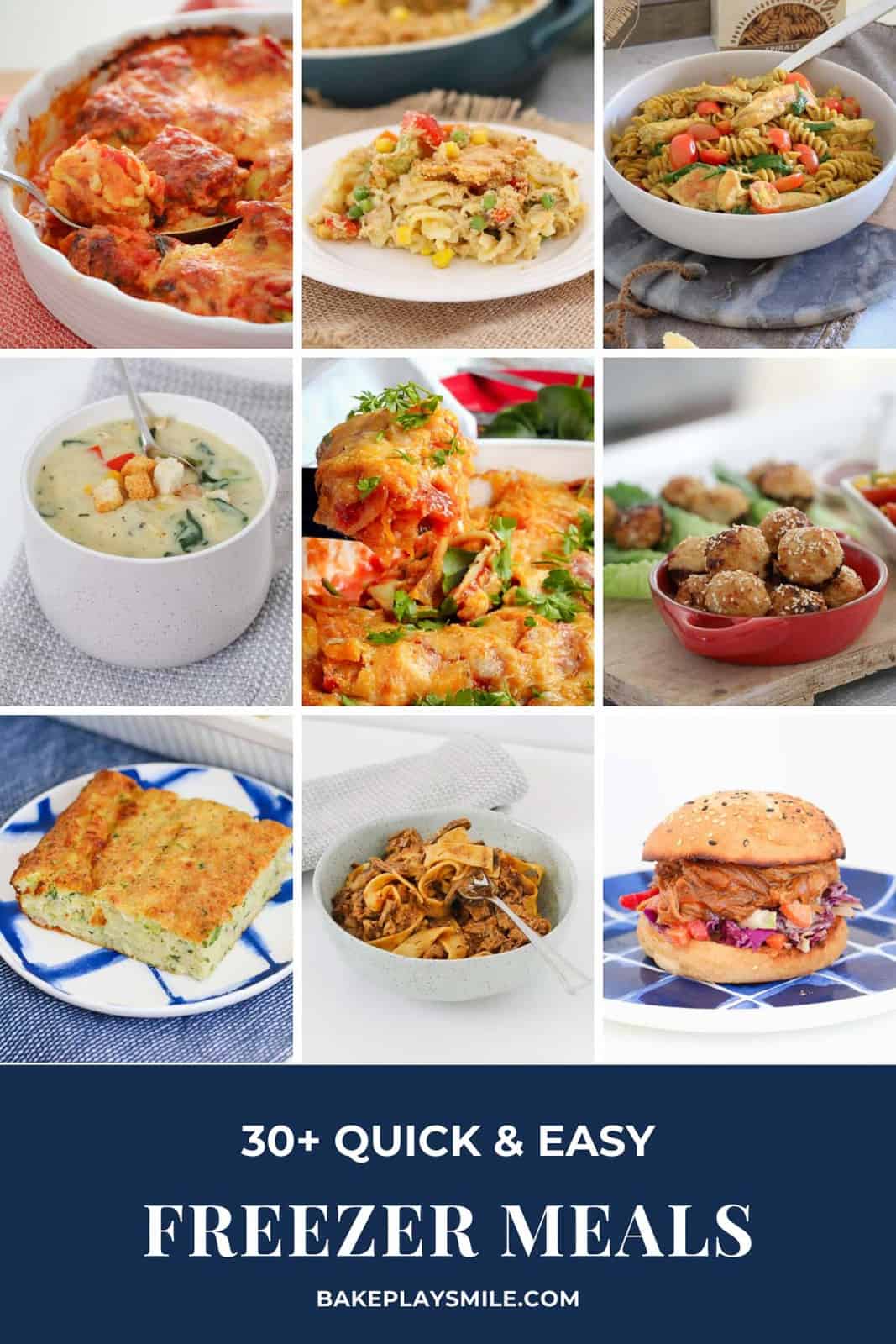 WANT EVEN MORE DELICIOUS RECIPES? Subscribe to my newsletter or follow along on Facebook or Instagram. And if you love baking, then please come and join my Facebook cooking club group or subscribe to my YouTube channel.