Browse our collection of the very best soup recipes... healthy, nutritious and packed full of flavour. From hearty chicken noodle to classic roast pumpkin, low carb cauliflower to comforting slow cooker pea & ham - and so many more!
During winter I'm constantly torn between eating all of the delicious and rich comfort food desserts (golden syrup dumplings and apple crumble... I'm looking at you), or filling up on nourishing and veggie-packed soups.
Fortunately a naughty dessert is perfectly balanced by a healthy soup... so you really can have the best of both worlds (completely guilt-free!).
Healthy & Hearty Soup Recipes
If you're after nutritious and satisfying soup recipes, then you're in the right place.
These soup recipes are:
Budget-friendly
Packed full of vegetables
Low carb, low calorie and low fat
Freezer-friendly.
Simply click on any of the recipes below for the full (and free!) printable recipe.
Honestly, this warming nutritious soup makes me feel healthy just looking at it. Just 10 minutes prep time and then on the table in 45 minutes. Serve with some crusty multigrain rolls for a real fibre feast!
THIS is one of my favourite soups!!!! It's super delicious and creamy... but it's made with absolutely no cream at all. The pureed cauliflower is what gives it the beautiful creamy taste. Oh, and did I mention the crispy bacon on top!?
Tender chunks of chicken, earthy mushrooms and veggies come together in a gorgeous silky broth flavoured with lemon and fresh herbs - it is so good, make sure you make enough for seconds!
You can't go wrong with this classic pumpkin soup. Plus, roasting the pumpkin takes it to a whole new level of sweet flavour! Serve with buttered crusty bread rolls for the perfect winter comfort food.
A bowl of warm chicken and rice soup is a satisfying meal, especially served with some warm bread rolls or savoury muffins. For an easy time saving option, use left-over cooked chicken or BBQ chicken, either way, this is a really economical meal that fills hungry tummies.
A most delicious vegetable-packed soup that is perfect paired with a loaf of crusty bread! Just 10 minutes prep time and ready to eat in just 40 minutes - a guaranteed warm winner with the whole family!
A creamy soup made without any cream at all... and packed with loads of vegetables! This is going to become a favourite in your house in no time. Freeze some for mid-week meals.
This is one of my most popular soup recipes ever... and it's no wonder why! Ready in just 20 minutes, this soup really is a crowd-pleaser. Add a packet of 2 minute noodles to make it even more satisfying.
This family favourite soup is packed full of nutritious tomatoes and couldn't be easier to make. A quick and easy midweek dinner or lunch that always gets the tick of approval.
Perfect for busy nights or when you need something cosy and comforting with minimal effort. Just 10 minutes prep, and ready to serve in less than 45 minutes - another inexpensive and freezer friendly meal!
Another classic favourite, this creamy Potato & Leek Soup with crispy bacon will be ready in 30 minutes. This delicious, budget-friendly soup is made from seasonal winter leeks which always taste the very best!
The most delicious Chicken, Corn & Noodle Soup… have it on the table in less than 30 minutes! Kids love the sweetness of corn in this soup, so serve with crusty bread for a hearty, tasty and healthy meal.
A flavour-packed version of a classic pumpkin soup, this Thai-inspired soup is the perfect winter warmer with a hint of spice and creamy coconut. Perfect for a minimal-fuss, one pot dinner when you are short on time!
When zucchinis (or courgettes) are in season, they're plentiful and cheap! Make the most of excess zucchinis by whipping up a big batch of soup and freeze some for winter meals. It's a great way to use up those excess zucchinis when they're abundant!
Minestrone is a perfect soup to make on the stovetop or in your Thermomix this winter! This versatile recipe allows you to mix and match with your favourite ingredients to create a really satisfying and delicious meal. Add some warm crusty bread and a sprinkle of parmesan for the ultimate Italian dish!
Slow Cooker Soups
The best thing about a slow cooker (or crock pot) is that it's just 'set and forget'! This makes it ideal for making winter soups in, as the flavours just develop more over the slow cooking time, and there's nothing better than coming home to winter warming soups on cold nights.
And if you're thinking about the cost of running a slow cooker for hours, here's the facts. When it comes to energy consumption, no other electrical appliance can beat a slow cooker. The reason behind a slow cooker's use of very little energy is that they cook at such a low temperature.
So make the most of winter veggies in season with these economical, healthy and comforting slow cooker soups!
Dust off your slow cooker and get ready to make the yummiest Mexican Chicken Soup. Serve it with avocado, corn chips and sour cream for a soup that's has just the right amount of spicyness to it! This is one great way to get kids to eat soup!
If you're after a healthy soup that's also hearty and filling, you can't go past a classic slow cooker pea and ham soup. A perfect winter warmer, there's a reason that this soup is always so very popular!
Kiss goodbye to cold and flu season with this veggie boosting, cold-busting soup that the whole family will love. Have dinner ready by the time you get home.
Just 10 minutes to prep, and then let the slow cooker do the rest with the flavours developing more during the slow cooking time. So inexpensive too - when there's plenty of pumpkins in season, this is one of the most economical meals you can make.
Storing And Freezing Soup
Soups freeze and reheat perfectly, making them great options for meal planning or batch cooking.
Here's my top 5 tips for freezing soups:
Cool in the fridge before freezing - allow soups to cool completely in the fridge before placing into the freezer.
Airtight containers - freeze your soup in airtight containers.
Use within 3 months - frozen soups are best consumed within 3 months - they can be frozen for longer however the quality of flavour deteriorates.
Serving size - I like to freeze my soups in a combination of single serve and family size airtight containers. This makes is easier when grabbing out a single serve for lunch, or a family size to feed everyone at dinner time.
Label your containers - after 3 months it can be difficult to know what kind of soup is hiding in your container just by looking at it. Labelling it takes the mystery out of knowing what kind of soup it is.
Reheating Soup
Soups can be reheated in either the microwave or on the stovetop.
When reheating soup:
Reheat creamy soups on a low heat to avoid the cream from separating.
You can either place the soup into the fridge overnight to defrost before reheating, or you can reheat directly from frozen.
Once the soup has been defrosted and reheated, it shouldn't be re-frozen.
More Freezer-Friendly Family Dinners
For more healthy and nutritious family meals, browse my collection of freezer dinners here.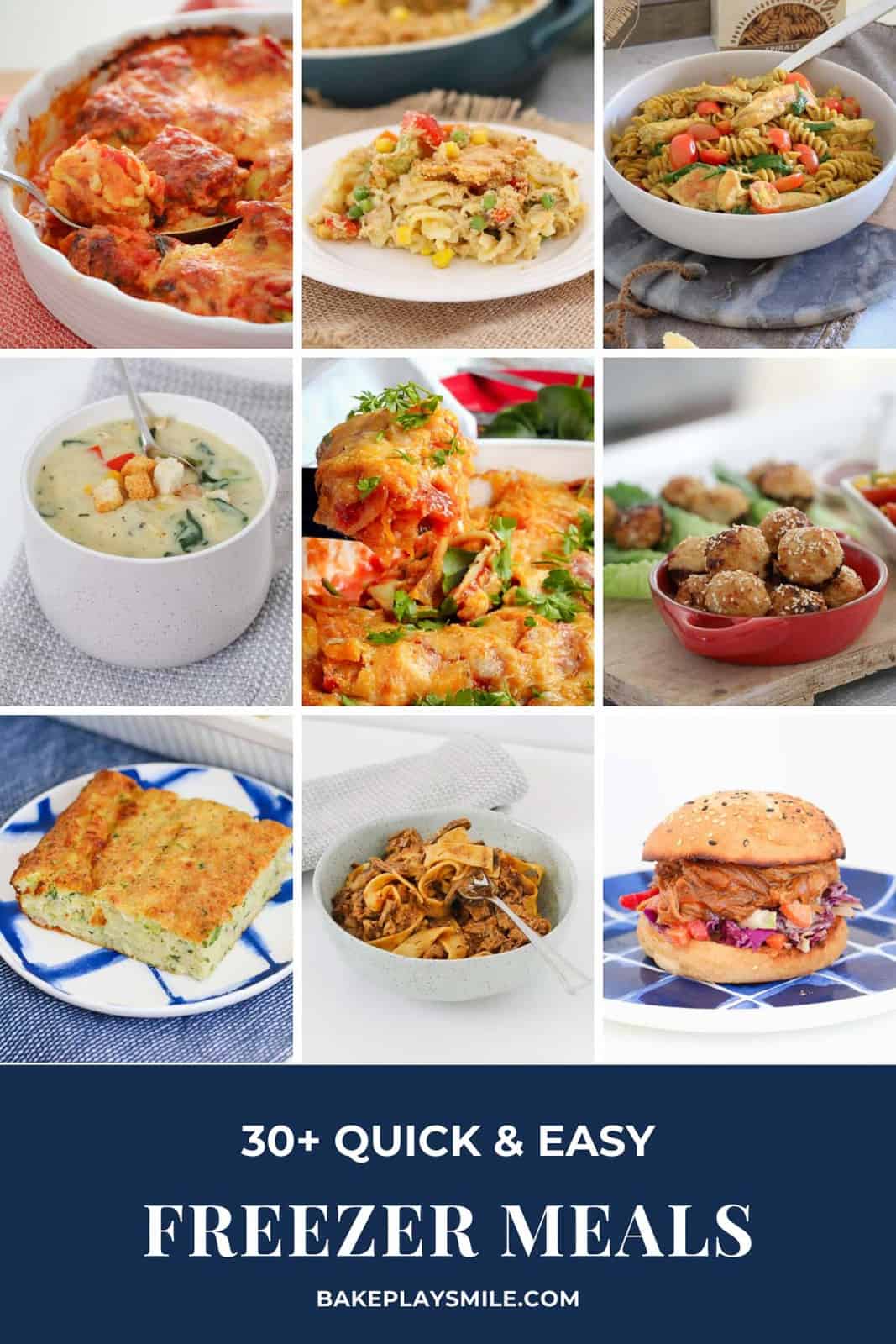 WANT EVEN MORE DELICIOUS RECIPES? Subscribe to my newsletter or follow along on Facebook or Instagram. And if you love baking, then please come and join my Facebook cooking club group or subscribe to my YouTube channel.