Browse our collection of easy and delicious zucchini recipes. From quiches, soups, veggie-packed nuggets, to rissoles, sausage rolls, fritters, loaves and more!
The whole family is sure to love these simple kid-friendly zucchini recipes.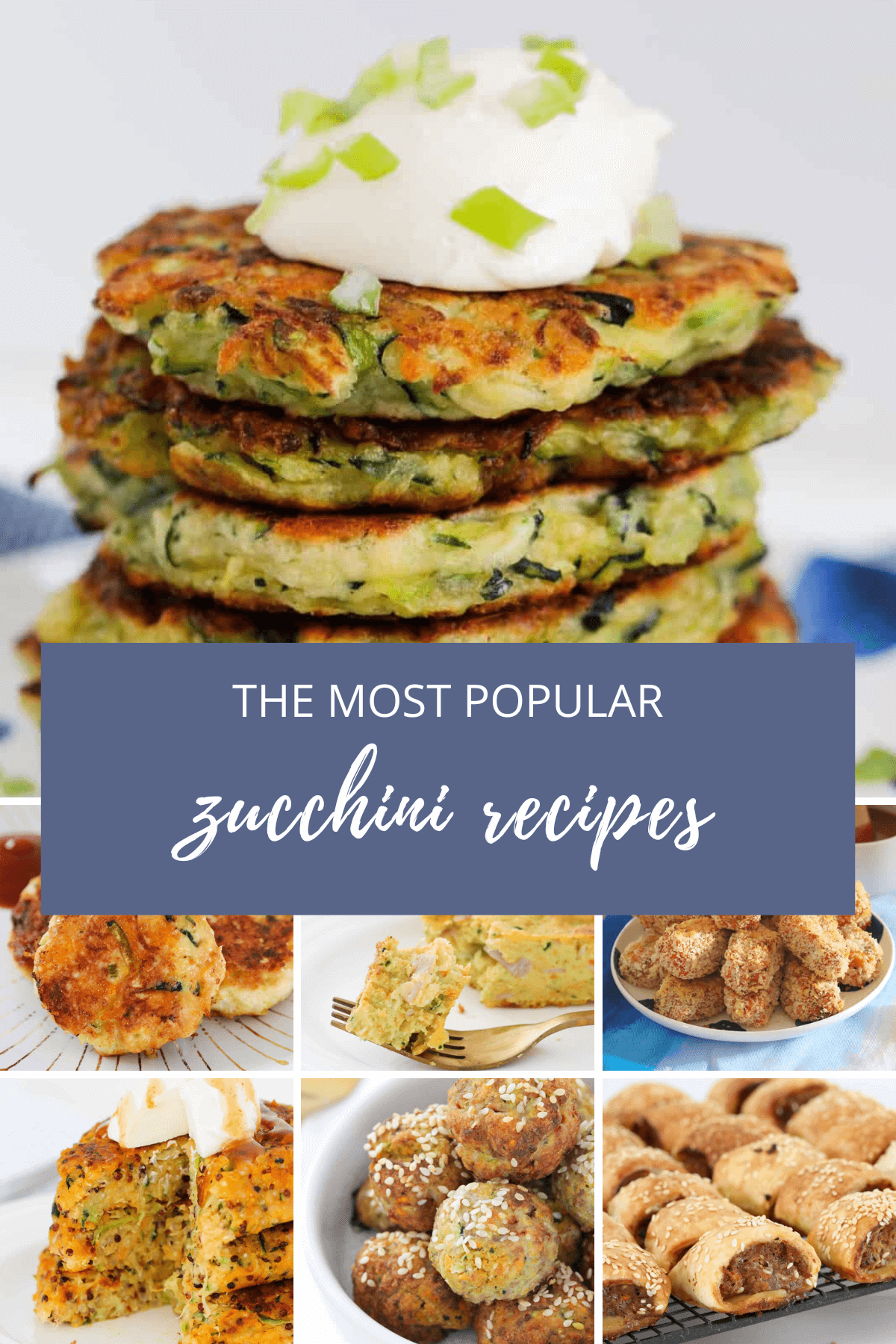 These days zucchinis can be purchased all year round, however when it's zucchini season, they are EVERYWHERE! If you don't have a veggie garden yourself, you may have a neighbour whose garden is overflowing!
During zucchini season they also become the cheapest 'green' vegetable available at the supermarket or your local fruit & veggie market.
So lets take a look at some simple savoury recipes to use zucchinis in, as well as a couple of sweet recipes too.
From savoury slices to veggie nuggets, sausage rolls and fritters, soup and muffins, these recipes are perfect for family dinners and particularly fussy toddlers. As zucchinis don't have a distinct flavour they can easily be smuggled into so many dishes! Great finger food for little ones to experiment with too.
All of these recipes are freezer friendly, so make the most of zucchini season and stock up the freezer with easy dinners and lunch snacks.
Savoury Zucchini Recipes
This no-fuss recipe is made from simple ingredients and is so versatile - serve it warm or cold for breakfast, lunch or dinner... or make it ahead of time and freeze for a protein-packed meal prep option!
A simple vegetarian fake-away! Made from sweet potato, zucchini, grated cheese and panko crumbs, this is a great way to sneak a few extra veggies into your little ones meal.
Full of healthy veggie goodness, and a cheap meal to have on hand. I keep a container in the freezer for a last minute dinner or snack - just add some crusty bread and enjoy!
Similar to my classic zucchini slice but with carrot as well. This savoury slice is a hit with fussy eaters whilst packed full of healthy veggies and cheese.
Another kid-friendly meal that you can have on hand for a quick and easy dinner. Loaded with lean chicken mince, these rissoles make great finger food for toddlers, or a more substantial meal with a salad, or with mash and greens.
Whether they're filling up hungry kids lunch boxes, being dipped into a bowl of healthy soup, or simply being served as a yummy savoury snack... these are the muffins you need in your life!
Sweet potato brings a sweet and creamy texture to recipes, so besides being a healthy meal, it tastes so good the kids will love it. Packed full of goodness, and ready in just an hour.
Now these fritters are a real hit at my house! With a dollop of sour cream on top, and a cheeky slice of crispy bacon on the side, I'm in heaven!
Particularly these days, when we're all a little budget conscious, you could not get a more economical meal than this tasty slice. Its also a perfect way to sneak a few extra vegetables into meals. It freezes super well too!
Savoury beef and sausage mince encased in golden, flaky pastry, these classic sausage rolls are perfect for serving at parties, lunch or dinner. However you serve them, just don't forget the tomato sauce for dipping!
A fabulous flavour combo in a healthy vegetarian dish. Quinoa fritters are packed full of goodness, they make an excellent finger food for toddlers, as well as a welcome light lunch or family dinner! Keep some in the freezer for quick meals.
There's just something about finger-food that makes it such an easy favourite with kids. And when it's also something that you can dip into a sauce, you definitely have a winner! Great to pop into lunch boxes too.
With just 4 ingredients, these Veggie Nuggets make a healthy and simple snack that hungry kids and fussy toddlers absolutely love! Made from just sweet potato, zucchini, grated cheese and panko crumbs - how easy is this?!
Crunchy bakery-style homemade sausage rolls with a classic pork and vegetable filling wrapped in golden flaky puff pastry - tell me, who can resist these tasty little bites!?
Freezer-friendly, perfect for lunch boxes and ready to eat in around half an hour, these easy muffins make a great option for a light lunch, or serve with a soup for a satisfying dinner.
I'm all for simple family dinners that save time on busy weeknights and also taste good! This healthy quinoa bake, packed with fresh vegetables and loaded with flavour, is sure to become a family favourite.
With lean chicken mince and some veggies smuggled in, these sausage rolls are ready to eat in just 45 minutes. Perfect for a lazy weekend lunch, feeding hungry kids, or a quick and easy snack. Make a double batch and freeze some!
Forget about grating or mixing, the Thermomix will do it ALL for you with this classic family favourite... and with only one bowl to wash up. Totally fussy toddler approved! Great for a simple healthy lunch, or as a light dinner served with a salad.
A creamy risotto, packed with veggies and flavour, is a perfectly comforting family dinner. Or, if its just for one, then you have plenty of tasty leftovers to enjoy for lunches!
I just love this healthy salad, it makes me feel good just eating it. The caramelised sweetness of tender vegetables, combined with the nutty texture of couscous, complement any meat or fish. Make this salad the star at your next BBQ!
Sweet Zucchini Recipes
As zucchinis have such a mild flavour, they make a great addition to sweet baking recipes as well as savoury, and the grated zucchini ensures that baked loaves stay nice and moist. Shhh... just don't tell the kids it's a serve of veggies!
Being loaded with healthy goodness, this carrot, apple & zucchini bread makes such a versatile loaf - add some nuts too, if you like. Baked in an hour, freeze some slices for easy 'grab and go' lunch box additions.
Well, yes, everything tastes great with chocolate, doesn't it, and this loaf will still be a healthy hit, being packed with moist zucchini and greek yoghurt. A great way to disguise those excess zucchini's, and a clever way to entice the kids!
FAQs
WANT EVEN MORE DELICIOUS RECIPES? Subscribe to my newsletter or follow along on Facebook or Instagram. And if you love baking, then please come and join my Facebook cooking club group or subscribe to my YouTube channel.