Introducing the famous 3 Ingredient Christmas Cake (fruit cake) made from mixed fruit, iced coffee and self-raising flour! Award winning, super easy and totally delicious!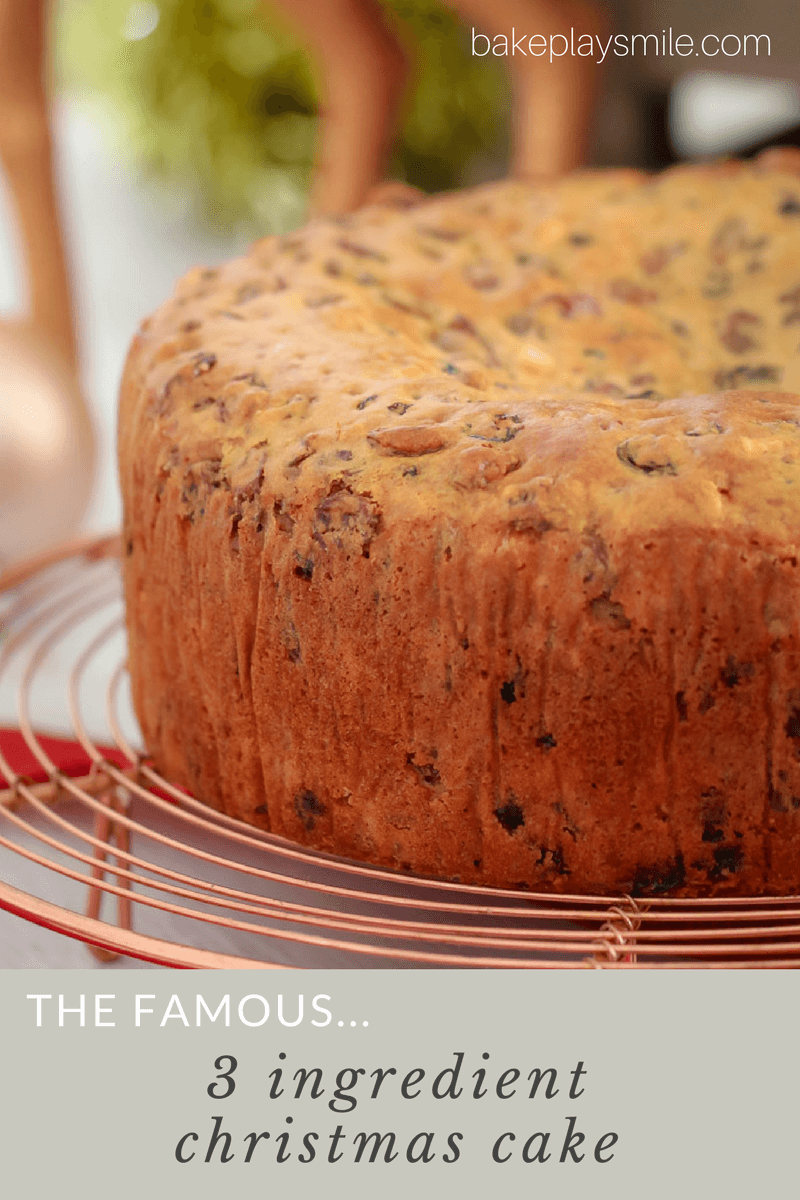 If you've been coming to Bake Play Smile for a little while now you'll know that I'm a big, BIG fan of simple, no-fuss recipes. In fact, any recipe with the words '3 ingredients' in it, is pretty much my favourite thing ever. And so I bring to you (a recipe I've been hanging out to try for ages!)… the famous 3 ingredient Christmas cake!! Whoop whoop!!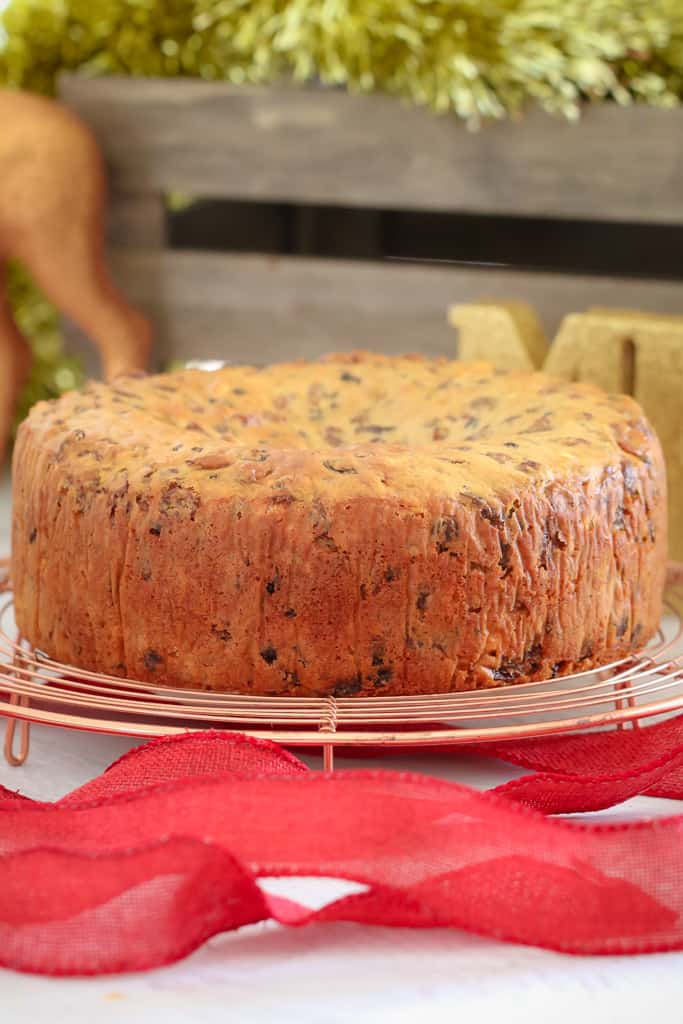 Yep, I'm sure you've probably heard of this cake before. It's a CWA award winning recipe (so you know it's going to be good!). And it needs only 3 ingredients!! I know… crazy, right!!??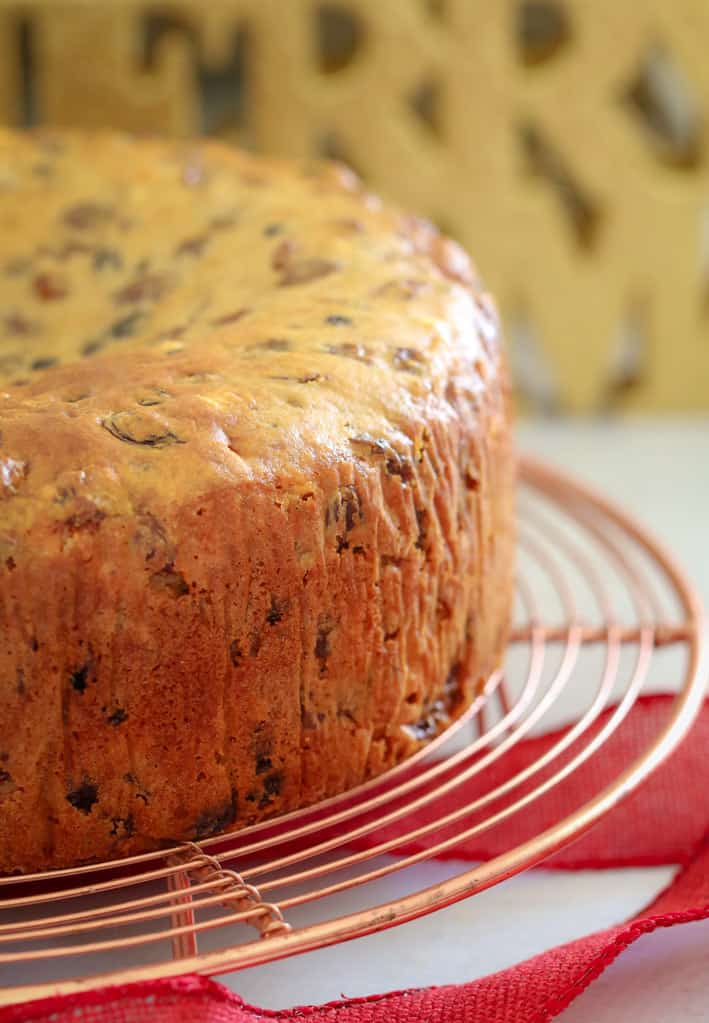 I must admit that I'm not someone who makes a fruit cake each year for Christmas (A cheesecake… yes! A fruit cake… not so much!). I'd never be organised enough to soak my fruit weeks in advance (at least I think that's what you do with traditional Christmas cakes!?). But this overnight 3 ingredient Christmas cake has me totally sold. It's all the deliciousness of a classic Christmas cake BUT without any fuss. Love that!!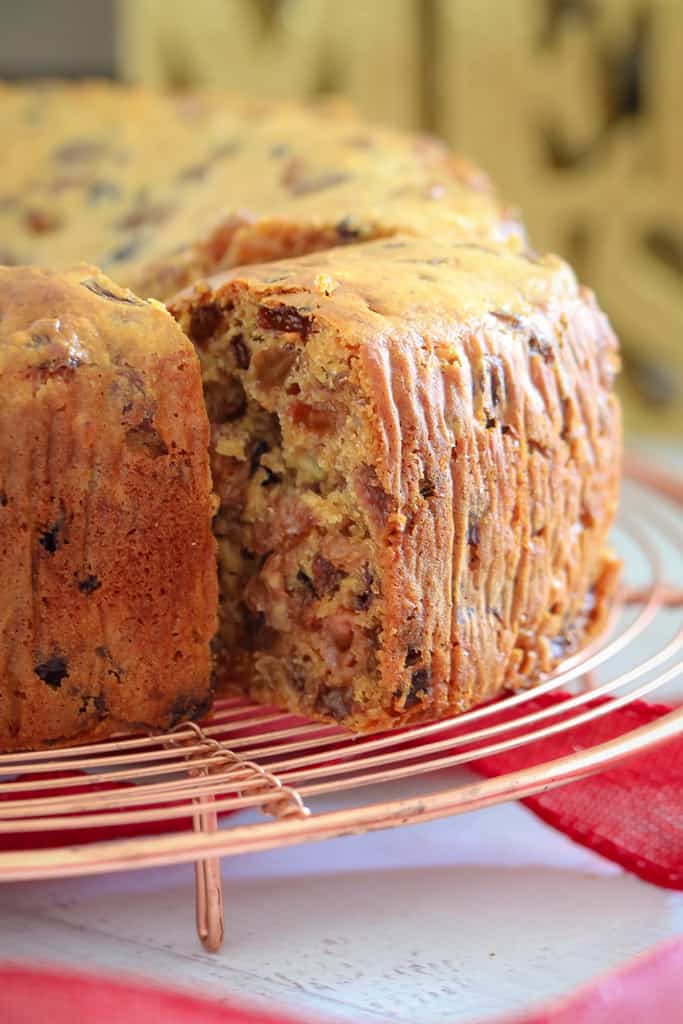 Oh and did I mention that it's also:
egg-free
nut-free
and has no added sugar…!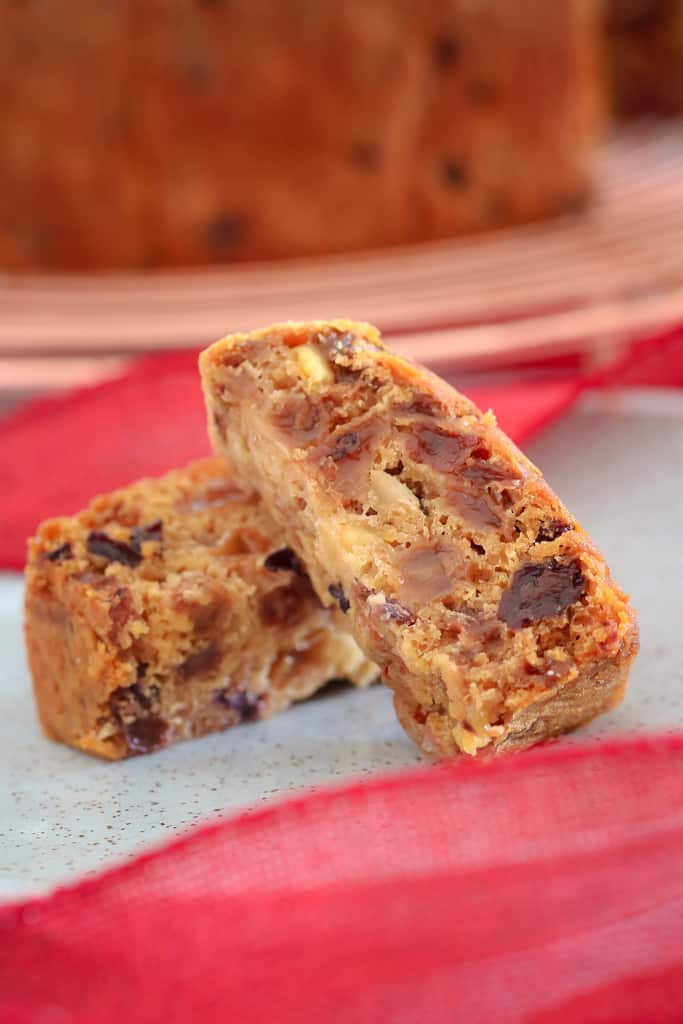 I've popped a couple of tips in the notes section of the recipe below… but seriously, you can't go wrong with this cake. If you're not a fan of using iced coffee, you can simply swap it for ones of the suggested substitutes! Easy, peasy.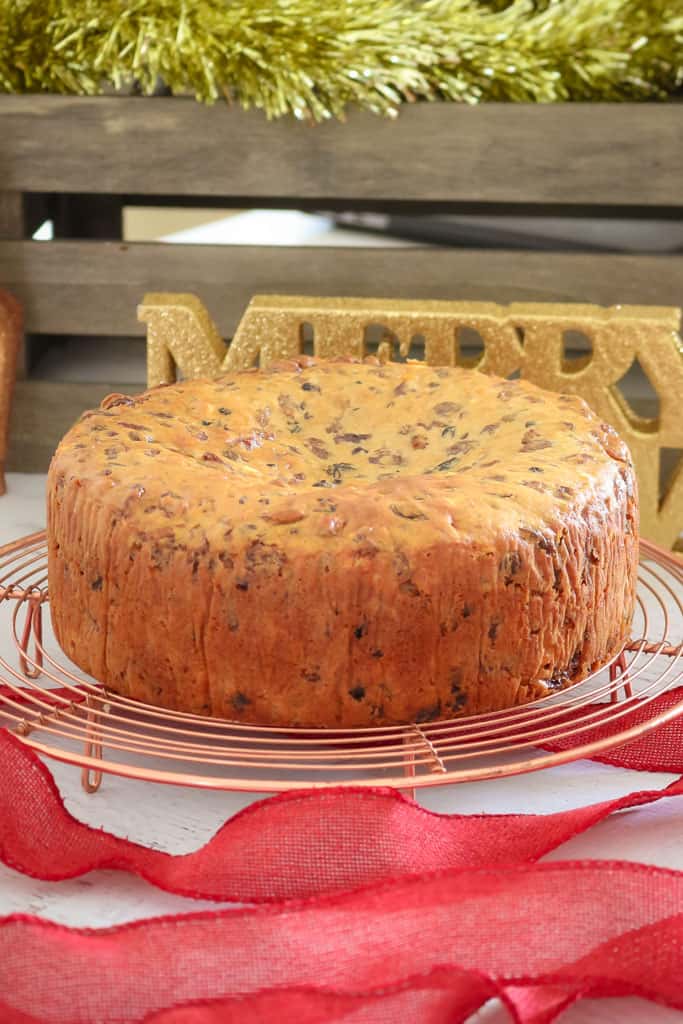 And the best part of all, this 3 ingredient Christmas cake takes only 5 minutes to prepare (plus the overnight soaking time of course). But 5 minutes is NOTHING!! Especially when you're whipping up a delicious fruity cake. YUM!
VIDEO: HOW TO MAKE THE FAMOUS 3 INGREDIENT CHRISTMAS CAKE
Love this recipe? Check out our range of Christmas recipe eBooks (available in both Thermomix and conventional versions). These can be downloaded immediately, saved to your computer, tablet, iPad or phone. Or if you'd prefer a hardcopy, all of the eBooks can be printed to A4 size.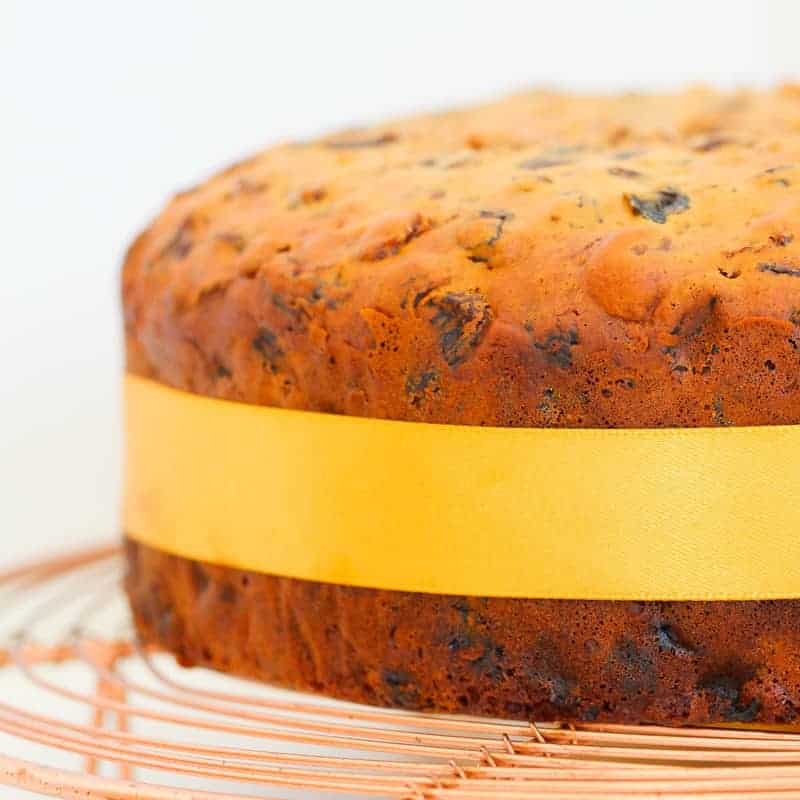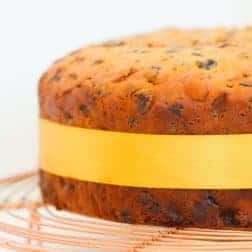 The Famous 3 Ingredient Christmas Cake
Introducing the famous 3 Ingredient Christmas Cake (fruit cake) made from mixed fruit, iced coffee and self-raising flour! Award winning, super easy and totally delicious!
Print
Pin
Rate
Total Time:
1
day
1
hour
5
minutes
Ingredients
1

kg (6 cups)

dried mixed fruit

see recipe notes

600

ml (2 1/2 cups)

iced coffee

see notes

265

g (2 cups)

self-raising flour
Instructions
Place the mixed dried fruit into a very large bowl. Add the iced coffee (or liquid substitute) and mix well. Cover with plastic wrap and place into the fridge overnight. 

Preheat oven to 160 degrees celsius (fan-forced). Grease and line a 23cm cake tin with baking paper and set aside.

Stir the self-raising flour through the fruit mixture and pour into the prepared tin.

Bake for approximately 1 hour (see notes) or until the cake feels firm in the middle and a skewer inserted comes out with a few moist crumbs on it.
Notes
RECIPE NOTES
Mixed dried fruit - can be bought pre-packaged from the dried fruit/nuts section of any major supermarket. I like to use the Sunbeam Mixed Fruit that contains sultanas, currants, raisins, orange peel, lemon  peel and glace cherries. 
Iced coffee - I like to use a store-bought iced coffee that is slightly sweetened for this recipe. There are many different brands of iced coffee that you can use, including: Big M, Farmers Union, Dare, Ice Break, Starbucks etc. 
Iced coffee substitutes - if you prefer, you can substitute the iced coffee with: juice (orange, apple, pineapple etc), black tea, coffee or chocolate milk.
Adding alcohol - a splash of alcohol can be added to the mixture. These all work well: brandy, whisky, sherry, dark rum, orange-flavoured liqueur, Baileys Irish cream, Kahlua or port.
Preparation time - This recipe need to be started the day before baking as the dried fruit needs to soak in the liquid overnight. 
Storing the cake - This cake can be stored for up to 1 month.  To store, simply wrap in foil or place into an airtight container at room temperature.
Serving the cake - Serve at room temperature or warm it up and serve with a drizzle of cream or custard (brandy custard is delicious too). 
Baking the cake - Cook at 160 degrees celsius fan-forced (320 degrees fahrenheit). If using a conventional oven (not fan forced) increase the temperature to 175 degrees celsius (350 degrees fahrenheit). 
Cooking time - Cooking time can vary from 1 hour to almost 2 hours depending on your oven. The cake is cooked if the middle is firm to the touch and a skewer inserted into the middle comes out with a few moist crumbs on it. 
If the cake is browning too much - loosely place a sheet of foil over the top and continue cooking. 
Nutrition
Calories:
143
kcal
|
Carbohydrates:
31
g
|
Protein:
4
g
|
Fat:
1
g
|
Saturated Fat:
1
g
|
Sodium:
4
mg
|
Potassium:
104
mg
|
Fiber:
2
g
|
Sugar:
7
g
|
Vitamin A:
190
IU
|
Vitamin C:
1.4
mg
|
Calcium:
8
mg
|
Iron:
0.5
mg