Whether you're making a few batches of fudge for homemade gifts, prepping for Christmas, planning a party, cooking for a school fete, or simply craving a delicious dessert, we've got the ultimate collection of microwave fudge recipes for you!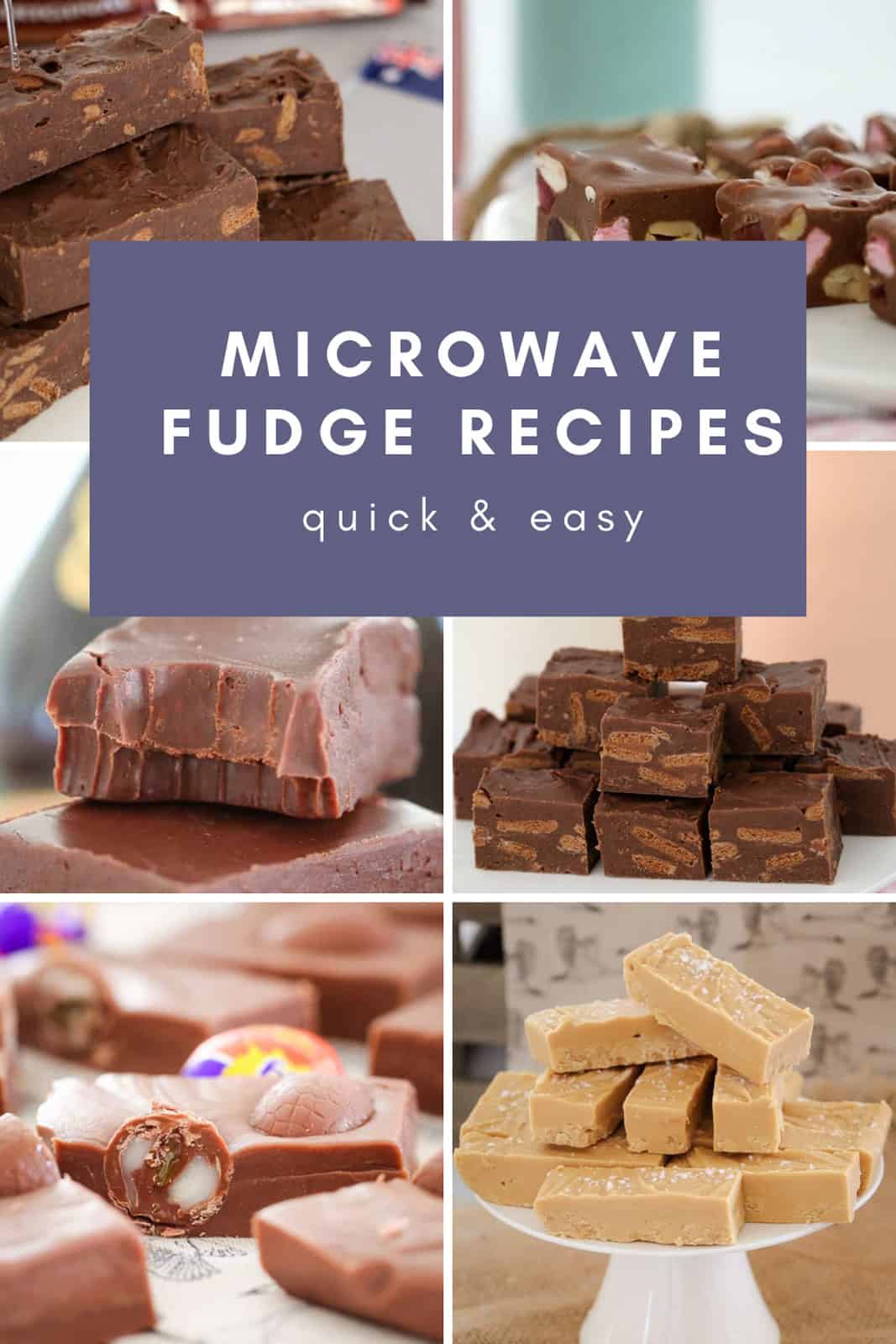 If you've only just discovered the joys (and ease) of making fudge in the microwave... then get excited!
It's so much easier than the traditional stove-top versions - plus you'll have a decadent dessert ready in just a few minutes!
Why You're Going To Love Microwave Fudge
quick and easy - these recipes take just a couple of minutes to make.... that's it!
virtually no washing up - you'll only have 1 bowl and 1 spoon to wash up afterwards.
cheeky late night snack - when you sit down on the couch after a long day and realise that you NEED dessert, microwave fudge is the answer!
perfect gifts - fudge makes a great homemade gift for friends and family (especially at Christmas time)
Note: To access any of the recipes below, simply click on the title or image to be taken directly to the recipe (they're all free and printable!).
The Best Microwave Fudge Recipes
For lovers of that ultimate combination of white chocolate, condensed milk and brown sugar (like my mum), this fudge can only be described by one word - 'wicked'!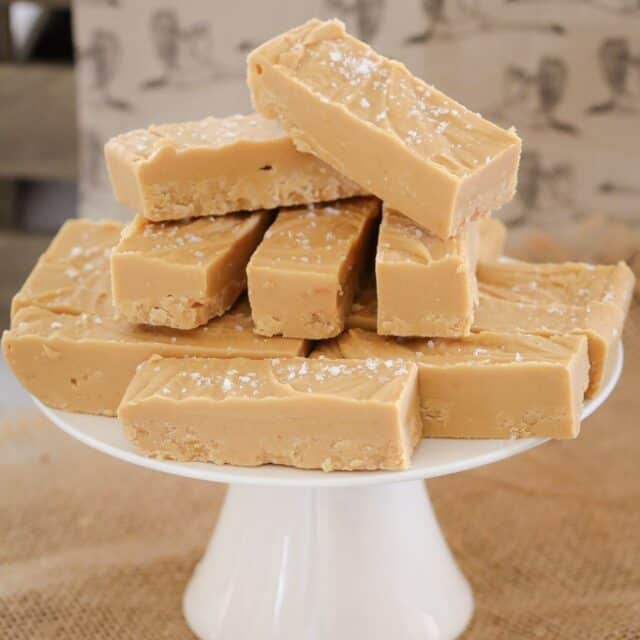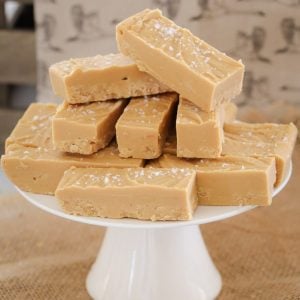 Super rich, soft and chewy.....anything that has Baileys and dark chocolate in it is going to be a delicious 'adults only' treat, right? Well, treat yourself!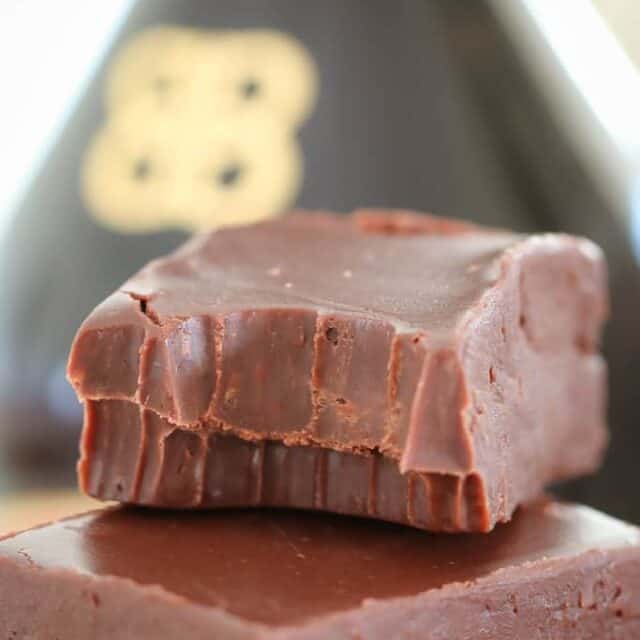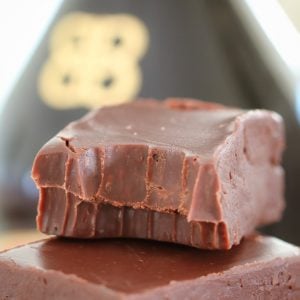 Three ingredients, yes, just three! Condensed milk, milk chocolate and chopped Tim Tams. There's times in life when we all just need a naughty treat...it's sort of mandatory, I think!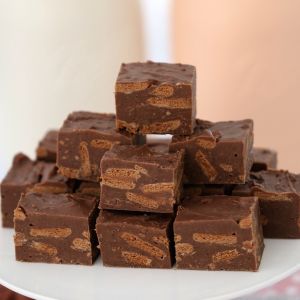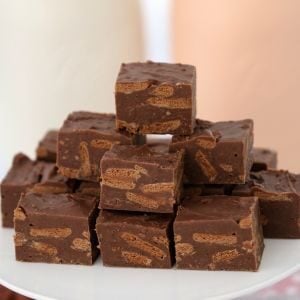 With peanuts, mini marshmallows and chopped Turkish Delight throughout, this Rocky Road Fudge makes a fantastic quick and easy gift, or just to brighten someone's day with a surprise for absolutely no reason at all!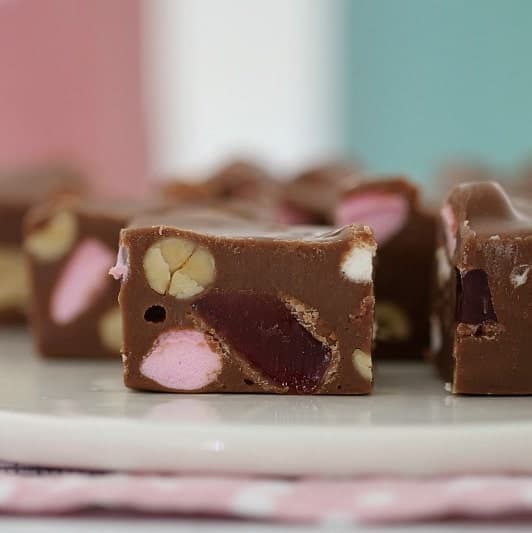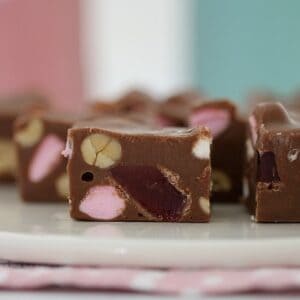 The kids will love helping to press the mini Creme Egg's on top, 'one for the fudge, one for me'...you get the picture, right?
Cadbury Creme Egg Fudge Recipe
A super easy 5 minute microwave Cadbury Creme Egg Fudge made from just 3 ingredients... condensed milk, chocolate and Cadbury Creme Easter Eggs!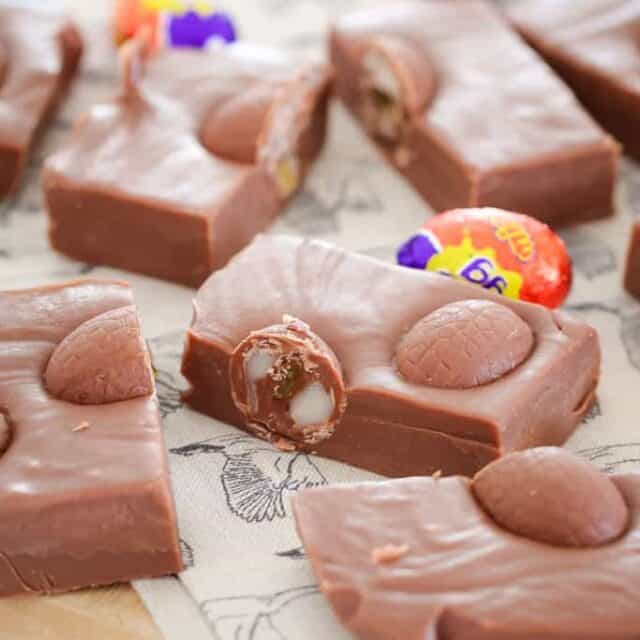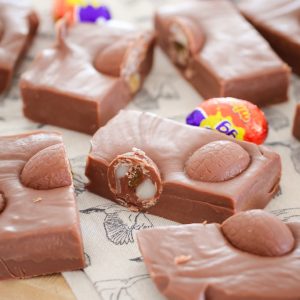 A twist on my Tim Tam Fudge recipe - add Milo! Besides adding a little more crunchylicious (is that a word?), it makes the flavour a little more malted chocolate intense......so good!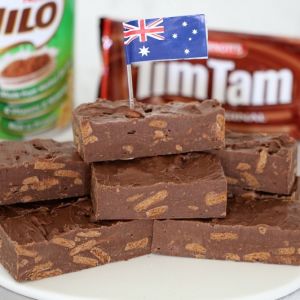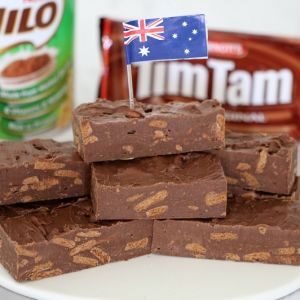 Dark chocolate (tick), condensed milk (tick), Maltesers (tick), 5 minutes (tick).........and you have fudge with a crunch! Goes down well with movie night..
Microwave Malteser Fudge Recipe
The easiest Microwave Malteser Fudge recipe made with just 3 ingredients (chocolate, sweetened condensed milk & Maltesers)... and in less than 5 minutes!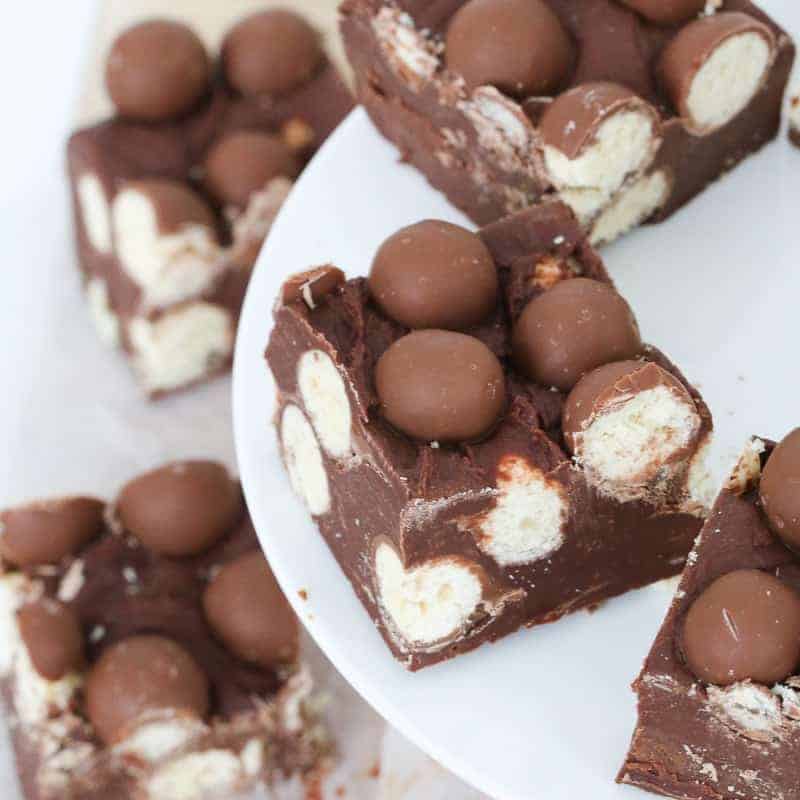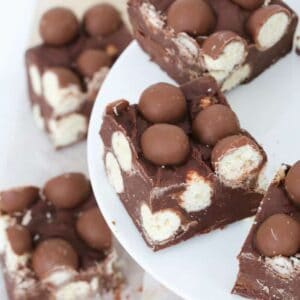 Now this is one sophisticated looking fudge treat! With crushed Oreo's mixed through and sprinkled on top, it's hard to resist just one more piece....or two..
Cookies and Cream Fudge Recipe
A simple 3 ingredient Microwave Cookies and Cream Fudge recipe made from white chocolate, condensed milk and Oreo biscuits... all in less than 5 minutes!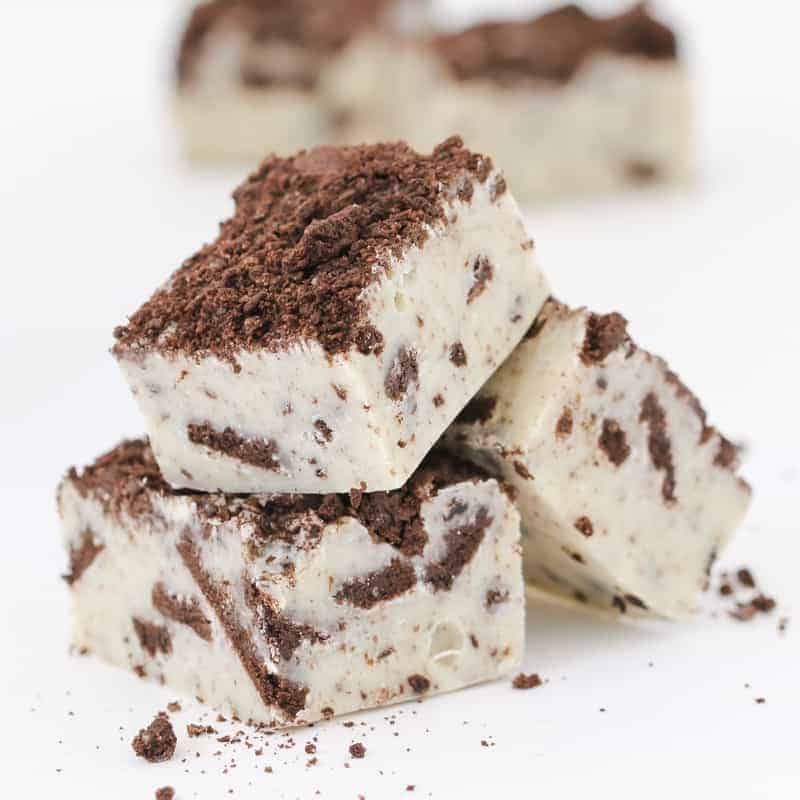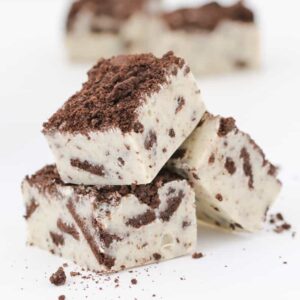 With cranberries and pistachios to give that festive Christmas look, this fudge makes THE perfect homemade gift for that special personal touch.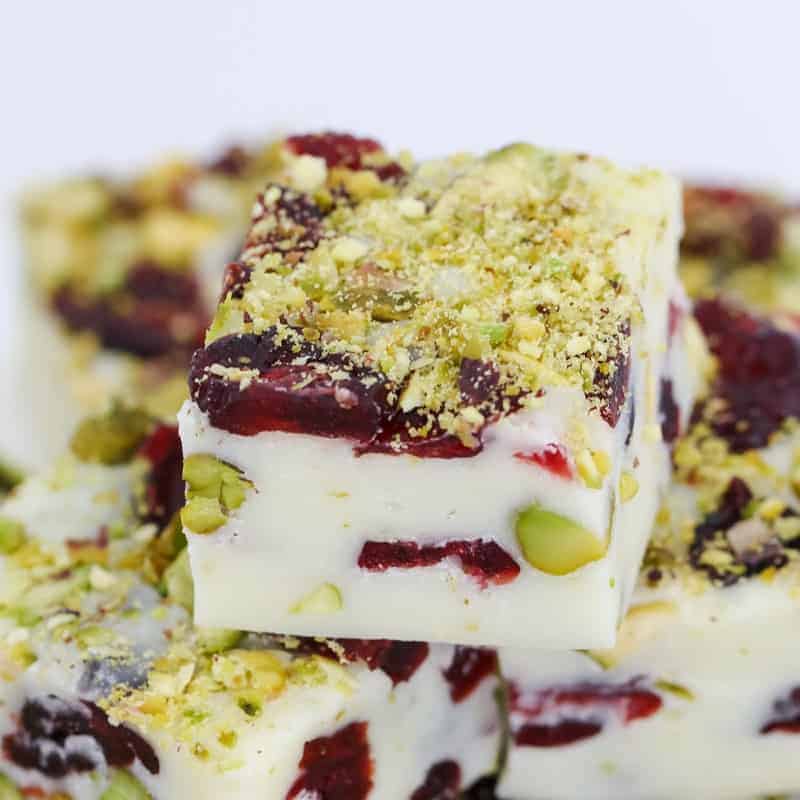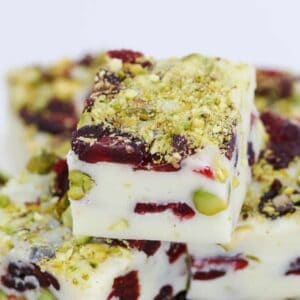 More Dessert Recipes
If you're anything like me, dessert is by far the most important meal of the day!
From cheesecakes to puddings, mud cakes to brownies and more...
Click here to browse my entire collection of simple and family-friendly dessert recipes.
WANT EVEN MORE DELICIOUS RECIPES? Subscribe to my newsletter or follow along on Facebook or Instagram. And if you love baking, then please come and join my Facebook cooking club group or subscribe to my YouTube channel.