Browse the ultimate recipe collection of 20+ winter desserts… from homemade sweet pies to puddings, crumbles, cakes, dumplings, cheesecakes and more!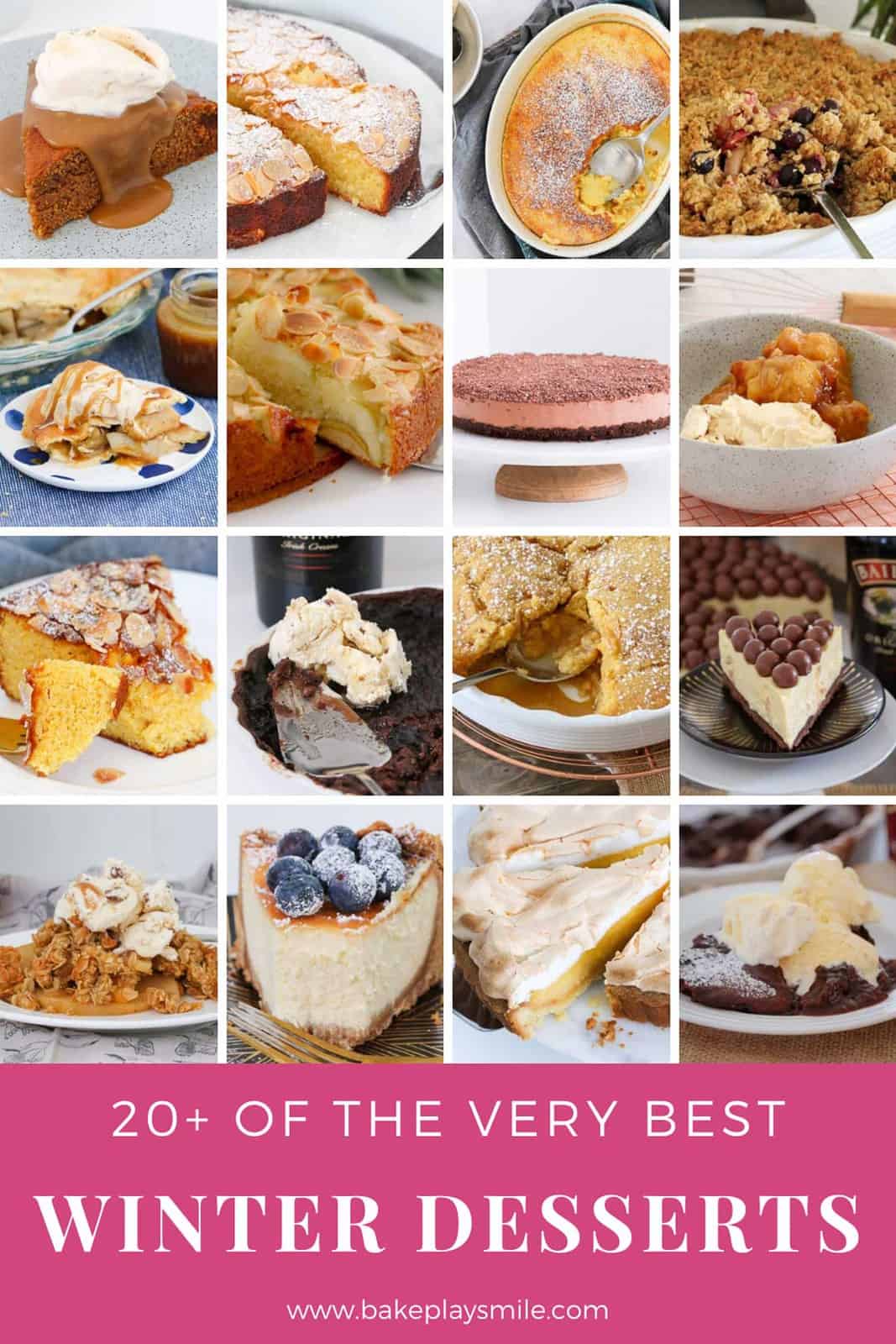 The Very BEST Winter Dessert Recipes
When the cooler weather rolls in, it's time to start making ALL of your favourite winter desserts. From our old-fashioned apple pie to apple and blueberry crumble, Toblerone cheesecake to butterscotch pudding, lemon delicious to pecan pie and more!
Simply click on any of the links below to be taken directly to the full recipe.
Homemade Sweet Pies & Crumbles
Winter comfort food doesn't get any better than a good old pie or crumble recipe!
Our classic apple pie is always a winner! Make it from scratch or take a few of our cheeky little shortcuts. Serve with a HUGE scoop of ice-cream, cream or custard.
Three layers of melt-in-your-mouth pastry, a tangy lemon filling and a sweet meringue topping. This really is the ultimate winter dessert.
If you've got a muffin baking tray then you can whip these sweet little pies up in no time at all!
The ultimate individual winter dessert… and best of all, there's no sharing involved!
Our classic pecan pie is sweet, nutty and totally delicious. Serve it warm with a big scoop of vanilla ice-cream (and a cheeky drizzle of salted caramel sauce!).
Our famous apple crumble recipe couldn't be easier to make! Use fresh or canned apples for the perfect winter dessert.
Frozen (or fresh!) berries take our classic crumble recipe to a whole new level. Add custard, cream and ice-cream for the most delicious finish!
Winter Pudding Recipes
Our old-fashioned pudding recipes are budget-friendly, made from pantry staples and best of all… taste absolutely AMAZING!!!
Pantry and fridge staples are all you need to make this sweet little old-fashioned pudding. The delicious butterscotch sauce at the bottom will leave you drooling!
A chocolate sponge with a rich chocolate sauce makes the ultimate winter dessert. Serve it with your favourite ice-cream, custard or cream.
If you've got some spare lemons lying around, then you need this truly delicious recipe in your life! Soft, fluffy and oh-so yummy!
Our classic chocolate pudding gets a boozy makeover in our adults-only Baileys version. This dessert is not to be missed!!!
Everyone's favourite sticky date pudding is taken to a whole new level with our sweet and sticky caramel sauce. Serve on it's own… or add ice-cream or cream for the most amazing dessert!!
It doesn't get any more old-fashioned than our classic golden syrup dumplings! The fluffy dumplings coated in a sweet golden syrup sauce will leave everyone drooling.
Winter Cake Recipes
Cakes aren't just for birthdays or celebrations… they're also for cold winter nights!!
This is one of our most popular cake recipes!!! Serve it at room temperature or warm it up and serve with ice-cream or cream for a delicious winter dessert.
If you love apple crumble and you love a sweet cake… then our Apple Crumble Cake is exactly what you need in your life!!!
For a fun variation, take our classic Apple Crumble Cake and add raspberries… it's that easy!
Our moist and dense almond and coconut cake is the most delicious gluten-free dessert. Serve it at room temperature or warm for the most decadent late night treat.
If you're after a gluten-free option, this whole orange and almond cake is exactly what you need! Moist, tangy, sweet and oh-so-delicous!
This is one of our most popular cheesecake recipes… and the added Baileys makes it the perfect adults-only dessert.
On a cold winters night, everyone loves a rich and creamy Toblerone cheesecake. An absolute chocoholics delight!!
Our most popular baked cheesecake recipe is a total showstopper. Follow my hints and tips for the perfect cheesecake.
Our Raspberry & Ricotta Cake is dense, rich and oh-so-AMAZING! Serve it at room temperature or warm it up and serve with ice-cream or cream for the most incredible winter dessert.
More Dessert Recipes
If you love a cheeky little late night dessert, then you absolutely MUST browse our entire collection of desserts! Including our top 5 dessert recipes:
WANT EVEN MORE DELICIOUS RECIPES? Subscribe to my newsletter or follow along on Facebook or Instagram. And if you love baking, then please come and join my Facebook cooking club group or subscribe to my YouTube channel.