Browse my collection of 30+ easy pasta & rice recipes that the whole family will love! Simple & delicious dinners designed for busy families.
From quick pasta dishes to warming slow cooker meals, hearty soups to classic lasagne, tray bakes to creamy risottos - and so much more!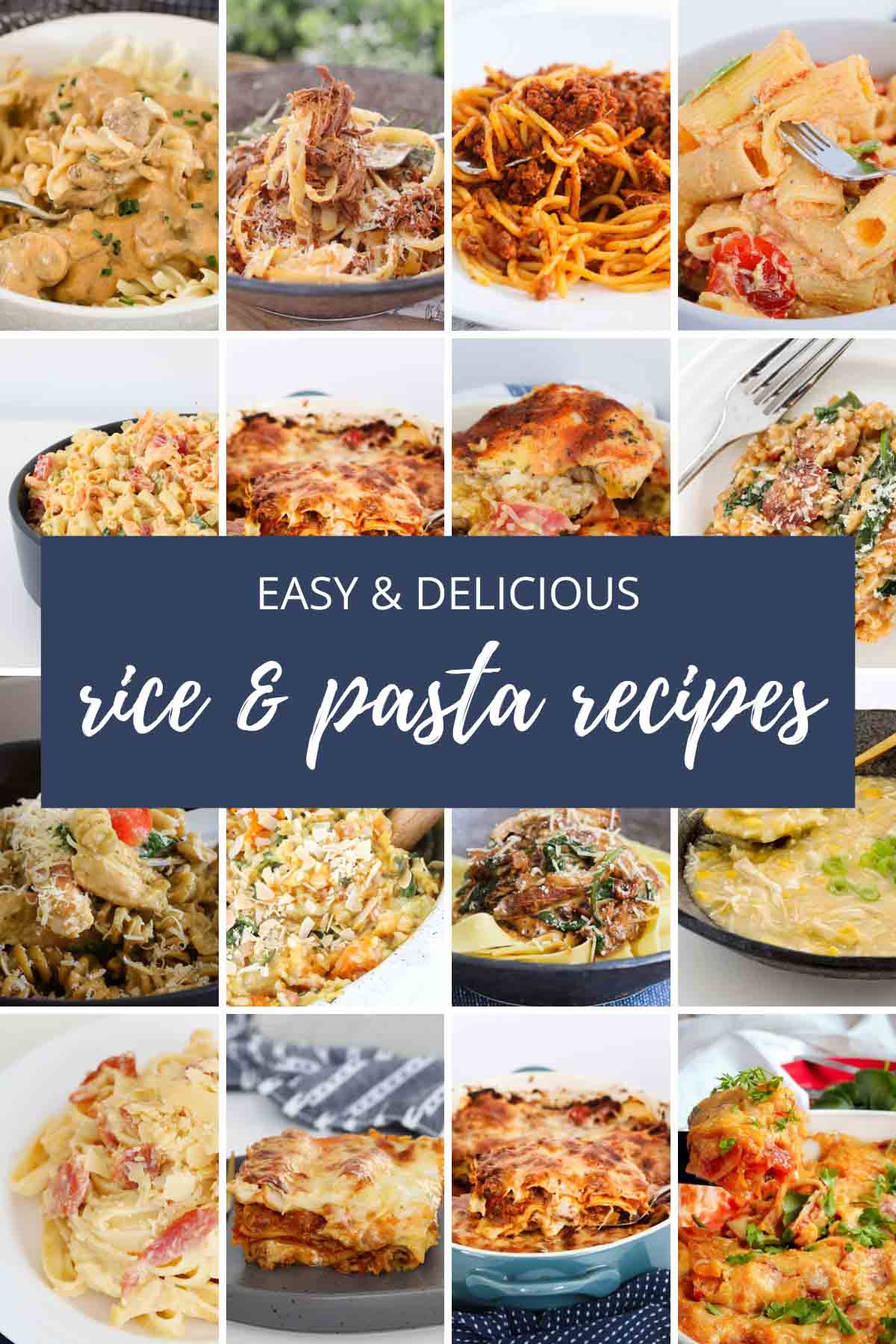 By using rice, pasta or noodles, you can easily create tasty and budget-friendly meals that can be stretched to feed extras, or to have leftovers ready to freeze for 'grab and reheat' meals ahead.
Browse this family-friendly dinners collection of recipes... there's something to suit every taste, budget and occasion.
Easy Pasta Recipes
This is one of my personal FAVOURITES! What's not to love about a big bowl full of delicious fettuccine, bacon and parmesan? And there's no cream required in this traditional carbonara that's ready to serve in less than half an hour!
Here's another traditional Italian easy pasta recipe for you to try! This ragu is slowly cooked to enhance the flavours - and the best thing is, you can just 'set and forget'... and let the slow cooker do all the work.
This delicious and simple easy pasta recipe is made by baking a block of feta, cherry tomatoes and olive oil in the oven until soft and then mixing it all together with garlic, cooked pasta and fresh basil to create a creamy BIG flavoured pasta that the whole family will love! Made famous on TikTok!
The most popular creamy pasta bake filled with chicken and bacon! An all-time favourite recipe with the kids. Serve with a side salad and garlic bread for the ultimate weeknight winner.
When it comes to classic family favourite dinners, there's no doubt that lasagne is right up there! This is the ultimate 'cosy food' - perfect for filling up a hungry family and ready in just one hour. Lasagne is one of those dishes that reheats wonderfully too!
Add this to your list of easy dinners that can feed a crowd on a budget! So versatile, you can add what vegetables you have on hand, and whatever kind of pasta you like. Great for smuggling some veggies in for fussy eaters! Store leftovers in the freezer, or take for lunch the next day.
Set aside a lazy day afternoon on the weekend to cook this to perfection...the longer you cook the bolognese, the more the flavours develop, giving you the most robust, full-flavoured bolognese sauce.
5 Star Comment: AMAZING! My husband and I have been looking for years for 'our' spaghetti bolognese- and we've found it! Love this recipe! And it makes SO much!
The combination of pesto, spinach, tomatoes and parmesan mixed through a big bowl of creamy chicken pasta is simply the best! Great for fussy toddlers and busy weeknights when you need a quick, filling and easy pasta dish, ready in no time.
The ultimate cold and flu fighter! Make a big batch of this comforting chicken soup for dinner or lunches, and pop some in the freezer too! Grab the chicken when it's on special and let the slow cooker make this healthy, winter warming soup.
Go meat-free tonight! A simple Spinach and Ricotta Cannelloni recipe that will be on the table in no time! The most delicious, creamy spinach and ricotta filling, encased in soft pasta and topped with an Italian tomato sauce and melted mozzarella cheese.
If you love Mexican food, you will absolutely LOVE this easy recipe! Guaranteed kid-friendly, it is rich, cheesy, savoury, comforting and utterly delicious. You can even prepare it a day ahead of time until you are ready to bake and eat!
Perfect for summer BBQs, picnics or as a simple side dish that everyone will love. While it might be easier to buy pasta salad from the shops, try making this easy pasta salad recipe with fresh ingredients and an easy homemade dressing - it tastes SO much better!
This Cheesy Macaroni & Vegetable Frittata Bake ticks all the boxes by tasting great, being toddler-friendly and freezer-friendly. Plus, it's made using basic ingredients that you may already have at home. A great recipe to get fussy ones to eat veggies!
This lightly spiced recipe has been around forever because it's a great money saving dinner that will happily feed a crowd. You can bulk it out with extra veggies and noodles, and have it ready to serve in just 30 minutes. Dinner winner!
Whether it's for a family dinner, or as a dish to share, lasagna is always a favourite. Rich and filling, this Thermomix Lasagne is one of those recipes that freezes SO well! Simply defrost and reheat for an easy family meal. Leftovers always taste so good.....
Beef Stroganoff has always been one of my favourite meals - it's hearty, creamy and delicious... all in one! And it's even better when it's cooked in the slow cooker all day long until it's a tender and creamy dish to spoon over a bowl of warm pasta!
Orzo pasta (also known as risoni) cooks in just a few minutes... which means you'll have this salad on the table in just 20 minutes. Serve this popular fresh salad on it's own for lunch, or as a tasty accompaniment at your next summer BBQ or easy family dinner.
Whether you prefer vegetarian meals, or just want to go meat-free occasionally, this healthy lasagne is packed full of goodness. The kids will love the sweetness that roasted pumpkin adds and the cheesy topping. And for convenience, you can freeze individual meals for up to 3 months.
This flavour-packed, hearty winter soup is a firm family favourite (and is loved by even the fussiest of kids!). The combination of filling pasta with veggies and beans is simply delicious, and can be as versatile as you like - use whatever you have on hand!
10 minutes prep-time is all you need. Just cook the macaroni until al dente, and while that's cooking, chop some veggies and simply mix everything together with the best creamy homemade dressing. Great for a crowd, and take any leftovers for lunch the next day. Such an easy pasta recipe!
The sweetness of corn makes this warming soup an all time favourite, especially with the kids! Serve piping hot with some buttered crusty bread, there's nothing like a bowl of warm chicken soup to blast those winter chills away. Pop some in the freezer too!
This simple slow cooker dinner is certainly another family favourite in our house! Serve with pasta, rice or even mashed potato, and a side of steamed vegetables for an easy midweek dinner that takes just 15 minutes prepare, with the slow cooker doing the rest.
The irresistible Chang's noodle salad is a familiar staple side dish at summer BBQ's and gatherings all over Australia. Full of punchy flavours and crunchy textures, try it with your favourite BBQ meats, grilled fish or BBQ chicken. Ready in just 15 minutes!
Rice Dishes
Rice is one of the most popular grains eaten around the world, and yet sometimes we forget just how versatile a bag of rice can be - and how cheap! So, here are some recipes using rice to make tasty soups, fresh salads, creamy risottos and warming tray bakes - all great family meals!
This dish is always on high rotation at my house as it's so easy and everyone loves it! Totally no fuss - place all of the ingredients into the baking dish, cover with foil and slow bake in the oven for 2 hours. A simple set and forget dish. Tastes amazing!
Packed with traditional bold Italian flavours, chicken chorizo risotto is a delicious weeknight dinner that the whole family will rave over! Just 20 minutes prep time and ready to eat in under 50 minutes. Makes delicious leftovers too, or freeze some for another night.
Ready in just 25 minutes, the sweet and mild curry dressing gives this simple salad a yummy flavour hit...(the curry flavour is so mild that the kids love it too!). Such a budget-friendly salad to make, yet the mix of flavours are SO incredible! The perfect salad when you need to bring a dish to share with a crowd!
Using your slow cooker gives you a rich, creamy risotto with minimal effort - no standing over the stove top stirring - just set and forget! This risotto is a fabulous way to extend a little chicken and some mushrooms into a large and delicious family meal.
Just 7 basic and budget-friendly ingredients needed for this tasty rice and vegetable slice. The veggies are grated so they're hard to detect - perfect for sneaking a few extra vegetables in. Whip up a batch and freeze individual slices for toddler meals.
A delicious and hearty Bacon & Roast Pumpkin Risotto recipe that the whole family will love, and it's ready to eat in just 1 hour. The combination of sweet roasted pumpkin and bacon is delicious, and if there's any leftovers, you have a great lunch for the next day!
When the cooler weather sets in, there's nothing more comforting than a big bowl of healthy and nutritious soup served with some bread rolls or savoury muffins. With the goodness of vegetables and the addition of rice, this flavour-packed and budget friendly soup will be on the table in just 1 hour!
Browse more quick and easy family dinners here.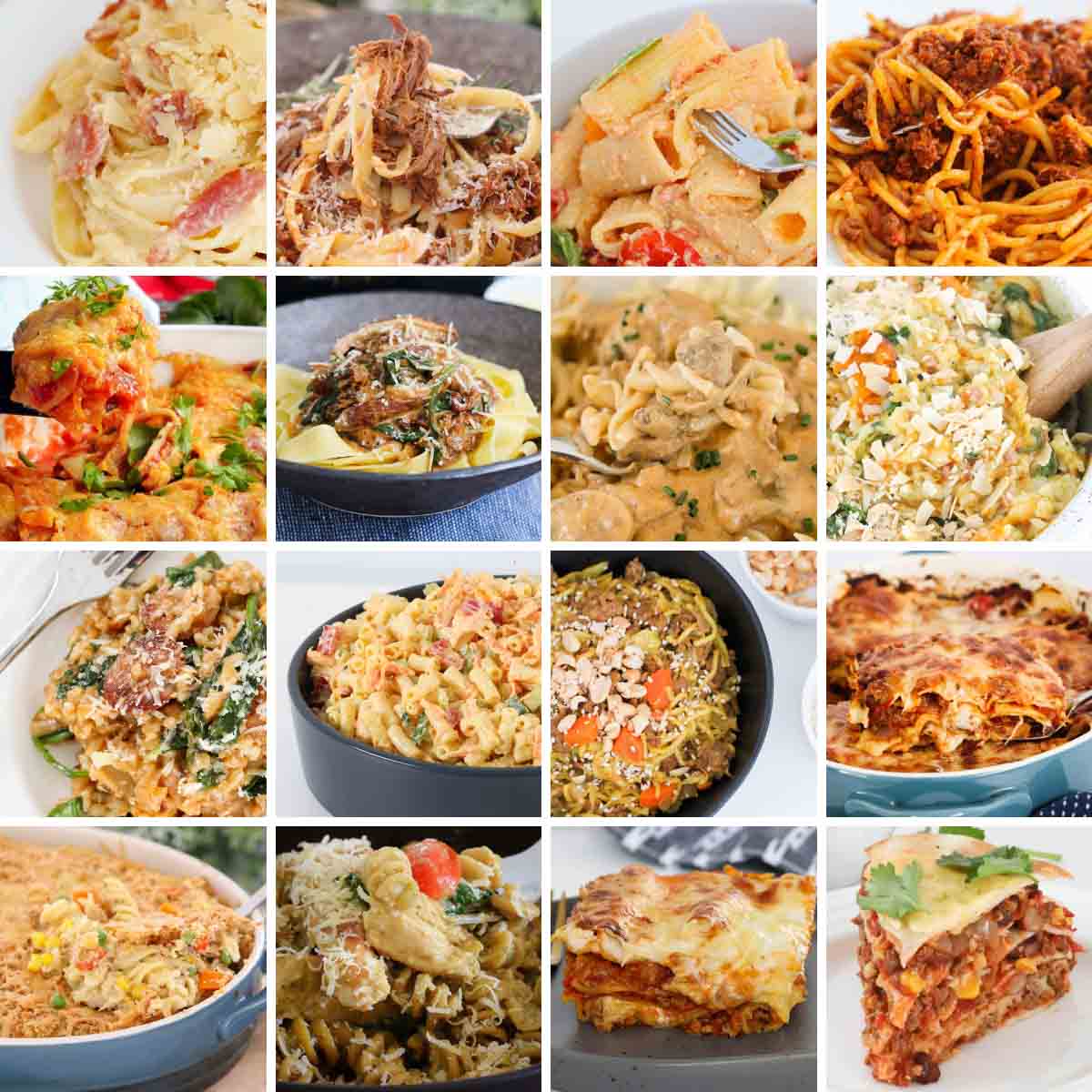 WANT EVEN MORE DELICIOUS RECIPES? Subscribe to my newsletter or follow along on Facebook or Instagram. And if you love baking, then please come and join my Facebook cooking club group or subscribe to my YouTube channel.