Whip up this Easy Beef Lasagne in no time! Get that extra cheesy taste without having to make a bechamel sauce. A quick & no-fuss dinner!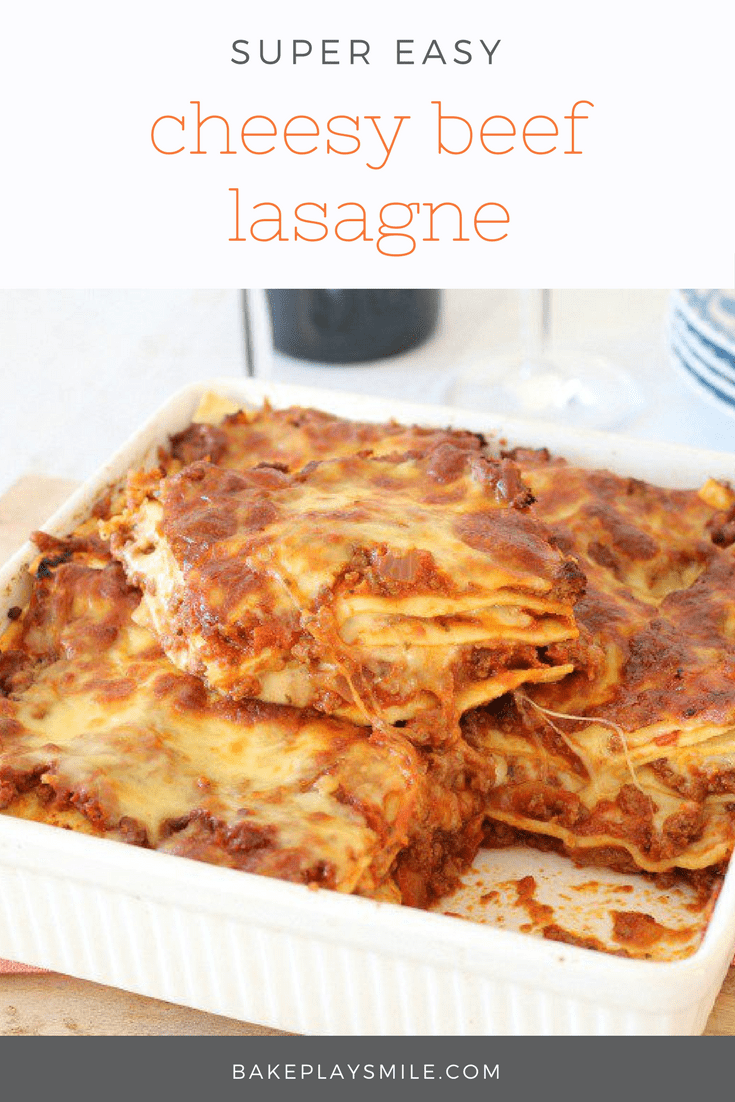 There's no doubt that lasagne is comfort food at it's very best. And the weather at the moment is screaming for comfort food (in fact, as I'm writing this it's hailing outside… thanks Melbourne). Anyway, this Easy Beef Lasagne is a perfectly yummy, completely no-fuss dinner. Trust me, when you're sitting down eating a plate of this with some crunchy garlic bread, you're going to thank me (I hope!).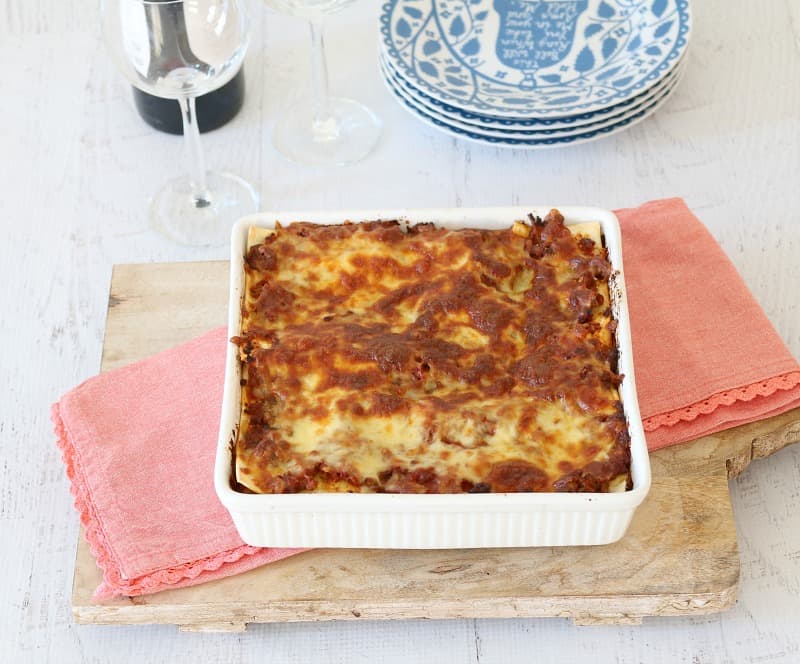 Now I must admit that I do love a good cheesy béchamel sauce. I really, really do. But sometimes there just isn't enough time to make it. And so, that's where this Easy Beef Lasagne comes in. It's still super cheesy, but without the time and hassle involved with making a béchamel sauce.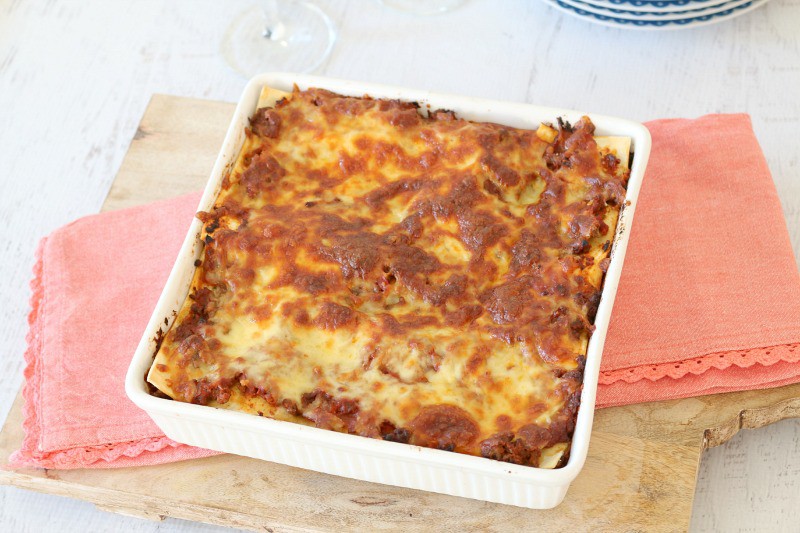 To get that extra stringy cheesy taste, all you need is some mozzarella cheese. A little sprinkle of mozzarella and you'll completely forget about bechamel sauce! Trust me, this is definitely cheesy enough.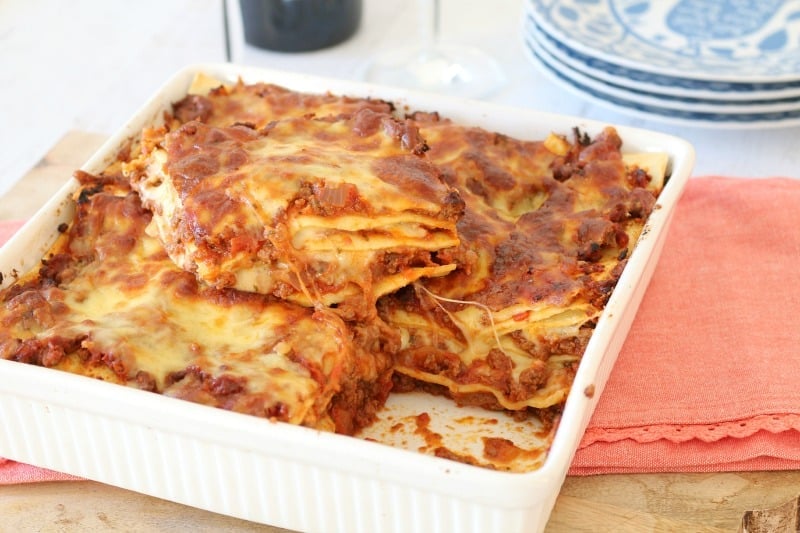 I usually make a massive batch of bolognese sauce and freeze it until I need it (in other words… when I'm running around silly at 6.30pm trying to think of something to make for dinner). This is a no-fuss bolognese sauce which is really versatile. You can leave it as is, or add in some extra chopped up vegetables if you like. When I make lasagne I usually use fresh lasagne sheets because they cook a bit quicker and you don't get those crispy edges, but you can definitely used the dried sheets too. Either way will be absolutely fine! The whole point of this lasagne is that it's easy, so go with whatever you have at home.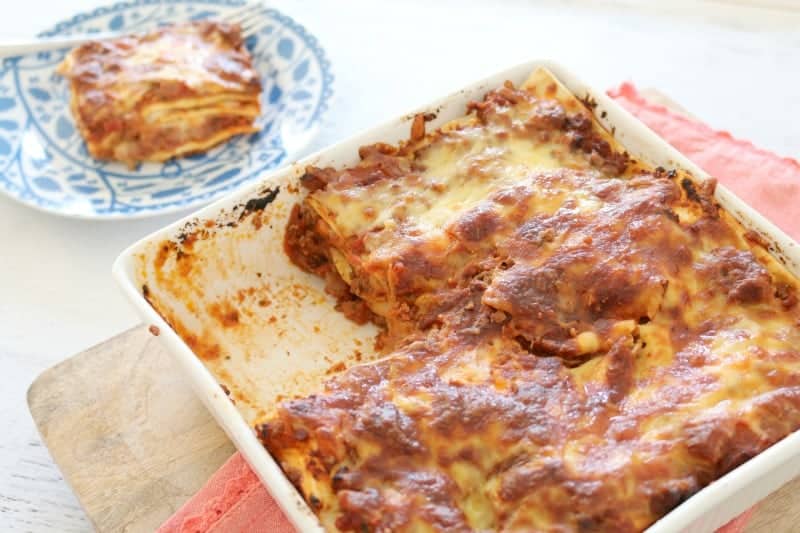 If you're after a cheesy lasagne without the hassle of making a béchamel sauce, then definitely give this recipe a go. I still love my traditional lasagne, but this makes for a super yummy and quick alternative… there's certainly no compromising on taste here!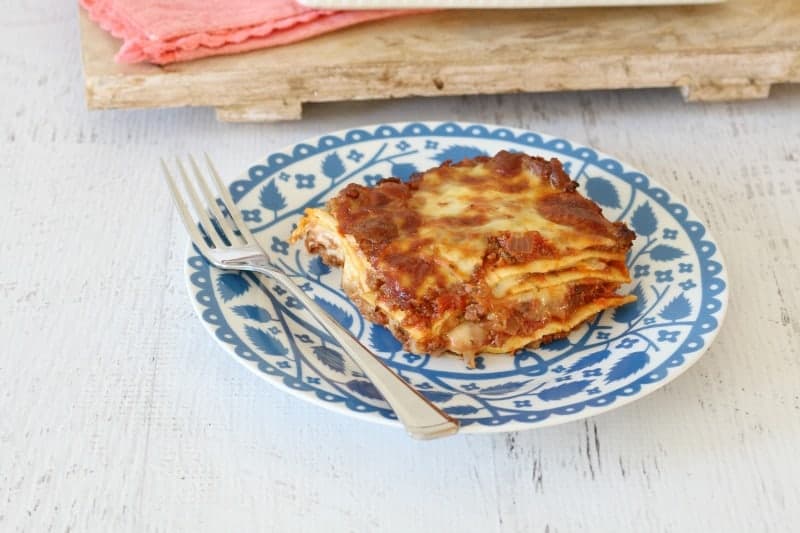 What's your favourite winter warmer dinner? I'm also loving making Slow Cooker Chilli Con Carne and my Prosciutto, Bocconcini & Rocket Pizza at the moment too – such great comfort foods!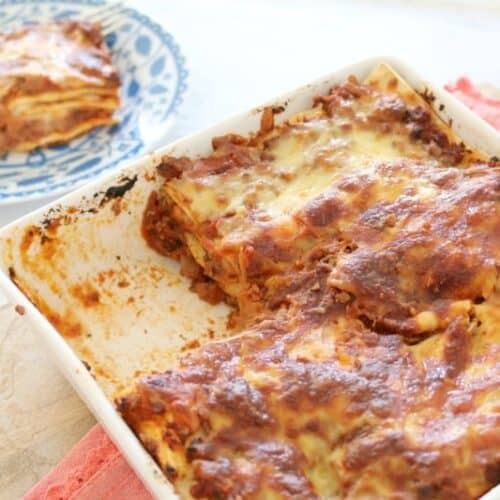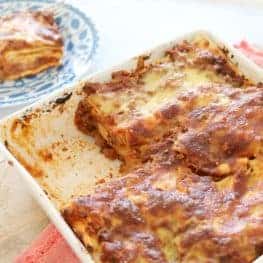 Easy Beef Lasagne - Conventional Method
Whip up this Easy Beef Lasagne in no time! Get that extra cheesy taste without having to make a bechamel sauce. A quick & no-fuss dinner!
Print
Pin
Rate
Ingredients
1

tbs

olive oil

1

clove

of garlic

crushed

1

onion

chopped

500

g

beef mince

5

tbsp

tomato paste

800

g

canned tomatoes

2

cups

beef stock

1

tsp

dried oregano

1

tsp

dried parsley

Salt and pepper to taste

200

g

mozzarella cheese

50

g

parmesan cheese

grated

1

packet fresh lasagne sheets

or dried
Instructions
Heat the olive oil in a saucepan or deep frying pan.

Add the onion and garlic, cook until soft.

Add the beef mince and cook until brown.

Stir through the tomato paste, canned tomatoes herbs and beef stock.

Season with salt and pepper.

Cover and cook gently 20 minutes, stirring occasionally.

Preheat the oven to 180 degrees celsius.

Lightly grease a baking dish.

Spoon 1/2 cup of the bolognese sauce into the bottom of the dish.

Layer with the fresh lasagne sheets and 1/4 of the mozzarella cheese.

Repeat with the meat, lasagne sheets and mozzarella until you have 4 layers, finishing with a mozzarella layer.

Sprinkle over the grated parmesan cheese.

Bake in the oven for 30-40 minutes or until cooked through.

Leave to stand for 5 minutes before serving.

*You can also add chopped zucchini and carrot into the bolognese sauce for an added vegetable boost!
Thermomix Instructions:
Follow the conventional instructions, however make the bolognese sauce as follows:
1. Chop onion & garlic at speed 7 for 5 seconds.
2. Add oil and saute for 2 minutes at 100 degrees speed 1.
3. Add crushed tomatoes, tomato paste, beef stock, salt, pepper and herbs and cook at 100 degrees for 20 minutes speed 1.
4. Add mince through the hole of the lid and mix with the aid of spatula and cook at 100 degrees for 8 minutes on Reverse – Speed soft.
Proceed as per conventional instructions.