For a Winter warmer dessert, you can't beat this super easy apple crumble! Top it with a big scoop of ice-cream for extra deliciousness! 
I have a confession to make… I have a slight addiction to apple crumble. There's just something about deliciously soft apple topped with a crunchy sweet crumble that makes me drool. Oh and of course a good scoop of ice-cream on top makes everything even better!
This is called 'Super Easy Apple Crumble' because it really is so, so simple. You can't go wrong (honestly!).
We planted a couple of apple trees a few years ago and this year we've been getting so many apples off them. It's been like apple heaven in our house lately. I'm talking apple pies, apple and berry teacake, apple and sour cream slice, apple crumble muffins, apple and almond teacake, and of course this super easy apple crumble… apple heaven I tell you!
And because we've got apples everywhere, I've started stewing and freezing them. Good gracious me! Who would have thought you could have too many apples…. well apparently you can!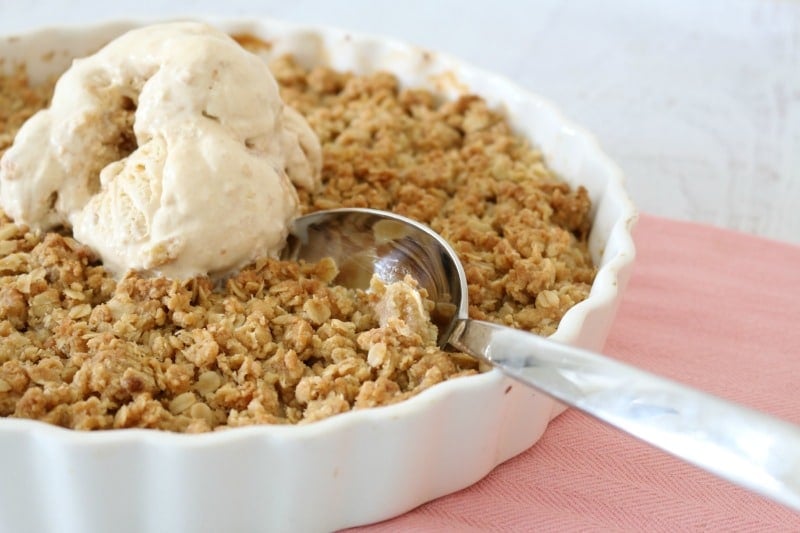 The key to a really good apple crumble is to have the perfect crumble topping. I find some to be too floury or not crunchy enough. This one is so delicious and you'll get that gorgeous crumbly crunch!
Now to make this crumble even better, I topped it with the yummiest caramel toffee ice-cream. Holy moly it was good. For me, ice-cream is the only thing to put on top of apple crumble. I know lots of people love cream or custard.. and hey, it's a personal choice. Go with whatever topping tickles your fancy! But no-one will be taking my caramel toffee ice-cream away from me!
OMG I told you… look at that caramel toffee ice-cream melting all over the plate. Pure sugary perfection, right!?
What winter warmer desserts are you loving at the moment? Are you an apple crumble fan too?
Super Easy Apple Crumble
For a Winter warmer dessert, you can't beat this super easy apple crumble! Top it with a big scoop of ice-cream for extra deliciousness!
Super Easy Apple Crumble Thermomix Instructions:
1. Preheat oven to 200 degrees celsius (180 if using fan-forced).
2. Grease a oven-proof baking dish with butter and set aside.
3. Place peeled and sliced apples into the TM bowl. Add water, sugar, cinnamon, nutmeg and lemon juice. Cook for 5 minutes, 90 degrees on Reverse, Speed 1.
4. Drain the excess liquid from the apples and place into the prepared baking dish.
5. Rinse and dry the TM bowl.
6. Place the oats, flour, butter and sugar into the TM bowl. Press Turbo a few times until you have achieved a consistent crumble mixture (and all of the dry ingredients have been completely combined with the butter.
7. Sprinkle the crumble over the apple and place into the preheated oven.
8. Cook for 35-40 minutes or until the crumble is golden and crunchy.
9. Serve immediately with ice-cream, custard or cream.