A rich and delicious Chilli Con Carne cooked in the slow cooker. Serve with grated cheese, sour cream and chopped spring onions for a yummy winter warmer!
You know how I was telling you a few weeks ago that I was planning to use my slow cooker more this year. Well I have been! And it's been great. I love how simple it is to throw everything in, leave it… and that's it! You just give it the occasionally stir and after a few hours you have the yummiest dinner ready. Seriously, slow cookers are magic. They take your ingredients and make it into something delicious. this Slow Cooker Chilli Con Carne is no fuss, no hassle, too easy!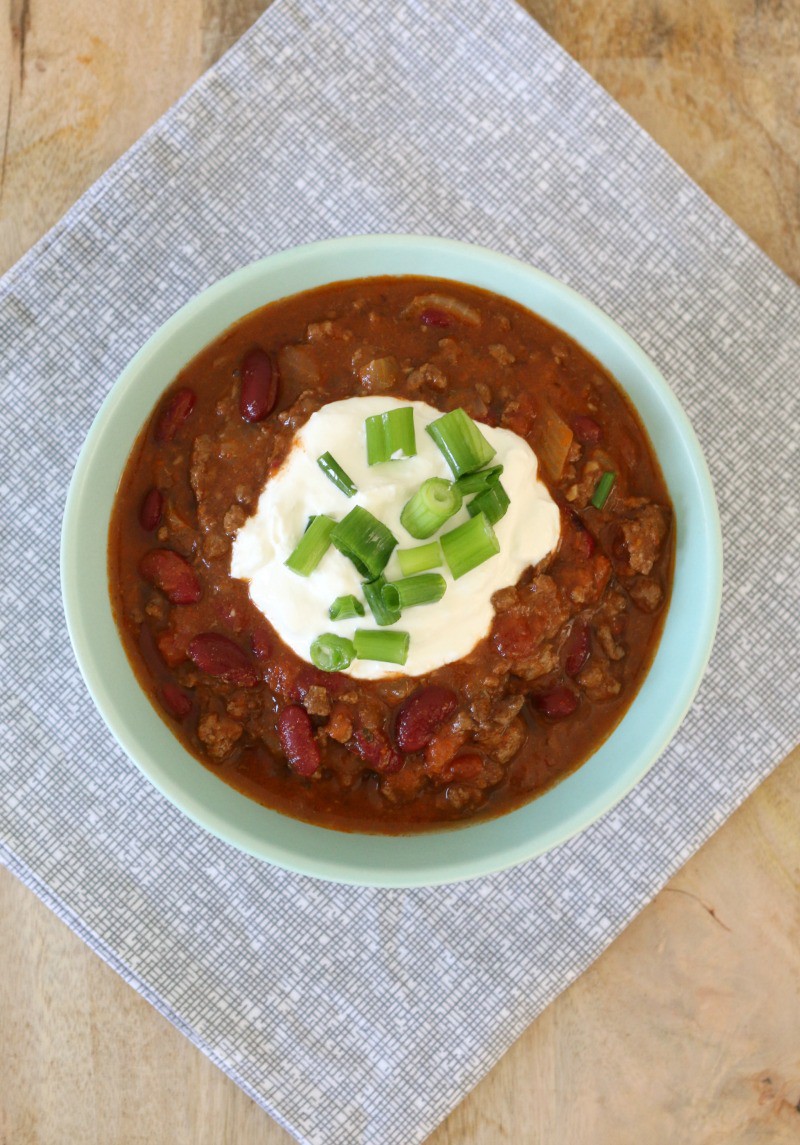 Anyway, I made a batch of chilli con carne in the slow cooker and it turned out so insanely yummy that I just had to share the recipe. Chilli con carne is yummy when it's cooked on the stovetop or in the Thermomix, but when you cook it in the slow cooker… OMG! Flavour overload! It's like all of the flavours just sit there and develop over the day and then end up being the most fabulous little combination ever.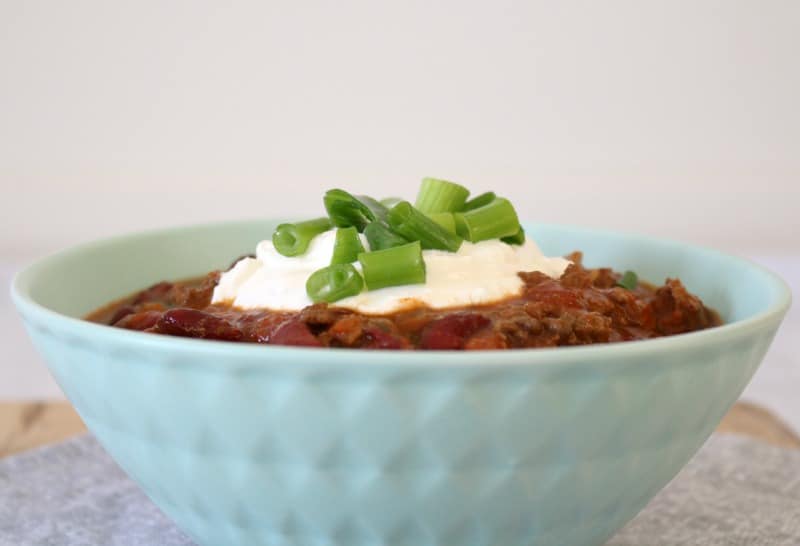 I like to serve my chilli con carne with grated cheese, sour cream and chopped spring onions. The chilli is such a beautiful rich flavour that it needs something on top to lighten it up – which is where those yummy toppings come in! You can also serve it with tortilla chips, but for a lighter option, I like to just pop a wrap into a frying pan over medium heat, cook it on both sides and then break it into pieces. You don't need any oil, so it's a much healthier option than corn chips (although they're super yum and I totally get it if you want to dunk a few in!).
Oooh and one more thing. This chilli con carne is a mild-medium hotness. Add in more or less chilli powder depending on how hot you can handle it! Don't put too much in to start off with because it really does develop as it cooks and you don't want to be getting the sweats up all of a sudden.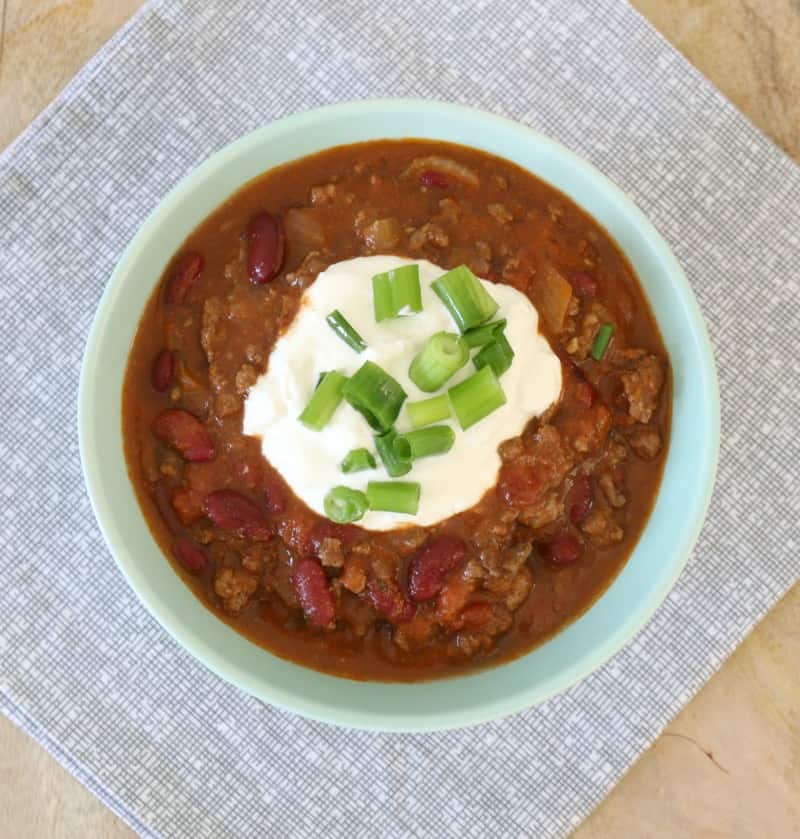 It's a great idea to make a big batch of slow cooker chilli con carne because it tastes even better the next day. Yep, you don't think it can get better, but it really does!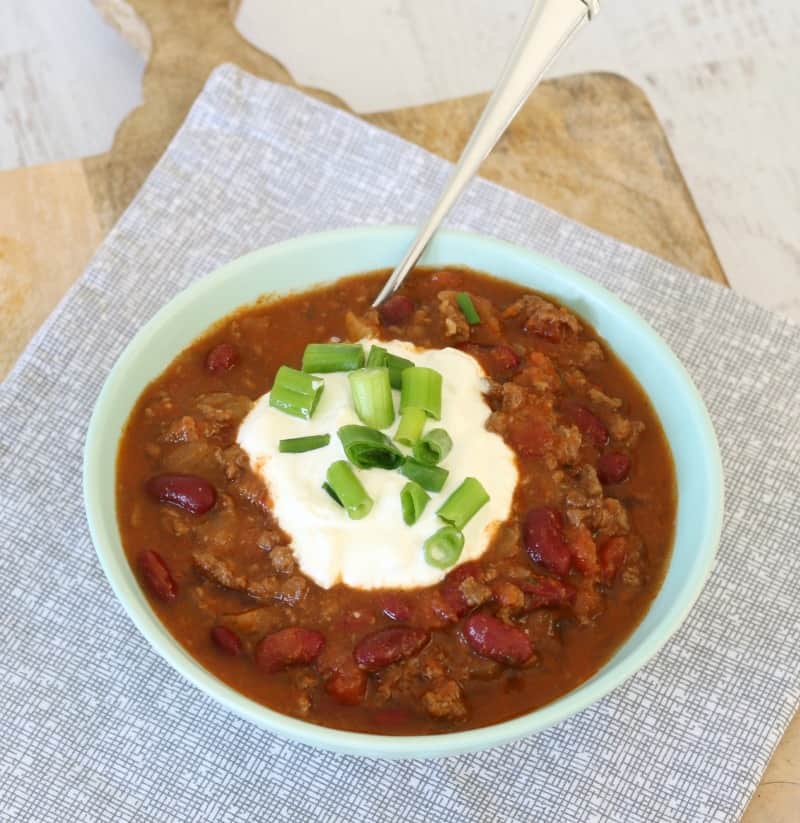 Have you been using your slow cooker too? What sort of things have you been making in it? Tell me… tell me… tell me!!!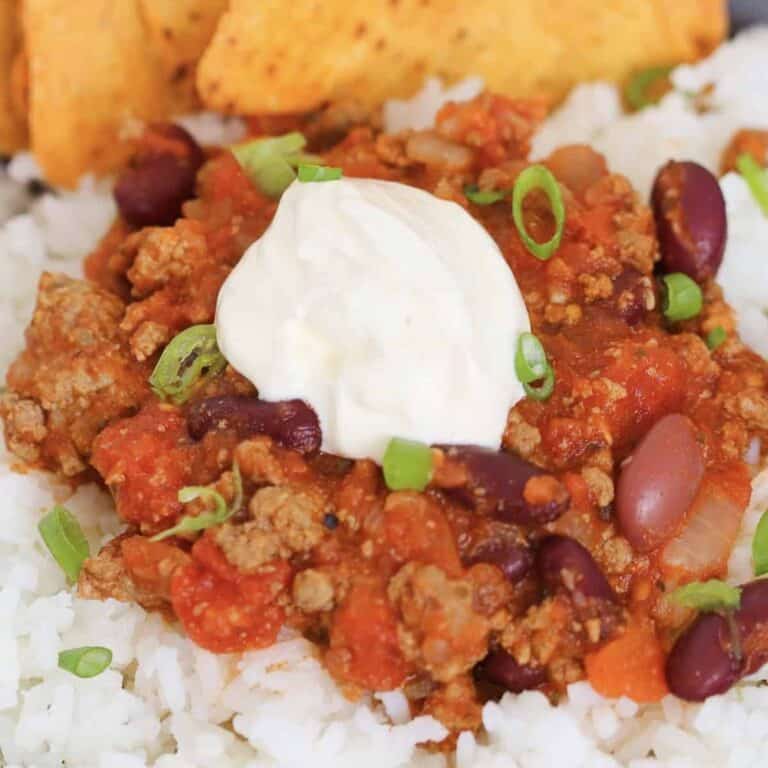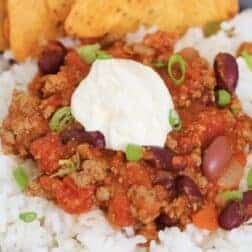 Slow Cooker Chilli Con Carne
A healthy and family-friendly Mexican Slow Cooker Chilli Con Carne recipe made with beef, beans and tomato and served with rice, corn chips, sour cream and spring onions.
Print
Pin
Rate
Ingredients
500

g

beef mince

1

onion

diced

2

tsp

minced garlic

2

tsp

cumin

2

tsp

oregano

1

tbs

chilli powder

see notes

2

tsp

paprika

800

g

diced tomatoes

400

g

kidney beans

rinsed and drained

1

tsp

caster sugar

2

tbs

tomato paste

1

cup (250ml)

beef stock

rice, sour cream, corn chips, grated cheese and chopped spring onions

to serve
Instructions
Saute the beef and onion in a frying pan or in a searing slow cooker until browned. Add to the slow cooker.

Add the garlic, cumin, oregano, chilli powder, paprika, diced tomatoes, kidney beans, caster sugar, tomato paste and beef stock. Stir.

Cook on low heat for 6-7 hours or on high heat for 4-5 hours.

Taste the chilli with approximately an hour to go and add extra chilli if you feel it needs it (see notes).

Serve with rice, corn chips, grated cheese, sour cream and chopped spring onions.
Notes
RECIPE NOTES & TIPS
Family-Friendly Option:
If everyone in your family loves chilli then go for it – you might even add more to suit your taste!
But if someone (or everyone!) in your family doesn't like the taste of chilli, follow these tips: 
only add a tiny amount of chilli for a subtle flavour (ie. 1 tsp instead of 1 tbs). This is a great option for those who don't mind a teensy bit of extra flavour.
omit the chilli altogether (great option for young kids!) – this is what I currently do! We have a 4 year old and I omit the chilli entirely during cooking and then stir some through my husband and my bowls when serving. The chilli con carne without any chilli is still PACKED full of flavour and is completely kid-friendly.
Searing the beef - searing the beef before cooking adds an incredible amount of flavour to the dish and begins to caramelises the surface of the beef, giving it a much yummier texture and flavour.
Serving suggestions - serve with white rice, corn chips, sour cream and spring onions. Grated cheese and slices of avocado are delicious too.
Leftover chilli con carne - This recipe is PERFECT for leftovers – serve them in tacos, make nachos, make it into Mexican lasagne, have loaded baked potatoes, pour over sweet potato fries, make quesadillas or burritos… the list is endless!
Storing - Chilli con carne can be stored in the fridge in an airtight container for up to 2 days.
Freezing - It can be frozen in an airtight container for up to 3 months.
Nutrition
Calories:
356
kcal
|
Carbohydrates:
27
g
|
Protein:
24
g
|
Fat:
18
g
|
Saturated Fat:
7
g
|
Cholesterol:
59
mg
|
Sodium:
296
mg
|
Potassium:
1035
mg
|
Fiber:
8
g
|
Sugar:
6
g
|
Vitamin A:
1020
IU
|
Vitamin C:
16.3
mg
|
Calcium:
108
mg
|
Iron:
6.2
mg