Rich and delicious Slow Cooker Pulled Pork Burgers – the perfect comfort food! Serve with an Asian slaw for the ultimate dinner.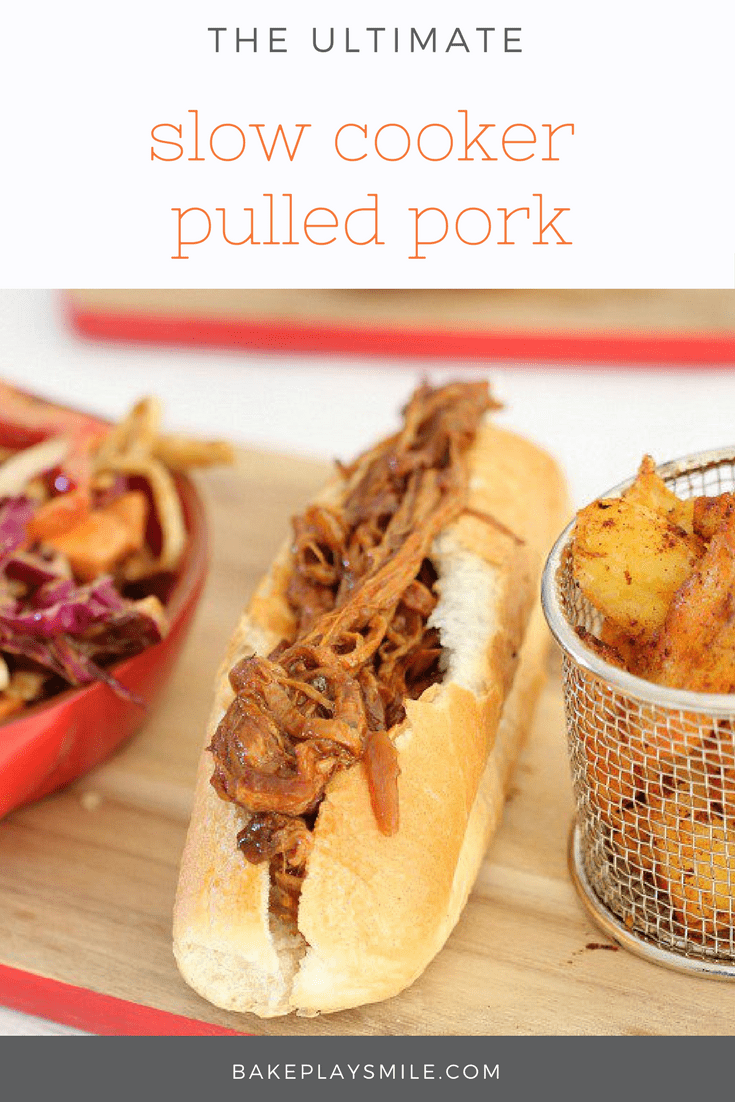 Hi there!! How's life treating you this week? Everything is great (but buussssy here). Mind you, everyone's always busy nowadays, right!? Anyway, I wish I could take credit for todays recipe – geez I wish I could. But nope, this one is all thanks to my hubby.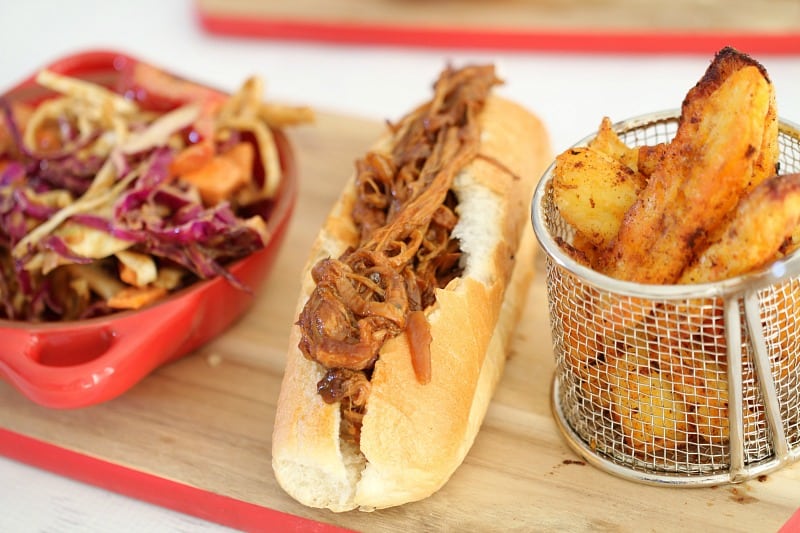 You see, I LOVE baking. Ask me to make a cake, a slice, some biscuits, or a dessert, and I'm literally like a pig in mud. But ask me to make dinner and I'm all like 'Why?…. Why?…. Oh why do we have to cook dinner every single night!!??'. I'm not the greatest fan of cooking dinner (which is pretty much why we eat a lot of frittatas, sushi, quick pastas etc).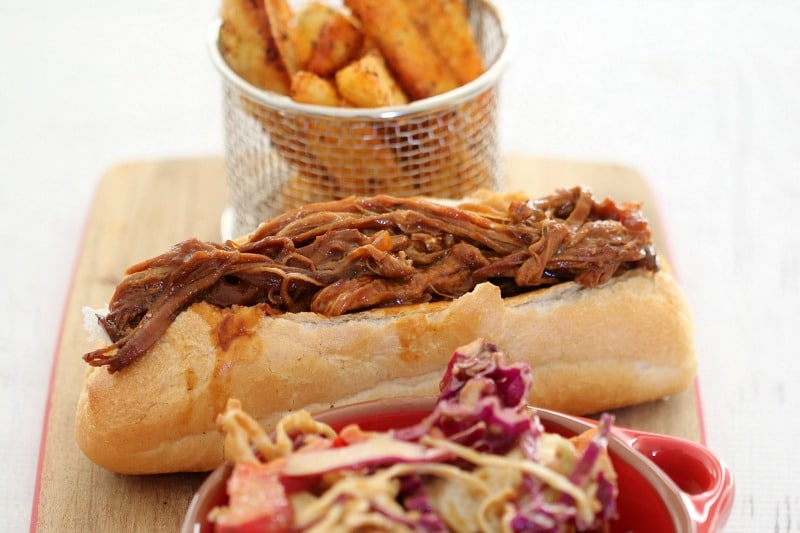 Dave on the other hand, is an absolute kick-ass savoury cook. When I first met him (which was 13 years ago!!), he would cook me dinner on a Friday night and he would always make either lamb wraps or ravioli with store-bought pasta sauce. They were literally the only two meals he could make. Thank goodness over the years he's pretty much completely changed into quite the MasterChef (and he's going to kill me for saying all of this!!).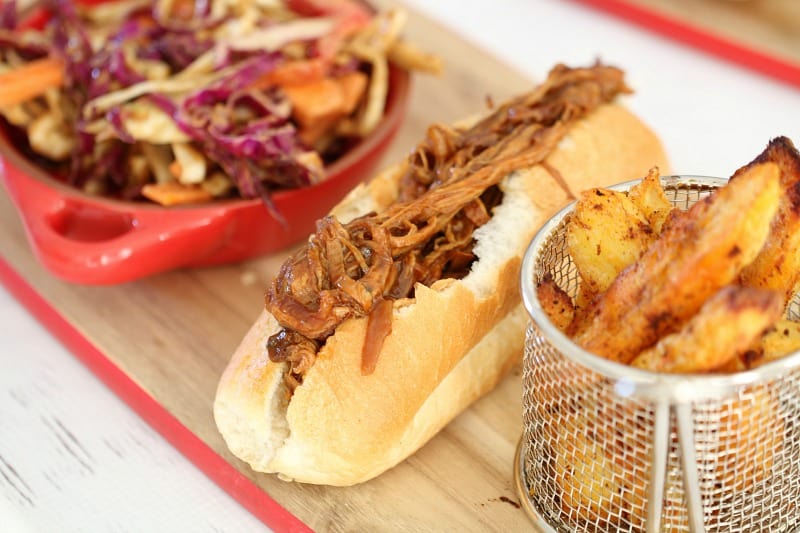 On the weekends, Dave is our kitchen-whizz. He's the total opposite of me when he cooks. He takes his time, is really particular… and makes the HUGEST FREAKING MESS EVER. But that's a whole other battle I'm not even going to tackle. I just love that he cooks me dinner.
These Slow Cooker Pulled Pork Burgers are a favourite of his to make. I always get excited when I see him whip out the slow cooker on a Saturday or Sunday morning – because there's a fair chance these yummy burgers are happening. The pulled pork has the most amazingly sweet sauce… and the meat literally falls apart in your mouth. Amazing!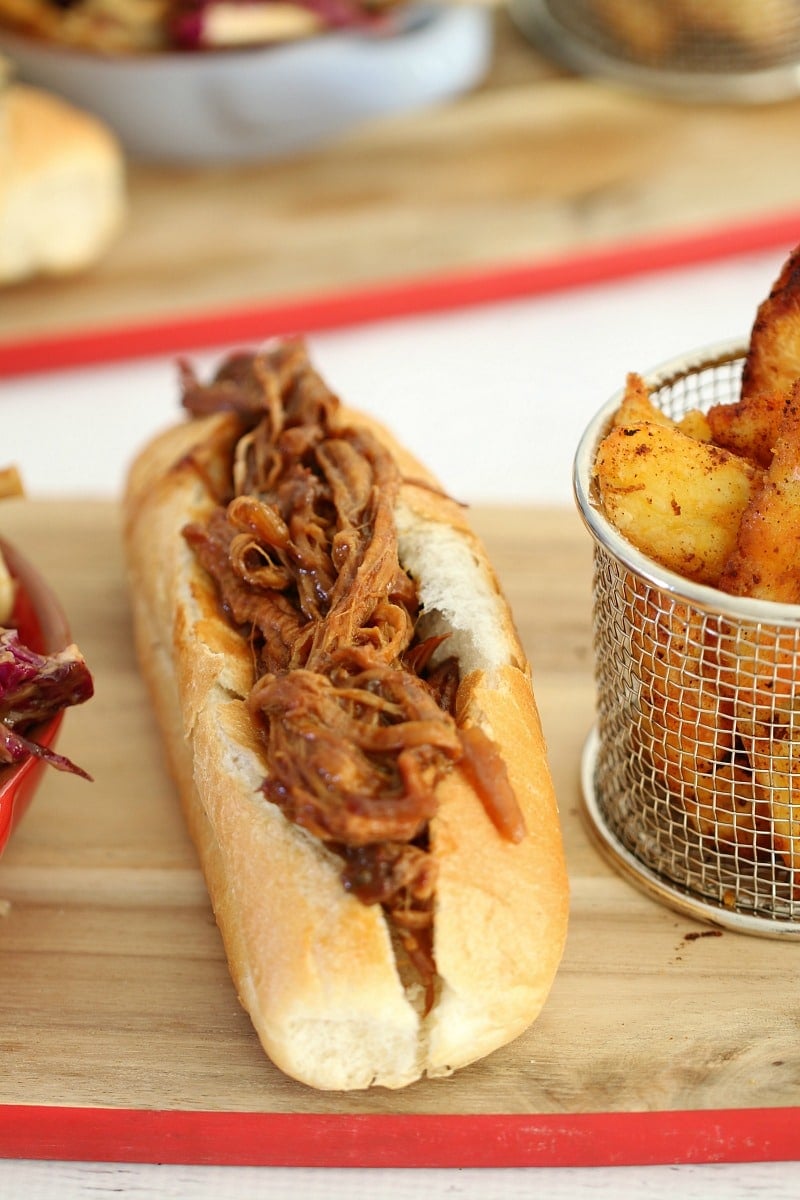 Dave usually serves these on toasted burgers or rolls with the BEST Asian slaw you'll ever eat (a must-make). Oh and because he's not the slightest bit fussed about carbs, there's generally crispy potatoes on the side too. You can see why I love it when he cooks, right!? I definitely married well!
And so there you have it – Dave's Slow Cooker Pulled Pork Burgers! You absolutely MUST make these. Or better yet, get your hubby or kids to make it for you.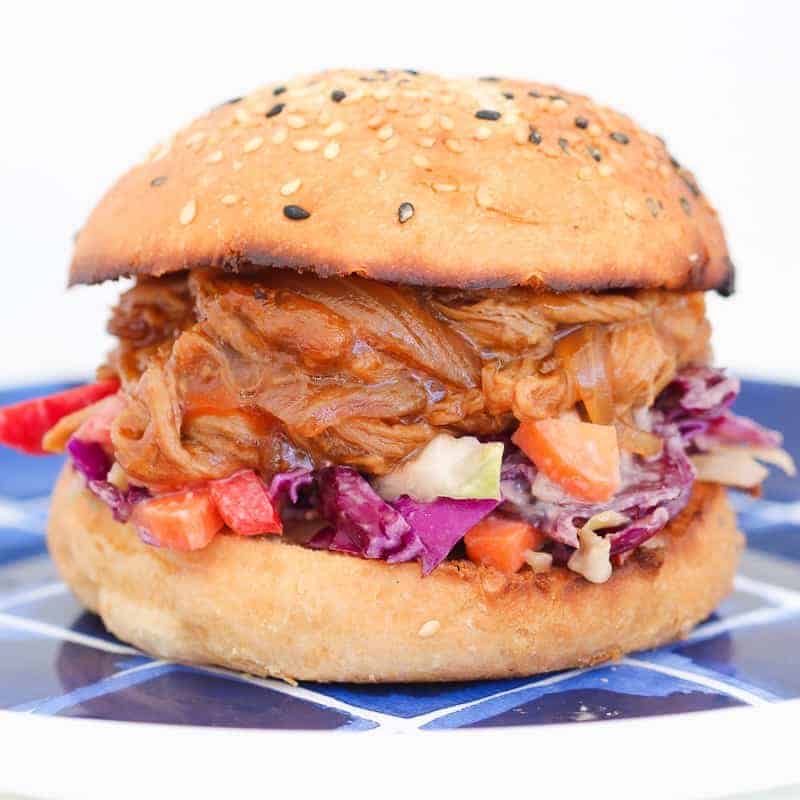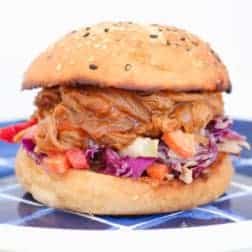 Slow Cooker Pulled Pork
A step by step guide to making deliciously sweet and juicy slow cooker pulled pork that's perfect for burgers, tacos and salads. 
Print
Pin
Rate
Total Time:
4
hours
10
minutes
Ingredients
500

g

pork fillet

see notes

1

brown onion

chopped

1

garlic clove

or 1 tsp minced garlic, minced

1

cup

BBQ sauce

1/2

cup

apple cider vinegar

1/2

cup

chicken stock

1/4

cup

brown sugar

1

tbs

mustard

American

1

tbs

Worcestershire sauce
Instructions
Place the pork fillet into the base of a slow cooker (or crock pot).

Sprinkle the chopped onion over the top.

In a bowl, whisk together the minced garlic, BBQ sauce, apple cider vinegar, chicken stock, brown sugar, mustard and Worcestershire sauce.

Pour over the pork fillet.

Cook on HIGH for 4-5 hours or LOW for 7-8 hours.

Use two forks to shred the pork fillet (it should come apart easily).

Stir the pork through the sauce and allow to cook for a further 20 minutes.

Serve with burger rolls and coleslaw, in tacos or salads.
Notes
RECIPE TIPS Cut of pork - I recommend using a pork tenderloin/pork fillet for this recipe. You can also use a pork shoulder (which is a fattier cut of meat), but you may need to increase the cooking time depending on the weight as it's a much thicker cut of pork.  Cooking time - Cook the pork and sauce in a slow cooker on LOW for 7-8 hours or HIGH for 4-5 hours. Shredding the meat - By the end of the cooking time, the meat will be so tender that it will be easy to pull apart with 2 forks.  Thickening the sauce (optional) - If you find that your sauce is still a little too liquidy at the end of the cooking time, simply dissolve 1 tbs of cornflour in a small amount of cold water and then stir it through the sauce in the slow cooker. Storing pulled pork - Allow the cooked pork to cool before placing into the fridge. Use within 1-2 days or freeze for up to 3 months. 
Nutrition
Calories:
180
kcal
|
Carbohydrates:
24
g
|
Protein:
14
g
|
Fat:
3
g
|
Saturated Fat:
1
g
|
Cholesterol:
41
mg
|
Sodium:
466
mg
|
Potassium:
401
mg
|
Fiber:
1
g
|
Sugar:
20
g
|
Vitamin A:
80
IU
|
Vitamin C:
1.7
mg
|
Calcium:
27
mg
|
Iron:
1.1
mg