The ultimate collection of 15 Classic & Traditional Slice Recipes. From caramel slice to jelly slice, hedgehog slice to peppermint slice… and so much more! There really is something for everyone.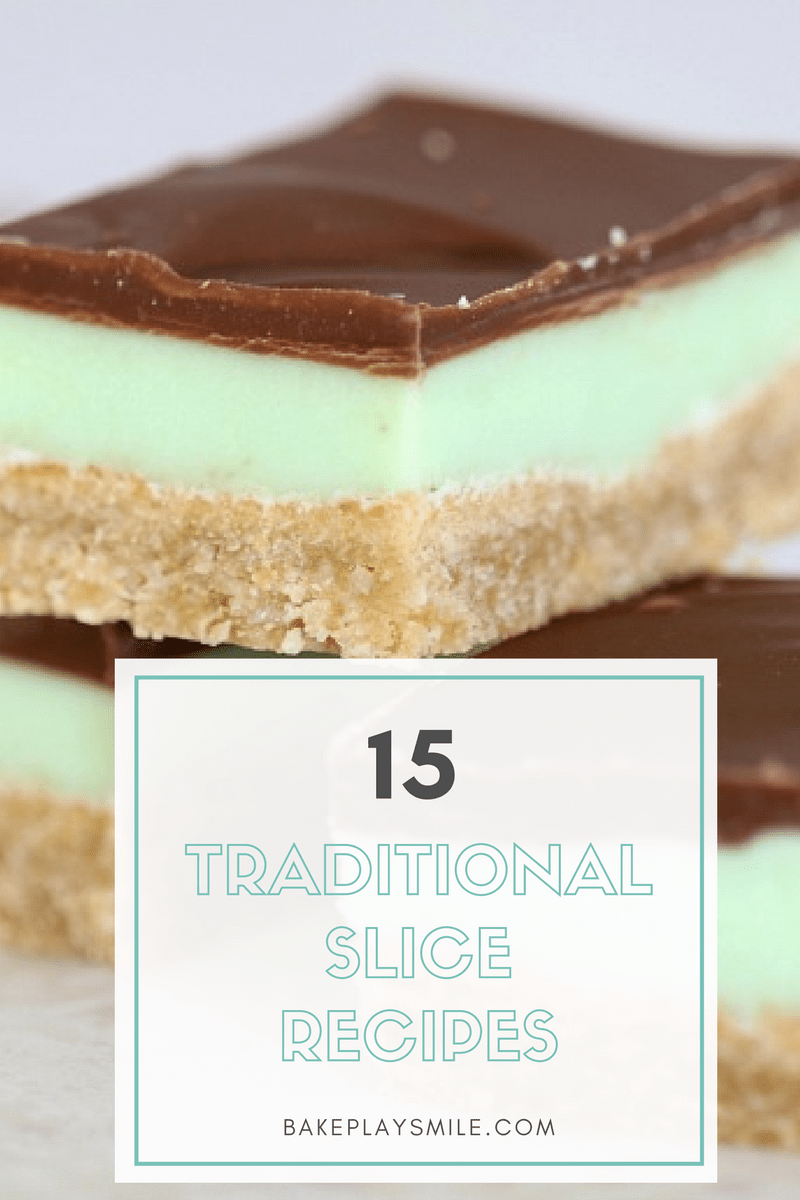 If you've been reading my blog for a little while, you'll know that I'm a little bit (umm… ok, majorly!!!) obsessed with slices. I love no-bake slices, chocolate slices, easy slices… if there's a slice out there, I like it – a lot! And so, I thought it was about time that I put together a collection of my very favourite traditional slice recipes. Yep, these are those all-time favourites that never, ever get old. They're the ones that your grandma used to make… and your own kids still love them. These recipes have certainly stood the test of sugar-filled time! So let's check them out…
15 Classic & Traditional Slice Recipes
Chocolate Peppermint Slice
This is the ultimate classic peppermint slice recipe! Three layers of total and utter deliciousness…


Chocolate Caramel Slice
This is an absolute favourite of mine! Think of the caramel slice you buy at your local bakery… but a zillion times better!

Cherry Ripe Slice
If you are a fan of Cherry Ripe bars, you're going to go crazy for this simple no-bake slice!


Hedgehog Slice
OMG OMG!! This is one of my favourite slices ever!!! A must-make! Just melt and mix… and that's it!


Chocolate Coconut Slice
This is by far one of the most popular recipes on Bake Play Smile! It's quick, easy and a total hit with the whole family!


Apple & Sour Cream Slice
This is the perfect slice for anyone who doesn't particularly like super sweet slices. The sour cream balances it out, making it a totally yummy slice.


Lemon & Coconut Slice
Say hello to this gorgeous slice (which also happens to be my husbands all-time favourite slice!). No-bake, simple and totally, utterly AMAZING!!!!


Coconut Jam Slice
This slice reminds me of my primary school fetes growing up! It's jammy, coconut-y and oh-so-good!


Licorice Allsort Slice
This super easy slice is my Mum's favourite!!!! And even if you don't particularly like licorice… you're going to LOVE this slice!!


Lemon & Date Slice
If you're after a classic slice and traditional slice recipe… this is it!!!! A tangy lemon icing over the most delicious date slice. Talk about yum!


Jelly Slice
Who can resist a piece of jelly slice??? Certainly not me!!! Make this slice… and then keep it ALL to yourself!


Mars Bar Slice
Say hello to this all-time favourite! Mars Bar Slice is always a winner… hands-down!


Muesli Slice
The BEST Muesli Slice ever!!!! Soft… chewy… insanely delicious!!!


Apricot Coconut Slice
The quickest… easiest slice ever! Perfect with a cup of tea – this slice is drool-worthy!


Coconut Ice
A school fete classic! Coconut ice is sure to be an absolute hit!

So tell me… what's your favourite slice? Was it one of these traditional slice recipes or something a little bit different!? High fives all round for deliciously yummy slices!!!!
For more easy slice recipes, check out our NO-BAKE BARS & SLICES EBOOK packed with 17 of our most popular recipes (available in both conventional and Thermomix versions) for just $10.00.
Get the eBook via instant download and then save to your computer, tablet, phone or iBooks. If you'd prefer a hard copy, all of our eBooks print to an easy-to-read A4 size.
Shop the conventional version here or the Thermomix version here.