Browse all of the most popular beef mince recipes - budget-friendly, healthy, easy and delicious dinners that the whole family will love.
From cottage pie to chow mein, burgers to bolognese, tacos to chilli beef and so much more, there's a beef mince recipe here to suit every taste and budget.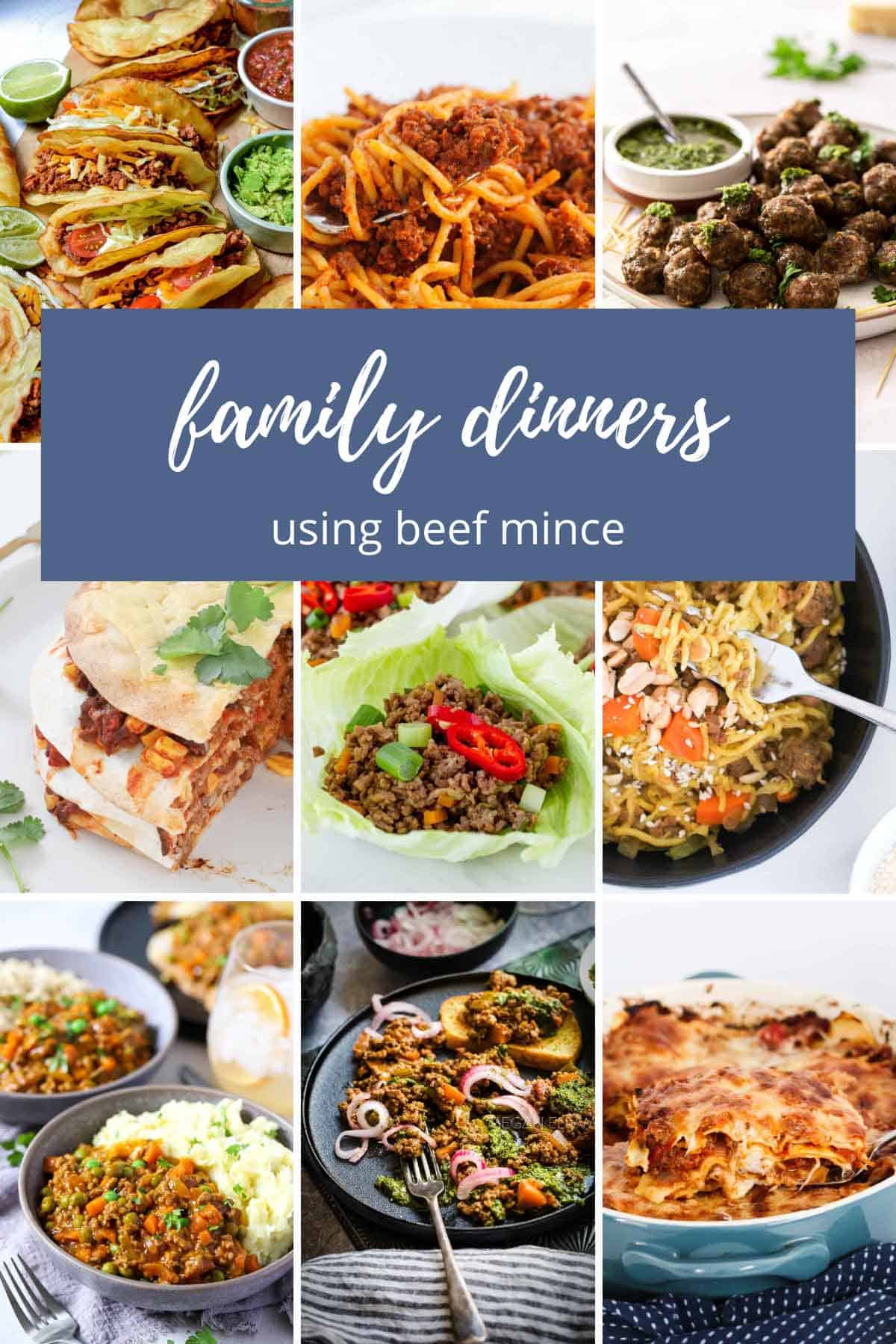 When it comes to quick and easy midweek dinners, you can't go past a simple favourite favourite made using beef mince - AND it makes a very economical meal too!
Beef mince is such a versatile meat, making it perfect for everything from grilled hamburgers to oven-baked lasagnes, slow cooked spaghetti bolognese to classic savoury mince and more.
Why You're Going To Love These Beef Mince Recipes
These simple family dinners are all-time favourites! Here's why they're so popular:
Quick & easy - most of these dinners will be on the table in just 30 minutes!
Simple to prepare - no-fuss, kid-friendly recipes that require little to no fancy equipment.
Healthy & nutritious - beef mince is a good source of protein, zinc, B Vitamins and iron.
Budget-friendly - beef mince is one of the cheapest meats available to buy. It can be bulked out with lots of vegetables or pasta, giving you even extra bang for your buck!
Versatile - from burgers to noodles, lasagne to chilli con carne, spaghetti bolognese to sausage rolls... and countless more - beef mince is always a handy item to have in the fridge.
What You Can Make With Beef Mince
The number of delicious ways you can use beef mince in your recipes is quite literally endless!
It's such a versatile meat that can be used in a huge variety of dishes, and the texture of beef mince makes it perfect for the whole family to enjoy (toddlers too!).
Some of my favourite ways to use beef mince is in savoury mince, tacos, meatballs, koftas, lettuce cups... and of course burgers, pasta and lasagne.
Browse my collection of the very best recipes using beef mince.
Full of veggies and the kids love it! This budget friendly recipe has everything to appeal - quick to make, filling and tasty, just perfect for when you want a winner dinner!
The Mexican flavours are just so good! Full of tortillas, cheese and mince with just the right amount of spice, serve this with sour cream and sliced avocado for a real Mexican twist.
The perfect 'fake-away' dinner for footy nights, get the kids involved to build their own burger. Filled with salad, crispy bacon and a grilled beef patty - dinner couldn't be simpler or more delicious!
A rich flavour-packed sauce combined with comforting and filling pasta. Don't rush this one.....the longer you let the sauce simmer, the more the flavours develop into the best 'spag bol' you've ever eaten!
This simple cottage pie is perfect for feeding hungry families on busy weeknights! Especially for fussy eaters, this recipe easily transforms 'meat & veggies' into an epic, cheese topped pie.
Slow cooker meals are always on high rotation over wintery days at my house, and with the comforting smell wafting around, and a simple 'hands-free' meal, this Chilli Con Carne is always a favourite. Make extra to freeze for a quick reheat.
Whether it's for a kids (or adults!) party, a tasty snack, or an simple light dinner, these classic beef sausage rolls are so quick and easy to bake, and you can be guaranteed, everyone loves flaky golden pastry sausage rolls!
Yes, it's true! Made with beef mince, onion, pickles and cheese, served on top of crunchy lettuce with a creamy Big Mac style sauce poured over the top! Just like a Big Mac but healhier - have it on the table in 35 minutes....
The easiest, cheapest midweek family dinner! Serve with your choice of vegetables or salad... plus lots of tomato sauce!
This is a simpler version than the traditional one that requires bechamel sauce, but just as tasty, being loaded with layers of mince, cheese, and a rich tomato base. A firm family favourite, make extra to freeze for lunches too.
An incredible easy Savoury Mince recipe that the whole family will love. Simple, quick and low in carbs. The perfect healthy weeknight dinner ready in under 30 minutes! It's absolutely delicious!
Deliciously cheesy and packed with veggies, this beef, spinach and ricotta lasagne is a firm family favourite.
Homemade taco meat with a simple homemade seasoning, loaded into crispy homemade taco shells.
These delicious oven Baked Beef Meatballs are flavour-packed, simple to prepare and ideal to serve with so many dishes!
Beef Lettuce Wraps are the perfect weeknight meal. Made in less than 30 minutes, these beef mince lettuce cups are packed full of yummy flavour and will be a hit with your family. You can also prepare the mince ahead of time.
Rich, cosy and comforting, this old-fashioned savoury mince is Aussie comfort food at its finest! It is the perfect meal for busy nights; easy to batch cook and freeze, super versatile and ready in around 20 minutes.
Along with being an easy dinner, these Beef Koftas are also perfect for the kids lunch boxes or popped into a thermos if your kids would prefer to eat them warm.
FAQ's
All your beef mince related questions answered!
More Family Dinner Recipes
I'm all for quick, easy and delicious dinners that the whole family will love!
Here's some of the most popular dinners in our house...
WANT EVEN MORE DELICIOUS RECIPES? Subscribe to my newsletter or follow along on Facebook or Instagram. And if you love baking, then please come and join my Facebook cooking club group or subscribe to my YouTube channel.