I'm sure by now you know that I am a total and utter chocoholic. In fact, you could say that chocolate is my middle name (actually it's Elizabeth, but chocolate sounds kinda cool too!). Anyway, if there's one thing I've made a LOT of over the years, it's chocolate ganache. Not only does it make for one fabulous little icing on a cake, it's also the perfect thing to drizzle over a decadent dessert, sandwich between cookies or act as the best ever companion to a caramel treat!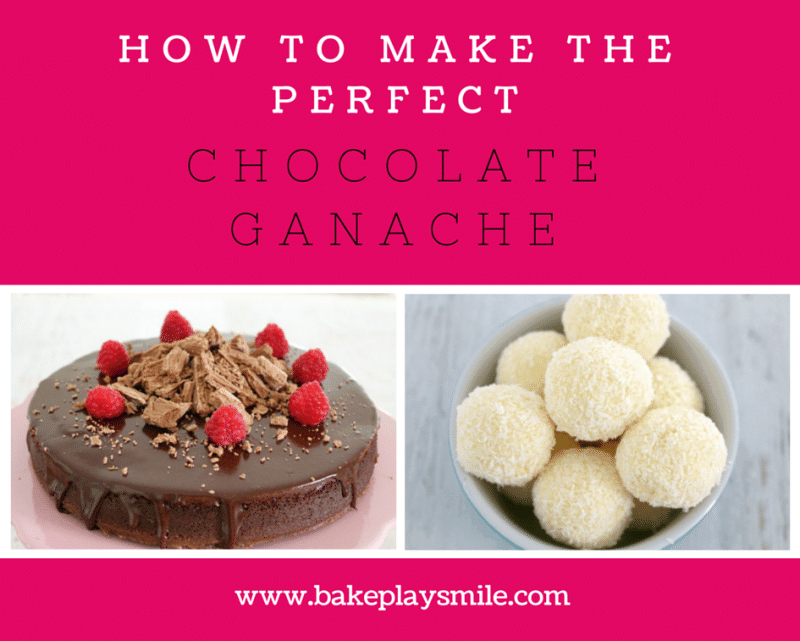 Chocolate ganache is one super versatile recipe to have in your chefs toolbox. The best thing about chocolate ganache is you only need two ingredients. Yep… 2! Chocolate and cream. Easy-peasy!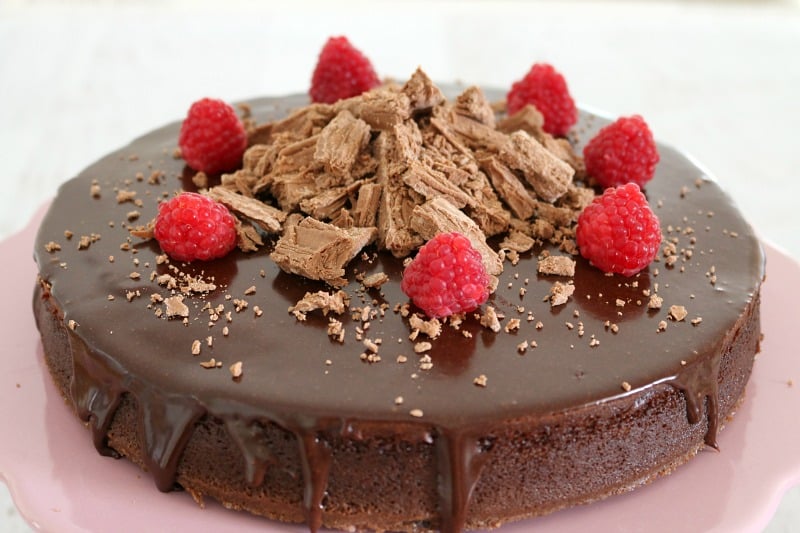 Recipe: Super Easy 3 Ingredient Flourless Chocolate Cake
Ganache can be thin and glossy or whipped and creamy. It all depends on your ratio of chocolate vs cream. 
For a thick ganache to be used over a cake or between cake layers, use equal parts chocolate and cream (1:1)
For chocolate truffles use two parts chocolate to one part cream (2:1)
For a glossy glaze that is pourable, use one part chocolate to two parts cream (1:2)
There are two different methods for making chocolate ganache:
Chocolate Ganache Method 1: 
1. Chop dark chocolate.
2. Place dark chocolate into a small saucepan with the cream.
3. Heat over over low heat.
4. Stir continuously until melted and glossy.
5. Leave to cool slightly and then place into the fridge to cool.
Chocolate Ganache Method 2:
1. Chop or grate chocolate very finely and place into a bowl.
2. Bring the cream gently to a gentle simmer/just below the boil (only just) and then remove from the heat and pour over the chocolate).
3. Stir until the chocolate is completely covered by the cream, leave it for 15 seconds to melt and then stir until all of the chocolate has completely melted and you have a smooth consistency.
Whipped, Glazed or Truffles?
for a chocolate glaze, pour the still-warm ganache over the cake (but make sure the cake has cooled completely)
for a whipped ganache that you can use to ice a cake with, allow it to cool and then beat with a handheld or stand mixer for 2 minutes or until it is light and fluffy (this is also perfect for using with layer cakes)
for chocolate truffles, place the ganache into the fridge. Stir it every 5 minutes so that it sets nice and evenly. As soon as it starts to stiffen, remove from the fridge and roll into truffle balls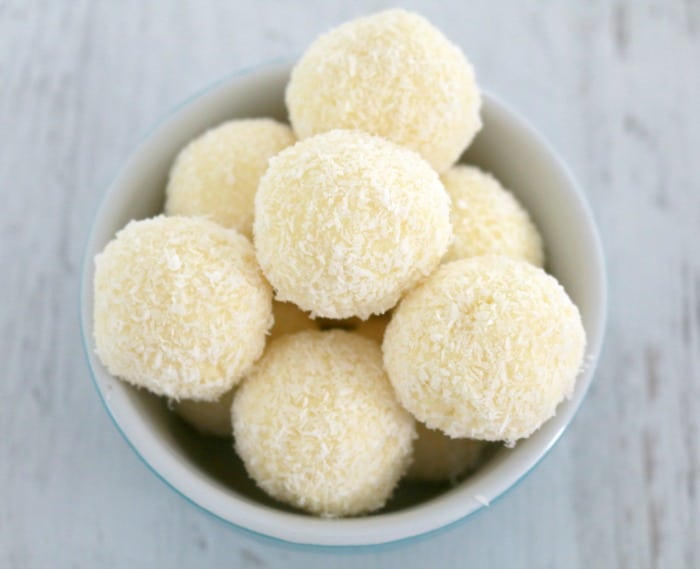 Recipe: Lemon & White Chocolate Truffles
Extra tips and tricks for making the perfect chocolate ganache
While it's super simple to make ganache, there are a few extra tricks to getting it just right:
use couverture chocolate (if this isn't possible – go for a good quality chocolate)
chop your chocolate into very small pieces (or grate it) so that it will melt evenly
you don't need to boil the cream, simply bring it to a low simmer/just below the boil
the better quality the cream and the chocolate you use, the better your ganache will be
So there you have it – my tips for the perfect chocolate ganache! If you're after Thermomix chocolate ganache tips, check out this post on ThermoBliss.
What other topics would you like to see covered in Baking 101? What kitchen nightmares are stumping you at the moment?