I must say that I'm definitely a dip kinda gal. I'm not even too fussy when it comes to the flavour either – I'm just as happy with a cashew, feta and capsicum dip as I am with a tzatziki. But my number one favourite dip in the whole wide world, also just happens to be the easiest one ever. Yep, it's a good old simple hummus dip that I love the most.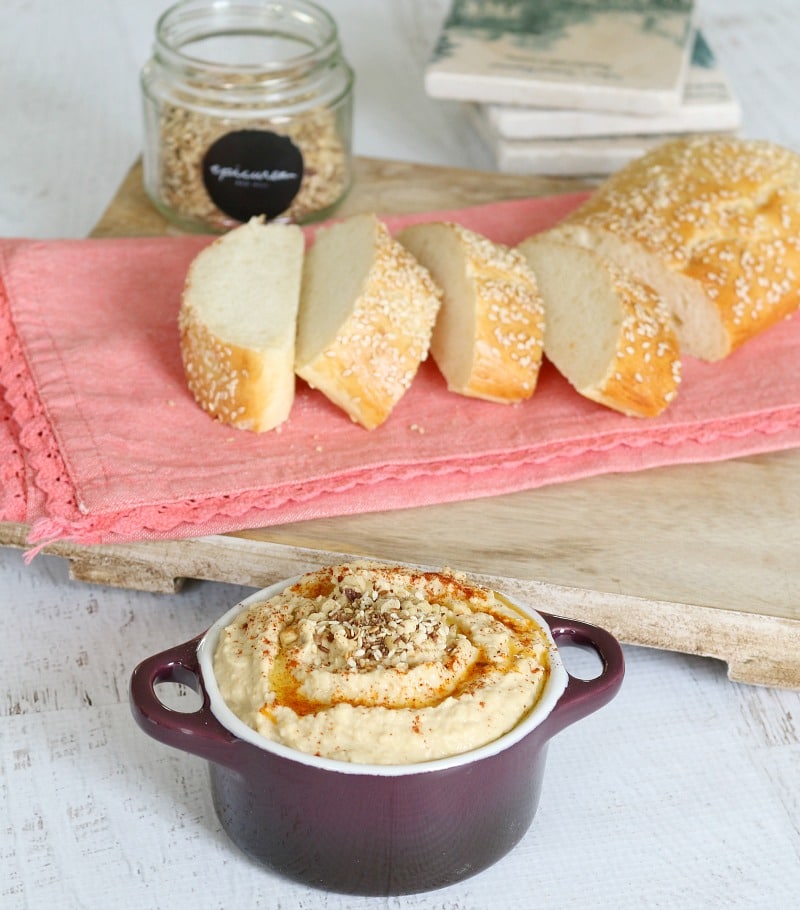 I know that sometimes it's just easier to go to the supermarket and buy a dip (trust me… I totally get it). But making your own dips is a huge money saver. Plus you don't have any of those crappy additives – urgh what even are all those numbers?? This perfectly simple hummus dip will take you less than five minutes to whip up. Seriously, that's way less time than it would take to drive to the supermarket, find a park, grab the dip, talk to 10 people (because we all know that always happens!), line up, pay, find the car and drive home. Much, much quicker and easier to make your own.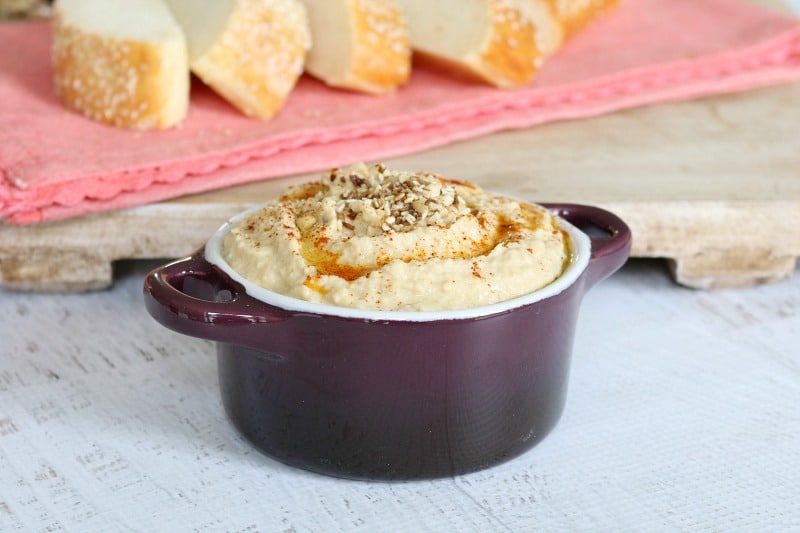 I love this hummus dip because nearly all of the ingredients are pantry staples… oh and you only need 6 ingredients. Yep, this yummy little dip only needs a little bit of garlic (I usually just use the minced garlic in the jar), a can of chickpeas, some tahini, lemon juice, olive oil and sea salt. That. Is. It. The only things in there that you may not have at home already are the chickpeas and the tahini. Well, the chickpeas cost about $1.00 for a can… seriously cheap! And tahini lasts for ages in the fridge – so buy a jar and you'll be able to use it over and over again.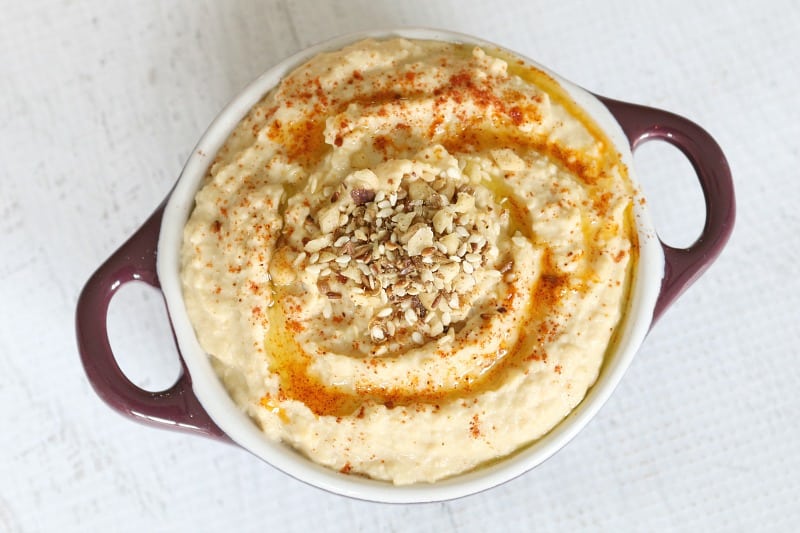 This batch makes a nice big dip. Definitely enough to serve lots of hungry people! It probably makes about 3 times as much as a hummus dip from the supermarket… and it's going to cost you less than half the price of just one store-bought dip. That my friends, is good value (which totally means that you can go and buy some shoes in the end of financial year sales!).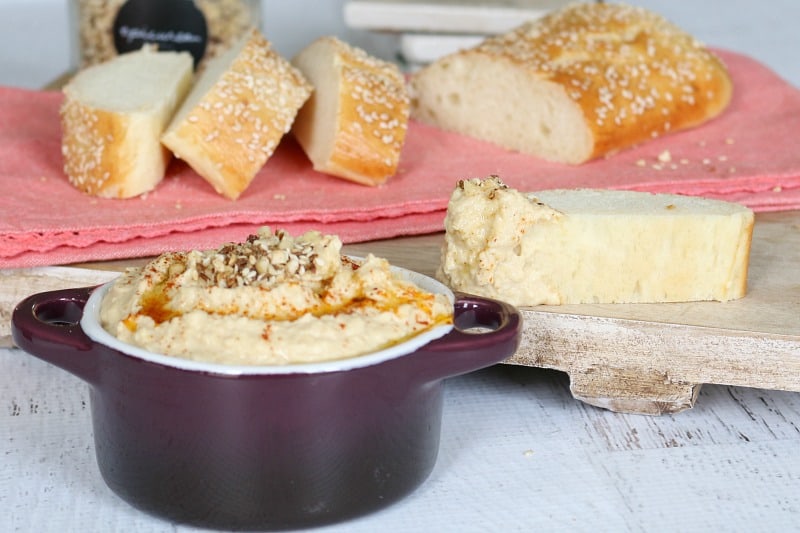 There are so many ways you can use this dip – make a delicious platter by serving the hummus dip with some warm crusty bread, vegetable sticks, cheese and salami; use it as a spread in your favourite wraps or sandwiches; add a dollop to a plate of roasted vegetables; serve it on top of a salad… the list is endless!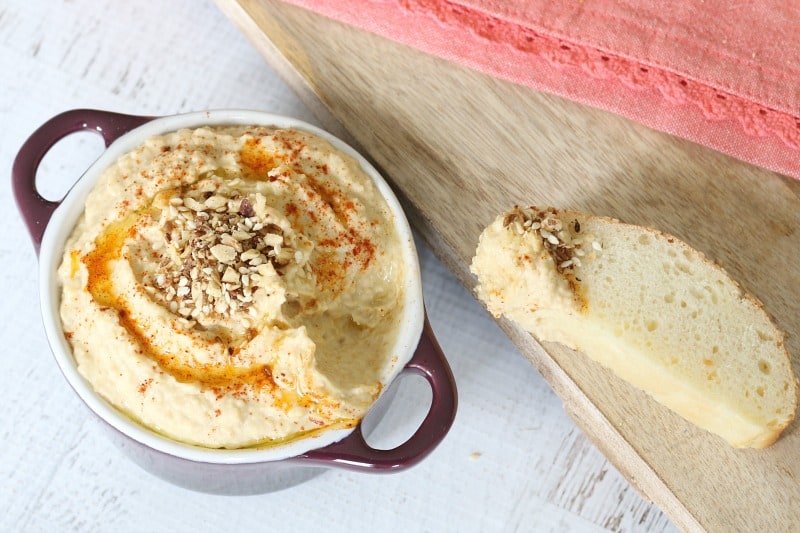 What's your go-to dip? Do you like to make your own too?
PS – my little trick is to drizzle a little olive oil over the top of the dip and then sprinkle on some paprika and dukkah… looks fancy and yet it's SO easy!!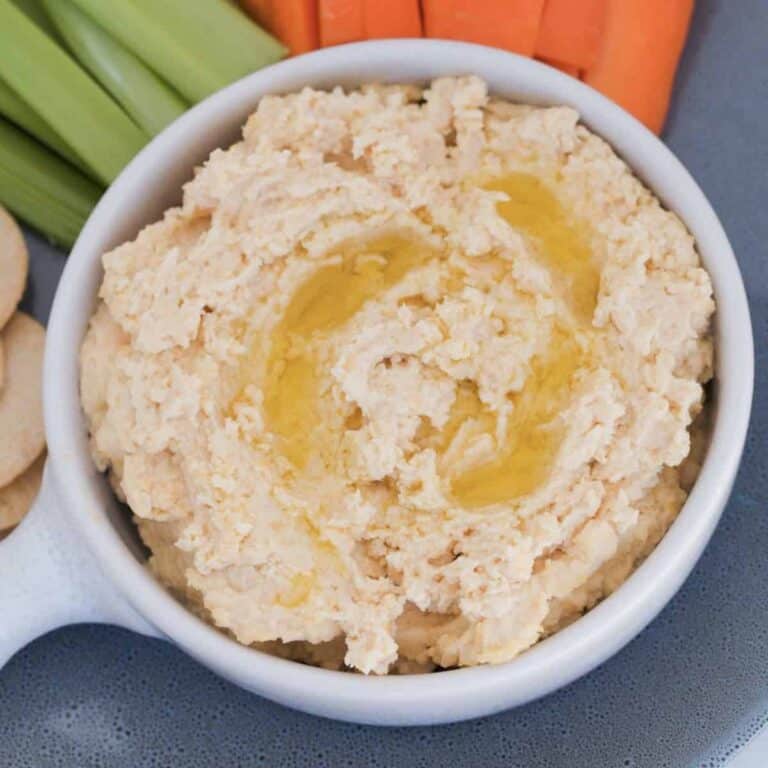 Easy Homemade Hummus Dip
Super healthy and delicious homemade hummus dip that takes less than 5 minutes to whip up! The most amazingly creamy and tasty snack!
Print
Pin
Rate
Ingredients
1

tsp

minced garlic

or 1 clove garlic, minced

400

g

can chickpeas

drained, reserve the liquid

1 1/2

tbs

tahini

see notes

juice of 1 lemon

approx 30ml

20

g

olive oil

½

tsp

sea salt
Instructions
Conventional Method
Place all of the ingredients to a food processor. Process for 20 seconds.

Scrape down the sides. Process for a further 20 seconds.

Check the consistency. If you would like it smoother, add a 1-2 tbs of the reserved chickpea liquid and mix for a further 20 seconds.

Serve drizzled with olive oil.
Thermomix Method
Add all of the ingredients to the Thermomix bowl. Mix for 20 seconds on Speed 4. Scrape down the sides. Mix for a further 20 seconds on Speed 4.

Check the consistency. If you would like it smoother, add a 1-2 tbs of the reserved chickpea liquid and mix for a further 20 seconds on Speed 4.

Serve drizzled with olive oil.
Notes
RECIPE NOTES & TIPS
Ingredients Info:
minced garlic – you can either use store-bought minced garlic (my favourite option!) or mince a clove of garlic yourself
chickpeas – are a type of legume also known as garbanzo beans. Drain and rinse the chickpeas before using.
tahini – you can buy either hulled or unhulled tahini (I use Mayvers brand). I use hulled tahini in my hummus as it gives it a beautiful creamy flavour.
lemon juice – use the juice from 1 lemon (approximately 30ml).
olive oil – this makes the hummus dip super creamy and smooth. I like to drizzle a little extra over when serving.
sea salt – season to your liking.
Recipe Notes:
Storage - Homemade hummus can be stored in an airtight container in the fridge for up to 1 week.
Freezing - Hummus can be frozen in individual airtight containers for up to 4 months. Allow it to completely thaw before serving.
Lunchbox option - Ensure the lunchbox is in a cooler bag or with an icepack to keep it fresh.
Nutrition
Calories:
56
kcal
|
Carbohydrates:
5
g
|
Protein:
2
g
|
Fat:
3
g
|
Saturated Fat:
1
g
|
Sodium:
190
mg
|
Potassium:
57
mg
|
Fiber:
2
g
|
Sugar:
1
g
|
Vitamin A:
5
IU
|
Vitamin C:
0.2
mg
|
Calcium:
14
mg
|
Iron:
0.5
mg