The most delicious Orange and Almond Cake ever!!! This is an absolute classic recipe… and it just gets better and better!
This weekend we had my husband's aunty and grandma come over for lunch. His grandma is 93 years old and is more with it mentally and physically than lots of people half her age… she is quite amazing! To give you an idea of how incredible she is, she travelled all the way to Far North Queensland two years ago for our wedding and ate prawns, drank beer, chatted all night and then happily kicked on the next day at our post wedding BBQ! And like me, she loves cooking (and eating!). So I really ummed and ahhed for most of the week when thinking about what to make her for lunch. FINALLY (as in the night before), I settled on a roast vegetable quiche with salad and an orange and almond cake with syrup… and then I hoped and prayed it would turn out ok and she would like it!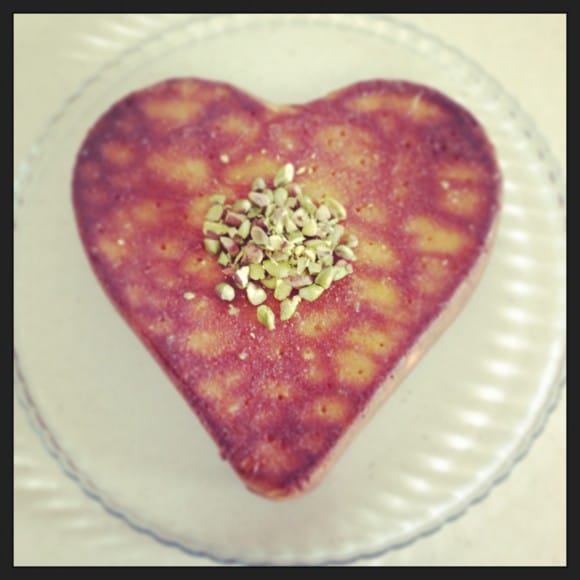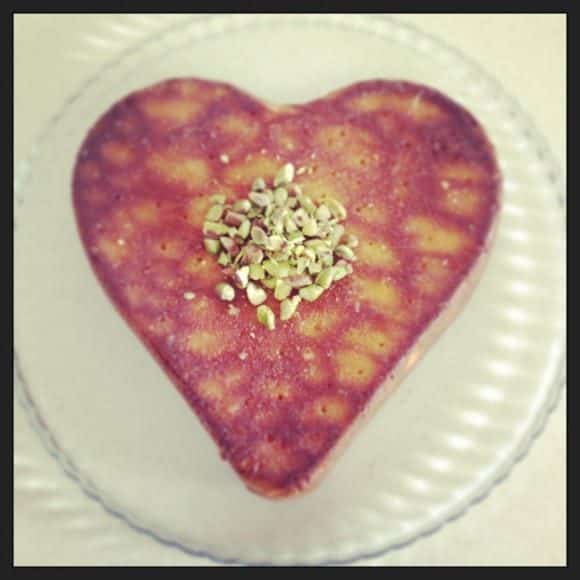 When I get around to downloading the photos, I'll post the recipe for the roast vegetable quiche. But for now, here is the orange and almond cake recipe!
I've eaten some beautiful, moist, sweet and delicious orange and almond cakes before. But I've also had some pretty ordinary ones that are a bit bitter or dry. This is only the second time I have made this type of cake (the previous time I made little mini cupcakes and they were like a little bite of heeeaaveeen!) But this time I wanted to make a full size cake, and for a very good reason. I had been dying to use this heart shaped cake tin that I bought a couple of weeks ago. It has been sitting there in my cupboard, silently screaming at me to be used and let loose in the oven… and so arrived it's chance!
Can I just say that this orange and almond cake was fantabulous (hehe I am loving that word… one of my gorgeous students came up with it this week when we were learning about adjectives). It was a bit time-consuming and I really did have to get up fairly early Saturday morning to boil the oranges, but boy oh boy, it was worth the lack of sleep. Had I boiled the oranges the night before, it would have been much quicker to make, but I was too busy out with some girlfriends eating Thai and planning our friends baby shower! Priorities people!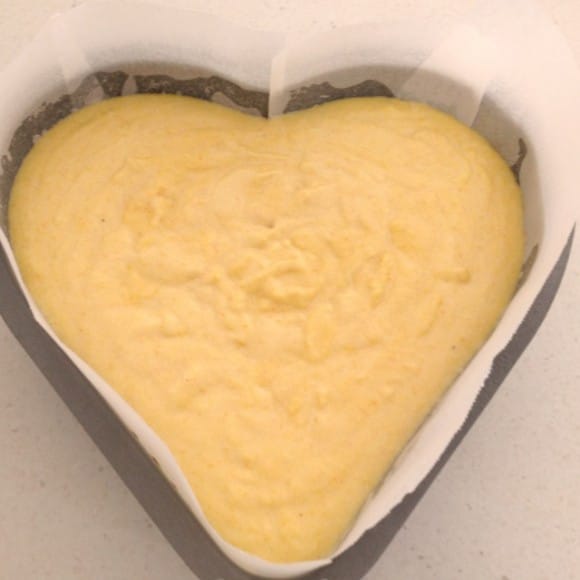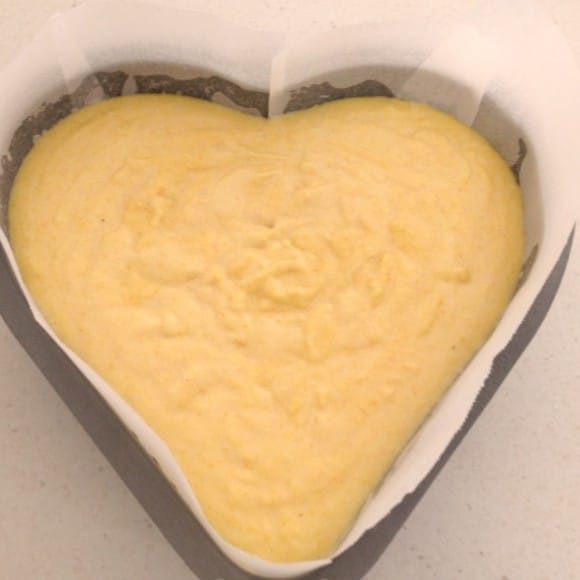 This cake is gluten-free and fairly healthy…ish, particularly considering it has the word 'orange' in it's title. Some orange and almond cakes don't have a syrup and instead just use icing sugar. But I am a fan of syrup and I figure that if you are going to make cake, go all the way and do it right! The syrup really makes it so deliciously moist.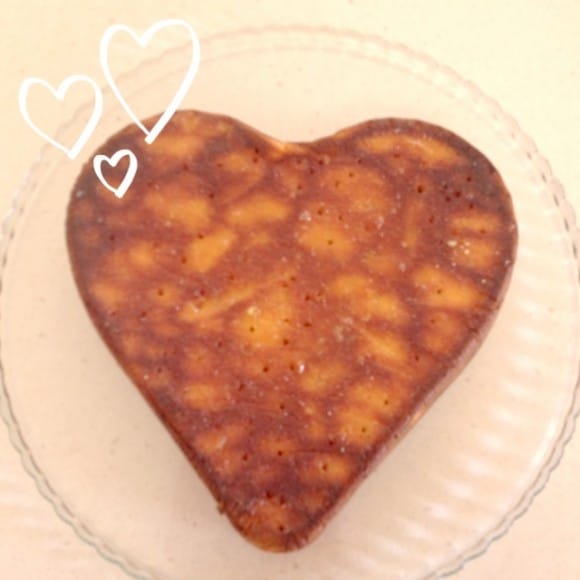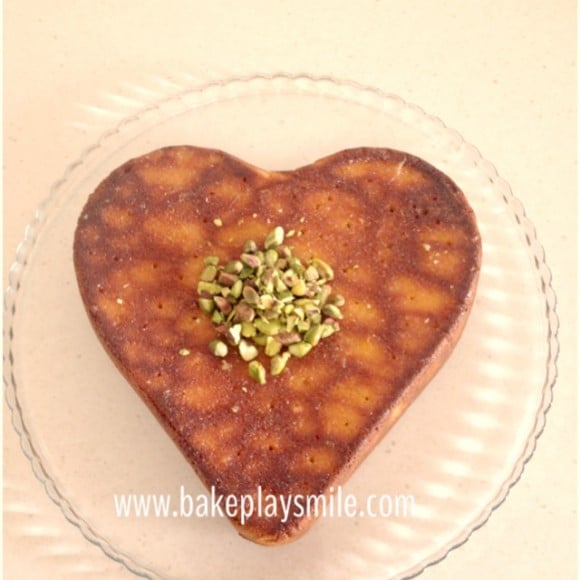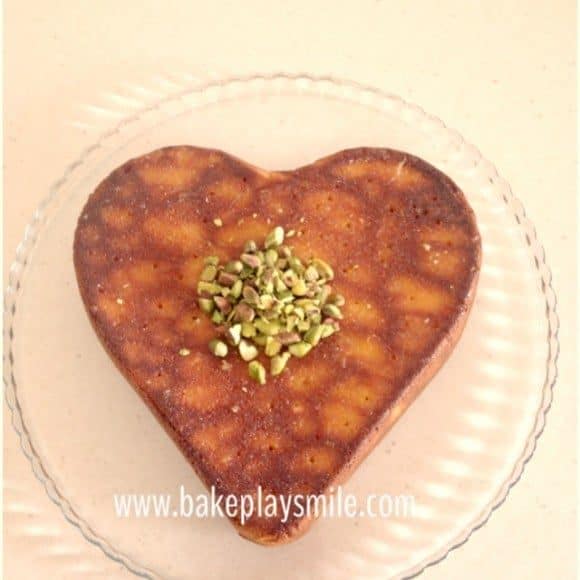 Oh and the best bit is it got a big thumbs up from my hubby's grandma and she trotted off happily to her retirement village with a big chunk of leftover cake to finish later. Phew!
Enjoy 🙂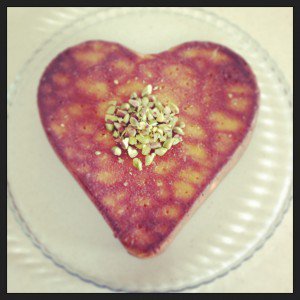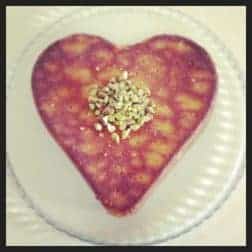 Orange and Almond Cake... Gluten-Free and Scrumdiddliumptious!
The most delicious Orange and Almond Cake ever!!! This is an absolute classic recipe... and it just gets better and better!
Print
Pin
Rate
Total Time:
1
hour
40
minutes
Ingredients
Cake

Melted butter

to grease

2

oranges

3

eggs

215

g

caster sugar

1 cup

300

g

almond meal

3 cups

1

tsp

gluten-free baking powder

Orange Syrup

1

orange

155

g

caster sugar

3/4 cup

1/4

cup

chopped pistachios for decoration
Instructions
Preheat oven to 170°C. Brush a heart-shaped cake tin (or a 22cm round tin) with melted butter to lightly grease. Line base with non-stick baking paper.

Place the oranges in a saucepan and cover with cold water. Bring to the boil over medium heat. Cook for 15 minutes or until tender. Drain. Return to pan and cover with cold water. Bring to the boil and cook for 15 minutes (this will reduce the bitterness of the peel). Refresh under cold water. Drain. Coarsely chop oranges. Remove and discard any seeds.

Place the orange in the bowl of a food processor and process until smooth.

Use an electric beater to whisk the eggs and sugar in a bowl until thick and pale.

Add the orange, almond meal and baking powder and gently fold until just combined. Pour into prepared pan.

Bake for 1 hour or until a skewer inserted into the centre comes out clean. Set aside for 15 minutes to cool.

Meanwhile, to make the orange syrup, juice one orange.

Place orange juice and sugar in a saucepan over low heat and cook, stirring, for 2-3 minutes or until the sugar dissolves and the syrup thickens.

Turn cake onto a serving plate. Use a skewer to gently prick the top. Spoon over syrup. Top with chopped pistachios.

Cut into wedges to serve.