Say hello to the most delicious collection of gluten-free desserts that will make you forget about flour forever! From 3 ingredient chocolate cake to orange and almond cake, lemon cake to fudgy brownies and more...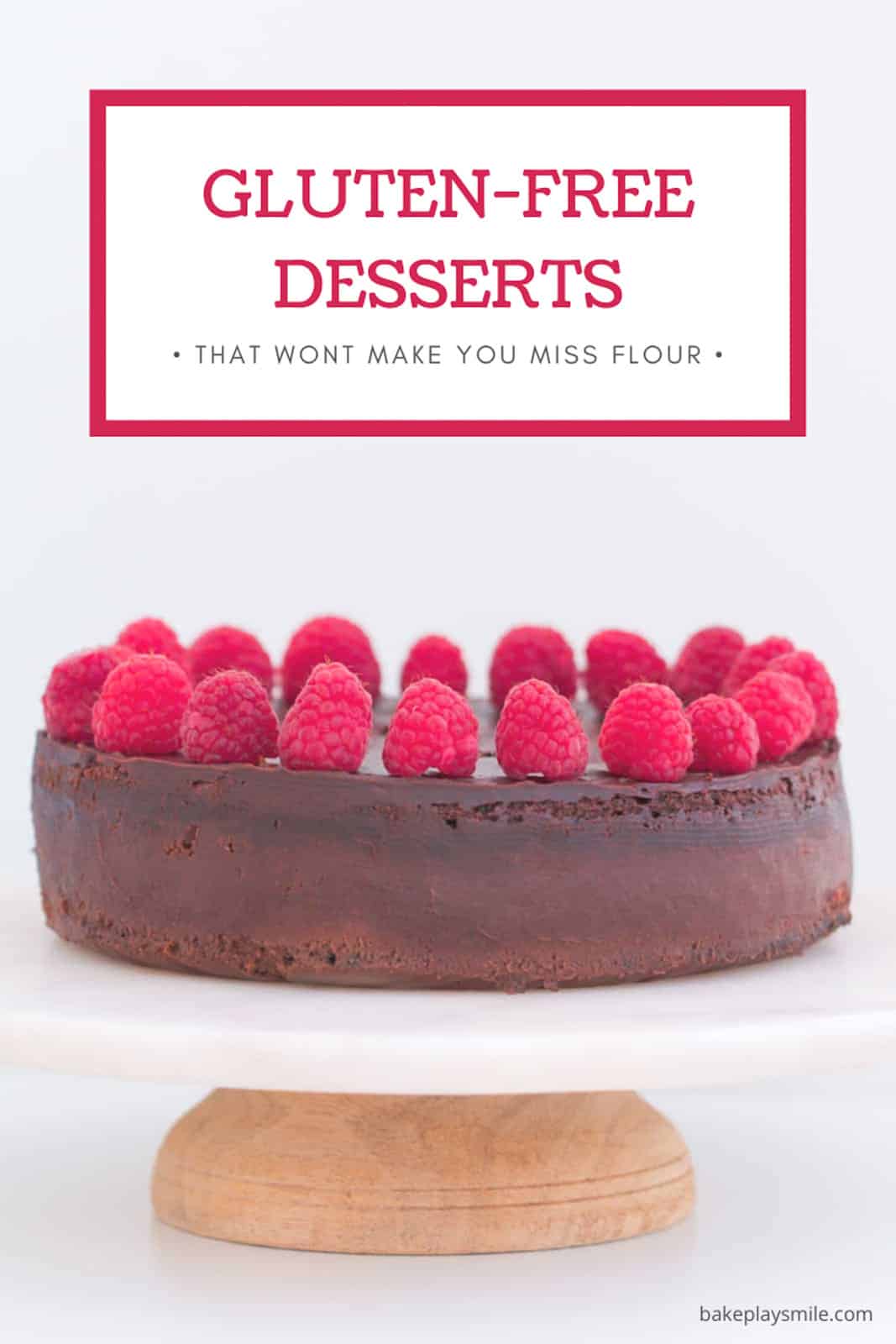 Eating gluten-free doesn't mean that you have to miss out on the good stuff... I'm talking moist cakes, dense fudgy brownies, sweet puddings and tarts!
But you certainly don't need to on a gluten-free diet to fall head over heels with these amazing desserts - try them for yourself and see!
Gluten-Free Cakes
I often receive emails from readers who need a gluten-free recipe to cater for a friend, family member or work colleague who is gluten-free - and I ALWAYS suggest one of my gluten-free cakes or my famous brownies!
They're quick, easy and incredibly popular with those who have a gluten-free diet and those who don't!
This recipe is made using a whole orange that is boiled and then pureed, giving the cake the most incredible flavour. Once you've made this cake, you'll see why it's well worth the time.
Serve this cake on it's own or with whipped cream or vanilla ice-cream.
This lemon cake has the perfect balance of having a light citrus flavour, coupled with a beautifully dense almond meal texture.
It makes the perfect dessert or afternoon tea treat as it can be served warm or at room temperature.
This amazingly dense cake is cooked in a water-bath in the oven which ensures it's super fudgy texture. Just make sure the chocolate you're using is gluten free.
This is an incredibly rich cake... so you'll only need a tiny slice!
This is by far one of my most popular recipes - with both those on a gluten-free diet and those who aren't!
It's subtle coconut flavour is loved by all.
This was the first gluten-free cake recipe that I ever made and it's still one of my favourites.
The flaked almonds work beautifully with the lemon flavour, while the ricotta gives this cake a dessert-like moist texture.
Gluten-Free Brownies
I'm going to let you in on a little secret, my absolute all-time favourite brownies are gluten-free brownies (even though I don't eat a gluten-free diet). Just use a gluten-free chocolate!
There's something about the fudgy, rich and dense flavour coupled with a flaky top that will keep you coming back for more.
More Gluten-Free Desserts
You can have a gluten-free dessert every night of the week with these simple and sweet recipes.
Chocolate mousse is a great gluten-free dessert option - and it's always popular with guests.
Ensure that you use a gluten-free chocolate when making chocolate mousse.
Pour this all-time favourite sauce over one of our gluten-free desserts for the ultimate sweet treat!
This basic sauce also makes a fantastic gift idea for gluten-free friends.
When you need a quick and easy dessert treat in just a few minutes, this is the recipe for you.
Ensure that the chocolate you're using is gluten-free.
Whether you're making rocky road for dessert or giving it to friends as a Christmas gift, this is a great gluten-free option.
Ensure that the chocolate you're using is gluten-free.
For something a little different, try my White Chocolate Rocky Road recipe.
If you love Cherry Ripe bars, then you're going to adore these yummy little balls coated with gluten-free chocolate.
For something a little different (but just as delicious), check out my Bounty Balls.
Serve this cheeky alcoholic drink on it's own or poured over a ball of ice-cream.
This also makes a fantastic Christmas gift for family and friends.
Tips For Baking Gluten-Free Desserts
Baking gluten-free desserts doesn't have to be difficult! Follow my top tips for delicious gluten-free baking!
Experiment with different gluten-free flours until you find a brand that you like (all are a little bit different!)
Measure your ingredients properly - this is important with regular baking but seems to be even more so with gluten-free cooking. Measuring dry ingredients using grams is more accurate than using cups or spoons.
Read the labels - when baking gluten-free recipes, it's important to check the labels to ensure that the ingredient is in fact gluten-free (chocolate is one example of this - some types are gluten-free, whereas others are not).
Buy bulk almonds - if you have a food processor or a Thermomix, you can make your own almond meal using whole almonds. This is a great way to save money as almond meal (a staple of many gluten-free baking recipes) is a little expensive!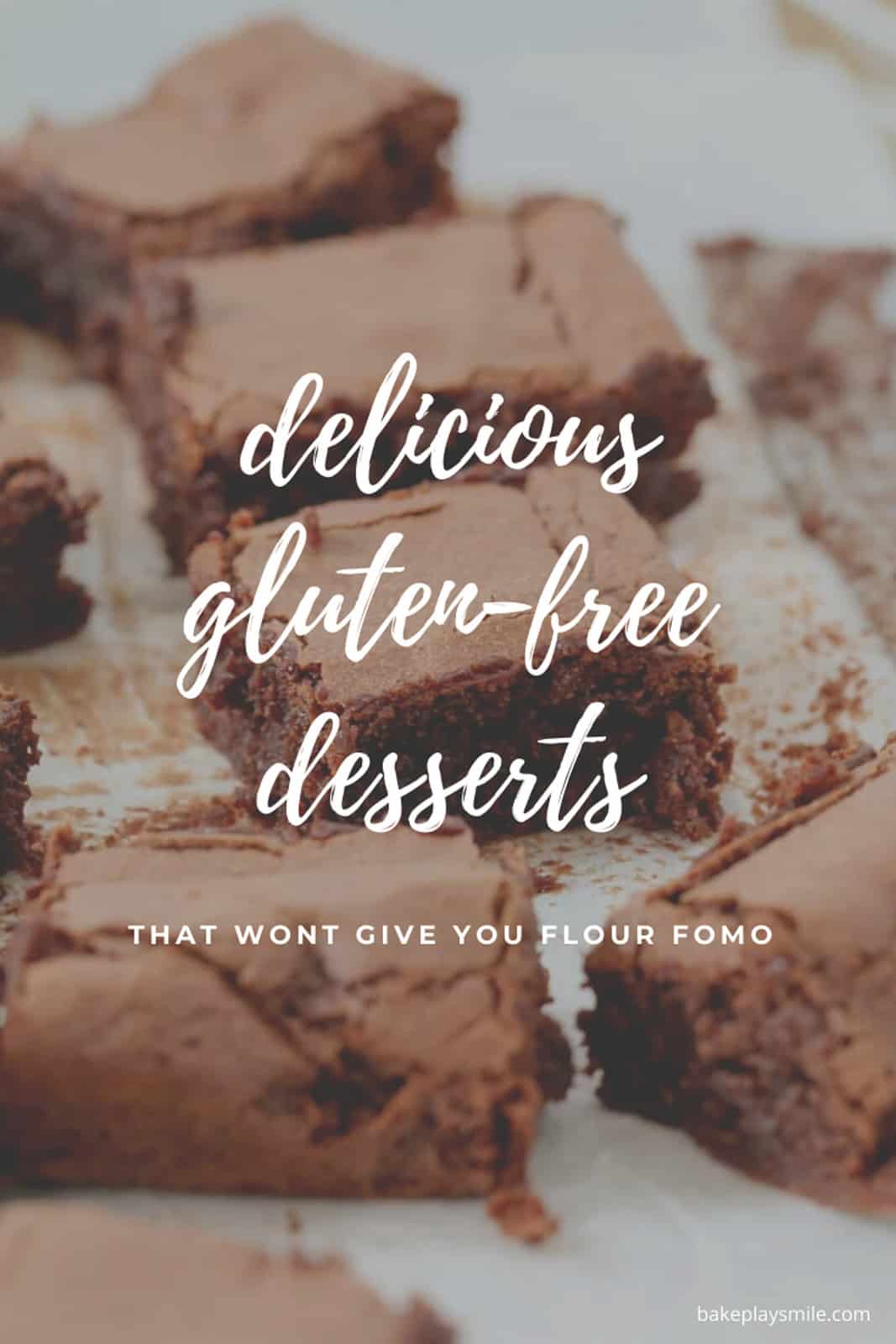 WANT EVEN MORE DELICIOUS RECIPES? Subscribe to my newsletter or follow along on Facebook or Instagram. And if you love baking, then please come and join my Facebook cooking club group or subscribe to my YouTube channel.