These easy mini quiches made with bacon, egg, cheese and puff pastry are the perfect party food! Such a classic favourite!
You know what? You've probably already made these mini quiches a zillion times before and really don't need a recipe for them. BUT if you haven't made them, I promise they're going to blow your mind. They're like the best little party food, afternoon snack or yummy lunch ever. This recipe makes about a zillion (do you like my exact calculations) mini quiches… and yet somehow they'll all disappear. Yep, they just do. They're like the magically disappearing mini quiches.
Ok so you can get all fancy pants when you're making your mini quiches and add all sorts of amazingly delicious things (one of my faves is feta and sundried tomatoes), but this is just your good old, plain and simple mini quiche recipe with bacon, egg and cheese. Utterly fantabulous!
I know I've said it before (actually I've probably said it a thousand times and you're totally sick of it), but I really do think the best recipes are those that are easy and fuss-free. Well it doesn't get much simpler than these little babies. Honestly, you could be the worlds worst cook and you'd still be able to make these taste pretty darn awesome. Foolproof, I tell you.
When I make my mini quiches, I like to do them in patty pan tins (hence why you end up with about a bazillion). But if you're after a more filling meal, or just don't feel like eating 15 mini quiches in one sitting, then you can always use a regular muffin tin instead and just increase the cooking time accordingly. Easy peasy.
Because the mini quiches will be ready in no time at all, it's important to cook the bacon in a frying pan first. If you're short on time (or just can't be bothered cooking the bacon), then you can always just use chopped ham in your mini quiches instead. I think I kinda prefer the bacon version more, but I've certainly been known to scoff down a handful of ham and bacon quiches too!
If you're after a richer flavour in your quiches, you can substitute the milk for cream. But I like to keep thing a bit lighter… and by lighter I mean that I like to save my calories for cake!
Enjoy these delicious little mini quiches – they're such a family favourite recipe! Oh and best of all, they're totally freezable which makes them perfect for a quick and easy 'grab and go' lunch.
xxx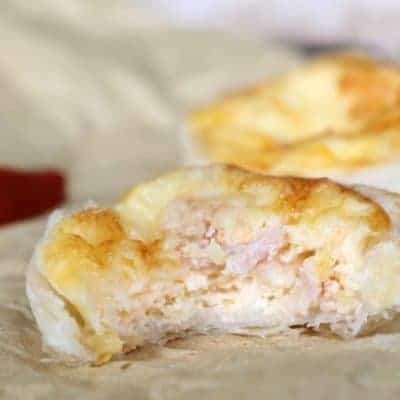 Little Mini Quiches with Bacon, Egg & Cheese
These mini quiches with cheese, bacon and egg are the perfect party food treat!
Ingredients
4

sheets puff pastry

defrosted

4

rashers bacon

chopped

1

tbs

olive oil

1

cup

tasty cheese

grated

4

eggs

1/2

cup

milk
Instructions
Preheat the oven to 200 degrees celsius.

Lightly grease 24 holes in a patty pan tray or mini muffin tray.

Cut round holes from the puff pastry sheets (about 6 holes per sheet).

Press the defrosted pastry holes into the patty pan moulds.

Add the olive oil to a frying pan and cook the chopped bacon over medium heat until cooked and slightly crispy.

Crack the eggs into a bowl.

Add the milk and whisk together well.

Divide the cooked bacon equally between the patty pan holes.

Pour over the egg/milk mixture (being careful not to overfill as the mixture rises when cooked).

Top with the grated cheese.

Cook for approximately 10-15 minutes or until the cheese has turned golden and the middle of the quiches has cooked through.