Browse our collection of the very best chocolate ripple cake recipes! With everything from Christmas-inspired chocolate ripple cakes to a cheeky Baileys version and everything else in between!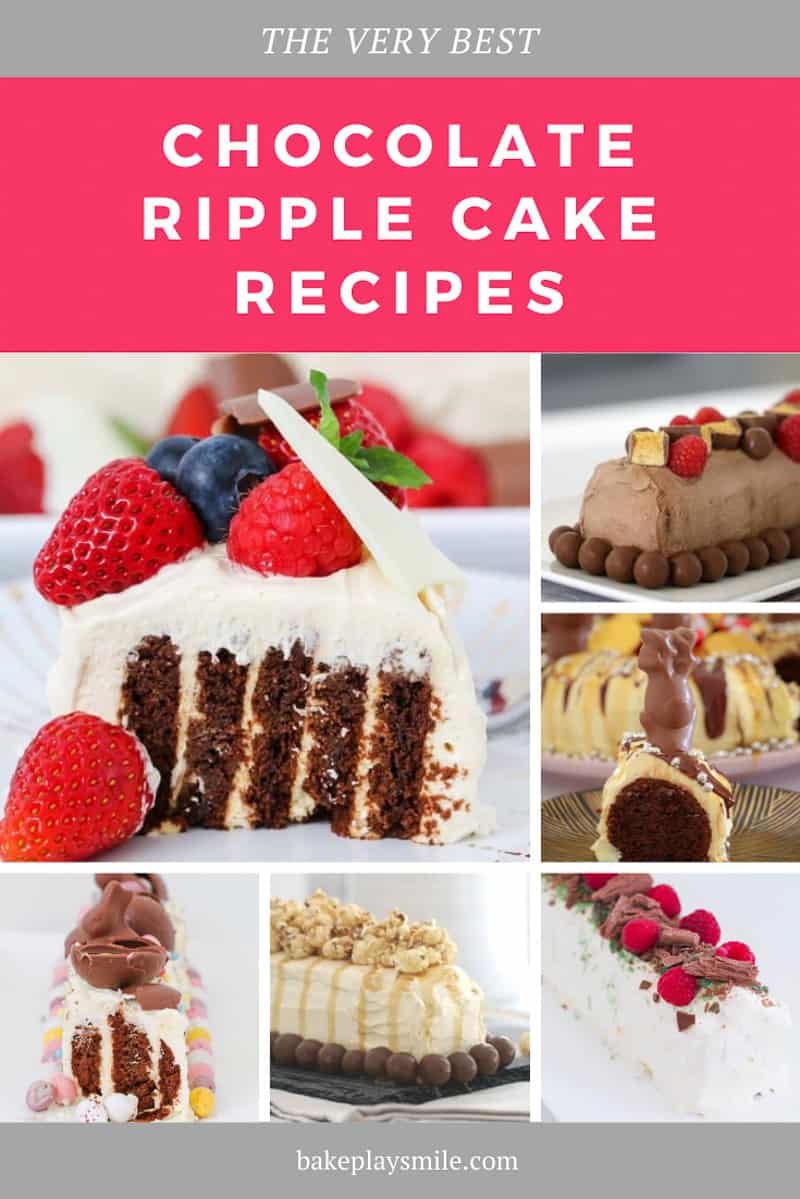 Chocolate Ripple Cake Recipes
Chocolate ripple cakes are a classic Australian no-bake dessert made from whipped cream and Arnott's Chocolate Ripple biscuits. After being chilled overnight, the biscuits soften and become a delicious creamy chocolate dessert - a Christmas or summer favourite!
To access any of the recipes below, simply click on the title or image and you'll be taken directly to the recipe (all are completely free and printable!).
Classic Chocolate Ripple Cake
Everyone's favourite Australian dessert decorated with Peppermint Crisp, Flake and fresh raspberries. The perfect summer dessert!
Baileys Chocolate Ripple Cake
This adults-only version is made Baileys Irish Cream! Use pre-made Baileys or make your own using this recipe.
Christmas Chocolate Ripple Cake Wreath
Take your Christmas table centrepiece to a delicious new level with our Christmas cake wreath made from chocolate ripple biscuits and whipped cream. Decorate with Christmas chocolates for the perfect finish!
Chocolate Ripple Cake
Calling all chocoholics.... this is the chocolate ripple cake for you! A simple chocolate ripple cake smothered in chocolate cream and decorated with delicious chocolates... mmm!
Easter Chocolate Ripple Cake
This cute-as-a-button Easter dessert is sure to be the first thing to disappear from your dessert table. This is a great recipe to make and decorate with the kids!
Super Easy Salted Caramel Chocolate Ripple Cake
If you love slated caramel (and who doesn't!?), this is the perfect dessert for you! Use a store-bought caramel sauce or make your own using this recipe. Decorate with salted caramel popcorn for the perfect finish!
More Chocolate Ripple Biscuit Recipes
If you love baking with chocolate ripple biscuits, then check out a few more of our favourite recipes here:
WANT EVEN MORE DELICIOUS RECIPES? Subscribe to my newsletter or follow along on Facebook or Instagram. And if you love baking, then please come and join my Facebook cooking club group or subscribe to my YouTube channel.