Cooking a perfect baked cheesecake has never been simpler thanks to our step-by-step baked cheesecake guide! Check out our tips and tricks for baking the perfect cheesecake every single time.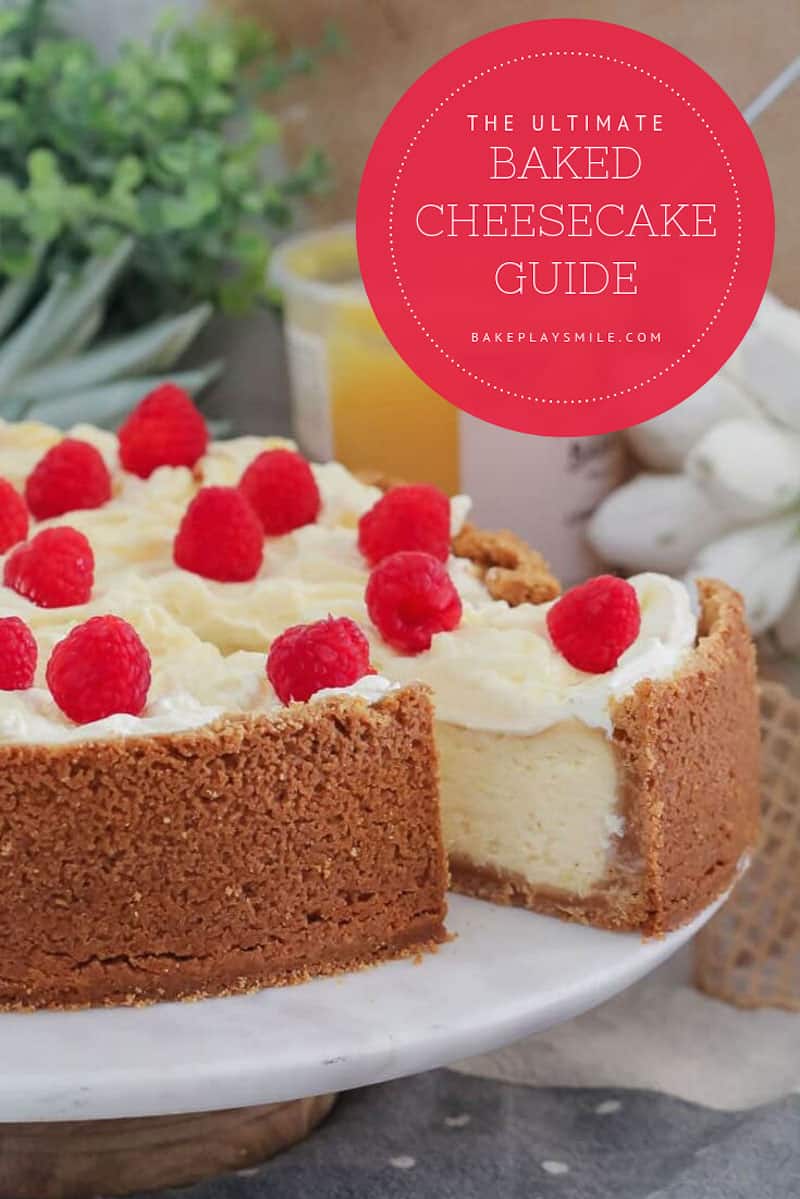 What Is The Difference Between A New York Cheesecake And An Italian Cheesecake?
There are several differences between these two types of cheesecake: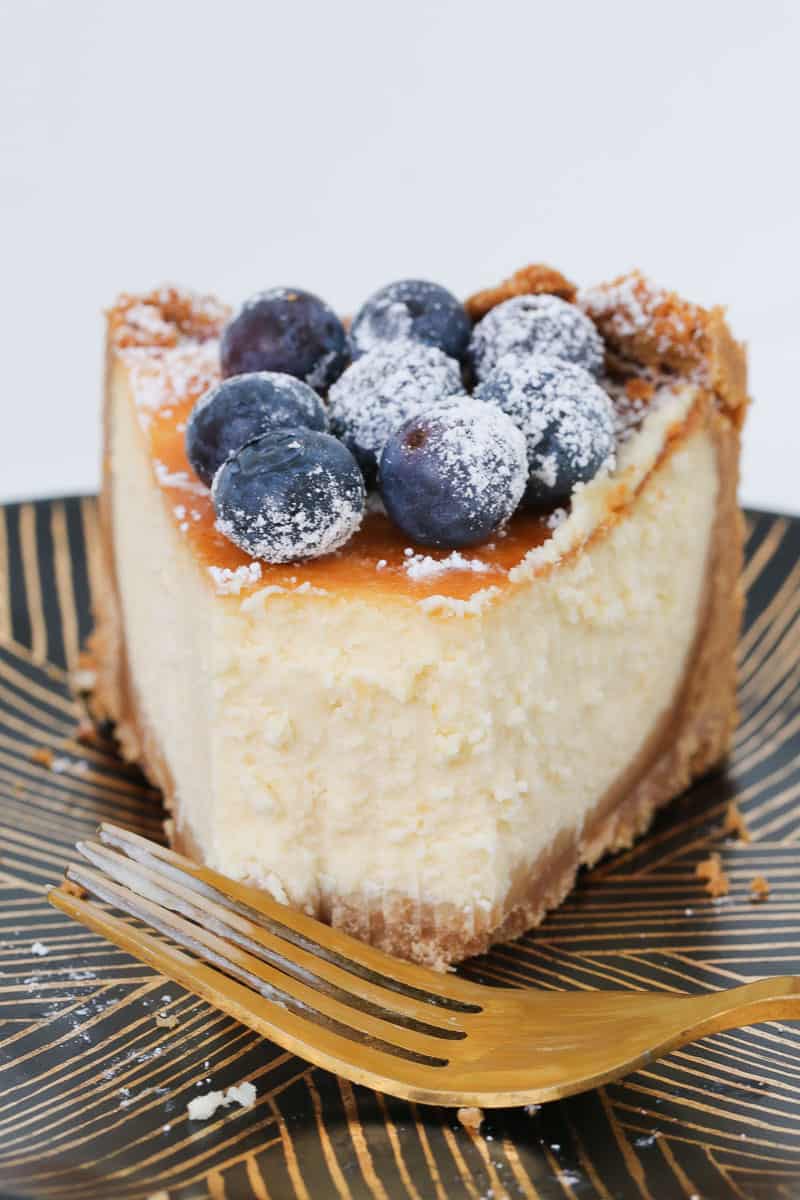 The Ultimate Baked Cheesecake Guide - Tips & Tricks
1. Don't over-beat the mixture
Over-beating will cause the cheesecake to crack when cooking. Mix with hand-held beaters or a stand-mixer on medium/low speed. It's important to mix until only just combined - you don't want to get too much air into your cheesecake mixture as it's meant to be dense and firm when baked.
2. Prepare your springform pan correctly
You don't want to go to all of the effort of baking a cheesecake, only to have it stick to the baking tin! To prepare your springform pan, remove the bottom tray, grease it, place a sheet of baking paper over the top and then secure it with the clasps. This makes it easier to move the cheesecake onto a serving dish. Ensure that you also grease and line the sides of the pan with baking paper too.
3. Use full fat ingredients (...forget about the calories just this once!)
It might make you cringe, but full fat cream cheese and full fat sour cream really do work best in cheesecakes and will give you the ultimate rich and creamy texture. If you're going to do it, do it right and go the full fat version!
4. Use room temperature ingredients
For best results, make sure all of your ingredients are at room temperature before mixing (cream cheese, eggs and sour cream).
5. Add a pan of water to the oven when baking
If you want an extra luscious and creamy cheesecake, place a tray of water in the oven on the lowest shelf and place the cheesecake on a middle shelf. This will also help to prevent cracking.
6. Do NOT open the oven!!!!
This is quite possibly the most important tip! I know it's tempting to open the oven while the cheesecake is baking, but DON'T!! Opening the door will change the temperature and cause the cheesecake to sink and crack. Once the cooking time has finished, still do NOT open the oven door. Leave it closed (with the oven turned off) for at least 2 hours before opening.
7. Place the springform pan onto a baking tray
Avoid any mess or spills by placing your springform pan onto a baking tray before cooking. Because the cheesecake is cooked in a springform pan, some of the butter from the cookie base may escape through the small cracks - and your baking tray will be there to catch any drips!
8. Bake the cheesecake low and slow
Make sure your oven isn't too hot - if it is, the cheesecake may crack. Keep in mind that oven temperatures can vary, so if you think yours runs a little hot, turn it down slightly before baking.
9. Leave the cheesecake in the oven after baking
After baking the cheesecake, make sure you leave it in the oven for at least two hours with the door closed as this will help to prevent the cheesecake from cracking. Keeping the door closed the entire time throughout cooking and cooling will ensure a smooth and flat cheesecake.
10. Chilling the cheesecake
When you remove the cheesecake from the oven (at least 2 hours after the cooking time has finished), leave it on the bench until it has cooled completely (still in the baking pan) and then place into the fridge for a minimum of 4 hours (preferably overnight).
Pin These Tips For Later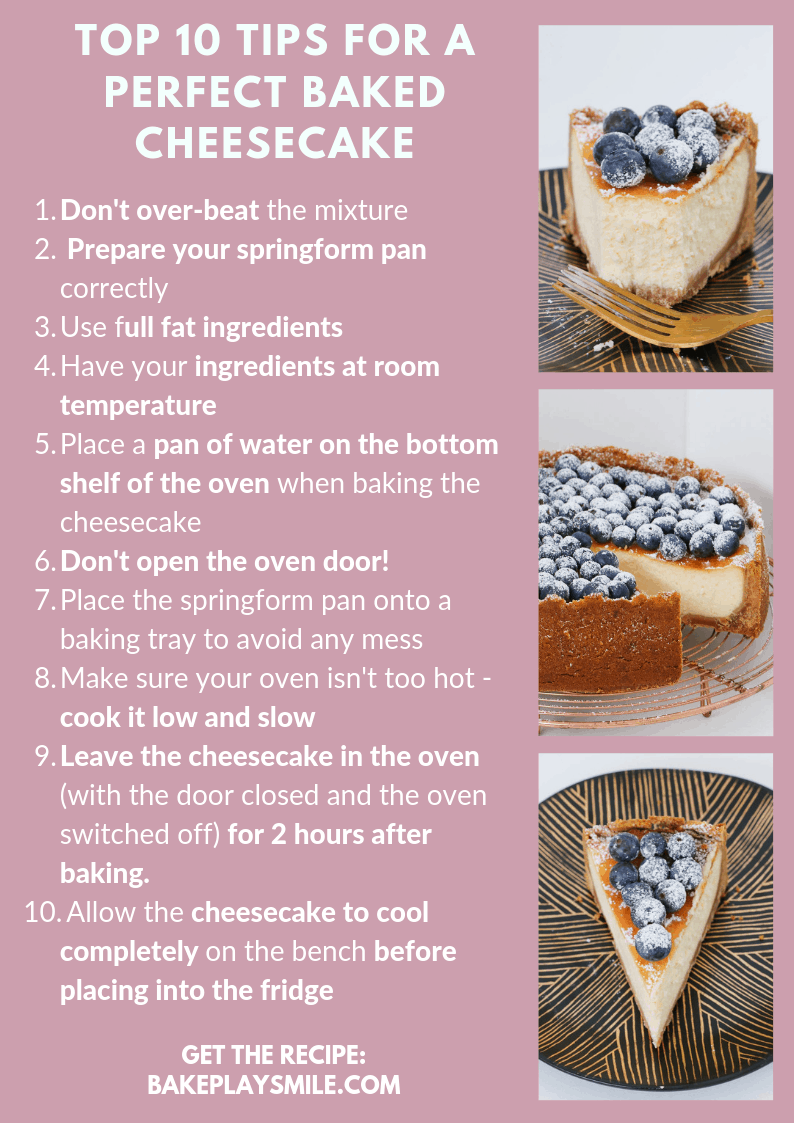 How Do You Know If A Baked Cheesecake Is Cooked?
If you've read the tips about not opening the oven while a cheesecake is baking (and for 2 hours afterwards) to avoid it from cracking or sinking... you might be wondering how to know if your baked cheesecake is cooked through if you can't check it!
Firstly, trust that if you follow the recipe (and your oven temperature is correct), 1 hour and 15 minutes is enough to cook the cheesecake through.
The cheesecake will continue to cook and set as it slowly cools in the oven. You don't want to overcook it.
If you're worried that your oven temperature runs too hot or too cool, check it with a oven thermometer before cooking and adjust the temperature accordingly (this usually won't be an issue).
Essentially, if you follow the ingredients, method and tips in this recipe, you can rest assured that your cheesecake will be cooked.
And so, please, please, PLEASE avoid the temptation to open your oven door at any stage!!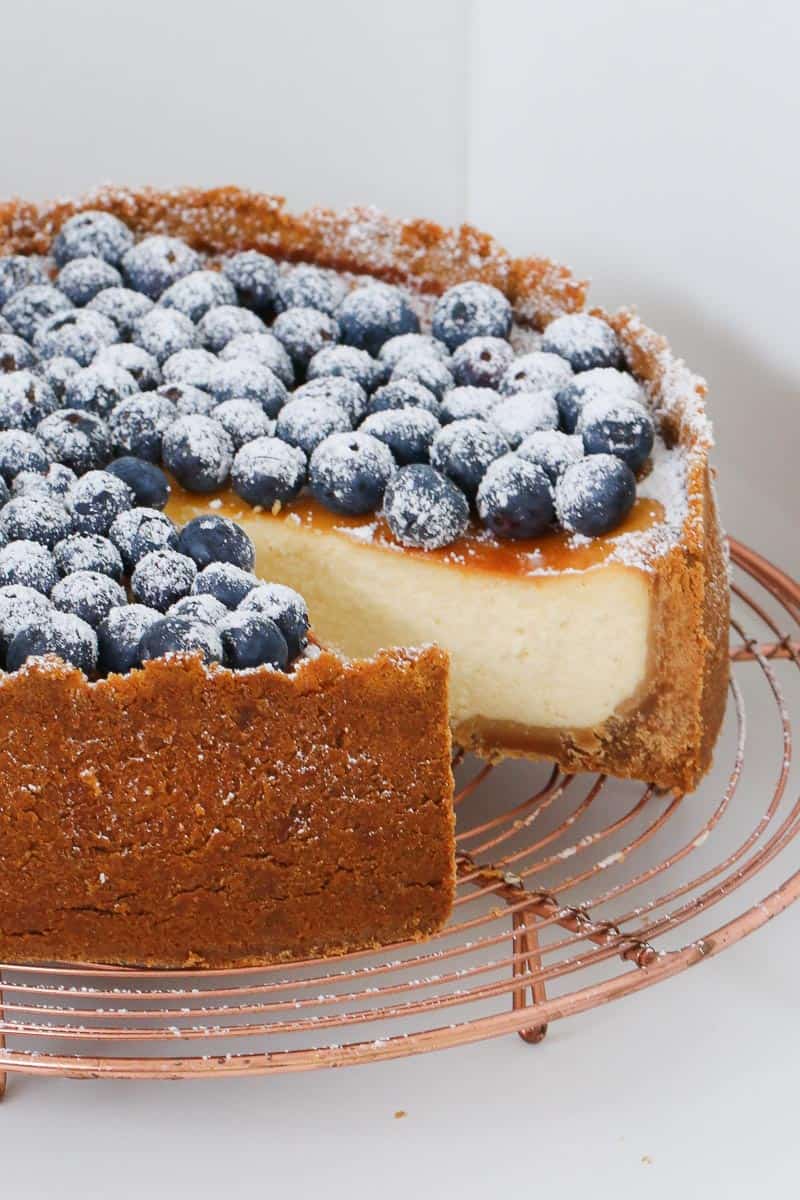 Classic Baked Cheesecake Recipes
For delicious baked cheesecake recipes, check out some of my favourites:
How To Store A Baked Cheesecake
Here's how to store a baked cheesecake:
Allow it to cool for 2 hours in the oven (with the oven switched off and the door closed).
Move the cheesecake onto the bench (still in the baking tin) and allow it to cool completely.
Place the cheesecake (still in the baking tin) into the fridge for a minimum of 4 hours (preferably overnight).
Allow to come to room temperature for 1 hour before serving.
Baked cheesecakes can be stored in the fridge in an airtight continuer or wrapped in plastic wrap and covered in foil and consumed within 5 days.
Alternatively, you can freeze the cheesecake for up to 1 month - simply wrap in foil and then place into an airtight container. Remove the cheesecake from the freezer the night before you plan to use it and allow it to defrost in the refrigerator.
Decorate your cheesecake just before serving.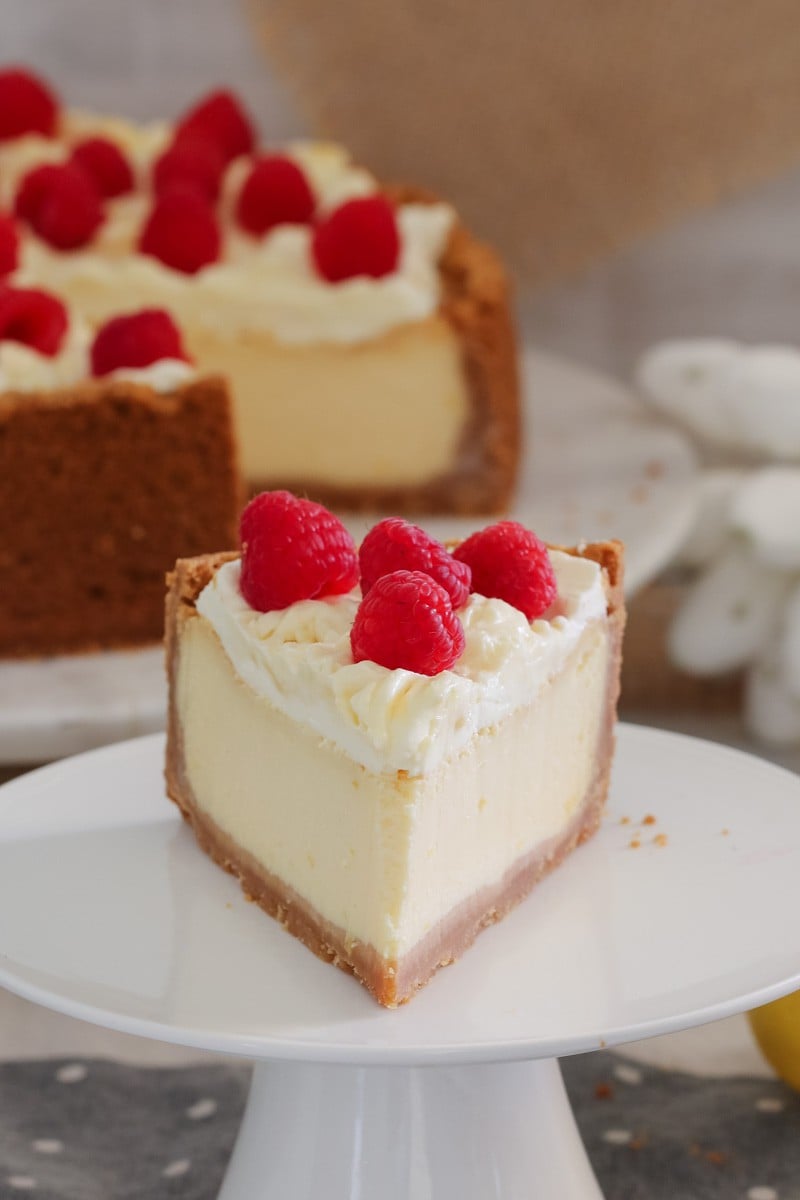 WANT EVEN MORE DELICIOUS RECIPES? Subscribe to my newsletter or follow along on Facebook or Instagram. And if you love baking, then please come and join my Facebook cooking club group or subscribe to my YouTube channel.