This M&Ms chocolate cake is the perfect birthday cake! It's so simple to make and looks amazing. Decorated with chocolate biscuits, frosting & M&Ms... this is sure to be a hit!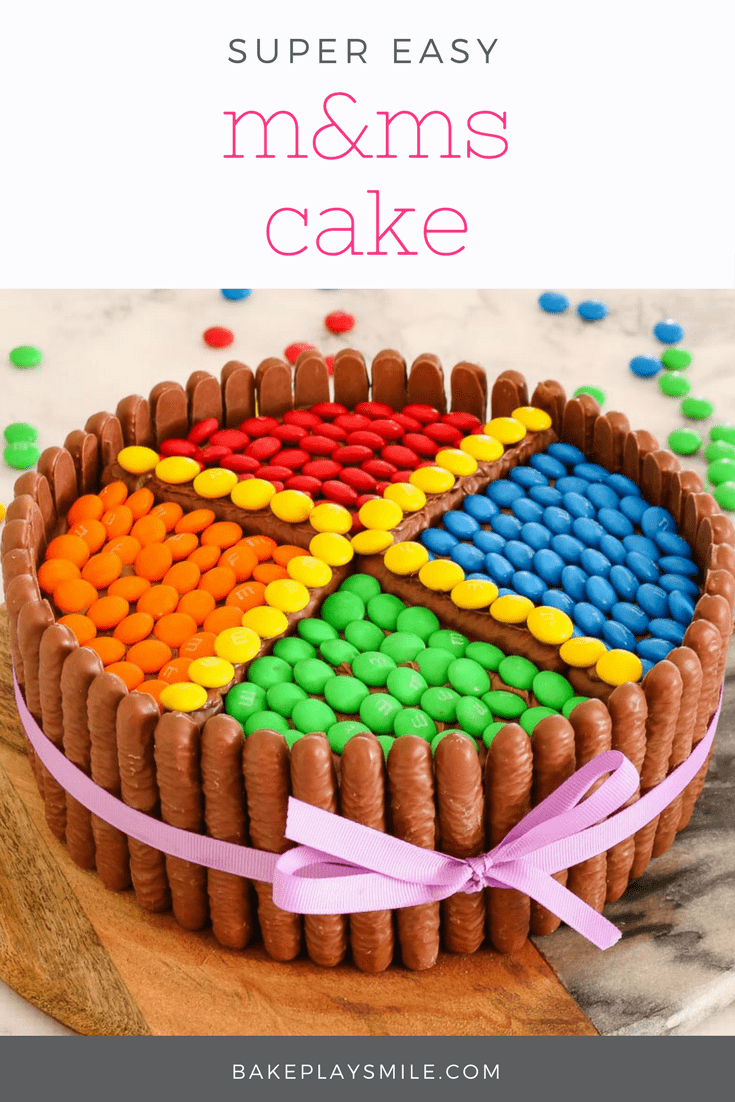 Everyone has a friend who absolutely LOVES M&Ms right?? Don't get me wrong, I'm a massive fan of M&Ms... but there's a big difference between a massive fan and someone who is known far and wide for their total and utter love of M&Ms. Yep... we all know someone like that!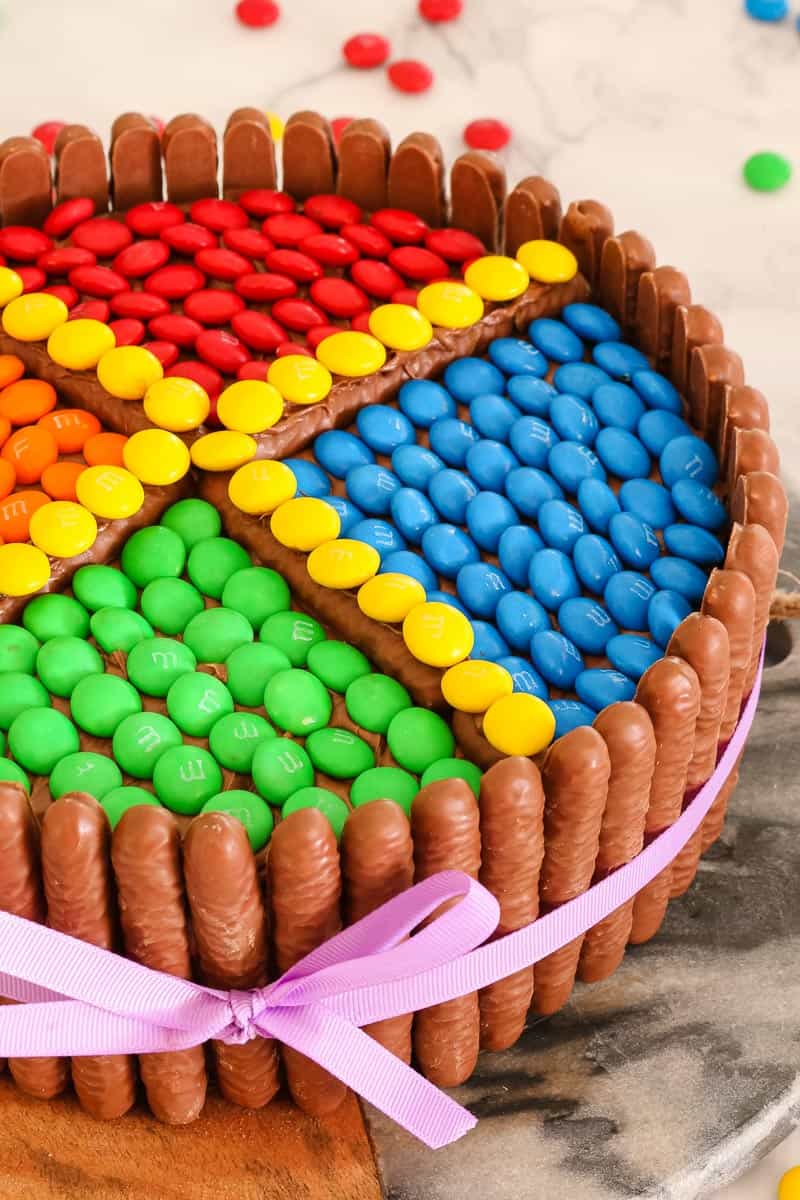 And that M&M-loving friend of mine is a gorgeous girl I went to uni with (aaaaagggggeeeesss ago!!). She loved M&Ms back then... and probably does even more now! And so, this M&Ms Chocolate Cake seemed like the perfect way to celebrate this special girls birthday.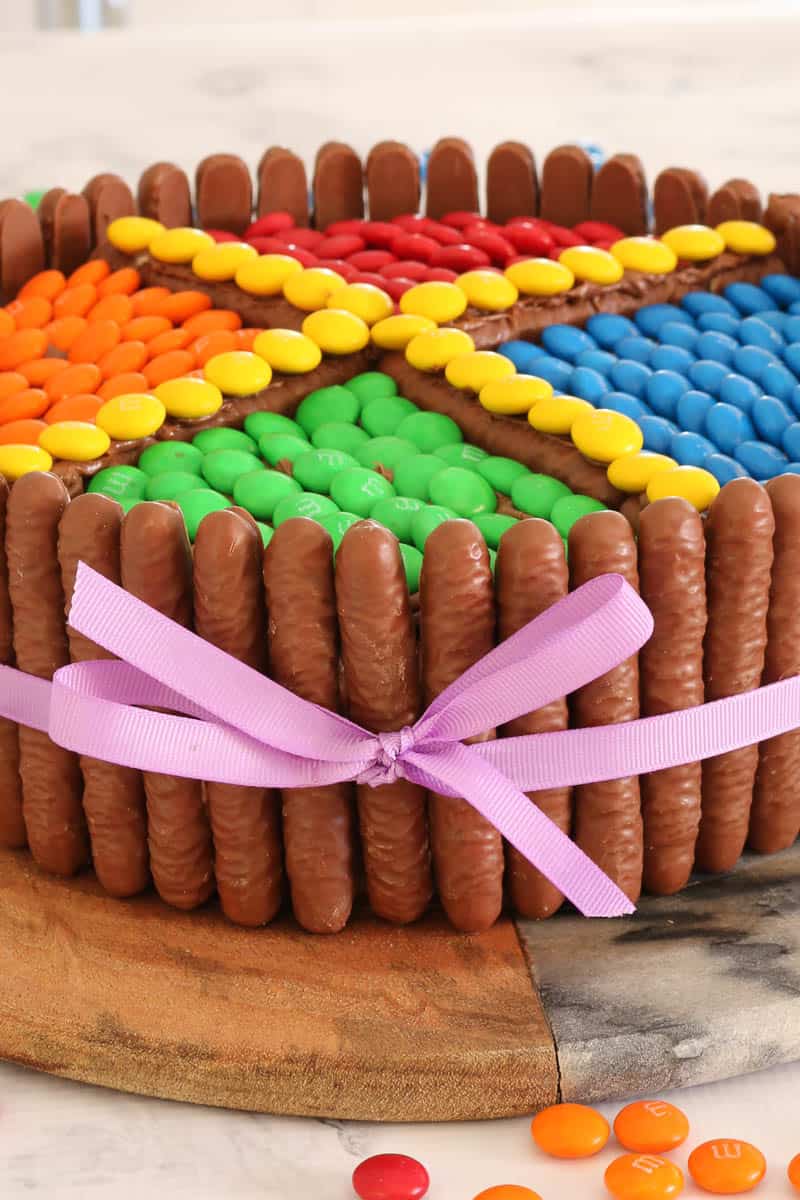 This is literally the easiest birthday cake you will ever make. I used my good old melt and mix chocolate cake recipe (seriously it's freaking amazing and so simple), but you could totally use a store-bought chocolate cake if you're short on time (pinky promise I won't tell).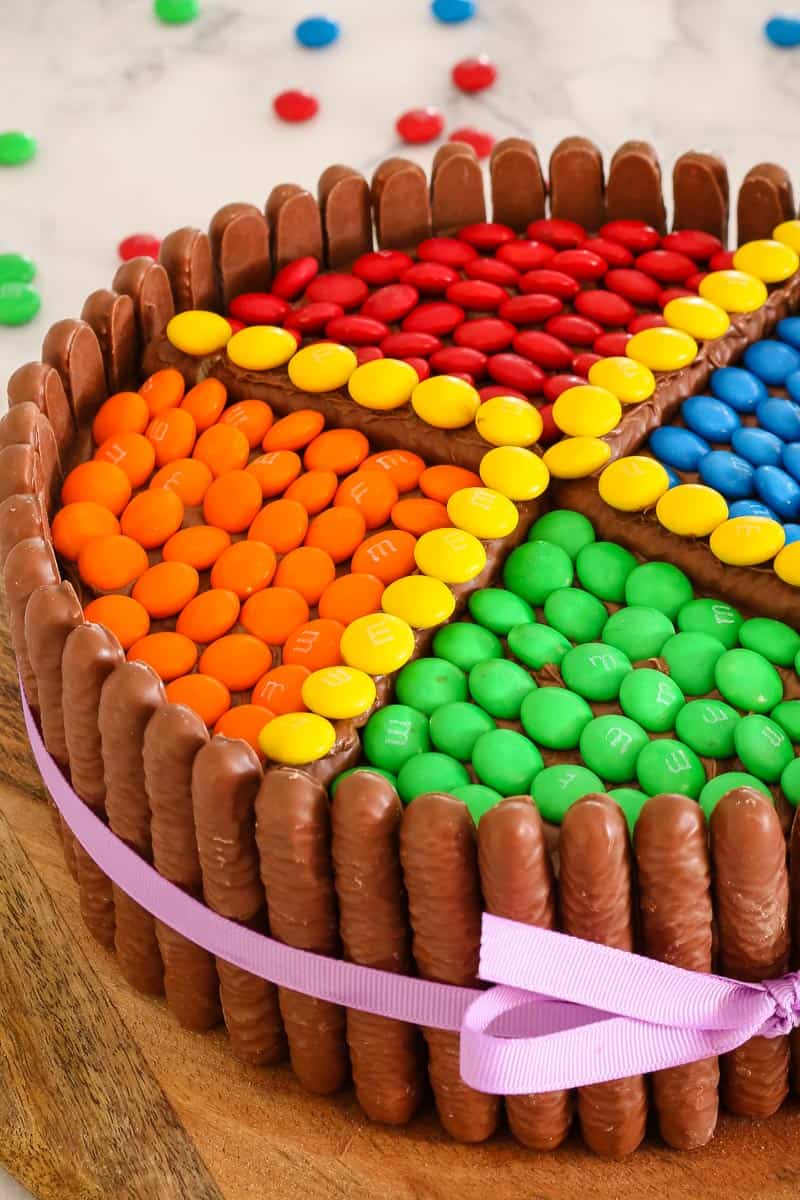 Then, to put this M&Ms chocolate cake together, it's simply a matter of slathering it in frosting (top and sides), decorating the sides with chocolate finger biscuits, and then making the top look super pretty with M&Ms... and more biscuits! If you want to check out how I decorated this cake, watch my quick little video below.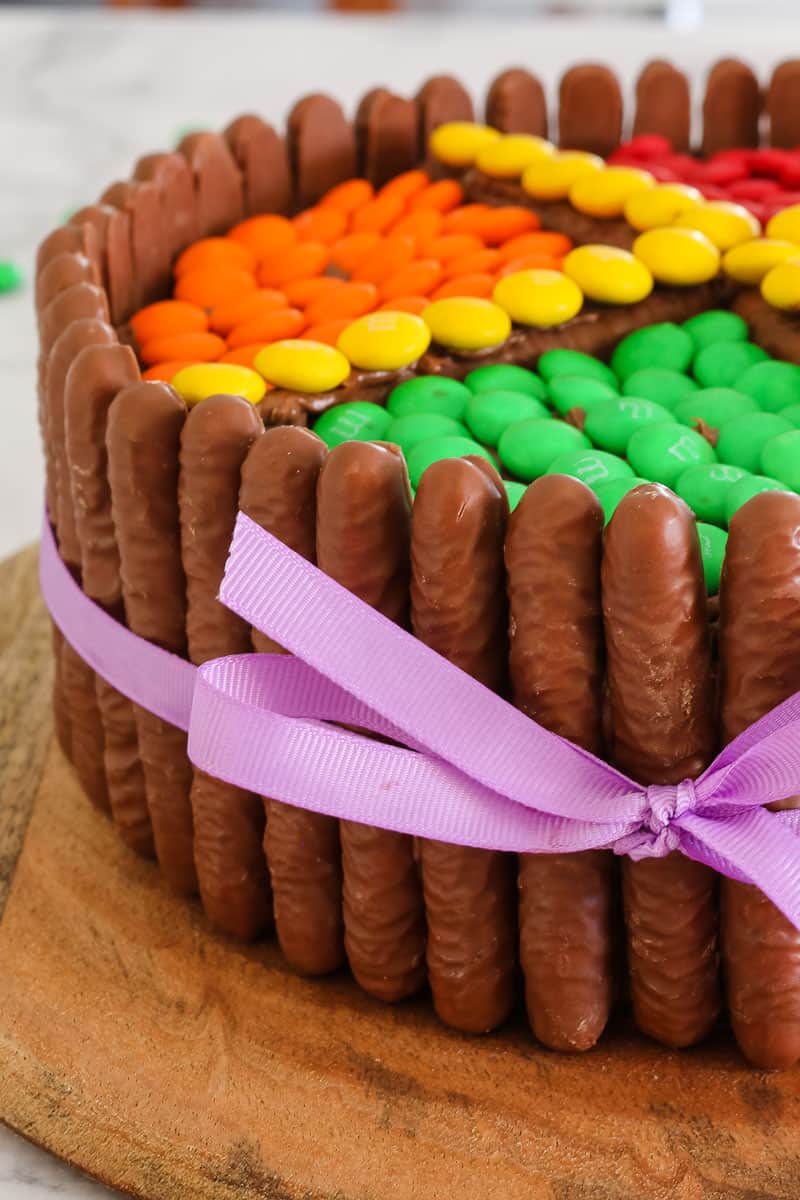 Ooh and I have to tell you a cute little story before I go. Will is now 17 months old and the number of words he is saying is just crazy!! He's definitely like his mumma and a total chatterbox. Anyway, his favourite word at the moment is 'cookie'... I think the obsession comes from Cookie Monster on Sesame St (his favourite show right now) and because he helps to bake cookies with me. Anyway, Will spent the whole time I decorated this cake saying 'cookie, cookie, cookie'. Haha he's definitely my son...!!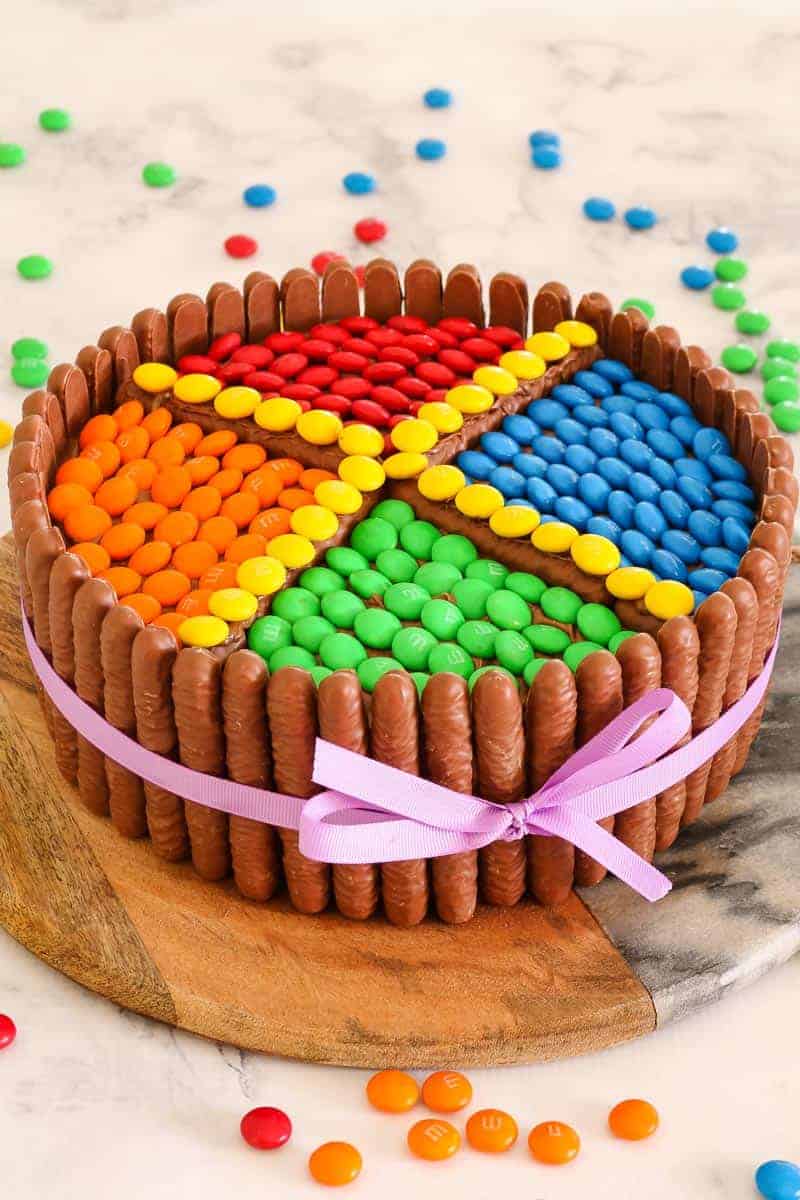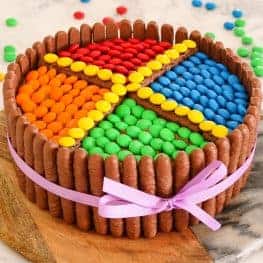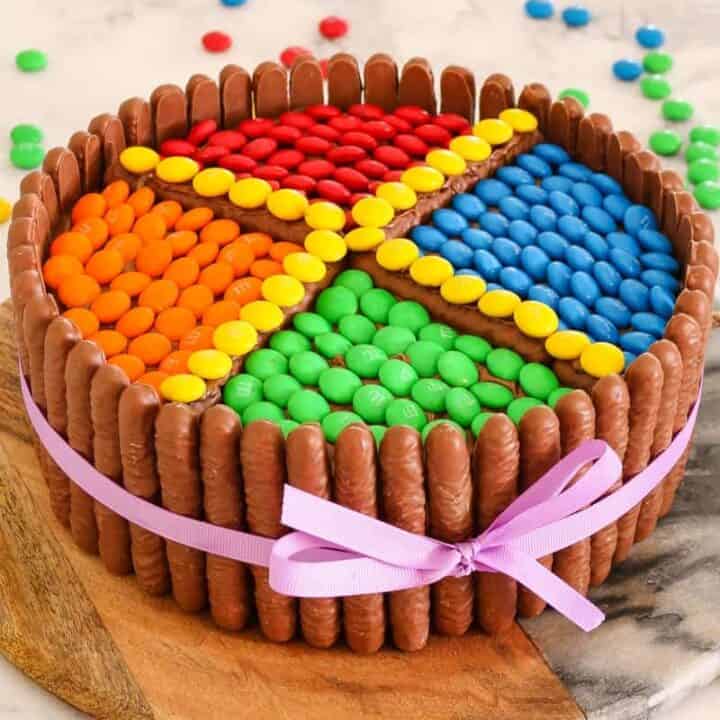 Super Easy M&Ms Chocolate Cake
This M&Ms chocolate cake is the perfect birthday cake! It's so simple to make and looks amazing decorated with chocolate biscuits, frosting & M&Ms!
Print
Pin
Rate
Ingredients
1

chocolate cake

(see notes for the recipe I used)

450

g

chocolate frosting

storebought or homemade

400

g

chocolate finger biscuits

400

g

M&Ms
Instructions
Make the chocolate cake according to the instructions (or use a bought one). Allow to cool completely.

Cover the top and sides of the cake with frosting.

Decorate the sides of the cake with the chocolate finger biscuits.

Add chocolate fingers biscuits to the top of the cake to act as dividers for the M&Ms.

Place the M&Ms into the different sections of the cake.

Add a small amount of frosting to the top of the chocolate fingers biscuits on the top of the cake and cover with extra M&Ms.

Tie a ribbon around the outside of the cake.
Notes
I used the following recipe for my chocolate cake: https://bakeplaysmile.com/donna-hays-melt-mix-chocolate-cake-no-mixer-needed/
The decorating ingredient quantities are based on a 23cm round cake. If you use a larger cake, you'll need to increase the quantities accordingly.
I colour-coded my M&Ms for this particular cake, however you can mix and match the colours if you prefer.
I like to add a small amount of frosting onto the serving plate before placing the cake on top to decorate - this helps to keep it in place.
Tying a ribbon around the edges of the cake will keep the biscuits in place.
Nutrition
Calories:
378
kcal
|
Carbohydrates:
48
g
|
Protein:
3
g
|
Fat:
20
g
|
Saturated Fat:
10
g
|
Cholesterol:
2
mg
|
Sodium:
130
mg
|
Potassium:
249
mg
|
Fiber:
3
g
|
Sugar:
36
g
|
Vitamin A:
15
IU
|
Calcium:
32
mg
|
Iron:
2.9
mg