Planning a Sesame Street party has never been easier. With the focus on bright, colourful and fun, this party theme is sure to be a winner! Check out my tips for a stress-free Sesame Street party, including decorations, party food, cake ideas & more!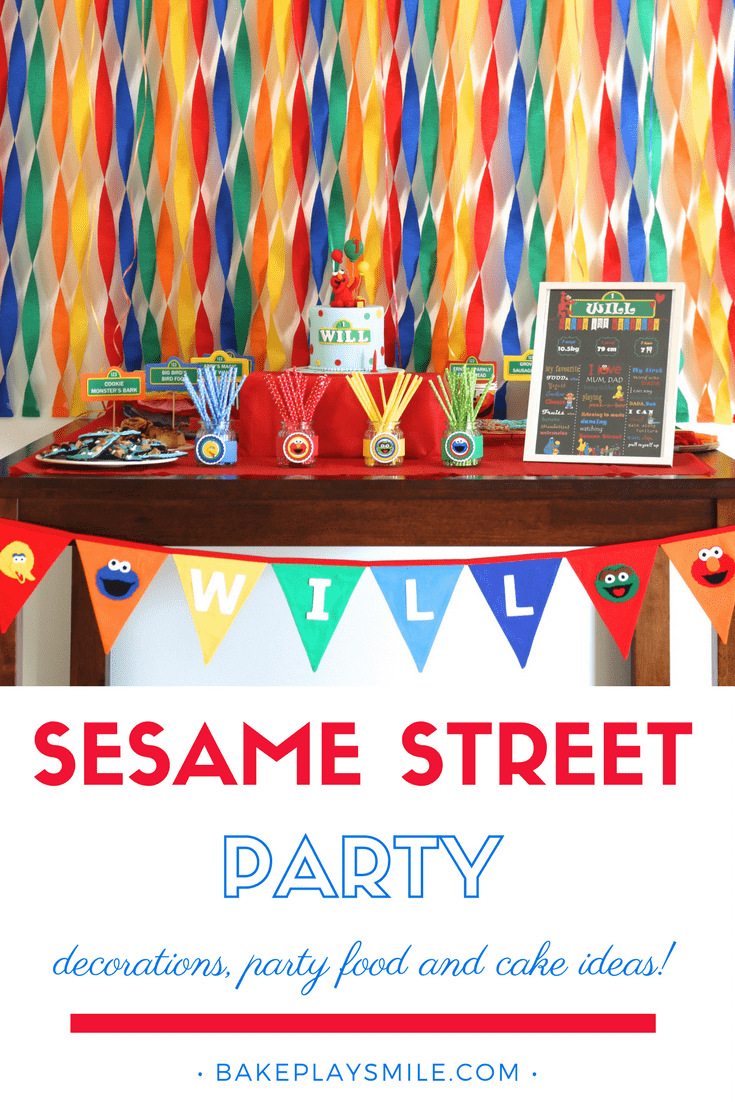 For my son Will's first birthday we organised a Sesame Street party. Sesame Street is currently the fave in our house, so it was an easy choice. I also loved the fact that it was a simple theme to plan around - with bright colours being the main focus. I've included all of the suppliers that I used at the end of the post. Please note that none of these are affiliates - I purchased all of the items myself and am simply including them in case you would also like to purchase any of the items.
Planning a Sesame Street Party
Sesame Street Decorations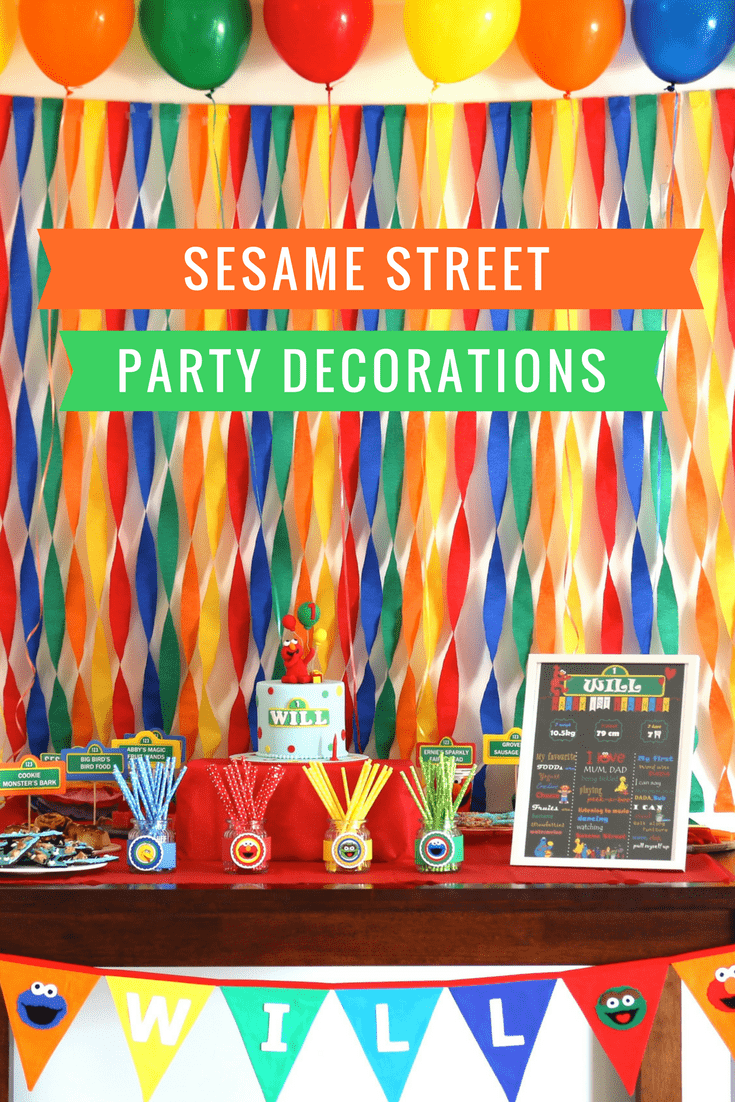 Balloons and Streamers
We went for red, green, orange, blue and yellow balloons and streamers. 20 helium balloons were placed above a wall of streamers, while a further 20 non-helium balloons were on the floor to play with.
We also had two helium balloon bouquets with matching colours and an Elmo helium balloon as the feature on each. CUTE!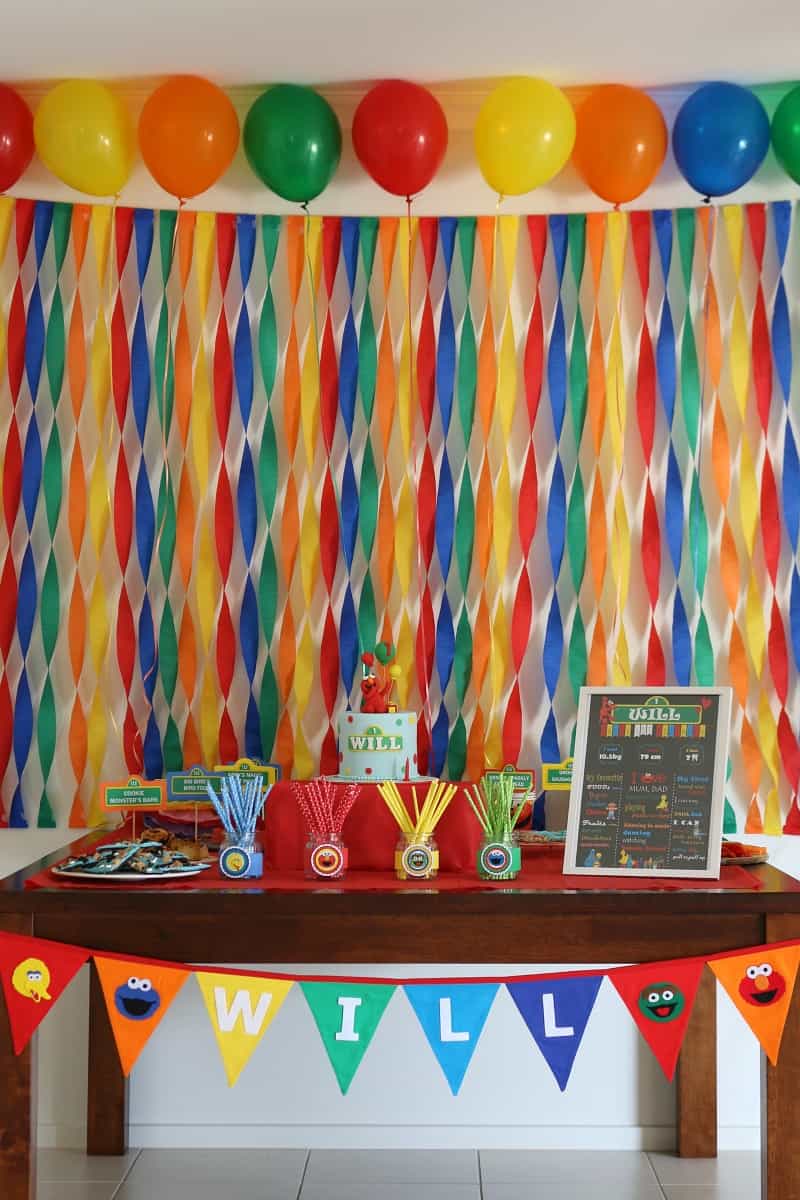 Hanging Decorations
We hung 3 Sesame Street character tissue paper pom poms from the ceiling. These came in a flat pack and I assembled them before hanging. I also had some simple hanging Sesame Street decorations with twirly ribbons and character faces (hanging decorations not pictured... sorry!).
Table Decorations
As I discovered, a tablecloth is great... but it needs to be away from the edges (or secured well) to keep little hands away! In the end I used a red tablecloth and ensured it was out of reach!
I wanted the cake to be the main centrepiece and focus point of the table and so I covered a wooden box with a piece of red tablecloth and placed it into the centre. This gave it a nice height and drew attention directly to the cake.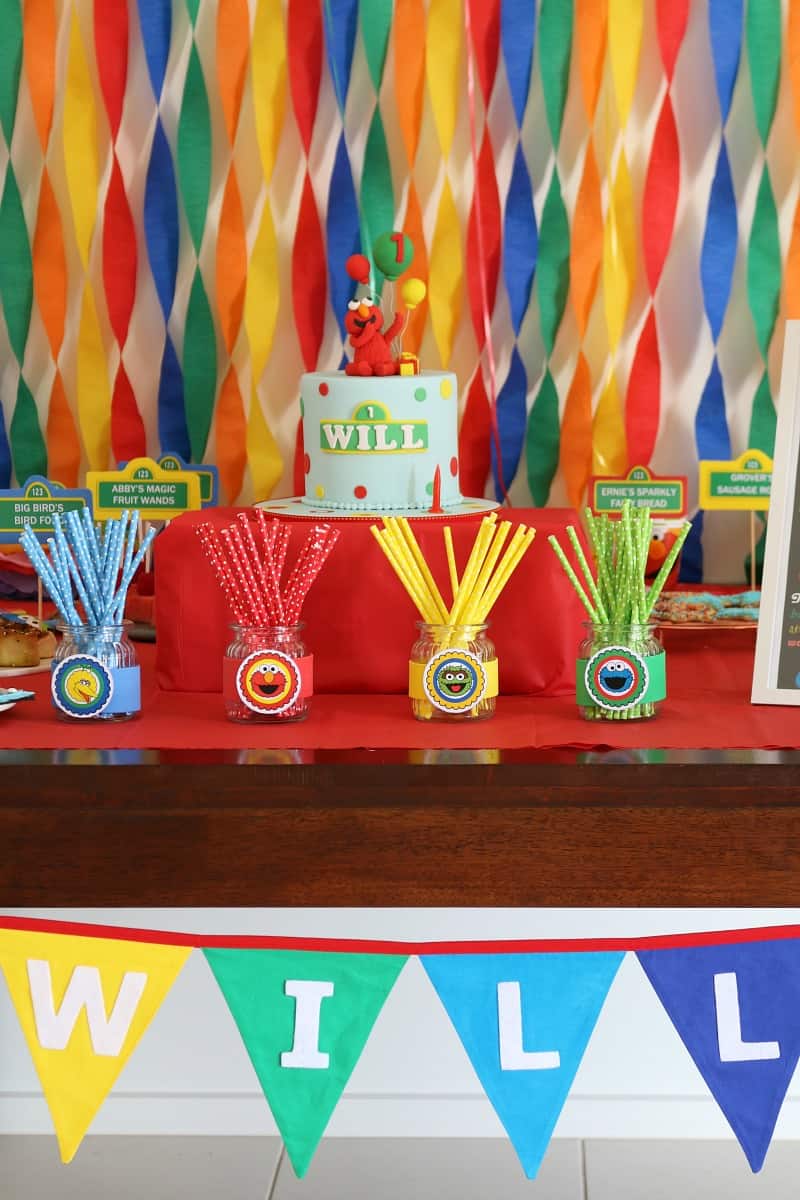 I also wanted to continue the bright colour scheme on the table and so added glass jars covered with a strip of coloured felt card and a Sesame Street character face and filled them with matching coloured straws (I'm a matchy-matchy kinda girl!). This was a brilliant way to add colour to the table in a very inexpensive and easy way.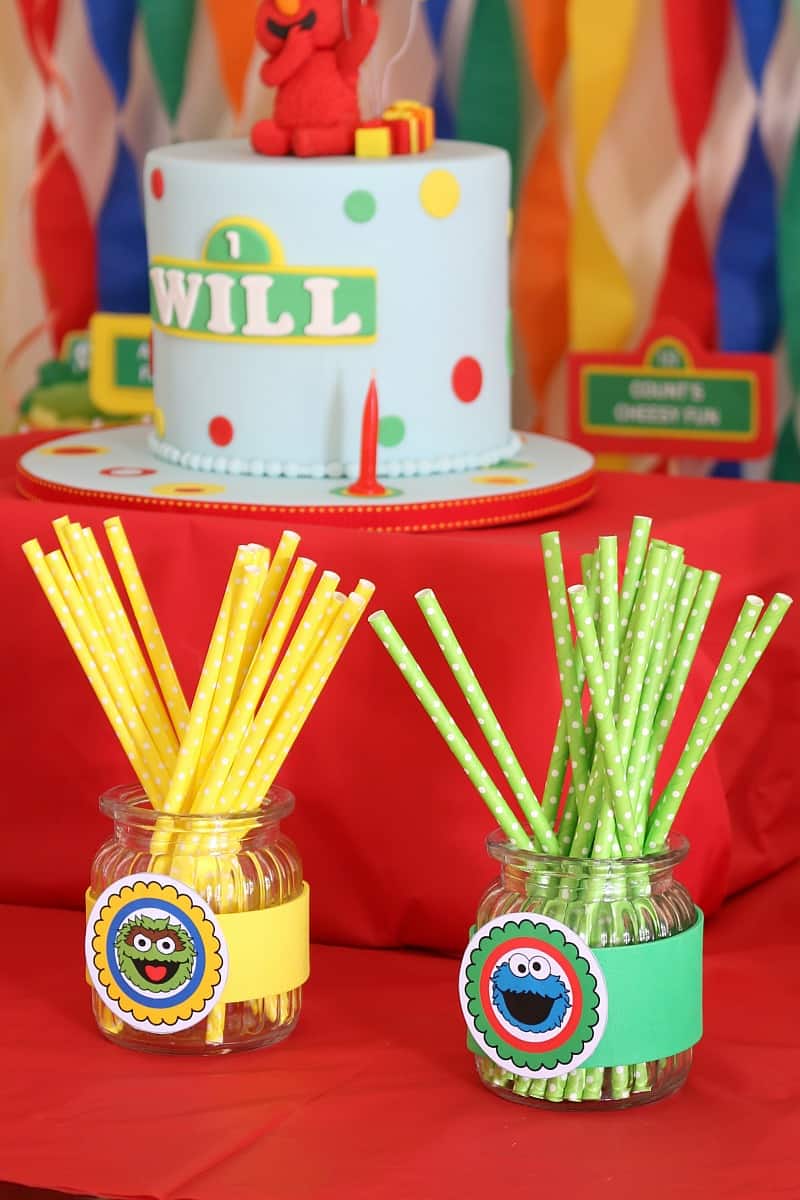 I used the same supplier as the hanging tissue paper pom poms for the colourful table pom poms. These were great for adding extra colour.
To make the food stand labels, I purchased mini blackboards on sticks from my local $2 store and then cut out felt coloured card to cover the blackboard. From there I used printable labels customised to our party food menu.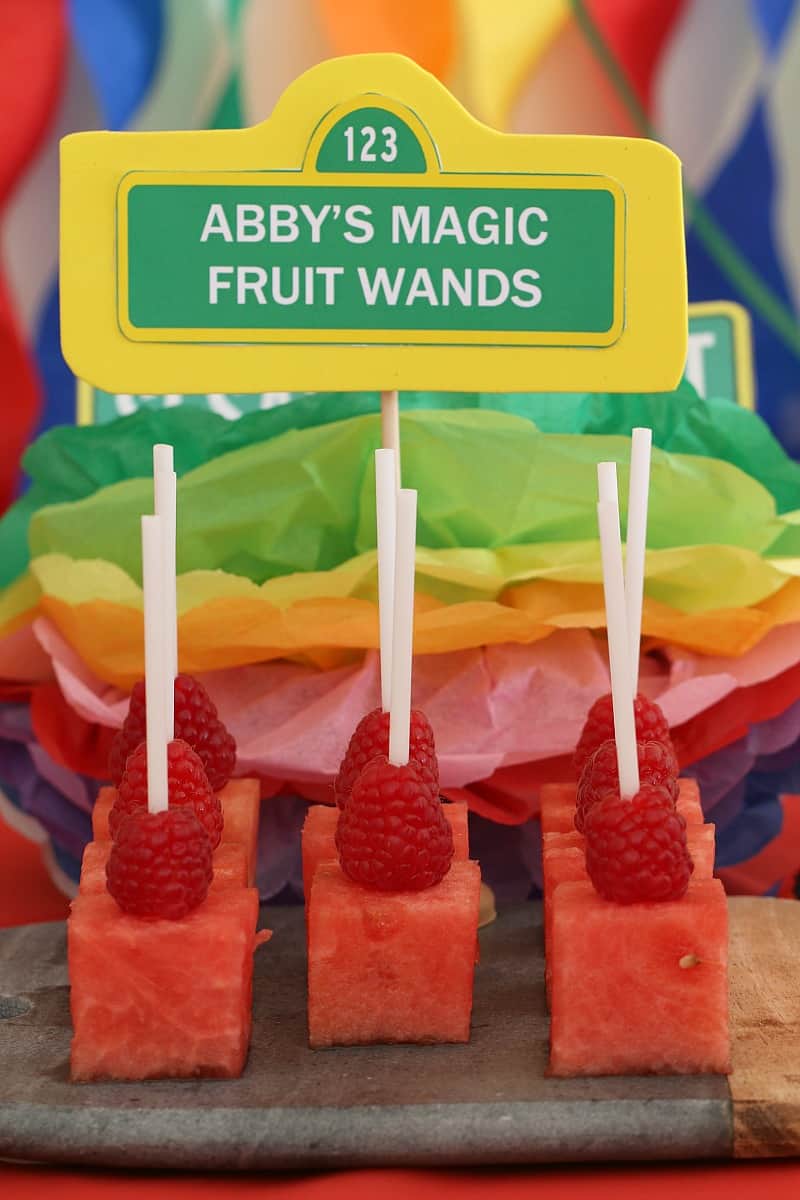 Sesame Street napkins, plates and cups made the clean-up afterwards an absolute breeze!!!
The 'Will' material banner at the base of the table provided a fun feature (and also a great keepsake!).
We also used a high chair Sesame Street banner and mess mat (although the banner fell off almost straight away!!).
Finally, I ordered a customised Sesame Street print from Etsy, printed it to A3 size and placed it into a frame. Easy-peasy and again, a great keepsake from Will's first birthday.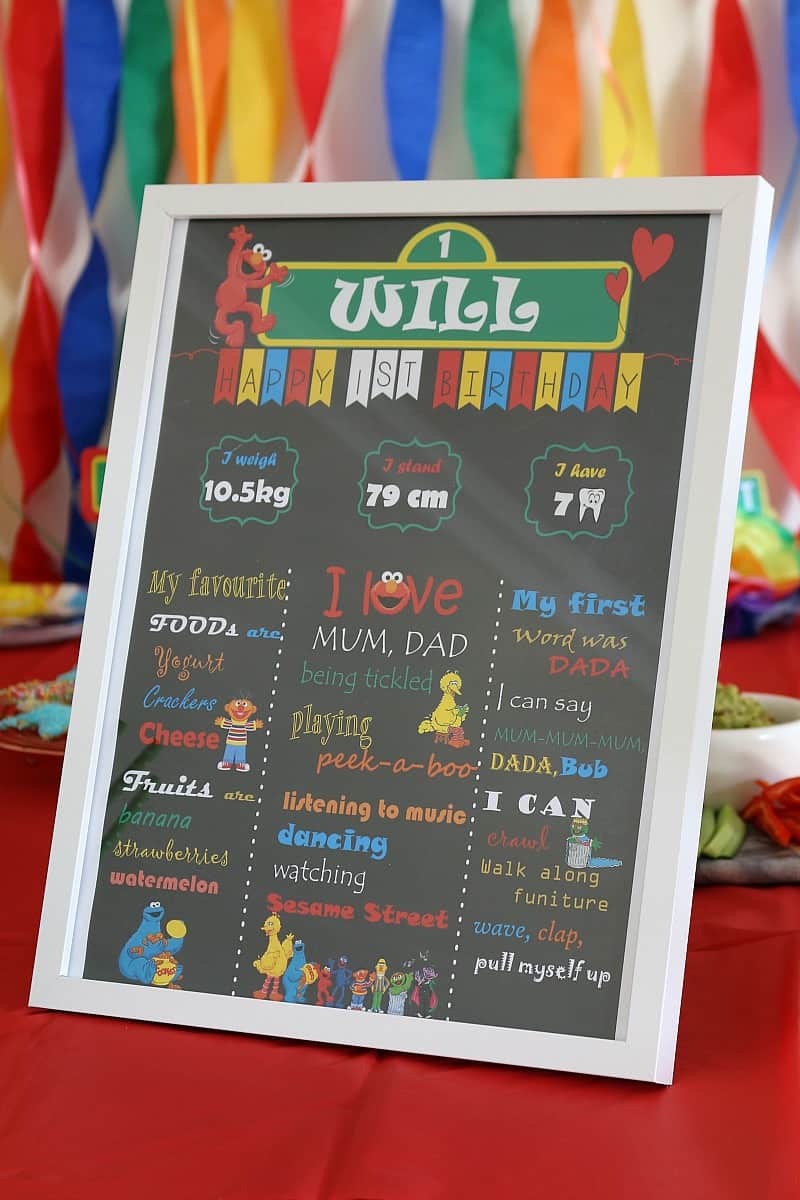 Sesame Street Cake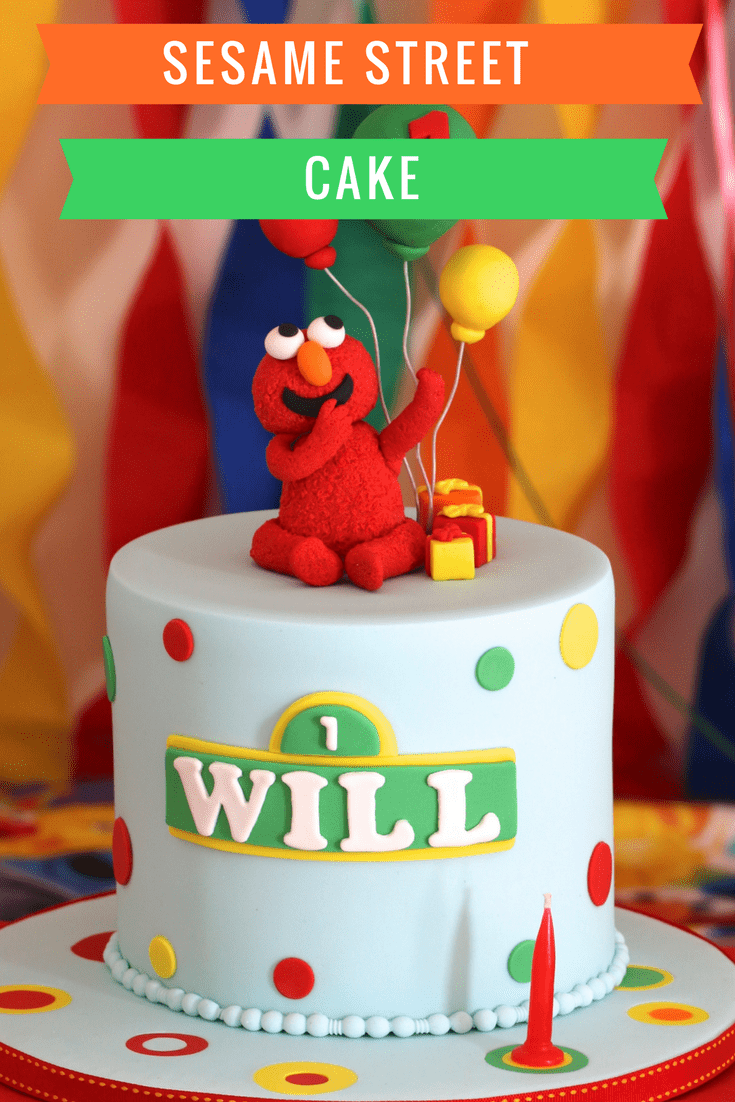 Can we all just take a second to appreciate the gorgeousness of this cake!!!! I had this made by a professional cake maker and it certainly made me appreciate the time, skill and effort that they put in. There is no way I would ever, EVER be able to make anything like this (plus it took soooo much pressure off not having to worry about the cake). I gave my cake maker a few different pictures of Sesame Street cakes I liked, but then just let her go for it! To say I loved how this cake turned out is the understatement of the year.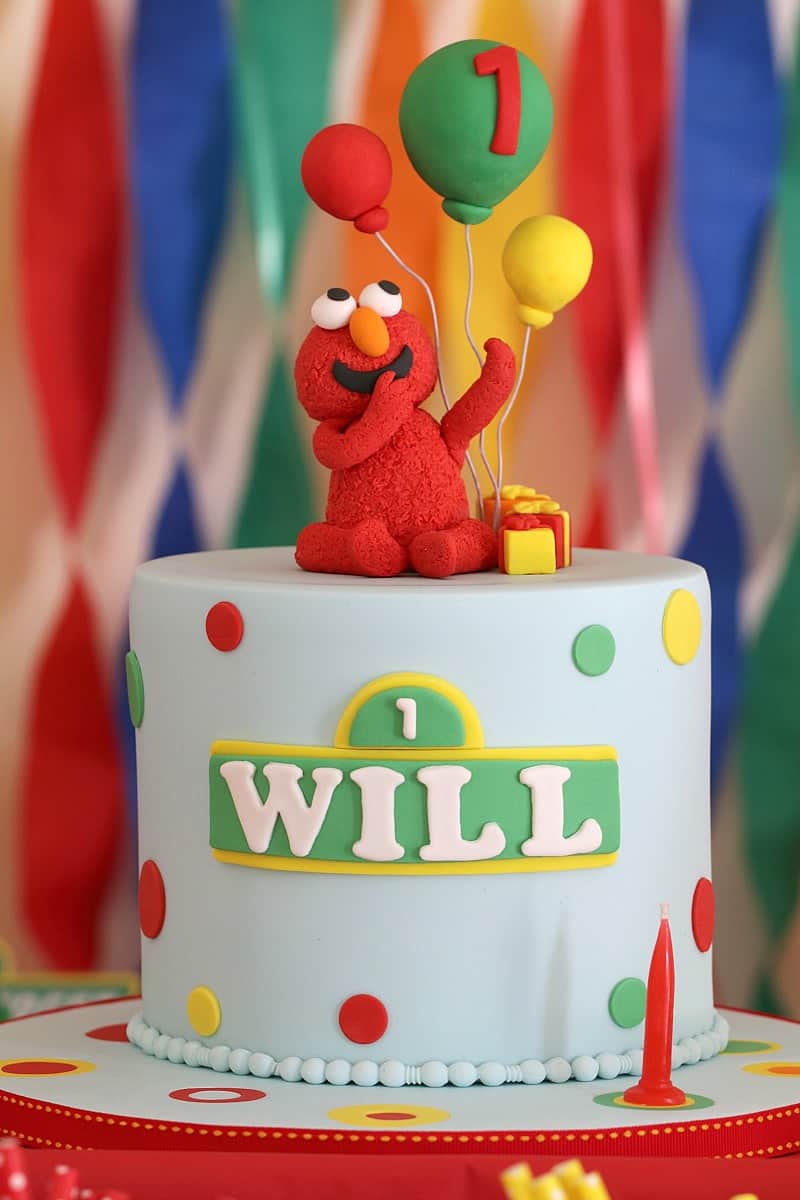 The cake itself was a rich chocolate mud cake covered in chocolate ganache and fondant. Even the Elmo and balloons on top were edible! Amazing, right!?
The Party Food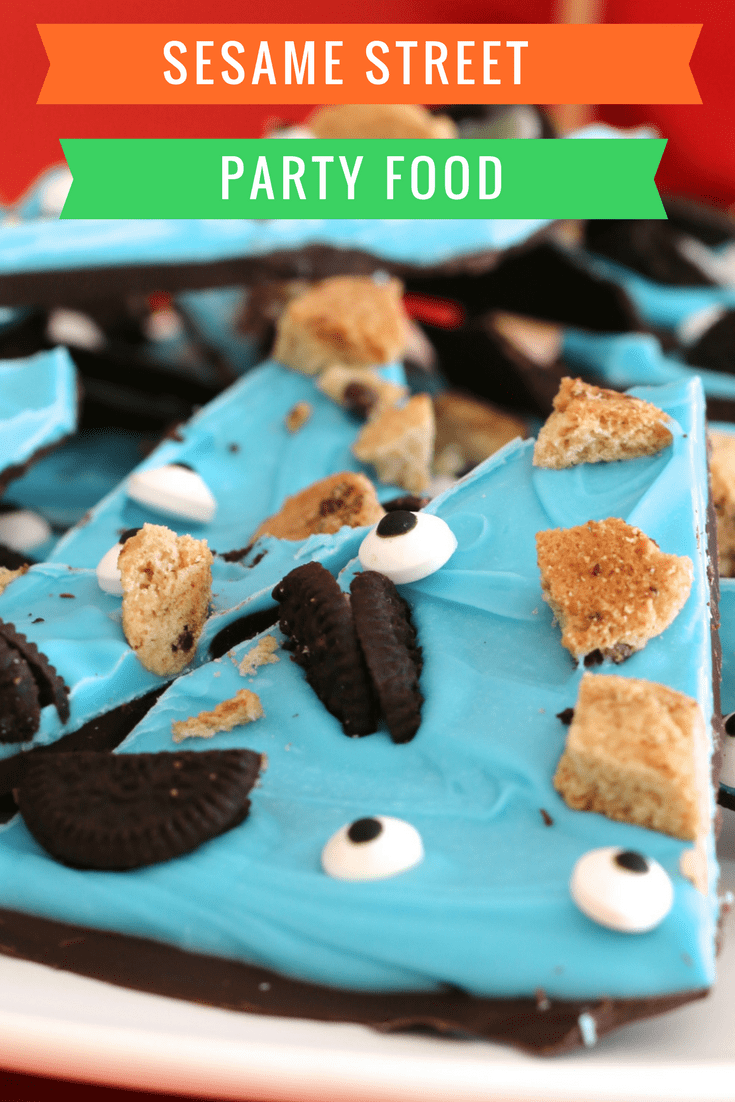 Yay! My favourite part!!!
Here's a list of the Sesame Street themed party food we had:
Big Bird's Bird Food (cheesymite scrolls and pesto/feta scrolls)

Abby's Magic Fruit Wands

Ernie's Sparkly Fairy Bread (fairy bread cut out into the shape of stars and covered with blue sprinkles and 100s & 1000s)

Elmo's Super Food (guacamole with vegetable sticks)

Cookie Monster's Bark (recipe coming soon!)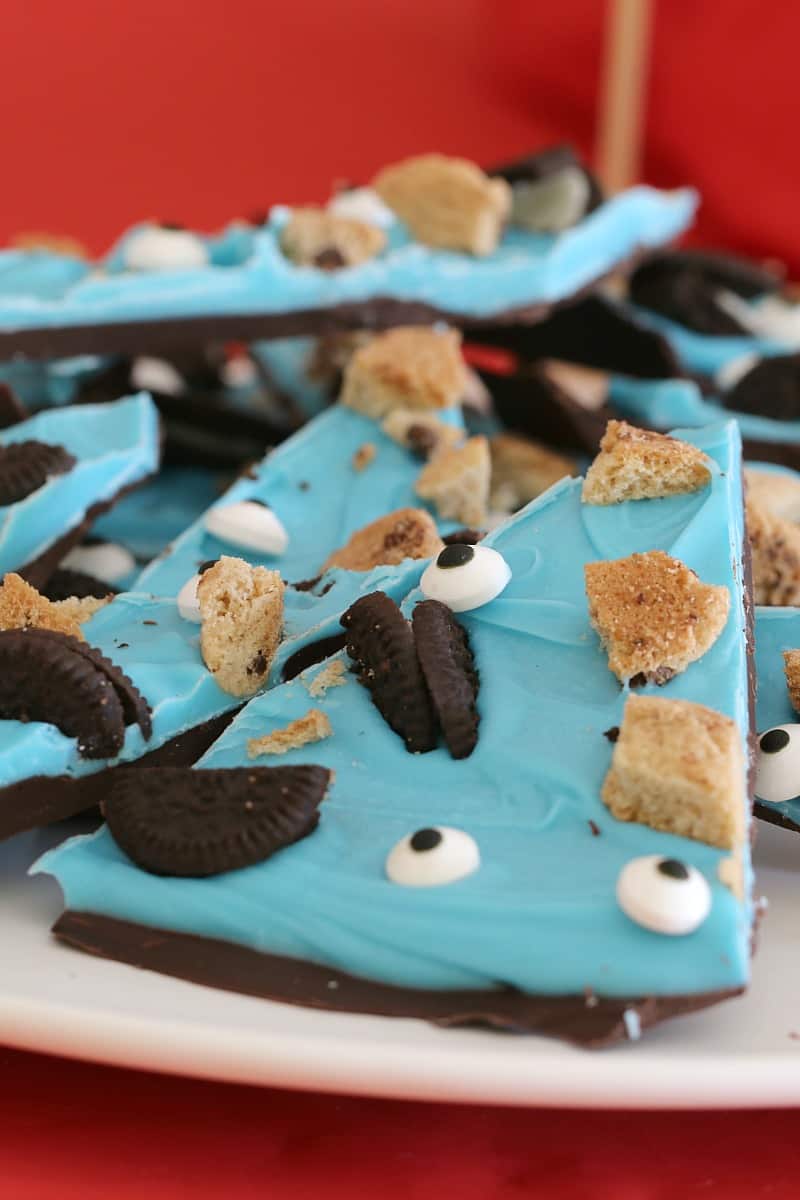 Count's Cheesy Fun (a cheese board)

Grover's Sausage Rolls and Bert's Yummy Little Quiches (no images).
Sesame Street Party Wrap Up
I absolutely loved planing and setting up this party. I wanted a theme that was going to look great, but also wasn't going to cost a fortune AND wasn't going to take forever to organise. This ticked all of those boxes! For anyone planning a Sesame Street party - go for it!!! Aim for bright, colourful and easy to source decorations. This is the perfect party theme for anyone who isn't particularly crafty (and who doesn't have a huge amount of time on their hands!).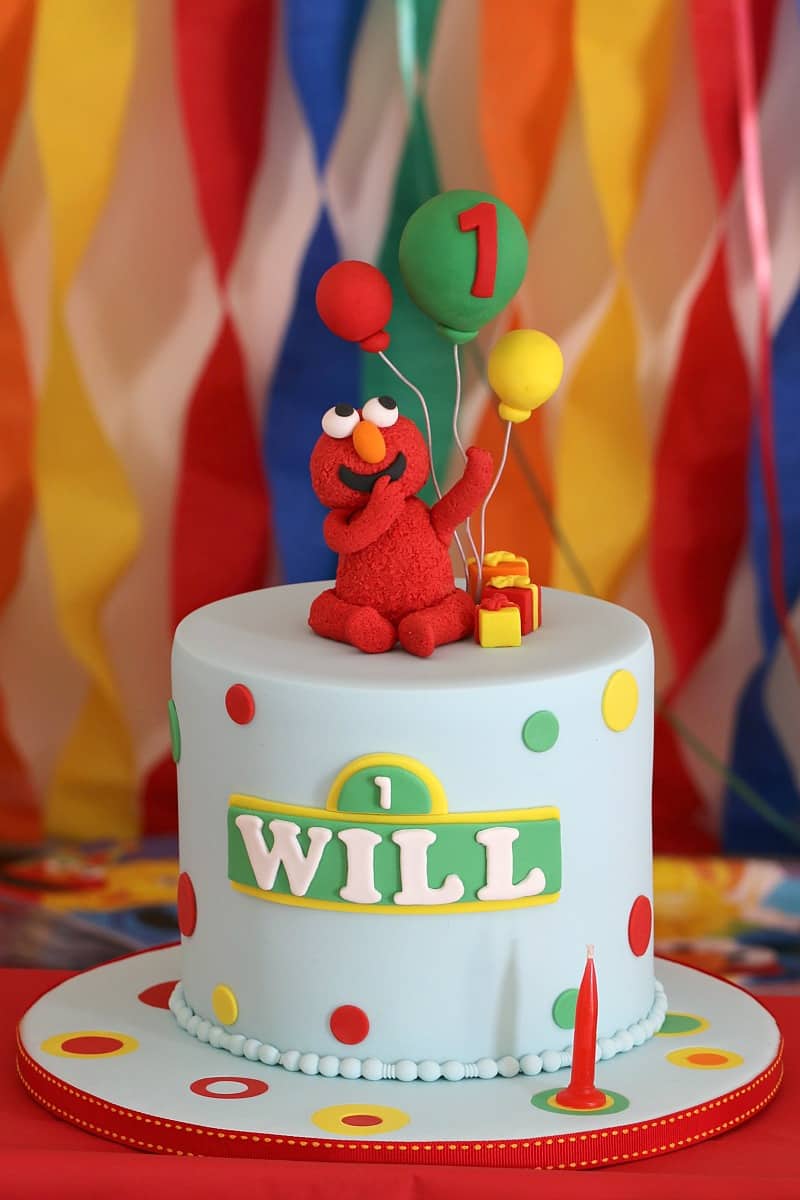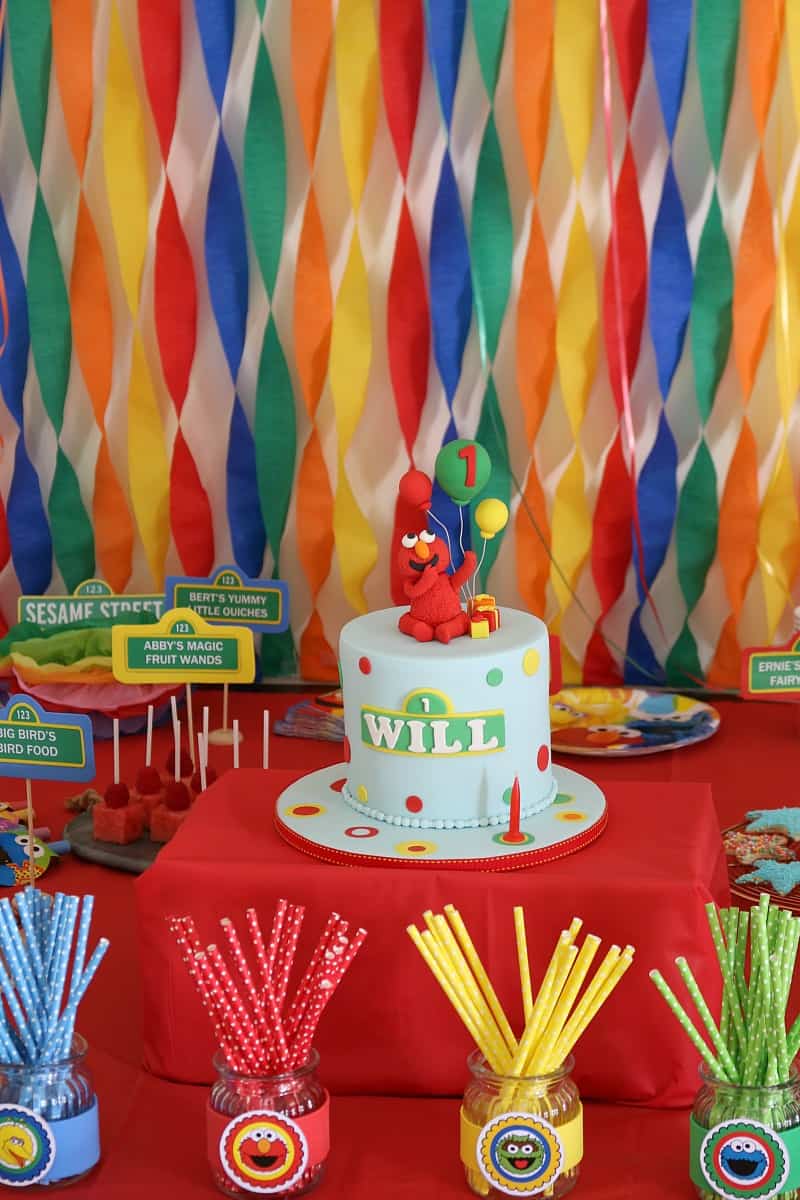 List of suppliers for specific items
Please note that none of these suppliers are affiliates in any way. I sourced and paid for each item myself. I'm simply including the list in case you would also like to check them out.
Tissue paper hanging pom poms and tissue paper table decorations - Theme It
Hanging Sesame Street decorations with twirling ribbon and character faces - Big W
Character faces on glass jars - free and printed from Family Shopping Bag
Editable food labels - purchased and printed from Cupcake Makeover
Sesame Street napkins, plates and paper cups - Big W and Whip It Up Cake Supplies
Personalised material name banner - Piggy & Squirrel (Etsy)
High chair banner, mess mat and bib - Whip It Up Cake Supplies
Personalised Sesame Street print - Style Meets Bliss (Etsy)
Sesame Street birthday cake - Cup Cup & Away
Edible eyes used in the cookie monster bark - Spotlight