Once you've made this easy fettuccine carbonara with only 4 ingredients, you'll never go back! No cream… just eggs, bacon/pancetta, pasta and parmesan cheese.
I'm a bit of a pasta nut. I just love it. And really, what's not to love about a nice, big bowl of carbolicious-ness. And it's even better if that big bowl of carbs is nice and creamy… and filled with bacon, right!? For years I was making carbonara the wrong way. I thought it was amazing, but looking back, it wasn't. So what was I doing wrong? Well, I would always pour a good slosh of cream into my sauce to make it extra creamy. Sounds logical enough?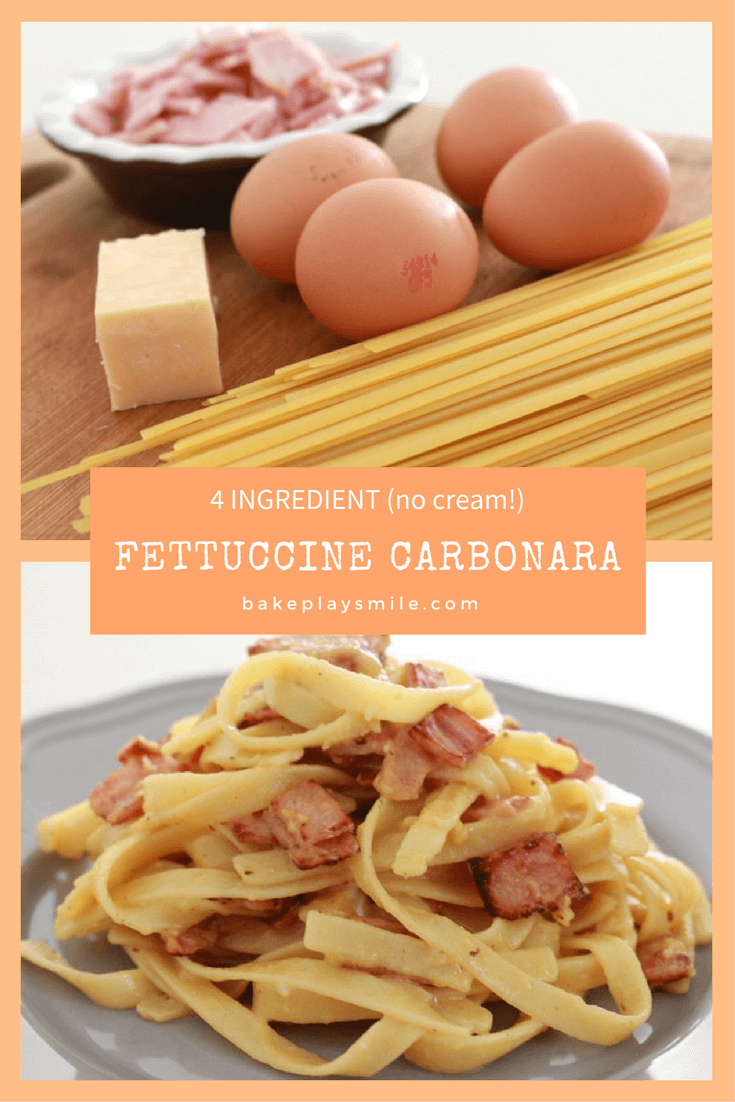 But after we travelled around Italy a few years ago, I realised that I'd been making carbonara completely wrong. Traditional carbonara doesn't have any cream in it. It's creamy enough all on it's own, just from the eggs and parmesan cheese. And hey, don't get me wrong… there is nothing, I repeat, NOTHING wrong with a yummy pasta sauce made with cream – just not when it's carbonara! I promise that once you try this Easy Fettuccine Carbonara you will never go back to the cream-laden versions. If there's one thing I learnt in Italy (apart from the fact that gelato is the bestest thing in the world), it's that simple pastas are the most delicious.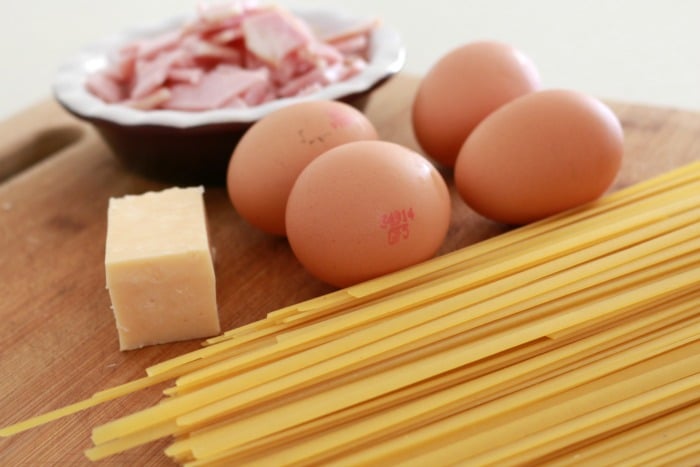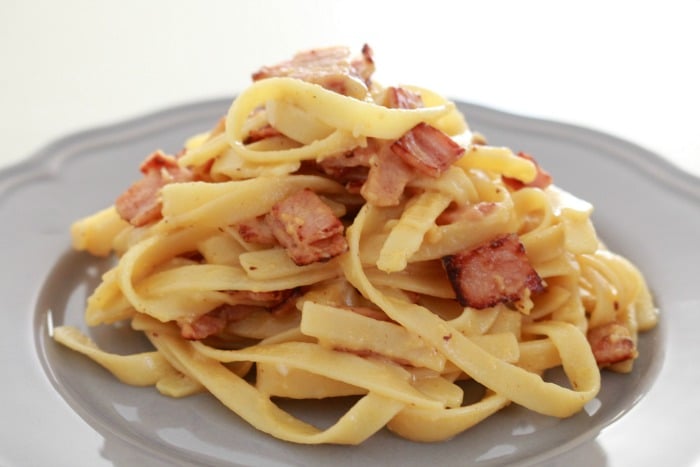 Now this isn't a truly traditional carbonara recipe. If it was, I'd be using guanciale instead of bacon or pancetta. But hey, it's close enough and it tastes great. For this recipe you'll need only four ingredients – eggs, parmesan cheese, bacon and fettuccine pasta. That's it! Well actually, you'll want to crack a bit of sea salt and pepper onto your pasta too – but whose counting them as ingredients?!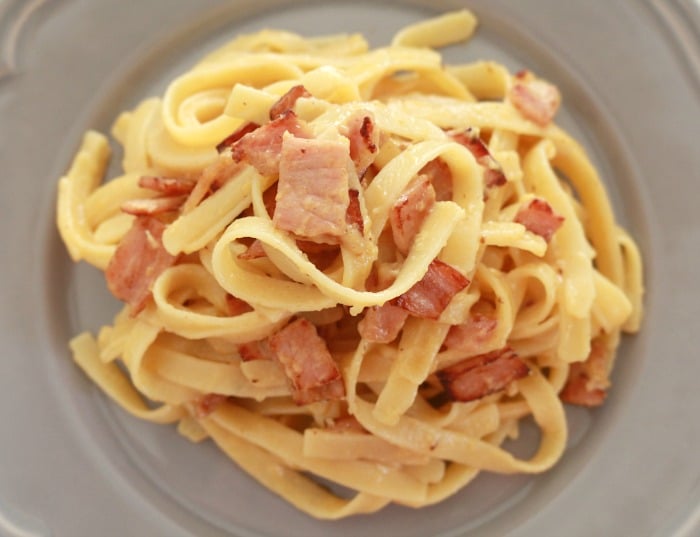 There are two important things that will make this easy fettuccine carbonara absolutely perfect. The first thing is that you want to to cook your bacon or pancetta until it's nice and crispy. The second thing is that you don't want to add your eggs to the pasta until you've removed the pan from the heat. This will stop the egg from overcooking and scrambling. You're going for a beautifully smooth sauce with crispy little bites of bacon.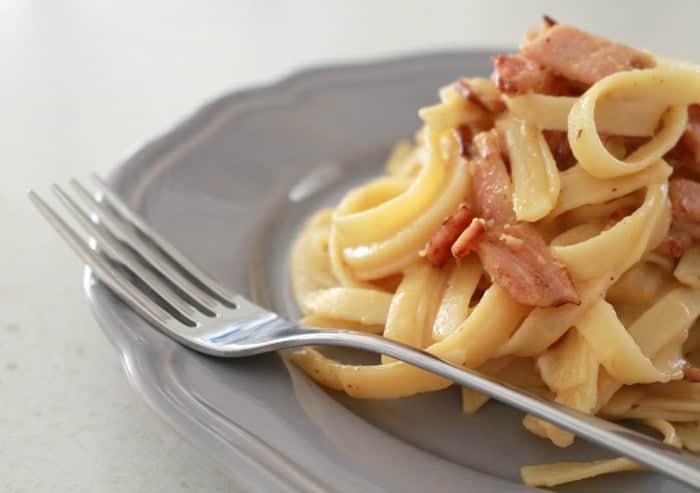 I hope you love this recipe as much as I do. It's one of our favourites and something we have pretty regularly (probably because it's totally no-fuss… and also because I can't say no to those carbs!).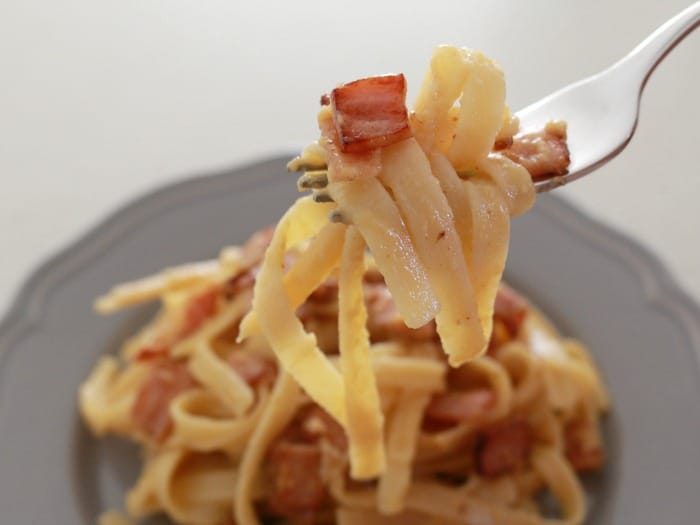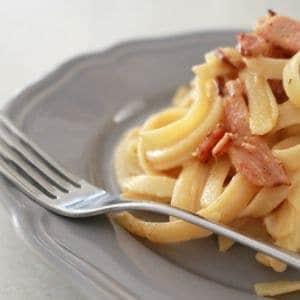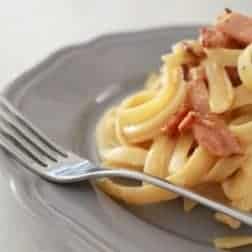 Easy 4 Ingredient Fettuccine Carbonara
Once you've made this easy fettuccine carbonara with only 4 ingredients, you'll never go back! No cream... just eggs, bacon/pancetta, pasta and parmesan cheese.
Print
Pin
Rate
Ingredients
350

fettuccine

4

eggs

150

g

bacon

or pancetta, chopped

100

g

parmesan cheese

freshly grated

sea salt and cracked pepper to serve
Instructions
Bring a large saucepan of water to the boil. Add 1-2 tsp salt.

Cook the chopped bacon or pancetta in a frying pan over medium heat until crispy. Set aside.

Cook the fettuccine pasta in the pot of boiling water according to the packet instructions, until al dente.

Meanwhile, beat the eggs in a medium sized bowl. Add the parmesan cheese and mix well.

When the pasta is cooked, use tongs to remove it from the pot of boiling water and straight into the frying pan with the pancetta (don't throw away the water!).

Put the frying pan over a medium heat and add 1/4 cup of the reserved pasta water.

Shake the pan for 10 seconds or until most of the water has evaporated.

Remove the pan from the heat and pour in the egg/cheese mixture.

Working quickly, stir the pasta until it has a smooth coating from the sauce.

Add in a little more of the pasta water if the egg mixture is too thick.

Season with sea salt (if needed) and cracked pepper and serve immediately.
Nutrition
Calories:
653
kcal
|
Carbohydrates:
64
g
|
Protein:
32
g
|
Fat:
29
g
|
Saturated Fat:
11
g
|
Cholesterol:
279
mg
|
Sodium:
730
mg
|
Potassium:
371
mg
|
Fiber:
3
g
|
Sugar:
2
g
|
Vitamin A:
500
IU
|
Calcium:
351
mg
|
Iron:
2.8
mg