This Vegetable Slice makes a great alternative to a boring old sandwich! Packed full of vegetables, cheese and chickpeas… YUM!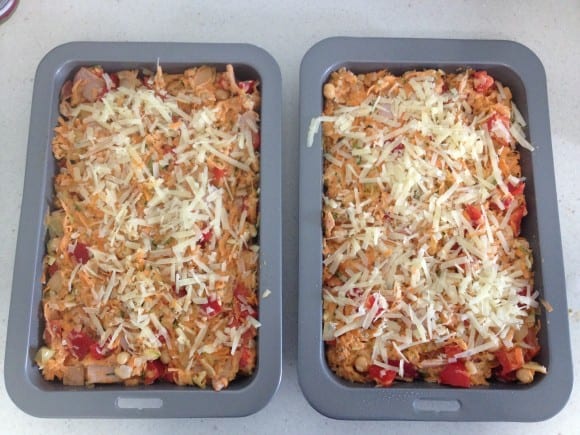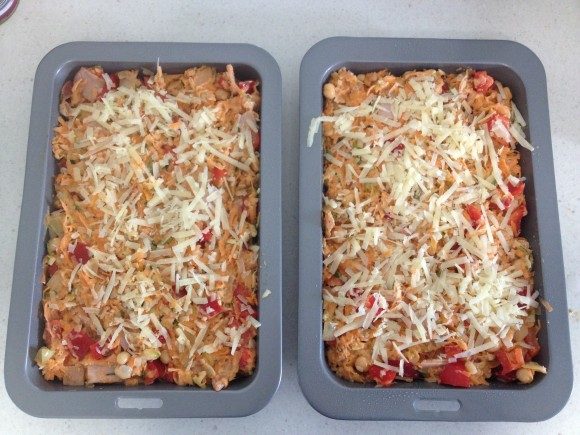 This slice is brilliant as it can be made ahead, cut into slices and frozen. Therefore, no brain power or effort is required in the morning (great for non-morning people like me!) and you can just grab it out of the freezer and you are good to go.
I love making vegie slice because I absolutely hate wasting food and this is a great way to use up all of the vegies in your fridge that are getting a little droopy and are not so crispy or fresh anymore.
There really isn't a recipe for this slice… it basically involves grating or thinly slicing any vegies you can get your hands on (my faves are sweet potato, zucchini, capsicum and carrot… but any will do!), and then mixing them into a big bowl with a few tablespoons of flour, a couple of whisked eggs, some salt, pepper and any other herbs or spices you like, some grated cheese, a tin of chickpeas (or any beans for that matter), some cooked bacon and onion (or cut up ham), and a couple of tablespoons of chutney. If you think the vegies aren't coated enough, just add a couple more eggs. It shouldn't be too sloppy a mess though!
Then everything gets poured into a greased baking dish, grate some more cheese on top and you are all set! Sometimes I like to slice some tomatoes on top too (although I didn't have any in the fridge when I made this particular slice… and ANOTHER trip to the supermarket just wasn't worth it!).
The slice is then baked for about 35 minutes (depending on the size of your slice) or until golden and cooked through. Let it cool and then cut into slices, wrap and pop in the freezer.
Super yum, super healthy and super easy for people who are lazy like me and sometimes just can't be bothered making lunch 🙂