Normally when you think of mexican food you think of high fat, high calorie, cheese laden yumminess! Oh yeah and don't forget the delicious corn cobs rolled in spices and cheese… mmmmmm! Anyway, here is a healthy take on chicken enchiladas! They are packed full of vegies (but you wouldn't even know!), full of healthy things like beans and use only a little bit of cheese. So no more feeling guilty about eating mexican food! In fact, why not have a tequila to celebrate your healthy mexican fiesta! Hehe.. actually tequila probably doesn't make it into the healthy mexican section 🙁
First up, cook some diced onion and cubed chicken breast in a pan (no need for heaps of oil… just a little spray will do!). Add diced capsicum, a tin of corn kernels, a tin of mixed beans and a few good handfuls of baby spinach (it wilts down to nothing so nobody will even notice you are hiding it in there!). Add half a jar of enchilada sauce and cook for a few minutes.
Place a couple of spoonfuls of the mixture into the middle of a low-fat tortilla and roll up. Place in a lightly greased oven dish.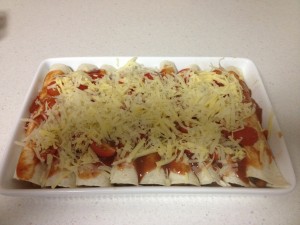 Repeat the rolling of tortillas until your dish is full! Then spread the remaining enchilada sauce over top. Sprinkle with half a punnet of cherry tomatoes and a small amount of low-fat grated cheese.
Bake for about 20 minutes in a 180 degree oven. Dollop some low-fat sour cream on top and enjoy without any guilt!
So there you have it… healthy mexican food, full of 6 different types of vegies and tastes just as good as the restaurant bought stuff! Deeeelish!
Apologies for not having a photo of the cooked enchiladas.. I wish I had a good excuse but the truth is that we had friends over for dinner and after a wine (or two) and lots of chatting, I totally forgot about taking photos!!! But I can promise you that the enchiladas were super yummy…. and the fact that our friends little son gobbled up his whole plate speaks wonders (kids are clearly the biggest food critics around…move over Matt Preston!).
xxx