The Ultimate Snickers Slice – this quick and easy no-bake chocolate slice is packed with chopped up Snickers Bars and extra peanuts… umm yes please!!
Scroll down to the bottom of this post for my Ultimate Snickers Slice Recipe….
Welcome to our Fabulous Foodie Fridays link up party! Each and every week we have continued to have so many totally delicious  recipes linked up. It's also been wonderful to see lots of gluten-free, dairy-free and nut-free recipes as well. There really is something for everyone! Choosing my favourite five recipes is definitely one of the most difficult decisions of the week (well that, and deciding whether to make cookies or cupcakes!). Here are my top five picks from last weeks party…
1. Now that winter has well and truly set in (well at least in Melbourne it certainly has!), I couldn't go past this Homemade Chai Latte recipe from Insatiable Munchies. I always order a Chai Latte when I'm at a cafe and now I can make my own at home… in my ugg boots… with the heater going… and my warmest jumper on!
2. Of course, a Chai Latte wouldn't be complete without something sweet on the side. And so, this 'Best Ever Banana Bread' from Mrs Organised will do me just fine thank you very much!
3. Mmmm I don't know if it was the chunks of sourdough bread or the cranberry sauce that had me totally sucked in with this Turkey Meatloaf from Good Food Week. It soooo doesn't need to be Christmas to whip out the turkey!!
4. What better dessert to warm you up during winter than a Sticky Date Pudding. These ones are mini so that means it's totally ok to have a few. Thanks From My Kitchen for these deliciously sweet little puds.
5. A couple of years ago we visited Istanbul and I was totally blown away by how amazing all of the food was… particularly the desserts. I overdosed big-time on Turkish Delight and Baklava, but didn't get to try any Revani Sweet (Tatlisi). I'm a sucker for anything lemon flavoured, so this lemon syrup cake is just my thing. Thanks Mums Take 5 for sharing this recipe.
Don't forget to pop over and check out Lauren at Create Bake Make's favourites too (she's chosen some very, very yummy recipes!).
Ultimate Snickers Slice Recipe….
Now for our feature recipe this week… Snickers Slice!! Do you know someone who loves Snickers bars? Well then, they will totally love this Ultimate Snickers Slice! It's packed with chopped up snickers, extra peanuts and is covered in delicious chocolate. It's seriously taste-bud friendly and seriously weight-watchers unfriendly (but don't let that put you off!!!). This is a no-bake slice so it's perfect for when you're in a rush… or when you have a case of the 'can't be's'.
All you do is chop up your Snickers bars (feel free to munch away as you go), crush up some biscuits, melt the butter and condensed milk and mix them all together with some cocoa and extra peanuts. Pop it into a lined tin, pour over some gooey delicious melted chocolate (of course you need to lick the spoon at this stage too!) and then leave it in the fridge to set.
I highly recommend buying at least one extra Snickers bar, because as good as your intentions may be, at least some of the Snickers will definitely be eaten during the making of this slice!
To get the white/dark chocolate topping effect, I swirled some white chocolate onto the base, let it set and then poured over the dark chocolate. You totally don't need to do this, but it's a bit of fun! Enjoy xx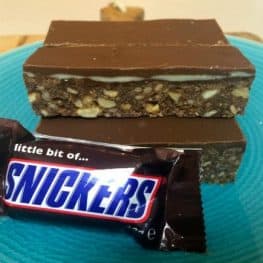 Fabulous Foodie Fridays #9 - The Ultimate Snickers Slice
A no-bake slice packed with Snickers bars and extra peanuts... umm yes please!
Print
Pin
Rate
Ingredients
1

packet of plain

such as Marie, sweet biscuits , crushed

3/4

tin of sweetened condensed milk

you can always add a little more if the mixture is too dry

100

g

butter

chopped

2

tablespoons

cocoa powder

3

X 55g bars Snickers chocolate bars

extra bars for decoration on top if you like, roughly chopped

1/4

cup

roasted peanuts

150

g

milk chocolate

or dark/white
Instructions
Crush the biscuits in a food processor (don't worry if there are still a fair few bigger chunks... that's fine!) and then pour into a mixing bowl.

Sift the cocoa powder onto the biscuit crumbs.

Melt butter and condensed milk in a saucepan over a very low heat. Mix until smooth.

Pour warm mixture onto the biscuits and mix well.

Very carefully add the chopped up Snickers bars and peanuts.

Mix well.

Spread mixture into a baking paper lined slice pan.

Meanwhile, melt the chocolate in the microwave on low (stirring regularly) and pour over the cooled slice.

Working quickly, spread the chocolate evenly over the slice.

Pop into the fridge until just set (tacky to the touch but not hard).

Take out of the fridge and slice into squares.
Ultimate Snickers Slice – Thermomix Instructions:
1. Crush biscuits on Turbo by pulsing until they resemble small crumbs.
2. Pour biscuits into a bowl and set aside.
3. Add the cubed butter and condensed milk to the Thermomix bowl.
4. Melt on 50 degrees, speed 2 for 4 minutes, stirring regularly (if there are still any lumps, melt it for a little longer).
5. Add the biscuit crumbs, cocoa, Snickers bars and peanuts to the butter mixture.
6. Mix on reverse speed 2 for 30 seconds (or until totally combined).
7. Spread the mixture into a baking paper lined slice pan and set aside (don't put it in the fridge yet or the chocolate topping will set too quickly!).
8. Grate the milk chocolate on Speed 5 for 10 seconds.
9. Scrape down the bowl and melt on 50 degrees, speed 2 for 3-5 minutes (scraping down the sides regularly).
10. Pour chocolate over the slice.
11. Pop into the fridge until just set (tacky to the touch but not hard).
12. Take it out of the fridge and slice into squares.