Calling all chocoholics… these Caramel & Peanut Chocolate Brownies are going to blow your sugar-filled minds!!! Serve warm or cold for the perfect treat!
Gosh I love weekends! There is nothing better than waking up on a Saturday or Sunday morning and not having to rush, rush, rush to get organised for work. My favourite mornings usually consist of checking up on emails and watching Sunrise on TV while eating my breakfast… it's a nice. lazy start to the day (that is before the mountains of washing, grocery shopping and tidying up beckons me!).
Weekends are also my baking time and if you have been reading this blog for a while now, you will know that I LOOOOVE to bake. Oh and yesterday afternoon I had the best surprise ever! After posting about my favourite blogs on Friday, Corrie from Retro Mummy wrote a lovely post on her Facebook page about Bake Play Smile and also wrote a comment on my post, which was so exciting! I'm a bit starstruck by Corrie as she has developed her blog into one of the most popular ones in Australia… so her commenting on my teeny weeny blog absolutely made my day!
But back to the baking. I'm on a bit of a chocolate mint craze at the moment. It's so good. Anything chocolate mint I am just loving! Choc-mint choc tops at the cinema, mint ice-cream with chocolate chips, mint flavoured Ice Magic poured over chocolate ice-cream, choc-mint Kit Kat bars… yeah, yeah, you get the point! So I decided to make a basic chocolate biscuit recipe but add in chopped up mint flavoured Aero chocolate and Arnott's Mint Slice biscuits…. mmmm. Anyway, I'll save that recipe for another day, because I just have to, HAVE TO, share this ooozy, gooey caramel peanut chocolate brownie recipe with you today!
My husband loves Cadbury Picnic chocolate bars… they are by far his favourite. If you aren't familiar with them, they are like delicious layers of caramel, wafer, peanuts and rice crisps covered in milk chocolate. Anyway, last week after I baked those ridiculous triple chocolate Cherry Ripe mud cupcakes, he said "why don't you make something with Picnic bars". Phhh why have I never thought of that! And while I wouldn't normally go out and buy a Picnic bar for myself to eat (you can't take me away from the Turkish Delights), I love caramel, I love peanuts and I love wafer biscuits. And so all week it's been driving me crazy… what could I make with Picnic bars? I tossed up the idea of a chocolate tart with Picnic's crushed up all over the top (still thinking that sounds pretty darn awesome!). Then I thought about cupcakes with little chunks of Picnic all through them (but I've eaten far too many cupcakes lately). Finally, after laying awake in bed for about an hour on Saturday morning thinking about it (surely I'm not the only one who thinks about baking when they can't sleep???), I decided to make my foolproof brownie recipe and add in not only chopped up Picnic bars, but also a few Werther's Original Chewy Caramels and a peanut brittle bar. OMG OMG OMG… that is all I have to say!
These Caramel & Peanut Chocolate Brownies are foolproof. You can't muck it up… seriously! It's not like one of those 'foolproof' sponge cake recipes that end up failing miserably and tasting like cardboard. Nope, you absolutely cannot go wrong with these Caramel & Peanut Chocolate Brownies recipe! It doesn't use much flour so it's super duper rich and decadent. The Picnic bars give the brownies such an awesome little crunch, the caramels are still gooey when the brownie is warm and then set to be chewy and delicious, and the peanut brittle is great as it really gives the brownies an extra peanuty flavour! These taste like the super moist brownies that you buy at a cafe… they are definitely not cake like. Not at all! They are more fudge like. Mmmm fudge!
They are incredibly rich so you only need a smallish bit (that didn't stop me going back to the fridge for another and another and another smallish bit). My plan is to have some heated up tonight with some vanilla ice-cream. While I'm at it, that caramel sauce in the cupboard would be pretty amazing warmed up and drizzled over the top too. Oh dear lordy…. this is definitely weekend food! Once Monday rolls around I think I need to do a few days of chocolate detoxing!
And thank goodness we are heading to Mum's in a minute for lunch because I'm planning on taking the majority of the brownie there. I have next to no self control so it's far better if these caramely, peanuty, chocolatey bars are very, very far away from me!

I hope you have had a lovely, relaxing weekend.
🙂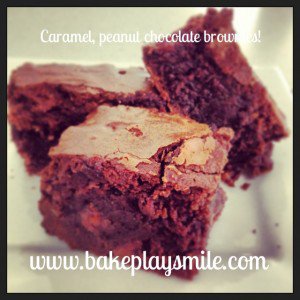 Trashed Up Caramel & Peanut Chocolate Brownies
Calling all chocoholics... these Caramel & Peanut Butter Brownies are going to blow your sugar-filled minds!!! Serve warm or cold for the perfect treat!
Ingredients
125

g

unsalted butter

250

g

coarsely chopped bittersweet chocolate

or semi-sweet

1 1/4

cups

caster sugar

3

large eggs

1

tsp

vanilla extract

3/4

cup

all-purpose flour

1/4

teaspoon

salt

2

X 45g Picnic bars chopped

I bought 3 but only ended up using 2... 3 would be even more decadent though!

1

X 50g Peanut Brittle bar chopped

7

Werther's Original Chewy Caramels chopped
Instructions
Preheat oven to 170 degrees celsius. Spray an 11 x 7 inch baking pan with cooking spray and line with baking paper.

Melt butter and semi-sweet chocolate in a medium saucepan on medium heat, stirring constantly until melted and smooth.

Remove from heat and let cool to room temperature.

Add sugar to the cooled mixture and stir until combined.

Add in the eggs one at a time, whisking until smooth after each addition.

Whisk in the vanilla.

Gently fold in the flour and salt.

Add in the chopped Picnic bars, peanut brittle and chewy caramels and fold to combine.

Pour the brownie batter into a prepared pan, smoothing the top with a knife.

Bake for approx 35 minutes, or until a toothpick comes out almost clean.

Allow brownies to cool completely (popping the tray in the fridge for an hour or so helps!).

Cut into squares using a cold knife for clean cuts.