Delicious and classic… you can't beat a batch of traditional hot cross buns made with dried fruit. Easter is well and truly here!
You know what? I have never been able to understand why people get so upset that the supermarkets are selling hot cross buns months before Easter. I LOVE that they sell them early. If anything I wish that they sold them all year round. Hot cross buns are perfect for an easy breakfast, mid-morning or mid-afternoon snack. And despite all the whinging about the yummy little buns being in the supermarket so early, it appears that it's not just me who loves them, because the last two times I have gone to buy them, they have been all sold out! So there! Bring on the hot cross buns I say!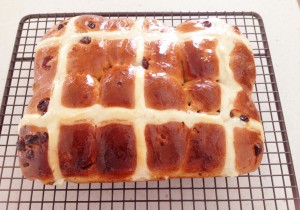 Anyway, because the supermarkets had sold out of hot cross buns, I decided to make my own. Now this was the first year that I have made them using my Thermomix and to be honest I think they tasted about the same as the ones I used to make minus the Thermomix! I used the hot cross bun recipe from the Thermomix EDC, but I have included the recipe that I have always used in the past if you don't have a Thermomix (your buns will be just as good – I promise!).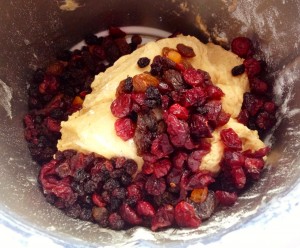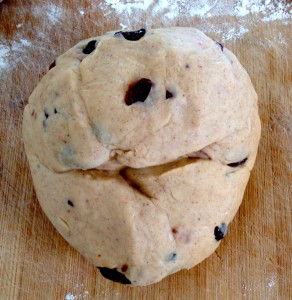 The best part about making your own hot cross buns is that you can add whatever you like! I'm not a big mixed peel fan, so I never put that in. However, I love cranberries, so in go a few handfuls of those!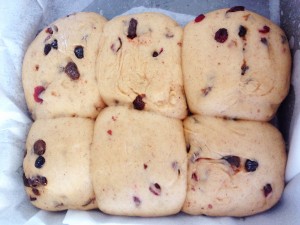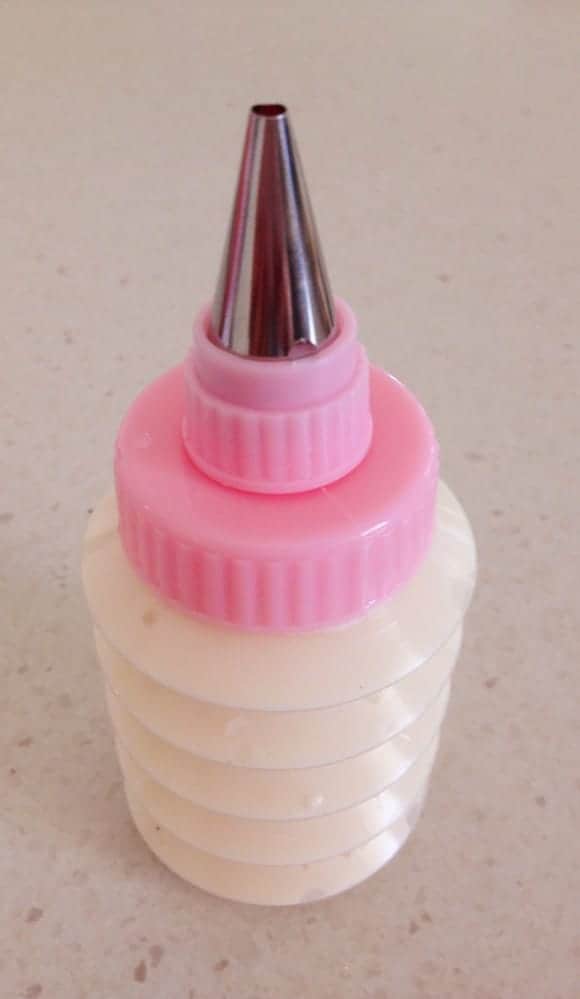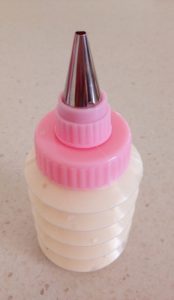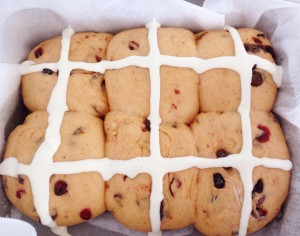 When these came out of the oven they smelt so, so good. I had to have one with blueberry jam straight away. And I mean straight away!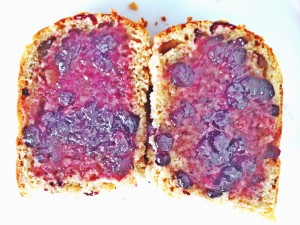 Anyway, whether you are getting into the early swing of things and eating hot cross buns whenever the heck you want, or whether you are hanging out till Easter, give this hot cross bun recipe a go.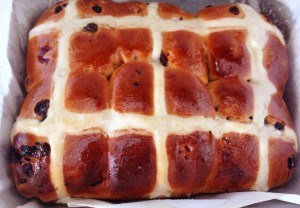 Being the proud chocoholic I am, I also made a batch of double chocolate chip hot cross buns which were AMAZING… so keep your eye out on the blog for that recipe in the next few weeks. If you can't wait that long you pretty much just substitute the fruit for chocolate chips hehehe… no big secrets here!
xxx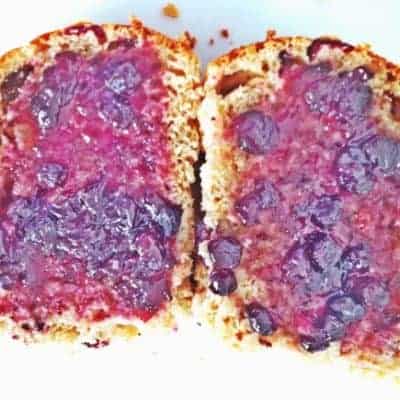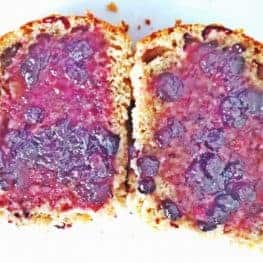 Traditional Hot Cross Buns
Yummy traditional hot cross buns that are bursting with cranberries, sultanas and currants!
Print
Pin
Rate
Total Time:
1
hour
5
minutes
Ingredients
1 1/2

cups

warm milk

375ml

2

tsp

dried yeast

7g/1 sachet

1/4

cup

caster sugar

55g

60

g

butter

melted

1

egg

lightly whisked

4 1/2

cups

plain flour

675g

1

tsp

salt

1 1/2

tsp

cinnamon

1 1/2

tsp

nutmeg

1

cup

sultanas

170g

1/4

cup

currants

45g

1/4

cup

dried cranberries

50g

1/3

cup

cold water

80ml

1/2

cup

apricot jam

170g
Instructions
Combine the milk, yeast and 1 tbs of sugar in a small bowl. Set aside in a warm, draught-free place for 10 minutes or until frothy.

Combine the milk mixture, butter and egg in a jug and whisk to combine.

Combine 4 cups (600g) of flour, salt, cinnamon, nutmeg and remaining sugar in a bowl. Add the sultanas, currants and cranberries and stir to combine. Make a well in the centre. Pour in the milk mixture and use a wooden spoon to stir until just combined, then use your hands to bring the dough together.

Turn onto a lightly floured surface and knead for 10-15 minutes or until smooth and elastic. Place the dough in a bowl and cover with a damp tea towel and place in a warm, draught-free place for 1 hour or until dough doubles in size.

Preheat oven to 200°C. Grease a 23cm square cake pan. Punch the dough down with your fist. Turn dough onto a lightly floured surface and knead for 2-3 minutes or until dough is smooth and elastic. Divide dough into 16 even pieces and shape each portion into a ball. Arrange dough portions, side by side, in the prepared pan. Set aside in a warm, draught-free place for 30 minutes or until dough has risen 2cm.

Meanwhile, mix the remaining flour and water together in a small bowl until a smooth paste forms. Place in a small plastic bag and snip off the end. Pipe a continuous line down the centre of each row of buns, lengthways and widthways, to form crosses. Bake in preheated oven for 10 minutes. Reduce heat to 180°C and bake for a further 20 minutes or until golden and cooked through (buns are ready when they sound hollow when tapped on the base).

Turn onto a wire rack. Place the jam in a small saucepan over high heat. Cook, stirring, for 2 minutes or until jam melts. Strain through a fine sieve. Brush hot jam over the buns. Serve warm with butter, or toasted.
Nutrition Facts
Traditional Hot Cross Buns
Amount Per Serving
Calories 305
Calories from Fat 54
% Daily Value*
Total Fat 6g 9%
Cholesterol 27mg 9%
Sodium 251mg 10%
Potassium 218mg 6%
Total Carbohydrates 56g 19%
Protein 7g 14%
* Percent Daily Values are based on a 2000 calorie diet.