Check out my McDonalds Create Your Taste review and see how they're putting a whole new spin on the gourmet burger trend!
This post is sponsored by Nuffnang and McDonalds.
Ok, let me start off by saying that I am not a McDonald's person. Like most people, I loved Macca's as a kid and then over the years have moved away from it. In fact, up until last week I couldn't tell you the last time I'd eaten at McDonalds… it would have been years ago! Actually I lie – I have been to McCafe once or twice for a cuppa. Anyway, you know how they say opposites attract? Well that's definitely the case with my husband Dave and I. Unlike me, he loves McDonalds. He always sneaks in there and grabs lunch when he thinks I don't know… and then I find the receipts in his car (yep, I'm like a little detective!).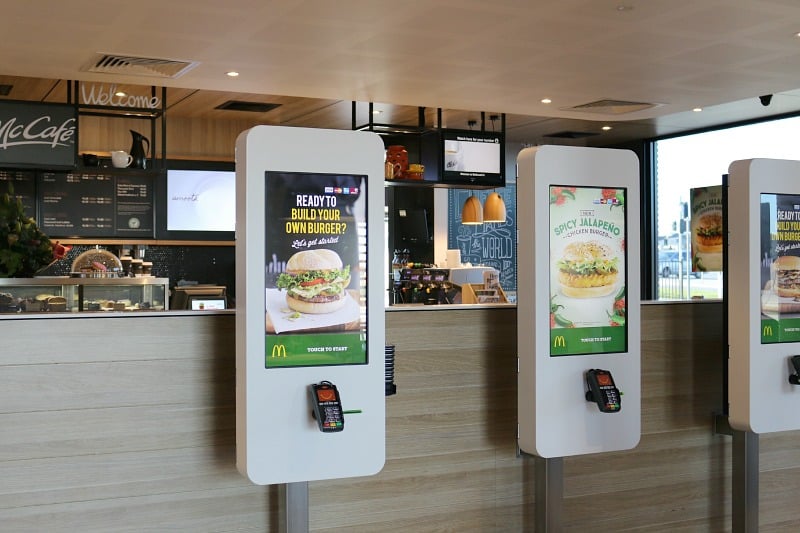 Anyway, I'd seen the big 'Create Your Taste' balloons going up outside McDonalds restaurants lately and was kind of intrigued about what it was all about. You see, I've got nothing against burgers, I just don't like the idea of a burger that's ready in 60 seconds! And so when McDonalds asked me if I'd like to try out their 'Create Your Taste' range, I was a little torn. On the one hand I had a little voice saying 'nah, you don't even like McDonalds' and then my other little other voice was saying 'but Dave will be horrified if he finds out you said no to a free burger'. Because I'm a such nice wife (hehe) and am always up for trying something new, off we went to McDonalds (with Dave pretty much skipping through the door with utter joy!).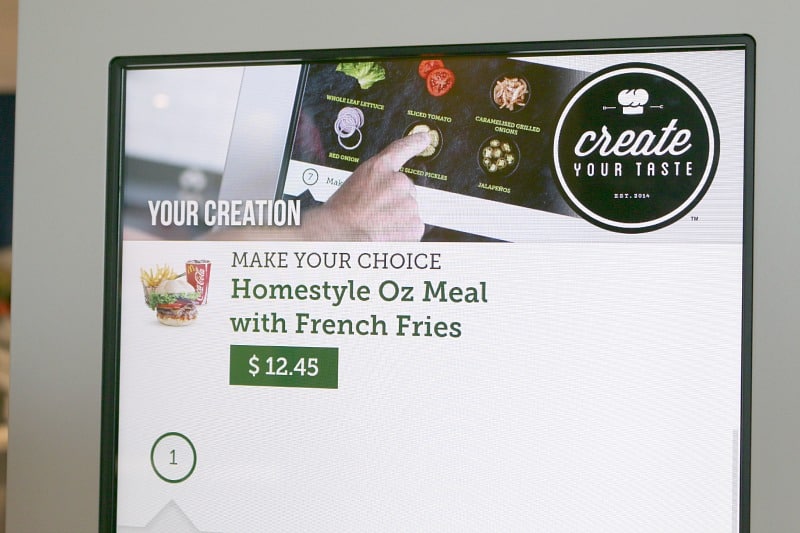 Sooooo…. it turns out that McDonalds has really changed over the years! Those hard yellow chairs that I remember from the good old days have been replaced with communal benches and stools, little cafe style nooks and wait for it… touch screens. Yep, I told you it had been a while. And so, if you're like me and are new to the whole Macca's gourmet burger trend, here's my McDonalds Create Your Taste review….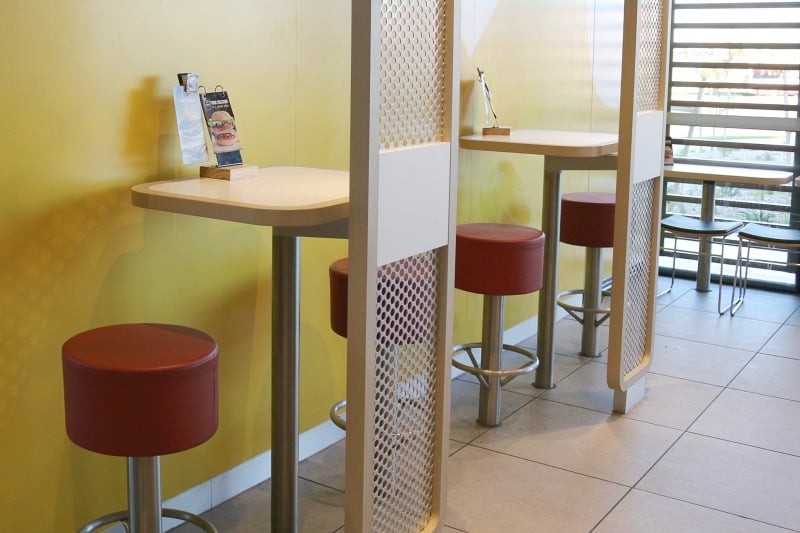 When you go into a McDonalds restaurant you will see 'Create Your Taste' touch screens. You then get to design your own gourmet burger (or if you're a little overwhelmed by the options you can use one of the suggested ones). First of all, you choose a bun – brioche-style, baker's bun or a lettuce wrap. I have never thought to have a burger in a lettuce wrap before! Anyway, I went with the baker's bun (next time I want to try the brioche-style bun). Then there's 5 different varieties of cheese, a whole heap of yummy extras (bacon, guacamole, grilled mushrooms, pineapple, tortilla chips) and salads to choose from. There's all the classic fillings like lettuce, beetroot and tomato, but then there's also some delish gourmet options like caramelised onions. Yum! And finally (and probably my favourite part), was choosing the sauce. There's 9 different options, including chipotle mayo, tomato chilli jam, aioli and dijonnaise.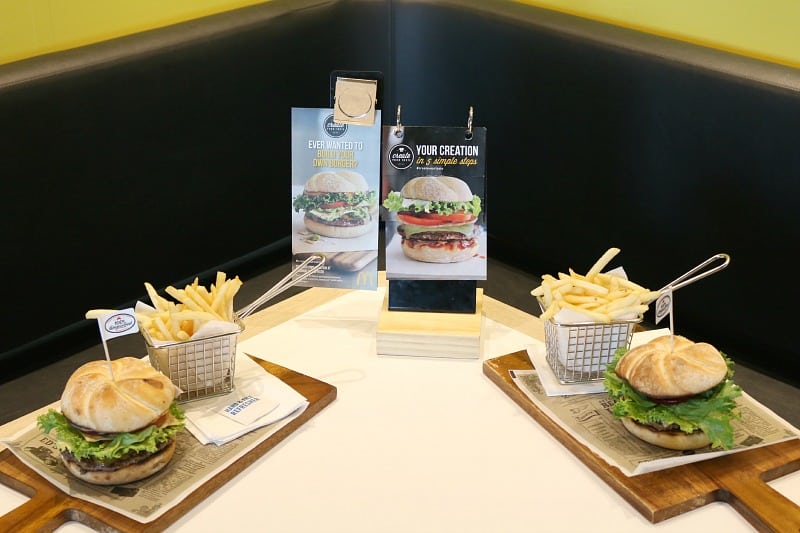 The burgers start from $8.95, which is a little more expensive than a normal Macca's burger (according to Dave the burger expert, that is), but it's still pretty good for a gourmet burger! You can then make it into a meal with either a salad or chips. I wish I could say I went for the salad version, but I didn't. Does anyone really order the salad? Please say no and make me feel better!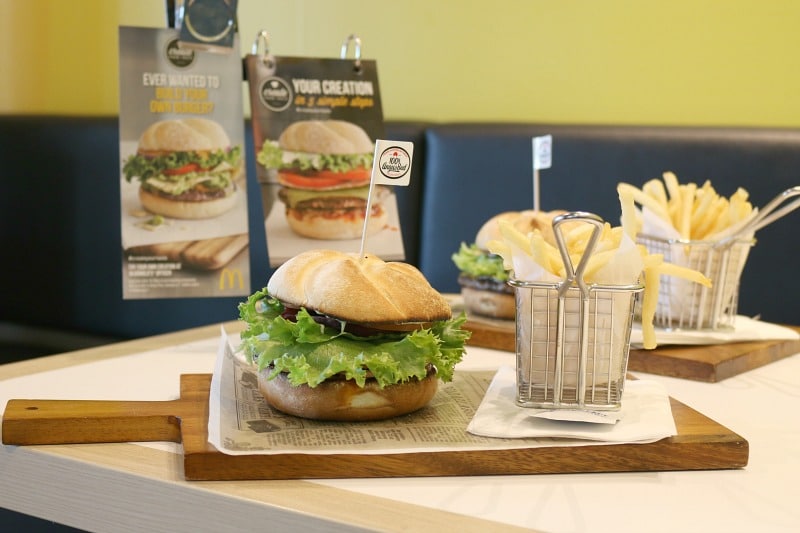 Now this is where it gets really un Macca's like. There was no waiting in a queue for your order number to be screamed out. You just take a little buzzer to your table and your meal gets brought to you by a hostess. Yes a hostess! The fries come in a cool little wire basket and the burgers are super tall. It took longer than your normal McDonalds order, but I was actually pretty happy about that. Like I said earlier, the fact that a meal can be made in 60 seconds doesn't sit well with me (unless it's vegemite on toast… in which case 60 seconds is fine!).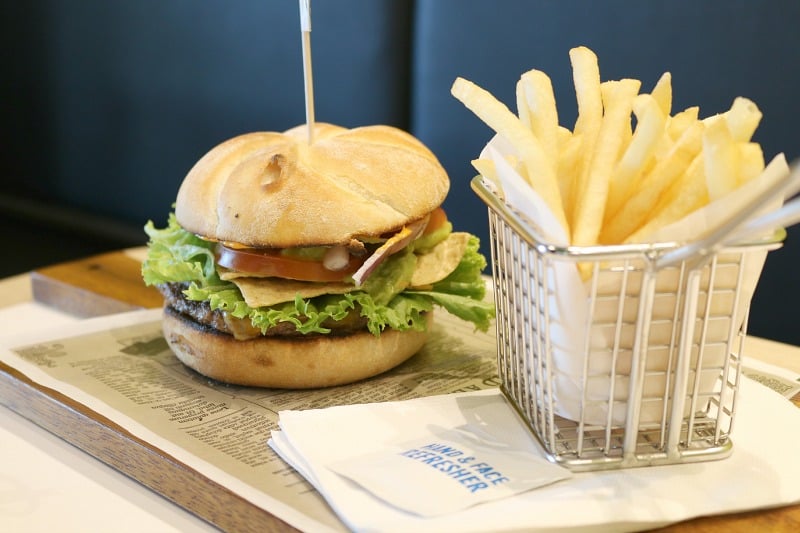 We ordered two of the recommended burgers – the Chipotle and the Homestyle Oz. The Chipotle was full of guacamole, tortilla chips, chipotle mayo, lettuce, tomato, red onion, cheese and an Angus beef patty. I'm a bit addicted to guacamole, so that was my pick! The Homestyle Oz was filled with bacon, tomato, beetroot, lettuce, cheese, an Angus beef patty, grilled onions, tomato chilli jam and herb aioli. It was Dave's favourite and was very similar to the burgers we make at home.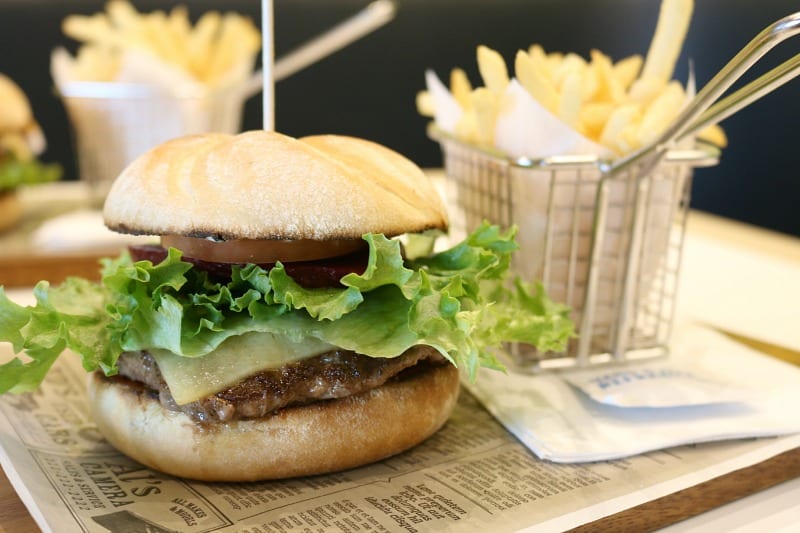 The only thing I would have liked to have seen done differently with the meal, would be to serve the burgers with some gourmet chips instead of the standard fries – you know, like thick cut chips with a yummy dipping sauce. I'm also a chicken fan, so it would be great to see some chicken options on the menu too (apparently they're expanding the range to include chicken soon).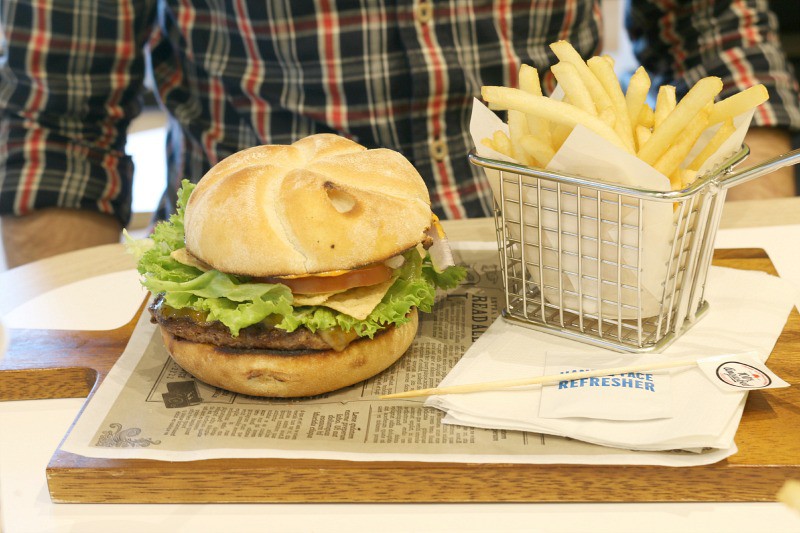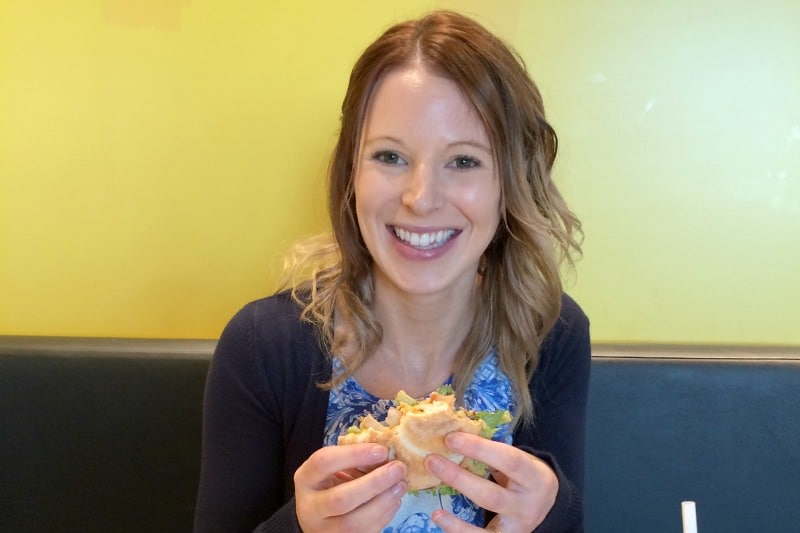 So to wrap up my McDonalds Create Your Taste review, here it is….! I hate to say it, but I actually really liked it. The burgers were just as good as the ones we make at home, as well as the gourmet-style ones from places like Grill'd. I must say that I'm happy to see that Macca's is moving towards burgers that can be individualised with quality ingredients… and that aren't ready in less than a minute! Would I go back? You know what, I actually would. Oh and you should have seen how happy Dave was when I said that!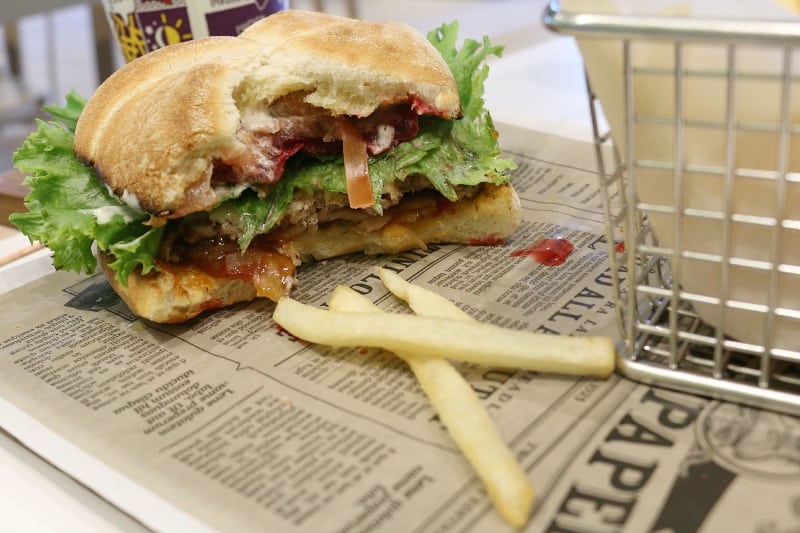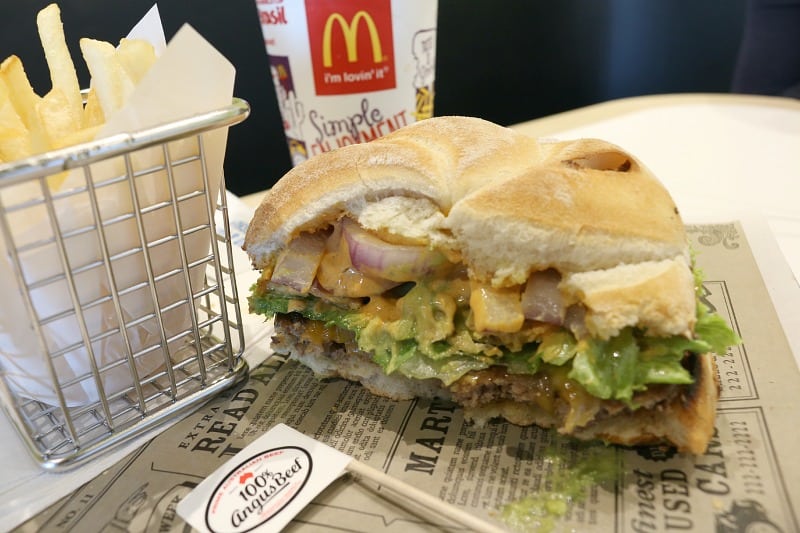 This post was sponsored by Nuffnang and McDonalds – however, as always, all thoughts (and taste testings) are completely my own!